CQ WEEKLY – IN FOCUS
May 14, 2011 – 2:32 p.m.
Medicaid's Home for Aging Millions
By Joanne Kenen, CQ Staff
Angry senior citizens may throng members' town meetings demanding that the government keep its "hands off my Medicare." They don't often say, "Hands off my mother-in-law's future Medicaid nursing home bills.' "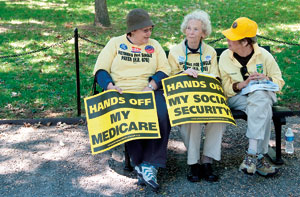 | | |
| --- | --- |
| UNDER THE RADAR: Protests against cuts in entitlement programs often leave Medicaid in the shadows. (GETTY IMAGES / AFP / SAUL LOEB) |   |
Yet with as many as 70 percent of nursing home residents now relying on Medicaid payments, a Republican proposal to transform the third-largest federal entitlement program could alter the day-to-day living and health care arrangements of millions of elderly or disabled Americans.
How is it that discussion of this issue is so muffled in an otherwise noisy conversation about cutting entitlement costs?
One explanation, health policy analysts say, is that people don't like to think about being old and unable to care for themselves. Another is that many American voters think of Medicare as a social insurance program for the middle class, but regard Medicaid as a welfare program for the poor. When it comes to long-term care, however, that's not the case. While Medicare pays for short-term skilled nursing care after a specific illness or surgery, it doesn't cover longer-term care, like the years in a nursing home a patient with Alzheimer's might need.
That's up to its sister program, Medicaid, the federal-state partnership enacted with far less fanfare on the same date in 1965. Medicaid bears the burden for families and individuals who can't pay annual nursing home bills of $72,000, and for those elderly or disabled who started out paying, but exhaust their assets. Many states also cover some long-term care arrangements that allow people to continue living at home.
If the public isn't yet engaged in the Medicaid fight, federal and state lawmakers surely are. States want relief from their share of Medicaid costs, which is one of their fastest growing expenses. And federal lawmakers are under pressure to cut the deficit. Total state and federal Medicaid spending was $374 billion in 2009, and some forecasts put it as high as $447 billion in fiscal 2011. The federal government on average pays 57 cents of each Medicaid dollar, varying from half to about three-quarters, with poorer states getting more help from the Treasury.
The House's budget proposal, adopted April 15 and based on a plan by Budget Chairman Paul D. Ryan of Wisconsin, would change Medicaid dramatically. No longer would Medicaid be an entitlement, that is, a guarantee of care. Ryan would change it into a block grant, giving governors great latitude over whom they cover and what services they provide. The Congressional Budget Office estimates that block grants based on the Ryan formula would trim federal Medicaid spending by about a third in the first decade, and in half by about 2030.
So far, most of the political push-back to the budget blueprint — those angry seniors at town meetings — relates to the proposal to transform Medicare for future retirees. When it comes to his Medicaid proposal, the spotlight has been on medical services for low-income families and children, not on the elderly and disabled.
People tend to shy away from images of being frail or sick and needing nursing home care, says Ed Howard, executive vice president of the Alliance for Health Reform. And Medicaid long-term care coverage that "requires you to pauperize yourself is even less likely to make it into people's consciousness," he said.
It's not that Medicaid is unpopular, says health policy scholar Robert Blendon at the Harvard School of Public Health. People like it — when they think about it. But the people who feel most intensely about any given program are the ones who use it directly — and in this case, many of the direct users are institutionalized and don't vote. "If someone can't get in to see their doctor in Medicare they write a letter to Congress," Blendon says. But the concept of how Medicaid block grants could affect them or their family is too remote.
Obscured in History
Medicaid's Home for Aging Millions
The relative obscurity of Medicaid is nothing new. President Lyndon B. Johnson signed the program into law in 1965 along with Medicare, the federal health program that guaranteed health care for everyone age 65 and over.
But Medicaid, covering poor children and mothers, got scant attention. The page-one New York Times story on the bill-signing ceremony in Harry S. Truman's home town of Independence, Mo., devoted six paragraphs to who got ceremonial Medicare pens from Johnson and did not have a single word about the program that would come to be known as Medicaid.
A glowing Times story a year and a half later called Medicaid the "quiet, but potentially history-making sister of Medicare," and quoted a government health official speculating that Medicare and Medicaid would spell the end of charity hospitals within a decade — with not a word about the long-term care aspects of the program.
In fact, long-term care was a component of Medicaid from the start, but political scientists and health analysts are divided on whether its designers expected it to eventually become the single biggest payer of long-term care. Or how much that would cost. Or how many of the people affected would be rooted in the middle class.
"It's widely assumed but historically incorrect to say that long-term care was unanticipated to be a significant part of Medicaid when it was started," said Josh Wiener, program director for aging, disability, and long-term care at RTI International, a research group headquartered in North Carolina's Research Triangle. Although the government had given some medical assistance to the elderly poor as far back as 1950, "It's obviously true that even from the beginning, the bulk of the people receiving Medicaid coverage were kids and moms, not older people and people with disabilities. But it's not true to say it was a surprise that the long-term care population and people with disabilities ended up being a substantial portion of Medicaid expenditures."
"Medicaid was originally seen as a welfare program," said Rashi Fein, an emeritus professor of health policy at Harvard who was involved in setting up Medicaid in the early years. Medicare and Social Security had "beneficiaries," he recalled. Medicaid and welfare had "recipients." But even at the outset, he says, there was an assumption that long-term care would be part of the picture.
Setting policy for long-term care, which Fein helped to do, was simpler in those days. The big fights he recalled —the only times nascent interest groups phoned him at home at night — were whether nursing homes had to have registered nurses available around the clock and whether they should have one or two locks on the boxes that held powerful narcotics — perhaps Washington's first "lockbox" controversy.
But nursing homes, as they are known today, did not exist on a large scale back in those days. Many older people were still in "poor houses," and some with dementia were lumped in with the mentally ill in grim state institutions, said Barbara Manard, vice president for long-term health care strategies at Leading Age (formerly the American Association of Homes and Services for the Aging), which represents nonprofit nursing homes and other groups that serve the elderly. A variety of factors — an aging population with multiple chronic diseases, the closure of those mental hospitals, uniform national nursing home regulations and the creation of a new payment stream through Medicaid — brought about rapid change in the 1960s and '70s.
"What really happened was the medicalization of 'old age' homes," Wiener said. Several hundred thousand patients with dementia who were discharged from mental hospitals "had to go somewhere, and they ended up going to nursing homes." All this, and other rapid demographic and social changes in that era, contributed to the expansion of both for-profit and nonprofit nursing homes, which in turn led to Washington trade groups and lobbyists that could have a lot at stake in any Medicaid redesign.
"It was 'here's a funding source — let's invent a lobby,'" says Lawrence Jacobs, a political scientist at the University of Minnesota who has written extensively on Medicaid. Now just about every lawmaker has a nursing home or some kind of long-term care facility in his or her district, Jacobs noted.
According to the Kaiser Commission on Medicaid and the Uninsured, 1.4 million Medicaid beneficiaries were in nursing homes in 2010, and 2.8 million more were getting other forms of long-term care support from Medicaid, often in home- and community-based alternatives to nursing homes. That translates into about 70 percent of the nursing-home population relying on Medicaid. About one in three Medicaid dollars went to long-term care in 2007, although it varied sharply from state to state, according to a study by the Urban Institute and the Kaiser Commission on Medicaid and the Uninsured.
'Only the Beginning'
Leaders of the Republican Governors Association wrote last month that Ryan's proposal to give lump sums to the states would give them "the freedom to innovate, share best practices and create cost-effective ways of delivering quality health care to our most vulnerable populations" while liberating them from Medicaid's "antiquated, federal maze of regulations and mandates."
Medicaid's Home for Aging Millions
"Block grants are only a beginning," says Tom Miller, a health policy expert at the American Enterprise Institute in Washington. States will have to experiment on how to finance, and deliver, long-term care. The current Medicaid system — which some families game by dividing and then spending down their assets years in advance so they can then get the government to pay for nursing home care — has all the wrong incentives, he says. "It makes private alternatives and savings stupid to do."
On the other side of the argument, Manard says the Republican blueprint could mean less money for the elderly and disabled on Medicaid; could slash provider fees to the point where nursing homes don't want to take Medicaid patients; and could lead to more stringent definitions of who is eligible for help. The lump-sum payments to states would be adjusted annually for inflation and population growth but are not expected to keep pace with the rising costs of health care.
Manard says people could face waiting lists, or be cut off completely. The exact scenario would vary from state to state. In some places, poor families with young children may bear the brunt of the changes; in others it could be the elderly. None of that is yet clear.
"This is really a formula, not just for seniors but their family members and children, to basically get a room ready, " Sen. Al Franken, D-Minn., told a recent news conference where liberal Democrats excoriated the Ryan blueprint. "Because states don't have the funds, counties don't have the funds, there will be a lot of seniors moving back with their children."
And while there's nothing wrong with a three-generation household, Franken said, it's different when one generation has dementia or an illness that requires 24-hour care and the families don't have the emotional, financial or medical wherewithal to provide it.
"I just want everyone to contemplate: What would that be like for your family?" he asked. "This is going to put the middle class at risk . . . It's a huge mistake."
Grace-Marie Turner, president of the free-market-oriented Galen Institute in Alexandria, Va., says several states with Medicaid waivers have already begun testing new ways of caring for the low-income elderly. Those experiments aimed at providing better care for less money are taking place in both Republican- and Democratic-leaning states.
"For people to say that states and localities can't be trusted completely defies all the examples that we have seen of states trying to do a better job of spending this money more wisely," she says. "To say they are going to throw the elderly out of nursing homes . . . these are the politicians who are closest to the people, who are most accountable. They are not going to make bad decisions that will hurt people."
The CBO, however, was skeptical in its analysis that the additional flexibility and state innovation would lead to enough savings to make up for the anticipated reduction in payments.
A Heavy Lift
While Ryan's plan is not likely to pass this year because of intense Democratic resistance, the idea is not likely to go away. It's been around since at least the Ronald Reagan presidency, was front and center when Republican presidential contender Newt Gingrich was House Speaker, re-emerged during the George W. Bush presidency, and is likely to remain part of the debate on the deficit and entitlements in the years to come.
The long-term care challenge is intensifying as baby boomers age and costs soar. Congress and the administration are still grappling with ways to pay for such care, including through the new Community Living Assistance Services and Support Act. Approved as part of the 2010 health care overhaul legislation, CLASS is a voluntary program that could help families pay for a nursing home, a few hours of weekly home care, or even something like building a wheelchair ramp at home. But even its supporters know it must be modified to be fiscally self-sustaining based on the premiums people pay.
Congressional skeptics have called for repealing it rather than risking another taxpayer-financed entitlement for boomers and beyond. But neither CLASS nor long-term care in Medicaid have a potent, visible constituency along the lines of Medicare. Nor are there many alternative suggestions to make the programs sustainable, although some conservatives want Medicaid to be more tightly targeted on the poor, with different incentives and financing options for middle-class families running up against steep long-term care costs.
Medicaid's Home for Aging Millions
"Both parties are in their version of denial" about what it will take to solve the looming long-term care crisis, says AEI's Miller. "The problem is not going to go away, but get larger."
RTI's Wiener says he's been giving talks on long term care for 25 or 30 years, and always predicted the issue would shoot to the top of agenda when the boomers were dealing with their parents' long-term care needs."We're there, and it hasn't happened. I'm somewhat at a loss to explain it," he says.
"I think people don't see this happening to them. They think of long-term care as a passage — something that happened to their mother or father — a couple of years that were very difficult and then the parent died and they went on with their lives," he says. "They don't think they will ever need long-term care. Their vision is that they will die suddenly of a heart attack on a tennis court. At 100. After winning their sixth set."
FOR FURTHER READING: Medicaid legislation (HR 1683), p. 1075; Ryan proposals, CQ Weekly, p. 801; entitlement spending, p. 676; health overhaul enacted (PL 111-148, PL 111-152), 2010 CQ Weekly, p. 2762; Medicare and Medicaid enacted, 1965 Almanac, p. 236.