CQ WEEKLY – IN FOCUS
May 14, 2011 – 2:12 p.m.
Israel's Voice Rings on Hill as Change Roils Mideast
By Jonathan Broder, CQ Staff
Not that long ago, the American-Israel Public Affairs Committee, or AIPAC, as the most powerful pro-Israel lobby is better known, was having an unusually difficult time in Washington.
First, a lingering 2005 spy scandal involving two former AIPAC officials threatened to scar the lobby with a debilitating brand of dual loyalty. Then, a 2007 book by two influential scholars openly questioned Israel's strategic value to the United States. Finally, the 2009 election of Israel's conservative Prime Minister Benjamin Netanyahu disappointed the White House and many Democrats, opening up political space for J Street, the new left-wing pro-Israel group, to challenge AIPAC's influence among lawmakers.
Today, to the relief of its membership and the acute frustration of its critics, AIPAC has emerged from those challenges stronger than ever, particularly on Capitol Hill, where the lobby is once again regarded — and feared — as the undisputed heavyweight when it comes to influencing U.S. policy toward Israel and the broader Middle East.
In a typical demonstration of its sway two weeks ago, AIPAC lobbyists effortlessly gathered the signatures of more than half the Senate's Democrats for a letter the organization had drafted to President Obama. The letter warned that the lawmakers would oppose any further U.S. aid to the Palestinians after the reconciliation between the moderate Fatah faction and its militant Islamist rival, Hamas.
Israel's argument — that as a result of the reconciliation, it now no longer has a partner for peace negotiations — is expected to be a major theme at AIPAC's policy conference in Washington the week of May 23. There, in an annual rite, dozens of senior lawmakers will pay their respects to the lobby, and Netanyahu will speak between meeting with Obama on May 20 and addressing a joint session of Congress on May 24 .
The resurgence of AIPAC in Washington comes at a time when Israel has grown increasingly isolated in the world over its occupation of the West Bank, now in its 44th year, and its continued building of Jewish settlements in Palestinian territory. Unless the moribund peace process is revived, the U.N. General Assembly is expected to vote this September to recognize an independent Palestinian state in the West Bank and Gaza Strip — a move that will isolate Israel even more, and by extension the United States, Israel's closest ally. But on Capitol Hill, perhaps AIPAC's most important audience, those issues don't have much traction.
Far more important to most lawmakers are the campaign donations that wealthy AIPAC members and a network of pro-Israel political action committees provide to incumbents and challengers every election cycle, guided by the organization's analyses of their voting records and statements. The Center for Responsive Politics, a public policy group, estimates that between 1998 and 2010, these groups contributed nearly $19 million to candidates and parties.
"Nothing has changed on the Hill, absolutely nothing," lamented M.J. Rosenberg, a former Hill staffer and now an outspoken critic of AIPAC at the left-wing organization Media Matters, referring to the lobby's dominance over Israel-related issues.
But at a time when Arabs across the Middle East are looking to Obama to support their struggles for democracy, many regional experts, diplomats and peace activists say it is time for Obama to step forward with his own ideas for a Middle East peace — even if that means a confrontation with AIPAC and its backers on Capitol Hill. Obama can't wait until after the 2012 elections to formulate a policy toward such a strategic region, they add. Of course, the announcement last week that George J. Mitchell was resigning as Obama's special Middle East envoy won't help.
"He's going to have to deal with the next 18 months in the Arab world," said J Street President Jeremy Ben-Ami. "The Palestinians are going to force a vote at the United Nations in September. Right now, in this time of Arab awakening, Arab democracy and Arab freedom, the only countries in the world that don't want to see the Palestinian Arabs free are the United States and Israel. We're going to be very isolated. And that is not going to be good for the United States."
In his address to Congress, Netanyahu is not expected to soften his rejection of any Palestinian government that includes Hamas. Administration officials say Obama will deliver a major speech that reaches out to the Middle East as early as this week, but it's not clear whether it will address the Israeli-Palestinian dispute. If Obama remains silent on the issue, AIPAC will be free to push Netanyahu's views in something of a vacuum.
Of course, with an election year looming, many lawmakers are likely to side with AIPAC anyway.
Israel's Voice Rings on Hill as Change Roils Mideast
Reversal of Fortunes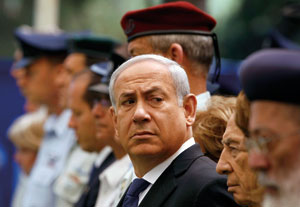 | | |
| --- | --- |
| HIGH STAKES: Netanyahu is scheduled to meet with Obama and address a joint session of Congress. (GETTY IMAGES / AFP / BAZ RATNER) |   |
Until the publication of "The Israel Lobby and U.S. Foreign Policy" in 2007, some pro-Israel organizations deflected criticism of AIPAC by successfully labeling those who leveled it as extremists and, in some cases, anti-Semites. But the book by John J. Mearsheimer, a political science professor at the University of Chicago, and Stephen M. Walt, an international relations professor at Harvard University's Kennedy School of Government, struck many readers as credible because of the authors' mainstream credentials and their even-tempered tone.
The book argued that AIPAC has diverted U.S. foreign policy away from the national interest by convincing Americans that U.S. and Israeli interests are identical, when in fact they don't always overlap. Mearsheimer and Walt said AIPAC dominates Capitol Hill because of its "ability to reward legislators and congressional candidates who support its agenda, and to punish those who challenge it."
Despite efforts by pro-Israel critics to discredit the book, it won praise from a number of respected historians and foreign policy analysts and became a bestseller. But the book made few waves on Capitol Hill, where strong support for AIPAC has helped it rack up a long list of legislative accomplishments over the past year.
For example, at a time when Republican spending hawks are pushing cuts in foreign aid to most other countries, AIPAC's lobbyists helped secure Israel's annual injection of $3 billion in military assistance in the fiscal 2011 budget deal, along with an extra $415 million in funding for Israel's "Iron Dome" missile defense system and other programs.
AIPAC also lobbied successfully for congressional passage last summer of the toughest unilateral U.S. sanctions ever imposed on Iran in punishment for its suspected nuclear weapons program. In addition, it won passage of several non-binding House and Senate resolutions that affirmed Israel's right to defend itself, dismissed a U.N. report that accused Israel of committing war crimes in the Gaza Strip and opposed Palestinian plans to seek U.N. recognition of Palestinian statehood. According to Douglas Bloomfield, the group's former legislative director, AIPAC often uses such resolutions as loyalty tests to build voting profiles for lawmakers.
AIPAC officials insist that their recent achievements are not so much a resurgence as a reaffirmation of their continued clout on Capitol Hill. "AIPAC has always been strong, but it's certainly true that the organization is stronger than ever," said Patrick Dorton, a spokesman for the lobby. More than 10,000 people are expected at their conference this year, compared with 1,000 attendees in 2000, he said. And with hundreds of Congress members and more than half the Senate also slated to attend, "it is the largest bipartisan gathering of lawmakers outside of the president's State of the Union speech," Dorton said.
Outplaying Rivals
The AIPAC spy scandal erupted in 2005, when Steven Rosen, then the lobby's foreign policy director, and Keith Weissman, an Iran analyst at AIPAC, were indicted for allegedly passing on classified information to an Israeli government official and a reporter.
For a while, the lobby's critics hoped for a ruling that would force AIPAC to give up its status as a domestic lobby and register with the Justice Department as a foreign lobbyist — a status that would require far greater disclosure of the group's funding.
Four years later, after AIPAC had fired the pair in a move to distance itself from their alleged misdeeds, the FBI dropped all charges, citing the government's preference not to have witnesses such as former Secretary of State Condoleezza Rice testify publicly on classified national security issues, as the judge had permitted. Rosen then sued AIPAC for defamation but lost that case earlier this year. In the end, the lobby emerged from the ordeal legally unscathed.
Meanwhile, J Street saw the tensions between Obama and Netanyahu over Israel's settlement policies as an opportunity to loosen AIPAC's power in Congress. Those tensions reached a high point last year, when Israel announced a new settlement project while Vice President Joseph R. Biden Jr. was visiting the country.
Israel's Voice Rings on Hill as Change Roils Mideast
At first, J Street, with its pro-peace message, attracted the support of some senior lawmakers, including New York's Gary L. Ackerman, the ranking Democrat on the House Foreign Affairs Middle East subcommittee. But since then, J Street's positions and its sharp criticism of Israeli settlement policies and other actions have eroded some of its support in Congress. In January, after J Street called on the Obama administration not to veto a U.N. Security Council resolution that would have condemned Israel's settlement building, Ackerman publicly broke with the group. The United States vetoed the resolution.
"The decision to endorse the Palestinian and Arab effort to condemn Israel in the U.N. Security Council is not the choice of a concerned friend trying to help," Ackerman said, referring to J Street. "It is rather the befuddled choice of an organization so open-minded about what constitutes support for Israel that its brains have fallen out."
California Democrat Dianne Feinstein, who chairs the Senate Select Intelligence Committee, is one of a handful of lawmakers who has not backed away from criticism of Israeli settlement policy. When reminded that her position places her at odds with AIPAC, which defends Netanyahu's policies, she was unapologetic. "That may well be," she said. "But there's nothing wrong with having different views."
Vermont Democrat Patrick J. Leahy, chairman of the Senate Appropriations subcommittee that doles out foreign aid, appeared to question AIPAC's priorities last week. "I disagree with them a lot, and I always place America's interests first," he said during an interview. A short while later, he adjusted his remarks. "The folks at AIPAC are all good Americans," Leahy said. "It's just that we disagree on some things."
Neither the House nor Senate has ever passed a resolution authored by J Street. The group's biggest legislative achievement is a letter that it lobbied for on Capitol Hill in March that called for continued U.S. aid to Israel and the Palestinian Authority. It gathered 116 lawmaker signatures. By contrast, AIPAC's push for Iran sanctions last summer passed the Senate 99-0 and the House by a vote of 408-8-1.
Sound and Fury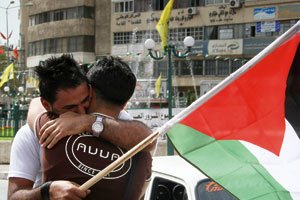 | | |
| --- | --- |
| ONE NATION? Many Palestinians celebrated in the West Bank town of Nablus after rival movements Hamas, which Washington calls a terrorist group, and Fatah signed a surprise reconciliation pact. (GETTY IMAGES / AFP / JAAFAR ASHTIYEH) |   |
Although Netanyahu has not discussed the specifics of his upcoming speech to Congress, he has already put forward the broad outlines of a new peace initiative. He has spoken of Israel's recognition of a Palestinian state within temporary borders, possible Israeli troop withdrawal from some sections of the West Bank and a lingering Israeli security presence in the Jordan Valley. If the Palestinians accept this proposal, he says, direct talks over time could address the unresolved issues of final borders, refugees and the future of Jerusalem.
Palestinian President Mahmoud Abbas rejected the plan when Netanyahu first offered it in 2009. Since then, Abbas has stuck to his long-held offer to resume direct talks with Israel on a Palestinian state based on the West Bank and the Gaza Strip's pre-1967 boundaries, but only after Netanyahu agrees to freeze settlement construction for three months.
Abbas is now pushing for a U.N. General Assembly vote to recognize Palestinian statehood. With no U.S. veto in the General Assembly, the measure is expected to pass easily. In that event, Israeli Defense Minister Ehud Barak has warned of a "diplomatic tsunami" against Israel, including sanctions and charges before the International Criminal Court.
Abbas also maintains that the recent reconciliation between Fatah and Hamas won't produce a national unity government made up of members of both parties, as Israel has charged. Instead, any new government will be made up of non-political technocrats, such as Palestinian Prime Minister Salam Fayyad. And any resumed negotiations will be conducted by the Palestine Liberation Organization, an umbrella group that does not include Hamas.
Such details have made little impression in Israel or on Capitol Hill, where lawmakers have followed AIPAC's advice in demanding that Hamas recognize Israel, reject violence, and accept previous Israeli-Palestinian agreements as conditions to continue receiving the $400 million that Congress has appropriated for the Palestinians for fiscal 2011.
Texas Republican Kay Granger, chairwoman of the House Appropriations subcommittee that oversees foreign aid, and New York's Nita M. Lowey, the panel's top Democrat, sent a letter to Abbas late last month, urging him to halt the reconciliation deal or risk losing U.S. aid. Meanwhile, Florida Republican Ileana Ros-Lehtinen, chairwoman of the House Foreign Affairs Committee, has issued several statements saying Washington should end its aid to the Palestinians because of the pact.
Israel's Voice Rings on Hill as Change Roils Mideast
"Let's face reality: Assistance to the Palestinian Authority will end up benefiting Hamas," Ros-Lehtinen wrote this month. "Any nation that continues to fund the PA will be bankrolling a pro-militant, anti-Israel entity."
For many Middle East experts, the aid debate, Netanyahu's speech and even Obama's address are all sideshows to the real diplomatic challenge, which is creating the right conditions for direct Israeli-Palestinian peace talks to resume.
"Most of the twists and turns and ups and downs are, frankly, meaningless," said Aaron David Miller, a Middle East adviser to six secretaries of State and the author of a book about the difficulties of peacemaking in the region, "The Much Too Promised Land."
Miller says the upcoming season of competing Israeli, Palestinian and possibly U.S. diplomatic initiatives most likely will be ill-fated. Despite all the expected speeches and diplomatic maneuvering, he says three essential elements for resuming peace talks are missing: an Israeli government that's serious about peace talks; an Obama administration that has a strategy for such talks and is prepared to get tough with all sides; and a Palestinian national movement that's prepared to make tough decisions.
"You need all three, and you don't have any," Miller said. "We're talking about two speeches, one by Obama, the other by Netanyahu, and U.N. diplomacy on the part of the Palestinians. That does not sound to me like a serious effort to get into a negotiation. It sounds to me like a lot of posturing, and hope over experience."
FOR FURTHER READING: U.S. aid to Middle East, CQ Weekly, p. 850; Middle East protests, pp. 668, 452, 375, 332, 286; Feinstein critical of Israel, 2010 CQ Weekly, p. 1612; U.S.-Israel tensions, p. 732; J Street, 2009 CQ Weekly, p. 1900.