CQ WEEKLY – COVER STORY
May 14, 2011 – 2:22 p.m.
A Deficit of Policy
By Brian Friel, CQ Staff
In the latter half of the last Congress, Senate Majority Leader Harry Reid was asked so often about a comprehensive energy and climate bill that it became almost comical. Everywhere he went, Democratic senators, industry lobbyists, environmentalists and the huge coterie of energy reporters on Capitol Hill besieged him with the question: Do you have the 60 votes yet?
The House had passed a broad cap-and-trade climate bill in 2009. But in the Senate, the usual mix of ideological, partisan and regional politics that always complicate federal energy policy was once again conspiring to sink what many viewed as a real chance for Congress to pass comprehensive legislation.
Then came an election, divided government and a new focus on the deficit. Then a spike in gasoline prices. And now, the conversation over energy policy in Washington has given way to a new dynamic.
This year, the questions dogging Nevada's Reid and other lawmakers carry none of that hopefulness for a sweeping new approach to meeting the nation's energy needs. Now it's all about where Congress will find $4 trillion or more in budget savings over the next decade. Like every other aspect of federal operations, the question with any energy legislation is: What's the budgetary impact?
In truth, the federal role in energy has always centered on dollars and cents — on the billions of dollars in tax breaks, grants, direct loans and loan guarantees that Washington has used for decades to boost various sources of energy.
Earlier in the last Congress, in fact, Democratic majorities pumped billions of dollars into various energy subsidies in the name of economic stimulus. Overall, the government spent about $25 billion on energy grants and tax breaks in 2009, according to the Pew Charitable Trusts' SubsidyScope. Federal agencies dished out another $31.2 billion in direct loans and loan guarantees for energy projects, it said. In 2007, a more normal year before the recession and the stimulus, energy tax breaks, grants, research and loans totaled $19.1 billion, according to government figures.
With all those dollars in play, energy debates in Washington usually involve heated exchanges over how to allocate money among the major players in the market — coal, oil and gas, ethanol, nuclear power and renewables — or how to expand the pie of energy subsidies.
But this year, with $14 trillion in debt hanging over the government — to which more than a trillion dollars is being added each year in the form of annual deficits — those energy subsidies are now competing for survival. Senate Democrats are targeting oil subsidies this week, but battles are also beginning to brew over whether to continue or end natural gas, ethanol, wind and other energy assistance.
The fight over energy subsidies is a window into the Washington of 2011, where deficit reduction is king and lawmakers must carefully balance their parochial interests in protecting federal efforts that help their home states against the national interest in stemming the economy-threatening flow of red ink.
In allowing energy policy to get wrapped up in budgetary policy, the Democrats are able to tap into public dissatisfaction over gasoline prices that have topped $4 a gallon while also putting the spotlight on Republicans who oppose reducing the deficit with subsidy cuts. And Republicans are able to make their case for more drilling, citing the revenue that would be brought in by the increased royalties, leases and jobs that come with it.
But the convergence of issues also moves lawmakers further away from a real debate over energy policy in its own right. It means that questions of effect on the climate, energy diversity and the move away from coal and oil, the right "mix" of fuels for the country, and long-term energy reliability will probably have to wait for another time.
It's a reality that frustrates some lawmakers. "I think the greatest travesty for this country frankly is that we don't even have an energy policy," Republican Sen. Olympia J. Snowe of Maine said last week at a Finance Committee hearing in which oil company executives were grilled about subsidies and their profits. "I don't know how many energy crises have to occur in more than a generation to prompt and compel a president and a Congress to develop a comprehensive energy policy. It's transcended many administrations and many Congresses, and it's eluded us."
A Deficit of Policy
Policy experts say the result will almost certainly be an incremental approach, one in which every proposal is considered in the context of government spending. The problem with that, they say, is that the United States needs a more holistic approach at a time when the country risks losing its competitive advantage in a growing global market for technologies to provide renewable, or "green," energy sources.
"If the bias is on reducing spending, my fear is we will reduce our investments in alternative fuels and alternate energy sources, things that improve the technology for it," said Edward Montgomery, dean of the Georgetown Public Policy Institute.
"That would be a real mistake," he said, "as China is investing an incredible amount in both making sure they secure their traditional energy sources but also trying to become a leader in greener sources. To the degree that the Europeans and Chinese become leaders in this industry, that will put them at a competitive advantage."
Energy observers, meanwhile, have begun recalibrating their outlook to account for this new reality.
"Congress has not seriously examined the existing energy tax subsidies that have accreted over the last 25 years, since we last had significant tax reform in 1986," said Paul Bledsoe, an energy adviser at the Bipartisan Policy Center. "They haven't rolled up their sleeves and said, 'Which ones make sense, which ones should we do away with?' That would be the rational response in this difficult political and budget environment. We haven't seen that yet, and the question is: Will we?"
First Up: Oil and Gas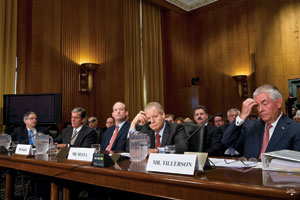 | | |
| --- | --- |
| BIG OIL, BIG TARGET: The Senate Finance Committee last week grilled executives from five oil companies on tax subsidies they get from the government. That focus, though, has meant less focus on a holistic national energy policy. (CQ / SCOTT J. FERRELL) |   |
In the first round of this debate, the Senate is slated to vote this week on a proposal to cut tax breaks for oil and gas producers, a move Democratic leaders say will save $21 billion over 10 years.
In a normal year, those billions would have been eyed hungrily by the other players in the energy sector, from coal processors looking for federal help to make their fuel cleaner, to entrepreneurs looking for incentives for new wind farms, to geothermal companies looking for federal backing for exploratory drilling. Indeed, the chairman of Senate Finance, Max Baucus of Montana, suggested that Democrats take the budget savings and funnel them to energy efficient vehicle production, alternative-energy fueling stations and other "clean" fuels.
But Baucus' fellow Democrats quickly swatted down that idea. Instead, the proposal would use the savings to reduce the budget deficit. And Reid, who had originally agreed with Baucus that at least some of the subsidies ought to be redirected to renewables, switched course after fellow Democrats argued for deficit reduction. "Right now, the message the American people want to hear is not a complicated message," Reid said May 10. "These subsidies to the oil companies are unnecessary, and we should get rid of them and apply that $21 billion to the deficit."
The Democratic leadership bill is likely to be rejected for all the reasons that energy legislation usually falls apart. Republicans cast the proposal as a tax increase that will filter down to consumers in the form of higher gasoline prices. Democrats from oil- and natural gas- producing states, such as Mary L. Landrieu of Louisiana and Ben Nelson of Nebraska, aren't likely to vote for a proposal that will hurt companies and their employees back home.
Reid's decision to target oil and gas subsidies invited attacks on other energy industries. Senate Republican Conference Chairman Lamar Alexander of Tennessee shot back with a criticism of wind power subsidies, which many Democrats support. "Big Wind sometimes does better than Big Oil in tax breaks," Alexander said May 5. "Taxpayers are committed already to pay $27 billion over the next 10 years to investors, rich people, investment banks who have invested in wind energy."
GOP Sen. Tom Coburn of Oklahoma, meanwhile, a leading fiscal hawk, has been gathering Democratic and Republican supporters for cuts in federal backing of ethanol, a mostly corn-based fuel used in transportation.
A Deficit of Policy
Coburn's push against ethanol prompted fellow Republican Sen. Charles E. Grassley from the corn-producing state of Iowa to challenge fiscal hawks to look at all subsidies. "What is unique about the subsidy for ethanol?" Grassley asked on the Senate floor March 30. "We also have subsidies for grain and for biodiesel. When is that going to come up? We had a subsidy for wind energy — I know it because I got that legislated 18 years ago — and a subsidy for solar, subsidy for biomass, subsidy for geothermal, subsidy for nuclear energy. What are we going to do about all the rest of them? Are we going to take a subsidy a day? Take wind tomorrow? Take solar the next day?"
Alexander suggested the same comprehensive review of energy programs. "If we're going to look at oil energy subsidies, we need to look at all energy subsidies," he said.
Conservatives opposed to the level of federal energy financing would welcome such a review. Kenneth P. Green, a resident scholar who specializes in energy and environmental policy at the American Enterprise Institute (AEI) in Washington, said the government's intervention in the energy market has so far served only to mess things up.
"The goal should be to clear out the distorting subsidies and uneven regulatory playing field that currently exists in energy markets so that those markets can figure out the best form of energy to use at a certain price," Green said.
The degree to which deficit concerns are driving energy policy is illustrated in the case of a bill in the House to encourage vehicles powered by natural gas. The measure, sponsored by Republican John Sullivan of Oklahoma and Democratic Caucus Chairman John B. Larson of Connecticut, has attracted bipartisan support and more than 180 sponsors. Natural gas is, after all, a widely popular fuel and is viewed as holding great promise because it burns cleaner than oil or coal.
But the bill would cost about $5 billion, and there are concerns about how to pay for it. As a result, its outlook has become more complicated as tea party conservatives and other fiscal hawks have taken aim at the measure for creating a new subsidy.
"I can't understand for the life of me why we're talking about all these subsidies, all these handouts, all this taxpayer money going to help these industries as if we know best which technology will ultimately be the victor," said Republican Rep. Mike Pompeo of Kansas. "I hope natural gas makes it, but I hope it does it in its own way, with the money from the industry."
Larson acknowledged that concerns over the cost might force the measure to be pared. "We're prepared to work to make sure that something this abundant, this available and American is something that we tap into," he said last week.
At the same time lawmakers are scrutinizing subsidies, however, they can be expected to fight vigorously for those that promote industries valuable to their states.
Kansans and Coloradans, for example, back federal support for wind power because their states feel constant breezes whipping across the plains from the Rockies, while Louisianians and Texans don't want anyone messing with oil. South Carolinians seek federal loan guarantees for nuclear plant construction, while West Virginians and Kentuckians defend coal and seek federal help to develop technology to reduce polluting emissions from coal-fired plants. Grassley, ethanol's top backer in the Senate, blocked the chamber from taking a vote this spring on Coburn's proposal to reduce the fuel's supports.
Alternative Sources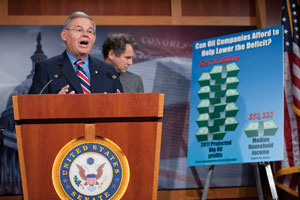 | | |
| --- | --- |
| SEEING GREEN: Democratic Sens. Robert Menendez of New Jersey and Sherrod Brown of Ohio held a news conference last week to talk about their plan to use a reduction in subsidies to oil companies to lower the deficit. (CQ / SCOTT J. FERRELL) |   |
For his part, Reid is using his considerable influence as the top Democrat in the Senate to promote the development of geothermal plants, which use the Earth's heat to produce electricity. Reid has pushed money for the development of geothermal power plants across the northern half of his state.
A Deficit of Policy
The 2009 stimulus package included $360 million for geothermal projects in Nevada. Reid also helped ensure that a 2005 energy bill made geothermal projects eligible for federal tax credits. While he also backs solar and wind power, Reid's aim is to make the Silver State "the Saudi Arabia" of geothermal energy. "The reason geothermal is so good is it goes 24 hours a day," Reid said. "The wind doesn't blow all the time. The sun doesn't shine at night. With geothermal that steam comes out of the ground 24 hours a day."
Proponents of federal energy subsidies contend that without government support, fledgling industries such as geothermal, wind and solar wouldn't get off the ground. They note that other countries heavily subsidize the development of new energy technologies, putting the United States at a competitive disadvantage if it were to end its own efforts. Nuclear plants, too, require huge up-front investments that private investors are loath to provide without federal guarantees. The government also subsidizes exploration for new sources of domestic energy, research to make energy production and distribution more efficient and cleaner, and market supports to help various fuels compete with those that pollute more.
In February, the GOP-controlled House passed a spending bill for the last half of fiscal 2011 that would have cut off new Energy Department loan guarantees backing power plants and fuel sites for any source other than nuclear, which generally enjoys Republican backing. Groups representing ethanol, wind, geothermal, solar and biomass fuels teamed up to push leaders not to eliminate the loan-guarantee program.
Reid, one of the negotiators on the final spending deal for the year, helped maintain the guarantees, as well as a federal royalty and revenue-sharing program that provides money to Nevada counties with geothermal plants on federal land. The House bill had targeted that program as well. The final bill did cut money for research projects, but not as much as backers had feared.
Muddling Along
Faced with the broad congressional emphasis on deficit reduction, senators have cast aside any hopes of a broad rewrite of energy policy. The continuing high levels of unemployment in the country have helped further dampen support among senators for doing anything that could increase electricity costs to consumers in the short term, as the country struggles to recover from the Great Recession. Divided government has the two chambers on separate tracks. As the Senate targets oil subsidies the House has passed a trio of bills to boost oil and gas drilling.
In the Senate, although the leaders of the Energy and Natural Resources Committee, Democratic Chairman Jeff Bingaman of New Mexico and ranking Republican Lisa Murkowski of Alaska, have been gathering comments on the structure of a potential federal clean-energy standard that would encourage a more diverse power-generation portfolio, Reid has made clear that he's not expecting a revival of last year's push. Instead, minor bills related to domestic energy production, energy efficiency and other "low-hanging fruit" appear to be the only legislation with any chance of passage this year — and even those will face the headwinds of Congress' focus on the deficit.
Liberal-leaning proponents of a broad legislative effort say Congress' inability to develop a sweeping federal energy policy might weaken the United States in the long term. Joshua Freed, director of the clean-energy program at Third Way, a Washington think tank associated with moderate Democrats, concurs with others that the uncertainty facing American energy producers is problematic. "There is no certainty in the United States' energy markets," Freed said. "That is a huge economic vulnerability for the United States."
Conservatives, too, worry that the status quo hurts U.S. competitiveness, but more because they view the hodgepodge of federal regulations and subsidies as obstacles to a vibrant marketplace. "The most important thing for the country, for its energy policy, is securing an abundance of affordable energy," AEI's Green said.
In the meantime, debates over the country's broad energy policy have taken on an academic feel, with both sides zeroing in on politically expedient issues rather than having a serious debate about policy.
"The oil company profits issue on the Democratic side has become a little bit of a white-whale obsession," Bledsoe said. "Similarly the opening of new areas for drilling has become a monomania for Republicans. Probably both approaches have their merits, but in order to craft a bill you need to combine them and broaden the discussion."
Bledsoe also notes that Congress has made surprising moves in the past, such as in 2008 when lawmakers allowed a moratorium on offshore drilling to expire, and in 2007 when the Democratic House and Senate and the Republican White House agreed to the first increase in federal fuel economy standards in a generation. In some ways, he said, the deficit issue could help, rather than hurt, the chances for a real debate on policy.
"You could see some kind of big bargain — for example, significant investments in energy innovation at the same time we have expanded domestic supply," he said. "You could see that kind of deal more easily accomplished in the context of a tax reform and budget deal."
A Deficit of Policy
Geof Koss contributed to this story.
FOR FURTHER READING: The Senate energy bill is S 940; the House natural gas vehicles bill is HR 1380; the House drilling bill is HR 1229, story, p. 1077; the 2009 stimulus package is PL 111-5, 2009 Almanac, p. 7-3; the 2009 House-passed energy bill was HR 2454, 2009 Almanac, p. 10-3.