CQ WEEKLY – VANTAGE POINT
May 21, 2011 – 9:58 a.m.
Existential Oil Crisis
By Sam Goldfarb, CQ Staff
If only it were as simple as ending "oil and gas tax breaks."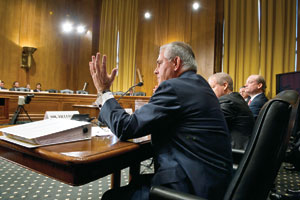 | | |
| --- | --- |
| EXPLAINING: Exxon Mobil chairman Rex Tillerson talks to the Senate Finance Committee this month (CQ / SCOTT J. FERRELL) |   |
In recent weeks, many Democrats, to be sure, have fought to do just that, claiming that the five largest oil and gas companies unjustly receive billions of dollars in government subsidies despite consistently recording profits that outpace most other industries.
To a certain degree, Republicans and oil company executives have dealt with that argument at face value, and they have argued against repealing the tax breaks on the basis that doing so could hurt domestic oil production and the economy in general.
Yet, making matters slightly more complicated, the oil industry has also gone beyond defending current tax law to questioning whether such things as oil and gas subsidies can even be said to exist.
Oil companies acknowledge that they are able to claim various deductions and credits, but they say that those benefits are either identical or nearly identical to those available to other types of businesses.
For instance, representatives from the oil industry point out that their largest tax break, the domestic manufacturing deduction, has been available to a broad swath of manufacturing firms for several years.
Democrats accept this but present a counterargument. They note that Congress created the manufacturing deduction in 2004 only because the World Trade Organization forced it to scrap tax rules that favored U.S. business income derived from exports.
Those rules had done little to help oil companies or other manufacturers that are not major exporters. The domestic manufacturing deduction therefore was "essentially a gift" to the oil industry, Senate Finance chairman Max Baucus , D-Mont., said at a recent hearing.
If Democrats have to strain a little to describe the manufacturing deduction as particularly favorable to the oil and gas industry, they generally feel that they are on firmer footing with other tax breaks.
In general, businesses are required to deduct the costs of their assets over time as those assets are used up. Oil companies, however, can write off the cost of some of their assets more quickly than would normally be allowed, giving them the benefit of having more cash on hand that they can use for investments or other purposes.
To be sure, oil companies are not the only businesses that get such an advantage. Farmers, for example, can claim the full cost of investments in feed and fertilizer as an immediate expense, even though they can store those products and use them over the course of several years.
For some conservative analysts, accelerated depreciation rules should be welcomed, whether they are applied to oil companies or to any other industry.
Existential Oil Crisis
"Immediate expensing is not a subsidy; it is good policy that can encourage new investments and benefit all businesses," Nicolas Loris and Curtis Dubay, analysts at the Heritage Foundation, wrote in a recent Web posting.
Still, most studies have found that the drilling and oil and gas exploration activities receive "a more favorable tax treatment than most other assets or industries," said Eric Toder, co-director of the nonpartisan Brookings Tax Policy Center.
As a result, Toder, who is an expert on corporate tax issues, said that he was inclined to agree with the notion that oil companies are subsidized.
Semantics aside, Democrats have so far have made little progress toward restricting tax benefits to oil and gas companies.
Their latest legislative effort, which would have raised an estimated $21 billion over 10 years and targeted only the five largest oil producers — thus leaving a couple of tax breaks untouched — was rejected by the Senate on May 17.
But the legislative and linguistic debate is not over. Democrats have made it clear that they will continue to highlight "Big Oil" subsidies at least as long as gas prices remain high and lawmakers are discussing ways to reduce the deficit.