CQ WEEKLY – IN FOCUS
May 21, 2011 – 12:37 p.m.
Newt Gingrich: The Teacher Gets Schooled
By Mike Christensen, CQ Staff
Three decades ago Newt Gingrich taught his party in Congress to forge sharp language and cutting edge technology — C-SPAN television at the time — into weapons to harass and humble political opponents.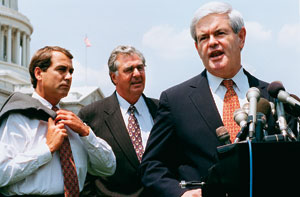 | | |
| --- | --- |
| ATTACK MODE: Gingrich as Speaker in 1997, flanked by John A. Boehner, left, and Armey. (CQ / SCOTT J. FERRELL) |   |
Last week, the language and the technology turned on him.
In the first days of his campaign for the Republican presidential nomination, the former House Speaker publicly criticized Wisconsin Rep. Paul D. Ryan's proposal for changing Medicare as "right-wing social engineering." He then stumblingly tried to quell the reaction among conservatives as his comments, and those of dozens of others, ricocheted around the Internet, cable television and talk radio.
Gingrich's explanations and apology to Ryan were nearly drowned in much the same invective he once turned on others. Even former Alaska Gov. Sarah Palin weighed in: "I don't know why politicians feel that they have to apologize for something that they've said just because they've gone through a 24-hour cycle of the lamestream media giving them a hard time for something that they said."
In an appearance on Fox News, Gingrich warned Democrats not to convert his criticism of Ryan's plan into campaign commercials — which of course they were already doing.
"Any ad which quotes what I said on Sunday is a falsehood," he said, "because I have said publicly [that] those words were inaccurate and unfortunate."
The line was reminiscent of Nixon press secretary Ron Zeigler retracting a false statement and issuing a new one: "This is the operative statement. The others are inoperative."
What was jarring for those who follow political discourse, and Gingrich's career, was the contrast to his almost legendary skill in using carefully fashioned language to get his message across and rhetorically drub opponents.
It was Gingrich, the one-time college history lecturer, who wrote the textbook on the politics of relentless attack in the television age.
"He might not have invented it, but he certainly perfected it early on," says Robert Mann, a professor of mass communications at Louisiana State University.
Perfect Match
Gingrich and C-SPAN arrived in the House within two months of each other in 1979, and it was love at first sight. "He understood the power of those cameras to communicate," Mann says. "It changed the way debate was conducted in Congress. Instead of talking to each other, they could talk beyond each other to the cameras and the public." Gingrich, he says, "understood that in a way that other people didn't and he exploited it to a great degree."
Newt Gingrich: The Teacher Gets Schooled
Equally important, for the future of politics in Washington, was the confrontational style and loaded vocabulary Gingrich employed — scorching words and phrases Democrats could not ignore.
A memorable encounter took place in May 1984 after Gingrich and a colleague had been reading into the record a report by the conservative Republican Study Committee critical of Democrats' statements on foreign policy over the previous 15 years. Speaker Thomas P. "Tip" O'Neill, a Massachusetts Democrat, grew so enraged with Gingrich that he lost his temper and had to be admonished for his own words by the presiding officer.
"You deliberately stood in the well before an empty House and challenged these people and you challenged their Americanism," O'Neill growled at Gingrich. "It's the lowest thing I've seen in my 32 years in Congress."
It was a watershed moment for Gingrich and for political debate in Washington. Both parties threw politeness out the window.
Gingrich, says John J. Pitney Jr., a political science professor at Claremont McKenna College in California, had brought the House "a very different brand of politics, and it triggered a sharp and aggressive response."
With patented hyperbole, Gingrich described House Speaker Jim Wright, a hard-bitten Texan forced to resign in 1989, as "the most corrupt Speaker in the 20th century."
He called the Democratic Party "the enemy of normal Americans," and said President Bill Clinton was running "the most corrupt administration in modern times." Clinton, he said, was a "master of falsehood" who used "carefully managed mendacity as a route to re-election." A month before the presidential election in 1996, which Clinton won easily, Gingrich declared, "If the Democrats win, the country will have decided that total dishonesty is acceptable."
That same year, GOPAC, the political action committee Gingrich helped start, sent Republican congressional candidates some advice on language. "We have heard a plaintive plea: 'I wish I could speak like Newt.' " the memo read. "That takes years of practice. But, we believe that you could have a significant impact on your campaign and the way you communicate if we help a little."
The memo closed with a list of dozens of words candidates should use to describe themselves and their own policies ("active, liberty, moral, empower, crusade") and words they should use for their opponents ("betray, bizarre, corrupt, pathetic, radical").
Gingrich's performances can be so mesmerizing that when he was in the House, colleagues sometimes invited him to their news conferences just to draw a crowd. His appearance at a breakfast for journalists guaranteed good attendance.
The political flaw in all this is that Gingrich's language and tactics become the story, instead of his or his party's message.
"Gingrich's great advantage is also his greatest problem," says Eric M. Uslaner, a professor of government and politics at the University of Maryland. "He is a master of rhetoric, and he is also a master of getting attention. When he suggests that the president is disloyal or that Paul Ryan is radical, he makes himself more the center of attention than his targets," Uslaner says. "He takes aim at his political rivals but winds up shooting himself in the foot."
Way With Words
Newt Gingrich: The Teacher Gets Schooled
Indeed, Gingrich's style was a source of periodic friction with other members of his party throughout his House career. When in midst of the Jim Wright investigation in the summer of 1988 Gingrich suggested he had a list of nine or 10 other Democrats the House ethics committee should investigate, his friend Vin Weber of Minnesota winced at the echo of the McCarthy era.
"The rhetoric of have a 'list of Democrats,'" Weber cautioned, "is very dangerous."
Ryan is not the first Republican to feel the sting of Gingrich's criticism, either. When Kansas Republican Bob Dole, as chairman of the Senate Finance Committee, muscled through a tax increase during the Reagan administration in 1982, Gingrich bitterly called him "the tax collector for the welfare state." The label plagued Dole for years.
After Gingrich lost a head-to-head battle with Clinton over the federal budget in 1995, forcing the government to shut down, many of his GOP colleagues were furious with what they considered his lack of leadership.
"Our policies after the shutdown were inconsistent, and Gingrich's leadership seemed erratic," Oklahoma Republican Tom Coburn, who was then a House member and is now a senator, wrote in his 2003 book "Breach of Trust." Gingrich, he went on, "would often surprise and shock us with his midstream course corrections, as he did with his attempt to increase committee funding. His inability to discipline himself in his public comments was also a serious liability."
Coburn was part of an abortive coup against Gingrich in 1997 by a group of conservatives, abetted by some of the Speaker's own lieutenants such as Texans Tom DeLay and Dick Armey, who thought his management was erratic and who had lost faith in his leadership. Gingrich also had been reprimanded by the House for misleading the ethics committee about a televised college course he had taught financed by tax-exempt contributions, some of them possibly from political supporters.
Gingrich himself seems to recognize some of the flaws in his personality, and he has periodically toned himself down, although not for very long.
He often describes himself not as a political leader, but as a political teacher. On the same edition of NBC's "Meet the Press" where he criticized Ryan's Medicare plan, Gingrich also ruminated, "One of my great weaknesses is that part of me is a teacher analyst. And part of me is a political leader. And one of the most painful lessons I've had to learn, and I haven't fully learned it, obviously, is that if you seek to be the president of the United States, you are never an analyst, you know, you're never a college teacher because those folks can say what they want to say.
"The person to whom you're entrusting the leadership of the United States had better think long and hard before they say things," he said. "I think that's a fair criticism of me."
FOR FURTHER READING: Republican presidential race, 2010 CQ Weekly, p. 2480; Gingrich ousted, 1998 CQ Almanac, p. 7-4; O'Neill confrontation, 1984 Almanac, p. 206.