CQ WEEKLY – IN FOCUS
May 21, 2011 – 12:46 p.m.
Slowly Tipping the Balance on the Bench
By Seth Stern, CQ Staff
When the U.S. Court of Appeals for the 4th Circuit heard the first appellate challenge to the health care overhaul May 10, the composition of the three-judge panel seated in Richmond, Va., couldn't have been better from the perspective of the White House.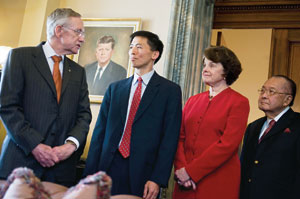 | | |
| --- | --- |
| EVE OF DEFEAT: Liu visits with Senate Democrats Harry Reid, left, Dianne Feinstein and Daniel K. Inouye. (CQ ROLL CALL / TOM WILLIAMS) |   |
Two of the three judges had been nominated by President Obama and the third by President Bill Clinton. Although a computer had randomly assigned those three Democratic appointees to the case, Obama had certainly improved his odds for a sympathetic hearing by naming four judges to the 15-member 4th Circuit since taking office — enough to potentially flip the ideological balance on a court long known for its conservative leanings.
The composition of the panel hearing the health care challenge is the most concrete example of how Obama is slowly putting his stamp on the federal judiciary. He has nominated a cadre of judges who are, if not uniformly more liberal, undoubtedly more diverse than those they replace. Obama has nominated, in unprecedented proportions, women, Latinos, Asian-Americans and, as in the case of both of his appointees who heard the health care appeal, African-Americans.
But despite a recent spate of confirmation votes, a big backlog of judicial nominations remains. And there are more vacancies for which Obama hasn't selected anyone.
Time is running out before the traditional election-year slowdown in confirmations, and Republicans hope to retake control of the Senate even if Obama wins a second term next year. That means the president's window for refashioning the federal bench may be rapidly closing. And to fill the seats, he might have to pay a price: picking judges who are more moderate than his liberal base would prefer.
"He can't go into the election having more judicial vacancies than he inherited — that's just a record of failure," says Elliott Slotnick, an Ohio State University political scientist who studies judicial confirmations. Obama inherited 55 judicial vacancies, and there are 86 now. "He's going to have to stay in the middle, so I don't think he's going to make a huge difference ideologically."
Liu an Exception
If he does stick to the middle, Obama is unlikely to nominate anyone else like Goodwin Liu, his highest-profile circuit court nominee, whose bid collapsed on the Senate floor last week after Democrats couldn't muster the 60 votes needed to end a Republican filibuster.
The procedural defeat of Liu's nomination on May 19 was a blow for progressives, who had hoped that a seat on the 9th Circuit Court of Appeals would position the 40-year-old liberal scholar to become the first Asian-American Supreme Court justice.
Senate Republicans had made Liu their top target since he was first nominated, in 2010. Republicans focused on his long paper trail of controversial academic writings, incomplete answers to the Judiciary Committee's questionnaire and the harsh tone of his testimony at Justice Samuel A. Alito Jr.'s confirmation hearing in 2006.
Liu's defeat stood out both as the first successful GOP filibuster of an Obama judicial nominee and as a glaring exception in the early days of the 112th Congress, during which the Senate has confirmed nominees at a rapid clip. The Senate has added 24 appointees to the federal bench so far this year, compared with 60 during the two years of the 111th Congress.
Slowly Tipping the Balance on the Bench
Republicans blamed the disparity on Obama for making a slow start in filling vacancies early in his presidency and on Senate Democratic leaders for not making confirmations a priority on the floor.
Democrats accused the GOP of slow-walking nominees by forcing cloture votes that eat up floor time, even for those ultimately confirmed with large bipartisan majorities.
In the 111th Congress, Obama got fewer than half as many district court judges confirmed as his predecessor did in his first two years. Democrats warned that the same kind of acrimony that had long infected appellate confirmations was seeping into the trial court level as well.
But a potential blowup over district court judges was averted earlier this month, when 11 Republicans joined Democrats in voting to end a filibuster of John McConnell, a Rhode Island trial lawyer and Democratic fundraiser. The Senate subsequently confirmed Edward M. Chen, a district court nominee about whom Republicans had expressed concerns because of his work for the ACLU.
McConnell and Chen are among 21 district court judges confirmed this year, along with three circuit court judges, all of whom had first been nominated in the last Congress.
In a floor speech preceding a May 17 confirmation vote, Sen. Charles E. Grassley of Iowa, the ranking Republican on the Judiciary Committee, said the Senate had confirmed seven judges in the previous nine days that it was in session. "There's just no credibility to the arguments that we're not moving fast enough," Grassley said.
But with 50 nominations pending and 38 vacancies, many of which have been designated "judicial emergencies" because of rising caseloads, liberal advocates say the Senate must pick up the pace.
"There's definitely been an improvement, quite a big one," says Caroline Fredrickson, executive director of the American Constitution Society. "But if we keep going at the pace we're at, we're going to be treading water and not getting anywhere in terms of addressing the vacancy crisis."
Shifting the Balance
The overload in judicial cases isn't the only concern giving liberals a sense of urgency. Shaping the ideological composition of the federal bench — and particularly of the lower courts — is a top priority for activists at both ends of the political spectrum.
With the Supreme Court hearing fewer than 80 cases a year, it is the 179 judges on the 13 courts of appeals who serve as the forum of last resort in almost all federal cases.
At the time Obama took office, 10 circuits were composed of a majority of Republican-appointed judges; two were evenly split; and only the 9th Circuit, which encompasses the western United States, had a Democrat- appointed majority.
Slowly Tipping the Balance on the Bench
Legal experts say the party affiliation of a president who appointed a judge isn't enough to explain judicial performance, particularly in the 80 percent of cases in which there's no published opinion, but it is a good predictor of how they will vote in particularly contentious cases, such as whether the 2010 health care overhaul law is constitutional.
So far, Obama has had the biggest impact on the three circuit courts that cover most of the Eastern Seaboard, adding four judges each to the 2nd and 4th circuits, and two to the 3rd Circuit. All now have Democrat-appointed majorities.
It will be much more difficult, however, for Obama to recast many of the appeals courts in the Midwest and South, such as the 6th Circuit, where a panel of two Republican appointees and one Democratic appointee will hear a second challenge to the health care law June 1.
A president's ability to reshape the bench depends largely on factors beyond his control.
Although some judges delay their retirements until a president from their party takes office, the most accurate predictor is when they become eligible for a pension, says Tracey George, a Vanderbilt University law professor.
When a vacancy does open up, how quickly it can be filled is typically determined by whether senators of the president's party serve in the state affiliated with that particular circuit court seat. The fact that GOP senators dominate in Alabama and Georgia helps explain why Obama hasn't moved to fill two vacancies in the 11th Circuit, which will hear a third health care challenge next month.
"It's such a matter of happenstance," says Arthur D. Hellman, a University of Pittsburgh law professor who studies the appeals courts.
Where Obama has undeniably started to leave his mark is in the gender and ethnic composition of the federal bench. He is the first president ever to nominate as judges more women and minorities than white men.
The trend started at the top, where the addition of Elena Kagan and Sonia Sotomayor means that three women are serving together on the Supreme Court for the first time.
And although Liu's nomination was blocked, seven other Asian-Americans have been confirmed so far, nearly doubling the number serving as federal judges.
FOR FURTHER READING: Liu nomination, p. 1134; demographics, CQ Weekly, p. 980; Kagan confirmation, 2010 CQ Weekly, p. 1928; lower-court nominations, p. 2212, judicial caseloads, 2009 CQ Weekly, p. 2140.