CQ WEEKLY – IN FOCUS
May 28, 2011 – 3:54 p.m.
Wireless Merger, or Empire-Rebuilding?
By Keith Perine, CQ Staff
Plenty of telecom mergers have been consummated since the Bell System breakup nearly three decades ago. But the bold move by AT&T Inc. to buy a smaller national rival carries higher stakes than many of the phone-company marriages since the government dissolved the Bell monopoly.
If federal regulators allow AT&T to buy T-Mobile USA, the number of national wireless carriers would shrink from four to three. The top two firms that now make up most of the old Bell System — AT&T and Verizon — would have about eight out of every 10 mobile subscribers, and the next best thing to a telecommunications monopoly — namely, a duopoly — would be established.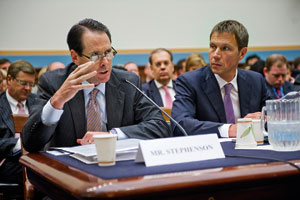 | | |
| --- | --- |
| SELLING THE DEAL: AT&T's Stephenson, left, joins Rene Obermann on behalf of T-Mobile in a House hearing on May 26. They argue that the relevant market for evaluating the merger is local more than national. (CQ / SCOTT J. FERRELL) |   |
So, after years of allowing legacy Bell companies and wireless carriers to combine and recombine, the big question is: Will the Justice Department and the Federal Communications Commission use this merger to draw the regulatory line?
Critics of the merger say the answer should be yes. "If you go under four, to three, and now with a probability of going to two, I would hope that the Justice Department and the FCC would say that this is a bridge too far, a merger too far," said Charles W. "Chip" Pickering, Jr., a former Mississippi Republican congressman who now represents Cellular South, a regional wireless carrier that is opposed to the deal.
AT&T's message is that the merger is good for competition and consumers because it would enable the new company to reach more of the nation. "This transaction will leave the market fiercely competitive," the company told the FCC in its merger application.
Deja Vu All Over Again?
Lawmakers, although lacking a formal role, are often quick to involve themselves in high-profile antitrust issues. Members who oversee antitrust and telecommunications policy are closely following the merger review and are already being courted by both AT&T and its foes. Hearings have started; one of them, on May 11, was titled, "Is Humpty Dumpty Being Put Back Together Again?"
That reference to the 1982 court order breaking up the Bell system captures some of the symbolism involved in the controversy. It's not just any antitrust case. It's old "Ma Bell."
One way or the other, AT&T's bid for T-Mobile means increased scrutiny of the telecommunications sector. If the regulators were to approve the merger, it probably would come with a list of conditions, such as requiring divestiture of spectrum licenses in particular markets, or pricing mandates that government officials would have to enforce.
If Justice and the FCC block the union, they will halt a yearslong trend of consolidation of telecom companies. It would be the biggest check on the industry's power since the Bell breakup.
It will be months before the Justice Department and the FCC decide what to do. But despite AT&T's formidable lobbying clout inside the Beltway, it is not certain that the telecom giant will be able to get past the regulatory obstacles.
Wireless Merger, or Empire-Rebuilding?
The Justice Department is reviewing the deal under its guidelines for horizontal mergers of direct competitors, under antitrust laws written to guard against monopolies, duopolies or other concentrations of market power that interfere with competition.
The FCC is considering the transfer of T-Mobile's spectrum licenses to AT&T under a broader regulatory charter, namely whether they are in the "public interest."
AT&T and T-Mobile argue that the merger would benefit wireless users because AT&T would be able to use T-Mobile's spectrum holdings to build a high-speed 4G, or fourth-generation, wireless network that would cover more than 97 percent of the U.S. population. That dovetails with the administration's goal of ensuring that at least 98 percent of Americans can get high-speed service.
Both companies have told regulators and lawmakers that T-Mobile, now owned by Deutsche Telekom AG, can't build such a network on its own, so it would be better to bolster AT&T, which describes itself as innovative but spectrum-starved.
"The fact is, even with everybody's focus and efforts, it will be several years before significant amounts of new spectrum are placed into service, and that's just the reality we face," AT&T chief executive Randall L. Stephenson told a Senate Judiciary subcommittee at a May 11 hearing on the merger. "So, to meet growing consumer demand, we have to find ways to get more capacity from the existing spectrum. And that is exactly what the combination will do."
The telecommunication industry union, the Communications Workers of America, has joined AT&T and T-Mobile in backing the merger because it would increase AT&T's unionized workforce.
Opponents of the merger include Sprint Nextel Corp., currently the third-largest wireless carrier, behind Verizon Inc. and AT&T; smaller carriers such as Cellular South; public policy groups and at least some tech industry players. Verizon has stayed on the sidelines so far.
Critics argue that the merger would give AT&T a big-enough share of mobile broadband providers that the company, along with Verizon, could dictate the terms of pricing, features and equipment. Many Democratic lawmakers are opposed to the idea of a duopoly having effective control of wireless.
"I believe it would be an historic mistake for this merger to be approved," Massachusetts Democratic Rep. Edward J. Markey said. "I think it would take us backward rather than forward."
Regulators must assess the effect the combined company would have on competition in the burgeoning mobile broadband market, which has been booming even as the number of its major players has been shrinking.
Defining the market itself is a critical threshold issue in this and other antitrust cases.
Stephenson and his allies say that regulators should look at the merger by analyzing competition at the local level — in geographic regions and in individual cities — where there is more competition from smaller regional and local wireless carriers, such as Cellular South and U.S. Cellular.
"The customer goes into a store in Minnesota or Wisconsin and makes a decision based on the competitors in the marketplace at that time," Stephenson told lawmakers at the Senate hearing. "And so each market is very unique."
Wireless Merger, or Empire-Rebuilding?
But opponents say that regulators have to look at the merger in context of the national wireless market, where only four companies — AT&T, T-Mobile, Verizon and Sprint — have networks that stretch across the entire country.
Smaller carriers have to pay big carriers for the right to allow their customers to roam on one of the national networks outside local service areas. And other wireless carriers have to pay AT&T or Verizon for backhaul service to transmit wireless calls on the two companies' wireline networks.
"Anyone that argues that local competitors are in the same space as the big four is just being ridiculous," said Sascha Meinrath, director of the Open Technology Initiative at the New America Foundation, a Washington think tank.
Widening the Spectrum
Underlying the proposed merger is control over radio spectrum, the oxygen of mobile broadband.
The wireless industry doesn't look anything like lawmakers envisioned in 1993, when they first empowered the FCC to auction spectrum licenses.
Before that, the FCC would award two spectrum licenses in every market for wireless service — one to the local telephone company and one to some other company. But lawmakers wanted to foster competition among more than two players, so they told the FCC to start auctioning spectrum licenses instead.
For the rest of the 1990s, the FCC not only auctioned spectrum but enforced a "spectrum cap" so that no one company could control too much spectrum in any given area. But in 2001, a Republican-controlled FCC decided to get rid of the spectrum cap, reasoning that it would be more efficient to let individual companies amass more spectrum.
Not surprisingly, a lot of consolidation in the wireless sector ensued. The big carriers, especially AT&T, Verizon and Sprint, each snapped up several smaller companies, all under the benevolent gaze of federal regulators.
"What they did was to get rid of the actual prohibition of concentrating too much spectrum in the hands of one company," said Harold Feld, legal director at Public Knowledge, a policy group that opposes the merger. "The result of that is we've had a lot more consolidation in the industry because companies, particularly AT&T and Verizon, went out and said, why do we want to pay to roam, we'll just buy up the companies we're roaming with."
The last time a Democrat-controlled Antitrust Division of the Justice Department reviewed a big horizontal telecom merger, it stopped the deal.
In 2000, the department blocked a bid by WorldCom Inc. to buy Sprint, arguing that the combination would leave too few national long-distance telephone companies. (WorldCom subsequently went bankrupt, re-emerged as MCI and was then acquired by Verizon.)
The Justice Department under President Obama has vowed to enforce antitrust laws rigorously. And although the department's Antitrust Division approved the union of Comcast Corp. and NBC Universal in January, it has moved to block some big horizontal mergers of direct competitors.
Wireless Merger, or Empire-Rebuilding?
On May 23, for example, the Antitrust Division filed a lawsuit in federal court to block the horizontal merger of two companies — H&R Block and TaxACT — which, along with Intuit, dominate the market for tax-preparation software.
Assistant Attorney General Christine A. Varney said that "combining H&R Block and TaxACT would destroy the head-to-head competition between these two companies, leaving only one other major competitor. That is not enough competition in this valuable industry."
Varney's statement wouldn't have to be rewritten too much for such a lawsuit against AT&T and T-Mobile.
"We haven't had a merger like this before in telecom," said Feld. "I think there's a pretty good chance that a Justice Department that's serious about antitrust steps up and blocks this one."
As for the FCC, its most recent annual report on wireless competition last year pointedly stopped short of declaring that there was enough competition among mobile broadband providers.
FCC Chairman Julius Genachowski has beefed up his merger-review team by hiring Renata Hesse, an antitrust attorney and former Justice Department official who specializes in the technology sector.
Neither AT&T nor its foes are spending any time talking about negotiating potential conditions that would clear the way for approval. AT&T hasn't suggested any conditions to regulators, and opponents say there aren't any that would make the merger palatable to them.
Republican lawmakers, who are usually opposed to any government intervention in the private sector, have taken a decidedly wait-and-see approach. That's in keeping with a long tradition of bipartisan support for antitrust regulation as a means to preserve robust competition.
Republican Greg Walden of Oregon, chairman of the House Energy and Commerce subcommittee that oversees the FCC, said he is waiting for the commission to compile its merger-review record. He said he wanted "to get a good analysis of market impact. We want markets that are competitive and work to the advantage of consumers."
'Yin-Yang'
Somewhat ironically, approval of the merger could lead to greater ongoing regulation of the national wireless carriers. Not only would the Justice Department and the FCC have to monitor and enforce any conditions they might impose, regulators and lawmakers might feel compelled to impose more rules on the companies that remain.
Meinrath described the dynamic as a "yin-yang between market competition and government regulation. If you have more of one, you need less of the other."
FOR FURTHER READING: Spectrum crunch, 2010 CQ Weekly, p. 2795; FCC spectrum auctions, 1993 Almanac, p. 254; AT&T breakup, 1982 Almanac, p. 331.