CQ WEEKLY – IN FOCUS
May 28, 2011 – 3:49 p.m.
India's Doubts About U.S. Prove Hard to Overcome
By Jonathan Broder, CQ Staff
On Capitol Hill, the relationship between the United States and India has been largely subsumed within the larger debate over the war in Afghanistan and strained U.S. ties with India's neighbor and longtime rival, Pakistan. Indeed, the last time a congressional committee held a strictly India-focused hearing was nearly three years ago, just before the Senate voted to clear a civilian nuclear cooperation agreement between the two countries.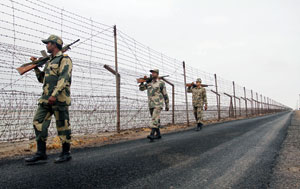 | | |
| --- | --- |
| HIGH WIRE: Indian troops patrol the Pakistani border, one of the world's most dangerous flash points. (AP FILE PHOTO / AJIT SOLANKI) |   |
According to the zero-sum logic that long has defined the India-Pakistan rivalry, Washington's problems with Islamabad should translate into New Delhi's gain. But despite Pakistan's suspected involvement in the 2009 terrorist attack on Mumbai and the U.S. discovery that Osama bin Laden had been hiding in the center of Pakistan for more than half a decade, strategic relations between the United States and India — once held up as an important new partnership in Asia — have not advanced. If anything, they have deteriorated amid deep suspicions over the role that the United States is playing in the region.
That does not bode well for the larger conflict between India and Pakistan, two nuclear-armed countries that have already fought three wars. Not only has their unresolved rivalry made their common border one of the most dangerous political flash points in the world, it also plays out through proxies on the battlefields of Afghanistan.
Some analysts point a finger at Congress for the tension in U.S.-India ties, saying the conditions it demanded before approving the nuclear deal in 2008 humiliated India and set relations on a downward spiral. Others say the Obama administration has inflamed India's suspicions by moving closer to Pakistan and China, India's other major rival in the region.
"The perception in India is that the emphasis which the last administration placed on relations with New Delhi has shifted away from India under this administration," said California Republican Ed Royce, who chairs the 100-member U.S.-India Caucus in the House.
Fantasy vs. Reality
Whatever the cause, U.S.-India ties are clearly showing signs of strain. U.S. officials and defense contractors were stunned last month when India announced that only European finalists would be competing for an $11 billion contract to supply its air force with new fighter planes. Regional experts note that New Delhi's wariness toward U.S. policies in the wider Middle East and South Asia have led it to oppose U.S.-led sanctions efforts against Iran and Libya at the United Nations and to reject offers of U.S. mediation to help resolve the longstanding dispute with Pakistan over Kashmir. And since the U.S.-India nuclear cooperation agreement was signed, no U.S. company has sold even one nuclear power plant to India, largely because of liability issues that some experts say could prove intractable.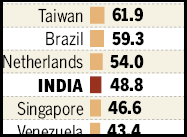 That's not to say that the U.S.-India relationship doesn't have some bright spots. Trade is booming, including U.S. sales of smaller-ticket military equipment to New Delhi. But even as the administration plans for a smaller U.S. military presence in Afghanistan in the coming years, experts warn that U.S. expectations of a much closer strategic relationship with India are likely to prove overblown.
"There has been a tendency in Washington to fantasize about what a good relationship with India would look like," said George Perkovich, an India scholar at the Carnegie Endowment for International Peace. "But reality never lives up to the fantasy."
The vision of a close relationship between the United States and India grew out of President George W. Bush's effort to enlist India in an effort to counter China's growing influence in Asia. Its centerpiece was the U.S.-India civilian nuclear deal, which reversed 34 years of U.S. policy opposing nuclear cooperation with India and recognized the country's geopolitical importance. "Even though the United States and India are separated by half the globe, we are natural partners as we head into the 21st century," Bush said when he signed the agreement into law, in October 2008.
At the time, Bush aides predicted billions of dollars in sales of nuclear power reactors to New Delhi, as well as big sales of U.S.-made military equipment that would deepen strategic ties with India and balance Beijing's growing power in the region.
India's Doubts About U.S. Prove Hard to Overcome
But some of those involved in the Senate's deliberations over the nuclear agreement say the Bush administration exaggerated the transformative nature of the deal and downplayed the role Congress would have to play in approving it.
Lawmakers conditioned their approval on quiet administration promises that the United States could cease all cooperation with India if New Delhi detonated a nuclear explosive device. The administration also promised lawmakers that it would not help India design, construct or operate sensitive nuclear technologies through the transfer of dual-use items. Only then did Congress approve the deal.
The administration considered its promises to Congress so sensitive that their publication might cause Indian Prime Minister Manmohan Singh's government to fall. In the end, Singh's government survived its acceptance of the U.S. conditions, but, congressional aides said, they left a bitter taste in the mouths of many Indian officials and parliamentarians.
"Bush forgot to tell the Indians there is this messy thing called Congress," a Senate aide said.
Other analysts dismiss the effect that any lingering Indian resentment over the nuclear deal may have had on U.S.-Indian relations. They say the real reason why the United States has sold no nuclear power plants to India is the U.S. nuclear power industry's opposition to an Indian law that places all liability for an accident on the manufacturer of the plant rather than on its operators.
But even that law carries unpleasant memories for many Indians. It grew out of India's suspicions of dealing with big U.S. companies such as Union Carbide, which largely escaped legal responsibility for the 1984 leak from its chemical plant in the Indian city of Bhopal that left thousands dead and injured.
Under pressure from the Obama administration, the Singh government has pledged that the Indian Parliament will ratify a treaty that would bring New Delhi into compliance with international liability conventions. But that pledge is inconsistent with existing Indian law. And unless that law is amended, any U.S. sales of nuclear power plants to India are highly unlikely, conceded Ron Somers, president of the U.S.-India Business Council.
U.S. Vulnerabilities
The U.S. appetite for lucrative arms sales to India was whetted in 2008, when Lockheed Martin Corp. sold New Delhi six C-130J Super Hercules military transport planes in a $1 billion deal. A year later, Congress cleared the $2.1 billion sale of eight P-8I maritime patrol aircraft from Boeing Co. to the Indian Navy.
The Obama administration pushed hard to sell India 126 new multirole fighter jets in a deal worth $11 billion. Boeing, offering its F/A-18 Super Hornet, and Lockheed, touting its F-16, were competing against Russian, French and Swedish warplane makers, as well as one produced by a European consortium.
In the end, however, India short-listed only France's Rafale warplane and the Typhoon Eurofighter — a decision defense analysts said reflected Europeans' greater willingness to transfer sophisticated technology to India. But experts said the decision also confirmed U.S. fears that Washington's ties to Pakistan and the sanctions that Washington imposed on India after its 1998 nuclear tests would harm its efforts to win such large weapons deals.
Indeed, several days after Timothy J. Roemer, the U.S. ambassador to India, announced his resignation last month, the anti-secrecy group WikiLeaks revealed a cable that Roemer had written in October 2009 to Michele Flournoy, a senior Pentagon official who was about to visit India. In it, Roemer warned that Washington's ability to capitalize on its warming relations with India was "limited by the commonly held view that the U.S. will not prove to be a reliable supplier of defense equipment," according to a Reuters report.
Roemer noted that India was reluctant to deploy American weaponry against Pakistan because Washington could cut off military supplies in the event of another round of India-Pakistan hostilities.
India's Doubts About U.S. Prove Hard to Overcome
India also is not thrilled over the prospect of a drawdown in Afghanistan, where U.S. troops have been fighting Pakistan's Taliban proxies. "The Indians want to fight the Taliban to the last American," said Karl F. Inderfurth, an assistant secretary of State for South Asia during the Clinton administration and now a scholar at the Center for Strategic and International Studies.
Not surprising, India boosters such as Royce and U.S-India Business Council's Somers remain optimistic, saying there is still an Indian market for U.S. weapons and nuclear reactors. And Inderfurth notes that Indian and Pakistani officials have been meeting recently in an attempt to ease tensions.
But Perkovich cautions against what he calls "unreasonable expectations" for the U.S.-India relationship as long as Washington maintains close ties with Pakistan.
"The idea was to escape from the zero-sum dynamic between India and Pakistan," he said. "But in the end, we can't escape from it."
FOR FURTHER READING: U.S.-Pakistan relations, CQ Weekly, p. 989; U.S-China relations, 2010 CQ Weekly, p. 2704.