CQ WEEKLY – VANTAGE POINT
Corrected June 14, 2011 – 8:33 a.m.
Ethics Rules Must Be Made to Be Broken
By Alan K. Ota, CQ Staff
The rules of the House of Representatives devote nearly 16 pages to the financial conduct of members, but just a single sentence — albeit the first sentence — to their personal behavior.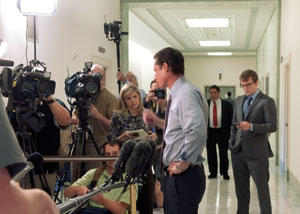 | | |
| --- | --- |
| HARSH LIGHT: Weiner, a New York Democrat, apologized but vowed not to quit despite the furor over his Internet behavior. (CQ ROLL CALL/ DOUGLAS GRAHAM) |   |
House members, officers and employees are enjoined by Rule 23 to "behave at all times in a manner that shall reflect creditably on the House."
The challenge now, in the collective embarrassment of the Anthony Weiner Internet soap opera, is whether the House should — or even could — define acceptable personal behavior as closely as it does the acceptance of free tickets or the use of the congressional frank in sending mail.
Some groups that monitor congressional ethics think that in the world of social media such as Facebook, Twitter and YouTube, Congress should have more explicit standards of behavior.
Craig Holman , a spokesman for Public Citizen, says today's vague morality mandates in both the House and the Senate are an invitation to disaster.
"It's obvious they don't know what is appropriate," Holman says. "They need to be more explicit about what they can and can't do."
At the Campaign Legal Center, another ethics watchdog group, policy director Meredith McGehee says, "We probably need more guidelines."
Through the decades, though, Congress has been notably reluctant to write precise guidelines or closely regulate the personal behavior of its members.
Stanley M. Brand , an ethics lawyer and former House general counsel, says the terse congressional honor code is archaic and would be "thrown out of court" if it applied to ordinary citizens. But that vague standard, he says, has been effective in holding members up to scrutiny.
In many cases, the House and Senate have relied on the moral suasion of the institution to bring members into line, or ease them out the door. Like a military officer corps, lawmakers believe that a private word in the cloakroom or a pointed reference on the floor should be enough.
Often it has been. Wilbur D. Mills , an Arkansas Democrat who chaired the House Ways and Means Committee, retired in 1974 after he was caught driving in Washington with a stripper known as Fanne Foxe who ran from his car and jumped into the Tidal Basin. Two years later, Ohio Rep. Wayne L. Hays quit after his secretary, Elizabeth Ray , admitted to The Washington Post, "I can't type, I can't file, I can't even answer the phone."
Sometimes, though, lawmakers have not taken the hint, as when Sen. Bob Packwood , an Oregon Republican accused of making improper advances to several women, hung around for nearly two years even after Sen. Robert C. Byrd of West Virginia told him pointedly on the floor, "It is time to have the grace to go." He quit in 1995 only when the Ethics Committee was about to bring charges, including that he had altered diaries the committee wanted to inspect.
Ethics Rules Must Be Made to Be Broken
Rep. Donald E. "Buz" Lukens , an Ohio Republican, was convicted in 1989 of contributing to the delinquency of a minor he had sex with, but he refused to leave the House even after he was defeated in a 1990 primary, finishing third to the current House Speaker, John A. Boehner . Only after Lukens tried to fondle an elevator operator in the Capitol did he finally resign.
The popularity of electronic social network services has further blurred the lines between public and private lives of members of Congress. Guidelines in both chambers already require lawmakers to have separate websites for public offices and campaigns, but there is little separation between public and private online presences.
Weiner's suggestive tweeting and shared photographs, as well as the February resignation of Rep. Christopher Lee , a New York Republican who sent emails and a photo of himself to a woman he met on Craigslist, have raised difficult questions about how members use personal email and social networks.
Larry Sabato , a political scientist at the University of Virginia, thinks the solution to all this is to leave "gray areas" in rules, but have party leaders actively intervene to nudge miscreants out the door. "A sexual code of conduct would open them up to terrible ridicule," he says.
The problem with informal discipline, of course, is that some public figures, such as former President Bill Clinton , have survived approbation, and even thrived on it.
Holman and McGehee suggest drafting advisory limits that would help members make more informed choices about how they interact with the public with email or social media sites.
That approach might avoid hard and fast rules. As Brand says, "Do we really need more rules?"
First posted June 11, 2011 9:00 a.m.
Correction
Corrects to say Bob Packwood quit in 1995.