CQ WEEKLY – IN FOCUS
June 11, 2011 – 10:16 a.m.
Fighting a War on Shifting Sands
By Tim Starks, CQ Staff
Killing Osama bin Laden was an enormous military and intelligence boost for the United States. The uprisings through the Middle East have the potential to be a diplomatic boon, too.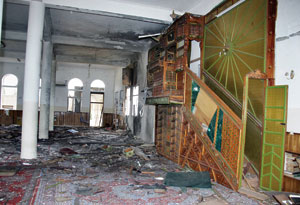 | | |
| --- | --- |
| CLOSE CALL: Yemen's president was badly wounded in a June 3 attack on a mosque in his palace. ( GETTY IMAGES / AFP ) |   |
But every silver lining has a cloud. And those two events have scrambled the terrorist threat picture, potentially exacerbating some dangers while raising difficult, perhaps even unanswerable, questions about how the United States should be reacting to the ever-shifting security landscape.
Yemen is a case in point. For all the Obama administration's frustrations with the country's president, Ali Abdullah Saleh, the attempt on his life June 3 and his subsequent departure to Saudi Arabia throw a key part of U.S. counterterrorism strategy into disarray. Washington had, somewhat reluctantly, teamed up with Saleh's regime and poured in money and training resources. And Yemen is no small blip on the terrorist map: It is the home base of al Qaeda in the Arabian Peninsula, the organization that intelligence officials have told Congress poses the most immediate threat to America.
There's always a chance that a new Yemeni regime will be friendlier to the United States. Or that the discovery of bin Laden's hiding spot becomes the elusive catalyst needed to persuade Pakistan to finally get serious about going after extremists. Or perhaps, with bin Laden's death, al Qaeda crumbles. But it's also possible that things could get riskier still, with even fewer reliable counterterrorism partners around the globe.
"It's an opportunity, surrounded by a lot of danger," says Sen. Lindsey Graham, a South Carolina Republican.
Defense in the Dark
Lawmakers and national security experts are struggling to grasp which threat is gravest today: Is it the original al Qaeda with new leadership? Is it one of the al Qaeda offshoots? Is it homegrown terrorism? And from there, officials have to decide what to do about that threat. Already, among other steps, Congress is revisiting the original 2001 law that authorized the military to go after bin Laden and the Sept. 11 plotters, given new doubts about whether that law is too outdated to meet efforts to combat terrorism in the post-bin Laden era.
The bad news for policy makers accustomed to responding to the latest developments is that there are no immediate answers, particularly with the pro-democracy uprisings continuing to roil the Middle East.
"It's really early. It could take years, or decades, to determine the impact," says Christopher Boucek, an associate at the Carnegie Endowment for International Peace. "We know very little about what's going on. Things are moving so quickly."
Yemen is perhaps the most troublesome spot, because it combines all of the elements of the shifting landscape. Not only is it home to al Qaeda in the Arabian Peninsula, or AQAP, but a key figure in the group, U.S.-born Anwar al-Awlaki, has demonstrated the ability to inspire homegrown terrorists in the United States. And Yemen's stability, teetering because of rebel uprisings, jeopardizes a long-term counterterrorism partnership.
"I actually consider al Qaeda in the Arabian Peninsula, with al-Awlaki as a leader within that organization, probably the most significant risk to the U.S. homeland," Michael Leiter, the outgoing director of the National Counterterrorism Center, told Congress — way back in February.
Now, with bin Laden gone, "I think Yemen is a major point of concern," says Senate Select Intelligence Chairwoman Dianne Feinstein, a California Democrat. Even though some experts dismiss Awlaki as a minor leader within AQAP, Feinstein calls him "a major figure." The English-speaking Yemeni cleric reportedly exchanged messages with accused Fort Hood shooter Army Maj. Nidal Malik Hasan. Awlaki's organization is also believed to have been behind last fall's plot to blow up airliners with cargo bombs.
Fighting a War on Shifting Sands
Awlaki's familiarity with U.S. culture, and his ability to radicalize individuals outside the stereotypical profile of a terrorist suspect, "creates a new kind of threat," says Pennsylvania Republican Patrick Meehan, who chairs the House Homeland Security subcommittee that oversees intelligence matters.
With Saleh's regime on the ropes, AQAP could become an even bigger threat. Yemeni security forces have been pulled from hunting terrorists to protect the Saleh regime, and it's unclear what a new regime would mean for U.S. aims. "No matter what you thought of President Saleh, he did cooperate on terror issues, although maybe not as much as we would like," Boucek says. "We also had a series of relationships with Yemeni officials, and most of them would also probably leave, or be removed, if President Saleh left."
Already, U.S. plans in the country have been disrupted by the attack on Saleh. Last week, the Pentagon acknowledged that it had halted military training of Yemeni forces. "The political uncertainty right now makes it difficult for us to do very much," Shari Villarosa, deputy coordinator for regional affairs at the State Department, told a House Homeland Security subcommittee June 3. At the same time, the United States stepped up, at least temporarily, its covert activity in Yemen, because the power vacuum meant fewer Yemeni forces going after terrorists, according to a New York Times story.
More broadly, all the Middle East uprisings, from Egypt to Libya to Yemen, threaten to transform the shape of the terrorist threat, as well as long-standing U.S. partnerships.
The trend "requires fundamental changes in U.S. counterterrorism policy," says Daniel Byman, senior fellow at the Saban Center for Middle East Policy at the Brookings Institution. "The change sweeping the Arab world undermines al Qaeda's message, but at the same time it offers terrorists far more operational freedom."
The Pakistan Problem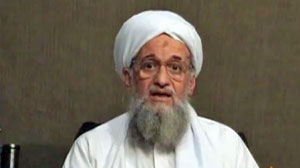 | | |
| --- | --- |
| POWER VACUUM: Zawahiri eulogized bin Laden in a video released over the Internet last week. (YOUTUBE) |   |
Beyond the Middle East, the continued presence of core al Qaeda fighters on both sides of the Pakistan-Afghanistan border remains a severe threat. The old enemies of al Qaeda and the Taliban are still real threats, Feinstein said. Taliban chief "Mullah Omar is still out there," Feinstein says, adding that bin Laden's deputy, Ayman al-Zawahiri, also "is still out there."
The operation that took out bin Laden at a mansion in Abbottabad, Pakistan, led many lawmakers to conclude that the country's intelligence and military apparatus might have had a role in sheltering the al Qaeda leader.
"We've got to make the Pakistanis choose" where their allegiances lie, Graham says. But the operation to kill bin Laden inflamed tensions with Pakistani leaders, who had already been encountering resistance from citizens who opposed U.S. drone strikes as intrusions on Pakistan's sovereignty.
Pakistan's cooperation on U.S. counterterrorism goals, already shaky, has shown signs of growing even weaker since the bin Laden operation, such as when Pakistani authorities were suspected by U.S. officials to have leaked the alleged name of the CIA station chief to the Pakistani news media in retaliation.
Even with so much unclear, Congress has already taken some steps in response to bin Laden's death. But some of the issues raised by his demise, as well as the Middle East uprisings, are not easily resolved.
Congress moved fairly quickly to reauthorize expiring provisions of the 2001 anti-terrorism law known as the Patriot Act, enacting a four-year extension in May after bin Laden's death. The renewal had been controversial before that event, with some freshman Republicans allied with the tea party movement resisting it on the grounds that it was an intrusive, big-government measure.
Fighting a War on Shifting Sands
Renewal advocates touted the intelligence success of finding bin Laden's hideout, and argued that a more diffuse al Qaeda would require ongoing access to the Patriot Act's powers. "Now more than ever, we need access to the crucial authorities in the Patriot Act," Attorney General Eric H. Holder Jr. told the Senate Judiciary Committee last month.
Most of the other completed steps have been minor, such as a boost in funding for CIA counterterrorism analysts in the fiscal 2011 intelligence authorization bill. But some larger responses are under discussion.
Perhaps the most controversial is a rewrite of the 2001 Authorization for the Use of Military Force law, which approved operations against the plotters of the Sept. 11 attacks and those who harbor them. A provision of the House-passed fiscal 2012 defense authorization bill would modify that to specify as targets al Qaeda, the Taliban and "associated forces," similar to the Obama administration's legal interpretation of the original law.
Advocates of rewriting the 2001 law say that it has become outdated; that its legal authorities are being stretched; and that overhauling it would give the executive branch the authority it needs to detain terrorism suspects. Critics retort that such a change would be ill-conceived and unnecessary, and would give effectively unlimited power to the president to wage war.
"It's far too broad and would give the executive branch authority to arrest and detain anybody, anywhere," says Carl Levin, the Michigan Democrat who chairs the Senate Armed Services Committee and is considering his own, narrower rewrite of the law.
Another, smaller measure under consideration is legislation that would extend the expiring, fixed term of FBI Director Robert S. Mueller III for two more years. "There are bad, and even potentially dangerous, times to change directors, and this is one of them," James B. Comey, a former deputy attorney general in the George W. Bush administration, told the Senate Judiciary Committee on June 8. That legislation is less controversial.
While some lawmakers have called for cuts or conditions on aid to Pakistan, others have said that the unstable conditions in the Middle East demand more foreign aid, not less — whether for development projects or fostering democracy movements.
"If the administration talks about Yemen as second only to Pakistan-Afghanistan as a threat, we need to resource it that way, and we're not," Boucek says. "Pakistan gets billions of dollars a year, and Yemen gets hundreds of millions. I know there is very little money to go around. But we can do things smarter."
Indeed, some in Congress have called on the administration to employ many of the tools it already uses to greater effect, with al Qaeda seen as on the run. "We have to keep the hammer on them," says GOP Sen. Saxby Chambliss of Georgia, vice chairman of the Intelligence panel.
"We have to press the advantage," Graham says, explaining that doing so would require the United States to settle on a jail for detainees it captures as a result of the intelligence trove from bin Laden's compound. Many Republicans would prefer that jail to remain the Guantánamo Bay facility in Cuba, which the administration still wants to shutter.
For its part, the Obama administration is finishing work on a new counterterrorism policy, due out this summer, that responds in part to bin Laden's death and the turmoil in the Middle East, according to the Associated Press.
But with so little settled, there is also a strong case for caution.
"Anything we do right now is too fast," says Karen J. Greenberg, executive director of the Center on Law and Security at the New York University School of Law. "All of these things that have been on the back burner have been pushed to the front burner, a month after bin Laden's death and coupled with the Arab uprising. It's precipitous."
Fighting a War on Shifting Sands
John M. Donnelly contributed to this story.
FOR FURTHER READING: Fiscal 2011 intelligence authorization (HR 1892), CQ Weekly, p. 1143; Patriot Act renewal (PL 112-14), p. 1142; House fiscal 2012 defense authorization (HR 1540), p. 1136; 2001 Authorization for the Use of Military Force (PL 107-40), 2001 Almanac, p. 1-9.