CQ WEEKLY – VANTAGE POINT
June 18, 2011 – 11:26 a.m.
A Rethink on Taxes?
By Alan K. Ota, CQ Staff
The group Americans for Tax Reform and its leader, Grover Norquist, have spent the past quarter-century trying to impose fiscal austerity on government through lower taxes. Now, though, a small number of Republicans in Congress — Norquist's natural allies — are rebelling against his outsized influence in GOP politics.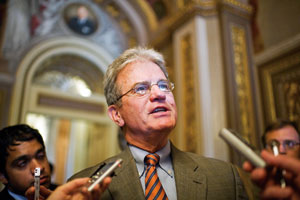 | | |
| --- | --- |
| SPEAKING OUT: Coburn thinks that eliminating some industry tax breaks isn't the same as raising taxes. (CQ ROLL CALL/ TOM WILLIAMS) |   |
A handful of members have even refused to sign the group's pledge not to raise taxes or reduce tax breaks — either because they don't like taking any pledge beyond their oath of office or because they consider Norquist's pledge so doctrinaire that it could interfere with any chance for actual tax reform.
Some lawmakers who want to streamline and restructure the tax system, and perhaps move to either a flat-rate or a consumption tax, worry that Norquist's rigid terms could make those changes difficult.
Norquist also has antagonized Republicans by insisting that every proposal to repeal business tax breaks be paired with offsetting tax cuts. That stance could hamper efforts by some GOP members, siding with Democrats, to reduce or eliminate what they consider corporate giveaways in the tax code.
Over the past week, a group of rebels led by Republican Sen. Tom Coburn of Oklahoma has challenged Norquist over his declaration that Coburn's proposal to eliminate federal tax breaks for ethanol fuel producers amounted to a tax increase and would require offsetting tax cuts.
Coburn and his allies argue that the ethanol industry should prosper or die on its own, even though ethanol costs more to produce than gasoline and can compete at the pump only if it is subsidized and the government requires its use.
When Coburn began to gain allies on the ethanol issue, Norquist instructed his supporters that they could vote for Coburn's amendment if it was paired with tax cuts.
Ultimately, the Senate adopted a modified version of the amendment by Coburn and California Democrat Dianne Feinstein, and Norquist applauded, though he told senators that if they really wanted to eliminate government favoritism for ethanol, they should vote for an amendment by South Carolina Republican Jim DeMint to repeal both the federal mandate for ethanol use and the estate tax.
Some Republicans said Norquist was stretching the definition of tax increases. "Some folks say eliminating deductions is raising taxes," said Sen. Saxby Chambliss , a Republican from Georgia. "It really isn't."
"Grover," said Sen. Richard M. Burr of North Carolina, "is making up the rules as he goes along.''
Norquist denies he is reinterpreting the pledge, and in fact sees no reason to change it. "It's clear," he says, "Everybody understands it."
The pledge's acceptance this year by all but 13 Republicans in Congress, Norquist says, is a high-water mark since he first circulated it in 1986.
A Rethink on Taxes?
But the political landscape he travels may be shifting. For years, it has been GOP moderates such as Sen. Olympia J. Snowe of Maine or independent-minded conservatives like Sen. Richard G. Lugar of Indiana who sidestepped the pledge. Now, younger, deeply conservative lawmakers are joining the revolt, including John Barrasso of Wyoming, vice chairman of the Senate Republican Conference, and Rep. Rob Woodall of Georgia.
Woodall says he's concerned that a flat tax or a consumption tax, which he favors, might violate the pledge's spirit by raising slightly more revenue from some families than the income tax does.
Norquist has long favored a simpler tax system, but says a consumption tax is at least a decade off. There is no reason now to try and adjust the pledge for that. As for Woodall's reluctance to sign, Norquist said, "He'll be primaried some day, and take the pledge."