CQ WEEKLY – IN FOCUS
June 18, 2011 – 11:57 a.m.
Bearing the Burden of NATO
By Jonathan Broder, CQ Staff
When departing Defense Secretary Robert M. Gates excoriated the military weakness of NATO's European members this month, he warned that, with tightening budgets, Congress would reach the point where it no longer would be willing to cover the costs of European security.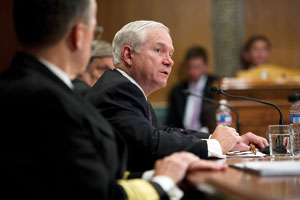 | | |
| --- | --- |
| NIGHT RAID: French helicopters armed with anti-tank missiles conduct missions over Libya. Gates complains that European NATO members need to do more. (GETTY IMAGES / AFP / JOEL SAGET; GATES: CQ / SCOTT J. FERRELL) |   |
"The blunt reality is that there will be dwindling appetite and patience in the U.S. Congress — and in the American body politic writ large — to expend increasingly precious funds on behalf of nations that are apparently unwilling to devote the necessary resources or make the necessary changes to be serious and capable partners in their own defense," he told a June 10 gathering of NATO defense ministers in Brussels.
Gates' warning — delivered during his farewell tour before he steps down at the end of the month — was intended to jolt the alliance's European members out of what he portrayed as their complacency in allowing U.S. taxpayers to foot the bill for their security. So far, it has resulted in little more than a statement by the head of NATO last week that defense spending among European allies should increase so they don't have to depend on the United States for their high-tech weaponry.
But on Capitol Hill, Gates' words — combined with what many see as insufficient contributions by NATO members to the three-month-old operation in Libya — have intensified long-smoldering contempt for some European countries. U.S. lawmakers have fired off warnings to allies they regard as security freeloaders. Indiana Republican Dan Burton, chairman of the House Foreign Affairs subcommittee on Europe, says he will soon introduce legislation that would withhold funding for NATO operations in countries that fail to spend 2 percent of gross domestic product on defense, as is required for membership in the alliance. Republican Kay Bailey Hutchison, a member of the Senate Appropriations Committee, is talking about moving U.S. troops from Germany back to her home state of Texas. Others, citing recent reports that the NATO-led air war against Libya is running out of ammunition, are questioning the overall purpose of NATO and whether the United States can truly depend on the alliance's poorly equipped European forces to carry out missions.
Never mind a coalition of the willing, said Maryland Democrat Barbara A. Mikulski, another Senate appropriator, at a hearing last week. "We're going to need a coalition of the capable."
Alliance's Shifting Role
These are only the first salvos in what is expected to be a growing debate on Capitol Hill over the future of NATO, a subject that has come up periodically since the collapse of the Soviet Union in 1991 removed the primary threat facing the Western military alliance.
Until now, NATO has provided the United States with a welcome cover of multilateralism for its post-Cold War missions, from Kosovo in 1999 to the Afghanistan War. But a convergence of factors — congressional calls for spending cuts, growing fatigue with the Afghanistan War, opposition to the Libya mission and, perhaps most significant, a new generation of lawmakers with no memory of NATO's vital Cold War role — will prompt Congress to scrutinize the value of the alliance as never before, defense analysts and officials predict.
"This is a serious problem," Gates told the Senate Defense Appropriations Subcommittee last week. "It's been a problem for some years. But I think our own financial difficulties and what we're now going to face in looking at the American defense budget brings this issue to center stage in a way that it really has not been in the past."
In his Brussels speech, Gates noted that among NATO's 28 members, only five — the United States, Britain, France, Greece and Albania — exceed the agreed 2 percent spending target on defense. He said that the United States, which is supposed to contribute 25 percent of NATO's roughly $3 billion annual budget, picks up 75 percent of the alliance's costs. And while U.S. defense spending has doubled since the Sept. 11 terrorist attacks, Gates pointed out that overall European defense expenditures have dropped by 15 percent.
Republican Bob Corker of Tennessee, a member of the Senate Foreign Relations Committee, says he's pleased that Gates spoke so bluntly to NATO's European members about a problem that has plagued the alliance for years.
Bearing the Burden of NATO
"NATO has become the United States of America acting as the protector of all of these other countries," Corker says. He adds that the Libyan conflict has brought the weaknesses of the alliance into sharp relief as NATO commanders complain they're running out of ammunition only 11 weeks into their air campaign against a modestly armed foe. "Gates was telling them, 'You guys are not living up to your responsibilities, and you have to fulfill your end of the bargain.'"
Burton is outraged at the thought that some NATO allies are falling short of their 2percent minimums. He says he will introduce an amendment to the fiscal 2012 Defense and State-Foreign Operations appropriations bills, as well as a stand-alone measure, that would cut off U.S. funding for NATO allies whose defense outlays fall short.
"Obviously, we don't want to destroy NATO," Burton said, adding that he still sees the alliance as an "important bulwark against extremism and terrorism." But he said such an amendment would "send a shot across the bow of the countries that don't live up to their commitments."
Several lawmakers are taking their unhappiness with NATO a step further, suggesting that 66 years after the end of World War II, the moment may have arrived to start pulling some U.S. troops out of Europe.
"Is it time to have an overseas base closing, where we bring a lot of assets home, close assets and so on?" Mikulski asked Gates at the Appropriations subcommittee hearing. She said that President Obama's debt reduction commission estimated such a move could save the United States about $9 billion. Hutchison put in a plug to transfer U.S. troops now based in Germany to Texas, a parochial approach that would help her state's economy.
Gates responded by noting that a transfer of Germany-based U.S. troops to Texas would require billions of dollars in military construction costs to house the troops and their families. And as the Pentagon weighs base realignments in East Asia as part of its effort to cut costs, Gates also warned of signaling to our biggest rivals a turn toward isolationism.
"Are we basically sending the message to the rest of the world — and I would say to China, to Iran, to North Korea, to a variety of other places — the United States is closing up shop and going home, and we're headed toward 'Fortress America' again?" he asked subcommittee members. "The huge question for the country to consider, and for you to consider, is what kind of role do you want for the United States in the world."
'Drain on the Treasury'
Not surprisingly, no consensus on that issue has emerged among lawmakers. On the left, members such as Massachusetts' Barney Frank, top Democrat on the House Financial Services Committee, have called for an end to U.S. funding for NATO, which Frank has called a "great drain on our treasury" that "serves no strategic purpose." In an interview with MSNBC last week, Frank said he was heartened by Gates' speech, noting that support on Capitol Hill for reducing contributions to NATO, as well expenditures for the war in Afghanistan, is "beginning to catch on."
In the Senate, Mikulski captured the confusion over NATO's purpose in the post-Cold War era and the doubts some lawmakers have about its affordability when she asked Gates, "What is NATO? What are we going to require of NATO members? What actions should NATO undertake?"
But even as lawmakers such as Mikulski openly question the ultimate purpose of the alliance, such doubts do not reflect a huge shift in Congress against U.S. membership in NATO.
In addition to Burton, who underscores the strategic importance of NATO even as he castigates deadbeat European members, Corker and many other lawmakers who deal with defense and foreign policy stress that NATO, despite its problems, remains a key piece of the U.S. security structure.
"We need to build on what Gates said to clear up those problems," Corker said.
Bearing the Burden of NATO
Yet even Corker warns that if NATO's European members do not step up and fulfill their promises, the only real leverage the United States has is to start booting countries out of the alliance. "I don't think we're at a point in this discussion where we're talking about forcing people to withdraw, but ultimately that's where you have to go with this," he said.
View From Brussels
In his first major response to Gates' Brussels address, NATO Secretary-General Anders Fogh Rasmussen expressed concern last week over the low level of defense spending among European allies. Speaking in Madrid, he called on members to work together to reduce the reliance on the United States for sophisticated weapons systems.
"Don't get me wrong," he said. "I'm not saying that each ally should have those high-end capabilities, but I would like to see more of them across our alliance."
As Rasmussen's tentative tone suggested, both he and the United States are going to have a tough time persuading NATO's delinquent European members to pony up more money for their defense, foreign policy experts say. For one thing, European governments are busy slashing spending to bring down their own sky-high debt levels. Meanwhile, Stephen M. Walt, a political science professor at Harvard University, says that popular opinion in most European member countries associates NATO with the unpopular war in Afghanistan. In addition, he says, Europeans see no serious external military threats, including from Russia.
"European countries won't increase their defense spending because they don't face serious external threats, they have major fiscal problems of their own, and they know the United States will keep doing most of the work," Walt says. "Hectoring them won't do any good, especially if the United States remains willing to do most of the work itself."
Virginia Democrat Jim Webb, a member of the Senate Armed Services and Foreign Relations committees, says that sort of attitude threatens the future of the alliance. Quoting his old boss, former Defense Secretary Caspar W. Weinberger, Webb said, "Europe needs to remain connected to the United States."
But Webb points out that the debate over NATO has been further complicated by congressional charges that President Obama is using the alliance as a fig leaf to conceal what many lawmakers say are unconstitutional U.S. military combat operations against Libya. The administration says NATO is now leading the Libya campaign and insists that U.S. forces are playing only a supporting role.
Webb says the key challenge for both the United States and NATO leaders is how the alliance is going to define its role beyond Europe's borders. Apart from what Webb sees as the questionable constitutionality of the Libya operation in terms of U.S. law, he says that NATO's action in Libya doesn't meet the test of a threat to the alliance's vital interests.
"Certain countries in Europe — Britain, France, Italy — each have their own interests in Libya and their own reasons for intervening militarily," Webb said, "But those are not the responsibility of the alliance. NATO countries should not be compelled to take action outside of their region."
FOR FURTHER READING: U.S. deficit, CQ Weekly, p. 1260; Libya conflict, pp. 1213, 907, 668; Defense appropriations outlook, p. 1125.