CQ WEEKLY – IN FOCUS
Corrected June 21, 2011 – 11:47 a.m.
Mueller: Should He Stay Or Should He Go?
By Seth Stern, CQ Staff
Thirty-five years after setting a 10-year term limit for FBI directors, Congress appears poised to make an exception and extend Robert S. Mueller III's tenure by two years.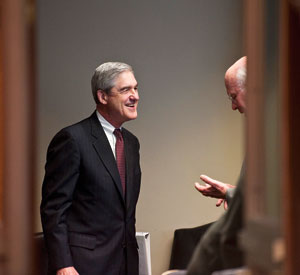 | | |
| --- | --- |
| HAPPY TO STAY: Mueller is all smiles as he chats with Leahy before a June 8 hearing on his tenure. (CQ / SCOTT J. FERRELL) |   |
Lawmakers in both parties have largely accepted the rationale President Obama put forward last month when he declared that the threat of new terrorist attacks and turnover in other key national security leadership posts justify the first-ever extension.
Pushing off the decision about the next director until after the next presidential election ensures continuity at the top of the FBI, an agency Mueller has helped transform from one focused largely on solving crimes after the fact to one dedicated to preventing terrorist attacks before they happen.
But the extension could undermine the term limit's original purposes: to have a tenure long enough that the FBI director doesn't feel beholden to any president but short enough to avoid the rise of another J. Edgar Hoover, whose 48-year autocratic reign ended when he died in 1972.
The proposal has come under criticism from FBI agents who say it's inconsistent with Mueller's policy that limits field-level managers to seven-year tenures, and from civil libertarians who fear any erosion of the norm that no one should serve more than 10 years as director.
"One person shouldn't have his hand on the switch of all domestic surveillance for too long a period of time," says Laura Murphy, director of the ACLU's Washington legislative office. "The term exists for a reason."
Term Limit Origins
The Bureau of Investigation, as it was originally known, was not deemed important enough to have its director subject to Senate confirmation when it was created in 1908 as a force of nine detectives within the Justice Department.
The FBI grew significantly in size and the scope of its investigations in the decades after Hoover became director in 1924, branching out from crime fighting and counterespionage to domestic surveillance of alleged subversives and political intelligence on behalf of presidents of both parties. Only later would the full extent of the spying — creating dossiers on hundreds of thousands of citizens — become known.
Congress finally made the FBI directorship a confirmable post in 1968. But in a nod to Hoover's continuing influence, the change was effective only upon his death.
By the time Congress first began considering legislation limiting the director's term in 1974, two years after Hoover died, lawmakers had grown just as concerned about undue political influence within the FBI as future empire building.
Mueller: Should He Stay Or Should He Go?
President Richard Nixon had to withdraw his nomination of L. Patrick Gray III to succeed Hoover after Gray stirred controversy by delivering speeches that appeared designed to help the president's re-election and supplying the White House with details about its investigation of the Watergate burglary.
In the wake of the scandal, Sen. Robert C. Byrd, D-W.Va., introduced the term limit legislation in 1974, saying it would help "prevent the formation of a fiefdom, lorded over by an autocratic director" and insulate the director "from the political pressures that are present when appointment and reappointment depend on the pleasures of a particular president."
Byrd said a 10-year term would ensure the director's tenure extended beyond any presidential administration; the idea of limiting the position to a single term came later.
Byrd originally would have allowed a director to serve a second 10-year term. Competing proposals called for multiple four-year terms or a 10-year term with a five-year extension. Byrd ultimately concluded that one term was enough.
"There is certainly more than one man in the country with the ability to head the FBI," Byrd said in a 1974 floor speech. "Ten years is a long enough period of time for a director to make his leadership felt, to put his philosophy into action and to get his program into being."
Support for a term limit grew the following year as the full extent of the FBI's domestic surveillance of people such as civil rights leaders, antiwar activists, movie stars and even members of Congress began coming to light.
The 10-year term limit was enacted in 1976, but none of the first three men confirmed as director under the law served the full term. (Leaders, this page)
Mueller, a former Marine and federal prosecutor who had previously headed the Justice Department's criminal division, took office in September 2001, one week before the 9/11 attacks.
He has spent the subsequent decade helping lead the FBI's transformation from a crime-fighting organization to one equally focused on anti-terrorism and intelligence gathering. Its ranks of special agents grew to nearly 14,000, and the number of intelligence analysts more than doubled.
Mueller proved particularly adept at managing the FBI's external relationships with the White House, intelligence and local law enforcement agencies, and congressional overseers on both the Judiciary and Intelligence committees.
Lawmakers in both parties competed to lavish praise on Mueller earlier this year as he made what was thought to be his final round of testimony as director before congressional committees.
"There have been growing pains and false starts, but Director Mueller has managed this transformation of a large and well-established agency with great professionalism and focus and will leave at the end of his tenure a better bureau than he had when he came in," Chairman Patrick J. Leahy, D-Vt., said during Mueller's March appearance before the Senate Judiciary Committee.
Reluctant Warrior
Mueller: Should He Stay Or Should He Go?
Mueller, who turns 67 in August, did not hide the fact he was looking forward to retirement as Vice President Joseph R. Biden Jr. and Attorney General Eric H. Holder Jr. searched for his successor. But at the president's request, he agreed to stay on for two more years, a decision Obama announced May 12.
"Given the ongoing threats facing the United States, as well as the leadership transitions at other agencies like the Defense Department and Central Intelligence Agency, I believe continuity and stability at the FBI is critical at this time," Obama said.
Mueller's singular standing — and his reluctance about staying in the job — made the proposal all the more palatable. "That reluctance is obvious," said a longtime observer of the FBI. "This is a guy not perceived by anybody as being power hungry."
Charles E. Grassley of Iowa, the Senate Judiciary Committee's top Republican, initially expressed concern on the day Obama proposed extending Mueller's tenure, which he called "somewhat of a risky precedent to set."
Nevertheless, Grassley joined the other leaders of the Senate's Intelligence and Judiciary committees in cosponsoring legislation that would make the extension possible. Grassley said he did so with a "heavy heart" and added, "Two years is as far as I will go."
"Director Mueller has done a fine job, but he's not indispensable and the likely continuation of the war on terror for many years is not so singularly a circumstance to justify extending the FBI director's term," Grassley said.
The Senate Judiciary Committee voted 11-7 (with Grassley's support) to approve the bill last week after Democrats rejected a Republican amendment aimed at addressing concerns raised by legal experts about whether the bill as written could be challenged as an unconstitutional infringement on presidential appointment power.
Unlike a confirmation, which is considered only by the Senate, the House will also have to approve the statutory change necessary to make the one-time exception possible. With an extension, Mueller would not have to be reconfirmed.
Senate committee Republicans, who say they favor extending Mueller's term, warned that the bill as written could run into trouble among their counterparts in the House if the issue isn't resolved.
The proposal has prompted grumbling among FBI agents, who note that the "up or out" policy adopted by Mueller after the 9/11 attacks requires field supervisors to be promoted to headquarters, return to the ranks of agents or retire after seven years.
"Why not extend the same desire for stability for those doing the job in the field?" asks Konrad Motyka, an FBI special agent and president of the FBI Agents Association, whose membership includes 10,000 active-duty agents. (Motkya stepped down as a supervisor due to the "up or out" policy.)
Civil liberties advocates say that by reappointing Mueller, members of Congress will cede an opportunity to re-examine the FBI's surveillance policies since 9/11. The FBI has most recently come under criticism for investigating peace and labor activists and for a forthcoming revision of its guidance manual that will make it easier for agents to gather detailed information and search curbside garbage of people who are not yet the subject of investigations.
"Term limits are like sunshine laws: They force us to bring in new leaders who take a fresh look at things, and that is almost — almost always a good thing," said Al Franken, D-Minn., who still voted for the bill in the Judiciary Committee.
Mueller: Should He Stay Or Should He Go?
Should Mueller get the extension, as expected, his to-do list is likely to include fixing the FBI's out-of-date computer system and further developing its national security branch, which handles anti-terrorism work.
John Elliff, a former FBI official and aide to the Senate Select Intelligence Committee whose 1974 testimony as a political scientist at Brandeis University helped persuade Byrd of the merits of a single 10-year term, said he is less concerned about eroding the norm of a 10-year term than about the risk of "politicization of the office," because Mueller will have to be replaced in the first year of the next presidential term.
FOR FURTHER READING: The term-extension bill is S 1103; committee approval, p. 1326; term-limit law (PL 94-503), 1976 Almanac, p. 403.
First posted June 18, 2011 12:01 p.m.
Correction
Corrects the spelling of Konrad Motyka's name.