CQ WEEKLY – VANTAGE POINT
June 25, 2011 – 11:47 a.m.
Freer Trade Ahead?
By Joseph J. Schatz, CQ Staff
With European leaders struggling to stave off a financial default in Greece and keep other countries solvent, many U.S. lawmakers are glad to keep clear of the turmoil.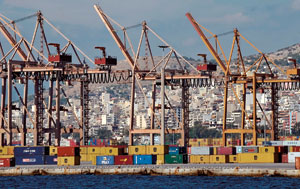 | | |
| --- | --- |
| FREEDOM FRIES FOR ALL: The Chamber promotes free trade with Europe. Congress isn't ready to bite. (GETTY IMAGES/ AFP/ LOUISA GOULIAMAKI) |   |
Not so the U.S. Chamber of Commerce, which is pushing a plan to draw the United States and the European Union even closer together — and send a signal to trading partners in China, India and Brazil — by eliminating all tariffs between the two economies.
Advocates say the plan could also boost U.S.-European relations at a time when many are questioning the efficacy of the European Union as well as its financial and military clout. The proposal also comes as the Obama administration chastises Europe for not paying a greater share of the cost of NATO and as concern mounts about coordination between U.S. and European leaders on the conflict in Libya.
Champions of U.S.-European relations are busy defending the alliance. "Though the U.S.-Europe partnership may not be living up to its potential, it is not worthless, and that relationship continues to be one of the strongest and most important in the world," wrote James Joyner, managing editor at the Atlantic Council, a think tank, in an article earlier this month.
The alliance certainly is important when it comes to trade and investment. Commerce between the United States and European Union nations already accounts for about 40 percent of global trade. As a whole, the EU is the United States' biggest export destination, ahead of Canada, and its biggest source of imports, above China. Moreover, tariffs on goods from EU nations are already low by world standards, as are European tariffs on American-made goods, thanks to years of trade liberalization.
But with emerging markets in Asia driving the global economic recovery, rather than the United States or the European Union, American and European business leaders see room for more growth.
Zeroing out tariffs would produce at least $23 billion in new exports for the United States and at least $28 billion for Europe, according to a study commissioned by the Chamber and the Confederation of Swedish Enterprise last year. A zero-tariff agreement could also lower costs for U.S. companies trading goods with affiliates in Europe.
It is not clear whether such a tariff deal could be arranged without running afoul of World Trade Organization rules against trade discrimination. And efforts to harmonize U.S. and European regulations remain a work in progress. Negotiators "will need to do a better job of securing strong and sustained high-level support and to get more buy-in from the U.S. Congress and the European Parliament," Jeanne Shaheen , a New Hampshire Democrat who chairs the Senate Foreign Relations Subcommittee on European Affairs, said last month of the regulatory effort.
Zeroing out the tariffs, which would require congressional approval, is not on most lawmakers' radar screens. Free-trade advocates in Congress are having enough trouble passing Bush-era trade deals with South Korea, Colombia and Panama.
And nearly every proposal to lower tariffs draws opposition from organized labor. A deal with the European Union would probably be no different.
But U.S. Chamber CEO Thomas J. Donohue has been shopping the idea at home and in European capitals for months now, spending time with German Chancellor Angela Merkel and Irish Prime Minister Enda Kenny.
"When you first talk about a zero-trade thing they go, 'Well, I don't know,'" Donahue says. "And then, 'Tell me more about that? How many dollars is that? How significant is that in terms of creating jobs?'"
Freer Trade Ahead?
And there's another motive behind the push for the deal: Advocates say lowering tariffs could force developing countries such as India, Brazil and China, which have grown rapidly in recent years, to make concessions in the long-stalled Doha round of global trade talks. "Global trade negotiations, which are important, are at very best on hold," Donohue says. A trans-Atlantic deal, the argument goes, would prod those nations to want back in.
"A trans-Atlantic free-trade accord, properly designed, could give the WTO and its members the jolt they need to get on track again," the authors of the study wrote.