CQ WEEKLY – VANTAGE POINT
June 25, 2011 – 12:08 p.m.
A Stimulus Success Story
By Shawn Zeller, CQ Staff
The debate over the efficacy of President Obama's $787 billion economic stimulus package may never be resolved, but in at least one respect, it does appear to have unambiguously succeeded: It kept the number of homeless people from soaring.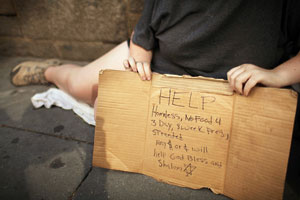 | | |
| --- | --- |
| ENOUGH OF THIS: HUD says state aid helped keep the number of homeless people from soaring. (GETTY IMAGES / SPENCER PLATT) |   |
Earlier this month, the Housing and Urban Development Department reported that despite the deep recession, from 2009, when the law was enacted, through 2010, the number of homeless people remained basically unchanged, rising by just 2 percent. Nearly 1.6 million people spent at least one night in an emergency shelter or transitional housing in 2010, according to HUD.
The stimulus bill included $1.5 billion for states, territories and localities to spend over three years on permanent housing for the homeless and to help prevent homelessness.
HUD Secretary Shaun Donovan was quick to take credit on the administration's behalf. He said in a statement that it was clear "that had it not been for President Obama's Recovery Act, many hundreds of thousands of persons may have fallen into homelessness."
Donovan added that the states were able to find housing for 531,000 people at risk of becoming homeless, while 159,000 were moved from the streets into homes. The ranks of the chronically homeless — often people addicted to drugs or alcohol or suffering from mental illness — declined slightly.
In the midst of recession, that's a success, says Philip Mangano, who oversaw homelessness programs for President George W. Bush and continued as executive director of the United States Interagency Council on Homelessness during Obama's first 100 days in office. "One of the things we argued for from the council was that the stimulus package needed to be targeted to all Americans, not just banks and insurance companies," he says.
However, Mangano points out, the number of chronically homeless people is not declining as fast as it did in the mid-2000s, when it went down by nearly 10 percent a year. Since their disabilities are so profound, he says, whether they have a home is mostly a function of government intervention, not the health of the economy.
Another cause for continued vigilance, he says, is the historical trend of rising homelessness during boom times.
"What we've seen is that in the mid-1990s and mid-1980s, when there were unprecedented economic booms, homelessness increased dramatically," he says. "One of the reasons is the pressure an economic boom puts on the housing market."