CQ WEEKLY – IN FOCUS
June 25, 2011 – 12:17 p.m.
Fifty Ways to Run Your Medicaid Program
By Joanne Kenen, CQ Staff
If you are a poor person on Medicaid in Delaware, better floss. Medicaid provides no dental coverage there. In Nebraska, though, you'd be covered for a root canal.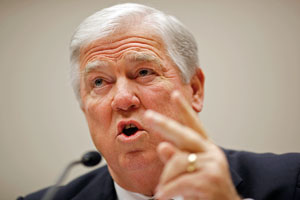 | | |
| --- | --- |
| BLOCK GRANT BOOSTER: Mississippi Gov. Haley Barbour says he wants greater control over Medicaid. (GETTY IMAGES / CHIP SOMODEVILLA) |   |
Nevada is among the states with no Medicaid co-pay for prescription medicine. Utah has a tiered co-pay system that can rise beyond 25 percent of a drug's cost.
Wyoming allows 12 medical appointments a year, whether at home, at a doctor's office or as a hospital outpatient.
Hearing aids? Speech therapy? Managed care? Fee for service? All that depends on the state you are in.
Yet despite that variation, documented by state websites and the Kaiser Family Foundation, Medicaid's "inflexibility" is the meme of the moment as health care spending undergoes scrutiny in the debate about cutting the deficit. Whether they are advocating turning Medicaid into a block grant, or rolling back "maintenance of effort requirements" written into the 2010 health law, Republicans in particular are depicting Medicaid as a one-size-fits-all program that costs too much and hampers innovation, creativity and all-around good government in the states.
"Medicaid should be reformed in a comprehensive and sustainable manner, not only to improve care for our nation's vulnerable citizens, but also to address the inequities, inefficiencies, excess costs, fraud, waste and abuse that are unfortunately far too prevalent in the 'all or nothing' approach to Medicaid programs nationwide," 29 Republican governors recently wrote lawmakers in Washington.
Democratic state officials have their own gripes about flexibility and funding: They want more of both. But they would preserve the essential nature of Medicaid as a guarantee of health care for the poor.
"Our challenge today is to modernize and refine these commitments, not to squeeze them out of existence with accounting tricks and political rhetoric," Massachusetts Gov. Deval Patrick, a Democrat, told the Senate Finance Committee last week, after describing how his state transformed its health system with the flexibility already available.
Picking Up the Tab
Sparring over Medicaid is nothing new, but it's in particularly sharp relief now because of intensifying conflicts at both state and federal levels over money, politics and the new health law, which in 2014 will expand Medicaid in every state to cover an estimated 16 million more people, almost a third of the uninsured population.
Later this week, the extra $100 billion in federal stimulus money that Congress steered to the states to help pay for Medicaid during the worst of the recession runs out. The stimulus funds helped states absorb millions of people who lost their health coverage along with their jobs — with the federal government picking up most of the tab. But many states are unable or unwilling to fill in the fiscal gaps as they face continued pressure from budget shortfalls and high unemployment. Enrollment nationwide increased by 7.2 percent from June 2009 to June 2010, exceeding 50 million participants for the first time. Estimates say it could reach 69 million this year.
Twenty states reported in March that Medicaid or other health care programs were over budget, according to a survey by the National Conference of State Legislatures (NCSL).
Fifty Ways to Run Your Medicaid Program
Medicaid is a big component in the growth of entitlement spending, a key driver of the federal deficit, and an issue on which the two parties are gulfs apart. As participants discovered in recent deficit reduction-debt ceiling talks led by Vice President Joseph R. Biden Jr., there aren't obvious ways to split the differences.
The Medicaid fight is also part of the ongoing partisan war over carrying out the new health care law. Rolling back Medicaid coverage now would make the Medicaid expansion required under the law even harder in 2014.
"This is not just a policy discussion. It's a political discussion," says Bruce Siegel, chief executive officer of the National Association of Public Hospitals and Health Systems. "The debate over maintenance of effort is also a debate over health reform repeal. If you pull back on eligibility now, it becomes much harder to climb the hill in 2014 and expand Medicaid. It makes no sense unless your goal is to stop the expansion."
Republicans want to repeal the whole health law, including the Medicaid expansion. Failing that, they have made a priority of stripping away the provision that states cannot significantly trim or change their programs from 2010 levels. The bipartisan NCSL has urged Congress to either strike that specific requirement, or set up a way to automatically pump "countercyclical" funds to the states during economic slumps.
No Two States Alike
Since Medicaid's creation in 1965 as a joint federal-state effort to provide health care for the poor, every state has made scores of decisions about the program. Flexibility was baked in from the start despite the periodic arguments that erupt in Washington over state vs. federal control.
States don't even have to participate in Medicaid if they don't want to, although they can't get the federal matching funds without taking part. As states joined, they put their own stamp on the program, which is intrinsically complicated because it serves three distinct populations: poor young children and their parents; the disabled; and the low-income elderly who are also on Medicare, many of whom need nursing home care.
No two state programs look alike. Medicaid rules are markedly different in terms of who qualifies for benefits, what benefits they get and how those are delivered. The law does spell out some mandatory coverage groups, such as pregnant women, babies and preschoolers with family incomes up to 133 percent of the poverty level, and parents up to 28 percent of the poverty level. But most states reach at least a few rungs further up the poverty ladder. How many rungs varies widely.
More options were added over the years. In the 1970s, for instance, states were given additional choices to cover the developmentally disabled. The program underwent many more changes in a 2005 budget law, which granted states more tools to find their own ways of serving vulnerable populations.
Over time, many "optional" components became part of Medicaid's fabric, if not its law. Matt Salo, executive director of the National Association of Medicaid Directors, says every state covers prescription drugs, even though they are "optional." Home- and community-based alternatives to nursing homes have also been expanded.
"These things are technically optional but technically only," Salo said. "No one is going to stop covering prescription drugs. And long-term care . . . there's nowhere else for people to get that."
The Obama administration, while pledging to streamline Medicaid, has also sought to reassure state officials that maintenance-of-effort rules are not a straitjacket. Secretary of Health and Human Services Kathleen Sebelius has said state officials cannot change who is eligible or make enrollment more cumbersome. But they can make changes to provider payments and care delivery. They also have leeway about whether to renew or extend some existing waivers — decisions that could bring down enrollment.
"We are committed to responsiveness and flexibility, and will expedite review of state proposals," Sebelius wrote to governors earlier this year. "Starting immediately, the senior leadership from across the department will be available to meet individually with your staff about plans that you may already have in mind. My team stands ready to come to your state to discuss your priorities and how we can help achieve them."
Fifty Ways to Run Your Medicaid Program
Last week, Melanie Bella, head of a new office within the Center of Medicare and Medicaid Services that focuses on the costly population known as "dual eligibles," testified before the House Energy and Commerce Subcommittee on Health. She talked about ways to help states provide higher-quality, lower-cost care to people who are in both Medicare and Medicaid.
A "key objective of this new office is to engage our state partners," said Bella, who used to run Indiana's Medicaid program and has first-hand experience with state flexibility, federal waivers and their limitations.
Waivers have been part of Medicaid for years, but they've loomed larger recently. Because they are negotiated and dispensed by HHS, they reflect both the political philosophy of a particular administration and the economics of the times. In the prosperous 1990s, many waivers involved expanding coverage. In the early 2000s, they were often about cost-cutting. In the past five or six years, there has also been more emphasis in waiver requests on how health care is delivered, and more use of managed care.
Waivers have become common. Even the most complex kind, known as Section 1115 waivers, are underway in more than half the states. Several are quite far-reaching, such as the global-cap experiment in Rhode Island, which requires the state to pay for care if costs go above a certain level but enables it to save if it provides care more efficiently.
"It's not that the states can't do things. They can," says Christine Ferguson, a health policy analyst at George Washington University who has worked on Medicaid in Rhode Island and Massachusetts. She recalls helping to set up a creative Medicaid financing system in Rhode Island for window replacement in homes of poor children with lead poisoning. "It's about figuring out a way to do" innovative things and then getting disparate constituencies in the state and federal bureaucracies to buy in.
Carolyn Ingram, a Medicaid specialist at the Center for Health Care Strategies, a research group based in New Jersey, had similar experiences when running the New Mexico program. Waivers take time, she says, but they get done.
"There is a whole process, a lot of conversation with people in order to push your ideas forward," she says.
Much of the concern among Medicaid advocates is that states would slash it if given the go-ahead by Congress. They are mounting a fierce lobbying campaign to keep such agreements out of the debt ceiling negotiations, saying the cuts might not even save money if more poor people ended up in emergency rooms, forcing hospitals to provide care without payment.
But it's not just Republicans who want greater leeway. Oregon Gov. John Kitzhaber, a Democrat, wants waivers so he can use Medicaid as a catalyst for statewide delivery-system reform, promoting more care coordination, particularly for people with chronic diseases. Vermont's Democratic Gov. Peter Shumlin seeks a plethora of waivers for Medicare, Medicaid and the health law as he sets his state on a path toward a single-payer system by 2017.
In the world of health policy and think tanks, ideas are circulating about "swapping" some government health care programs. Certain services or populations might fall wholly under Medicare's purview, while others could be in the hands of the states. But those ideas haven't spilled out much from the white-paper world into the realm of political dealmaking, although they could eventually gain traction as Washington turns to long-term solutions for entitlements and the debt.
Salo, of the Medicaid Directors group, says that outside the hyperpartisan climate of Washington, state officials mostly agree that they want the waiver process sped up and simplified. They want more freedom to take ideas that have worked, under one waiver after another, in one state after another, and just do them without jumping through all the hoops.
There is precedent for such changes: The Cash and Counsel program, which gives the frail elderly and disabled more control over how they get personal support services, began as a test in three states. It proved so successful that other states were allowed to adopt it without waivers.
"We are in the process of working through a list" of bipartisan suggestions, Salo says, adding that there's a lot of interest in finding ways for states to share in savings rather than moving to some form of a block grant approach that could shift additional costs onto them.
Fifty Ways to Run Your Medicaid Program
The bottom line for the states may not be so much about the specifics of grants or financing. What states are really telling Washington, Salo says, is "Trust us more."
But trust is in short supply in Washington these days. The only thing on which there is bipartisan agreement is that there is no bipartisan agreement.
"Usually solutions of this magnitude are shared," Democrat Max Baucus of Montana, chairman of the Senate Finance Committee, mused at a hearing on entitlements last week. "Where is the balance here? Where do we find the shared solution?"
FOR FURTHER READING: House Medicaid bill is HR 1683, CQ Weekly, p. 1075; long-term care, p. 1046; governors, p. 845; House budget plan, p. 801; entitlements, p. 676; 2005 law (PL 109-171), 2005 Almanac, p. 11-3.