CQ WEEKLY – IN FOCUS
July 9, 2011 – 9:51 a.m.
Fiscal Heartburn in the Heartland
By Alan Greenblatt, CQ Staff
For all the focus on Washington's fiscal problems, important perspective can be gained by looking outside the Beltway. State and local governments employ one in every seven American workers — several times as many as the federal government. Just in the past year, state and local governments have laid off or eliminated the positions of nearly 300,000 workers. The number is double that for the past three years.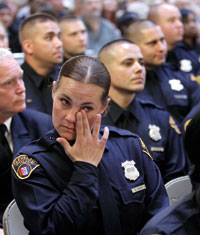 | | |
| --- | --- |
| CHEERS AND TEARS: As soon as police cadets in Cleveland joined the city's force, they faced layoffs due to state budget cuts. Some 81 officers were among the 321 city employees laid off this year. (AP / TONY DEJACK) |   |
It's no surprise, then, that state and local budget cuts have become a real drag on the economy; some economists worry about the long-term effects of states' cutbacks on important investments in things like schools, roads and hospitals. The problem is particularly acute just now in Minnesota, where most of the state government has been shut down since July 1 because of a budget dispute.
State and local cuts have helped keep the overall unemployment rate uncomfortably high, even as job creation is picking up in the private sector, which added about 1.8 million jobs in the past year. June numbers released last week, in fact, showed that although the private sector added 57,000 jobs, the state and local sector shed about 25,000.
"If you think that other parts of the economy are picking up, state and local government and construction are the two sectors that are acting as a drag," says Kim Rueben, director of the state and local program at the Urban-Brookings Joint Tax Center.
Economic forecasters say state and local cuts will dampen gross domestic product by about half a percentage point this year. "That's significant when you've got an economy that isn't growing that fast in the first place," says Nigel Gault, chief U.S. economist for IHS Global Insight, an economic consulting firm.
State and local spending cuts were meant to be partially staved off by the 2009 stimulus law, known as the American Recovery and Reinvestment Act, or ARRA, which provided roughly $135 billion to states to help stabilize their budgets. But that money — and extensions of support for Medicaid and education — mostly had to be spent by now.
"States were essentially ordered to spend dollars to maintain jobs," says Robert B. Ward, director of fiscal studies at the Rockefeller Institute of Government, a think tank at the State University of New York. "That was probably good for the economy two years ago, but it may not have been the best strategy to make a glide path toward these reductions, rather than creating a cliff, as was the case."
Lagging Indicators
State revenue — particularly income tax receipts — have begun to improve after a long decline following the 2008 stock market crash. "It's not the absolute worst, which is when the revenues are coming in lower than expected and you're in a recession," says Scott Pattison, executive director of the National Association of State Budget Officers. "That's over."
Some relatively small states, such as Virginia and Delaware, are now seeing surpluses, in part due to more conservative revenue forecasting.
But most states are still cutting spending in economically productive areas such as education and infrastructure, partly due to loss of federal support. "Basically, any new revenue and most of the new spending are going for Medicaid and corrections, which aren't really where we see our growth sectors," Rueben says. (Examples of cuts, p. 1476)
Fiscal Heartburn in the Heartland
She says that the shutdown in Minnesota is presenting an especially stark example of a decline in services and infrastructure that is becoming more noticeable all over.
At the local level — where the bulk of the layoffs are occurring — the revenue picture is still getting worse. Local governments depend heavily on property taxes, which are still trending down, due to a lag in the way assessments account for the effects of the housing market collapse.
Local finances are made worse by the fact that aid to localities has been among the most popular line items for states to cut. In Massachusetts, for example, state aid to cities and towns has been cut by 32 percent over the past three years.
Layoff notices to teachers are an annual rite of spring in the education field, but this year school districts will follow through on them in tens of thousands of cases.
Education — along with nearly every other state government program — has experienced marked spending growth over the past 40 years. State and local spending grew rapidly as a share of the economy during the 1960s and 1970s and has continued to grow along with the economy.
State revenues grew by 6 percent, on average, in the 30 years leading up to the falloff in 2008, according to the National Association of State Budget Officers.
States aren't expecting to see that kind of growth return anytime soon. And the large numbers of GOP governors and legislators elected last year have shown no appetite for broadly raising tax rates in response to continuing budget woes.
As a result, it will take time for state revenue even to return to their 2008 levels. "Sales tax revenues in aggregate are considerably below where they were before the recession hit," says John Mikesell, a public finance expert at Indiana University. "At normal rates of growth, it will take a couple of years before they're back to pre-recession levels."
Costs, meanwhile, have continued to rise. "They're still going to be cutting through 2012," says Gault, the IHS Global Insight economist. "They'll probably be cutting in 2013."
And some economists worry that continued cuts at the state and local levels could create long-term problems for the broader economy. States are not able to make the same kind of investments in infrastructure and education — including higher education — that they were just a few years ago.
"The effects of these cuts are going to be showing up many years out," says Rick Mattoon, a senior economist at the Federal Reserve Bank of Chicago. "For most economists, their concern is the future path of how these budgets play out."
Even as state and local revenue rises, elected officials are going to have to grapple with pension and retirement health benefit shortfalls that top $1 trillion, according to the Pew Center on the States. And they are not expecting future help from the federal government. Much of the discussion about deficit cutting in Washington, after all, still centers on domestic discretionary spending that flows, in many cases, down to state and local governments.
The upshot, says Bob Ward of the Rockefeller Institute, is that after seeing growth for decades in "virtually every area of state and local government, now we're starting to see a reversal."
Fiscal Heartburn in the Heartland
States were able to use federal funds to help close their enormous budget gaps in 2009 and 2010, but now that ARRA funding has mostly run out, they are nervous that Congress will try to balance its own budget, at least in part, at states' expense.
"What happens if federal budget negotiations result in big cuts for the states?" Gault says. "The risk would be that the federal government seeks to put bigger burdens on states and localities as it tries to deal with its own budget problems. Not only would they lose stimulus, but they would lose support on top of that in areas like Medicaid, for example."
The End of ARRA
States and localities have long felt threatened by the potential loss of federal support, only to see such funding grow in recent years. But no one expects an increase in largesse from Washington at this point.
That means the stimulus law may have had a perverse effect on the timing of public sector layoffs. States and localities held onto the bulk of their workers through the teeth of the recession. But now the number of layoffs is picking up, even as the larger economy is struggling to recover.
"ARRA did afford states some protection and allow them not to engage in widespread layoffs," says Marcia Howard, executive director of Federal Funds Information for States, which tracks federal spending for governors and legislators.
"It's probably a good thing that widespread public sector layoffs lagged the recession, rather than being part of it," she says, "but I do think we're going to see them this year. The public sector is definitely a drag."
Gault, of IHS Global Insight, points out that states, cities and counties were not able to avoid layoffs entirely while the ARRA funds held out. Since their peak of employment in August 2008, states and localities have let go more than 500,000 workers.
In addition, state and local governments have imposed widespread furlough days on their workers. Furloughs have resulted not only in reductions of service, but are an effective pay cut that reduce government workers' own ability to spend.
"You have some states that have slashed their budgets 20 to 30 percent since fiscal 2008, meaning substantially less economic activity," says Sujit CanagaRetna, a senior fiscal analyst with the Council of State Governments. "Some states are impacted more than others, but that kind of impact is very noticeable, and it's one reason why we're still in this malaise in trying to recover from the Great Recession," he says.
The effect of those cuts can put a damper on the larger economy, since a lot of what states do is write checks — to school districts, hospitals or highway contractors.
States are still cutting back on construction projects, as well as payments to health care providers, says Ronald C. Fisher, an economist at Michigan State University. "Those cutbacks have to have an effect on private-sector employment," he says.
And shortfalls are being felt when it comes to joblessness as well. State unemployment trust funds have been severely depleted by heavy demand in recent years.
Fiscal Heartburn in the Heartland
States have collectively borrowed tens of billions of dollars from the federal Treasury to keep paying unemployment benefits. In many cases, state funding formulas call for increased unemployment taxes during a prolonged recession, meaning that states such as Indiana, Florida and South Carolina have seen their tax rates go up.
"Tax increases on businesses continue to be a big issue for them," says CanagaRetna. "Their point is, 'We're hurting in this economy and we can't afford to pay these increased taxes.'"
State officials have taken an increasingly active role recently in seeking to help build the economy. But economic development agencies are now seeing their budgets slashed in many states. And states don't have the kind of wherewithal they once had to offer large tax incentives to companies seeking to relocate or expand, CanagaRetna says.
"Economic development's a really tough area to see reductions, because the way you're going to capitalize is if you're poised when consumer spending comes back," he says.
The combination of weak revenue growth, sluggish tax collections in some areas and a falloff in federal support means that state and local governments are going to be slow in making a full recovery — and will certainly not contribute as much as they once did to the overall economy.
"What states and localities are doing is making the macro situation worse," says Mikesell, the Indiana professor. "It took a while to get into the soup, and it's going to take a while to get out of the soup."
Alan Greenblatt is a freelance journalist and former CQ staff writer.
FOR FURTHER READING: Federal budget negotiations, p. 1494; the 2009 stimulus law is PL 111-5, 2009 Almanac, p. 7-5.