CQ WEEKLY – IN FOCUS
July 9, 2011 – 10:23 a.m.
A Small Provision at the Core of a Big Tax Debate
By Sam Goldfarb, CQ Staff
In the past month or so, Sen. Tom Coburn, a conservative Republican from Oklahoma, has become something of a hero to liberal Democrats for his willingness to challenge GOP orthodoxy on tax policy — in particular his desire to eliminate corporate tax breaks that he says are unwarranted or excessive.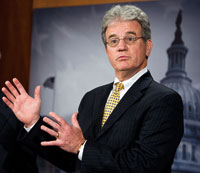 | | |
| --- | --- |
| DRAWING A LINE: Coburn is no fan of tax breaks that he sees as unjustified, but he disagrees that accelerated depreciation rules fall into that category. (CQ ROLL CALL / TOM WILLIAMS) |   |
Coburn, though, has frustrated Democrats in one critical respect. While sharing their disdain for a broad class of "tax expenditures," he has argued in defense of other special tax provisions that he contends are unjustifiably under fire. Specifically, Coburn has drawn a distinction between tax credits that benefit ethanol producers — which he vigorously opposes — and various "accelerated depreciation" allowances that are said to benefit the oil and natural gas industry.
While these two sets of provisions might seem on the surface to be similar, since each gives an industry some specific methods of reducing its tax bill, Coburn says the difference between them is really quite clear.
To him, accelerated depreciation isn't anything like a tax break in the usual sense because it doesn't reduce the amount that companies will eventually owe the government. Rather, it just allows them to deduct the cost of new buildings and equipment from taxable income more quickly than traditional depreciation schedules would allow.
"The net effect on the federal government's revenue, if you take all those away, is still zero," Coburn said in a recent floor speech.
Although relatively unheralded, Coburn's views on accelerated depreciation highlight a long-running debate between conservatives and liberals about what actually constitutes a questionable tax benefit. It gets to the heart of questions about special treatment granted to narrow groups of taxpayers and doubts about the economic benefits of tax policy. And, as a consequence, this dispute is almost certain to be central to any major debate over tax law, whether it be negotiations to limit the growth of the debt or a comprehensive overhaul of the tax code.
In recent weeks, for instance, Democrats have been more explicit about the tax changes they want to see as part of a debt reduction package. Three of the most prominent would reduce benefits for oil and gas companies, corporate jets and thoroughbred racehorses. All are tied to the concept of accelerated depreciation. (Write-offs under fire, p. 1478)
Because of that fact, the proposed limitations are likely to run afoul not only of Coburn, the one Republican who has appeared willing to make tax changes to curb the nation's debt, but also of the tax policies promoted by President Obama.
While lawmakers may consider cutting back on the use of accelerated depreciation as part of a deal to reduce the top tax rate paid by companies, doing so would reverse a decadeslong trend of broadening the accelerated depreciation rules. That's a pattern that even the Democrat currently occupying the White House has embraced.
Origins and Critics
The fight over accelerated depreciation is the type of battle that only those most steeped in tax policy might find enthralling.
There's no dispute over the concept of letting companies reduce their tax liability to account for the declining value of their assets. Depreciation itself is an accounting principle as old as the income tax. And the theory is relatively simple: A business that buys a car has only exchanged money for machinery; as the car loses value over time, so does the business. Depreciation rules allow the company to reduce its tax liability by an equal amount.
A Small Provision at the Core of a Big Tax Debate
The debate revolves solely around how quickly those write-offs should occur.
Companies have generally been spared the burden of keeping track of the value of their investments, leaving it to the federal government to determine over what period of time, and at what rate, different types of assets depreciate for tax purposes. And for a while, the government kept tax depreciation schedules roughly consistent with the actual economic life of various assets.
But in 1954, Congress began to let companies write off their investments more quickly, and in 1981, it changed depreciation policy dramatically, instituting what was known as the "accelerated cost recovery system," or ACRS. Subtle changes were made to this system in the 1986 tax code overhaul, begetting the "modified accelerated cost recovery system," or MACRS, which remains in place today. The MACRS system, which to many tax experts is synonymous with accelerated depreciation, doesn't allow companies to claim bigger deductions than under previous law, just more rapid deductions.
Even so, many economists contend that businesses gain and the government loses under the accelerated system, at least when measured against previous depreciation standards that more closely matched the declining economic value of assets. One reason for this is that, by getting tax relief sooner rather than later, companies have more cash on hand that they can use to make more investments.
"Roughly speaking, in theory, accelerated depreciation is like getting an interest-free loan from the government on the taxes you would owe," said Eugene Steuerle, an analyst at the Urban-Brookings Tax Policy Center and a Treasury Department tax official under President Ronald Reagan.
The flipside of the benefit to companies is that the government is deprived of revenue in the short run, and must borrow more and pay interest on that debt. This added interest cost isn't accounted for by the congressional Joint Committee on Taxation, which provides revenue estimates of tax legislation, but it does show up in budgetary estimates of the Congressional Budget Office.
Regardless, the JCT still scores accelerated depreciation as a revenue loser. It assumes that as the economy grows, companies will make additional investments and will always effectively have more "loans" outstanding from the government than they are scheduled to pay back.
By some measures, accelerated depreciation is "the biggest single tax expenditure" among all business tax breaks, says critic Robert McIntyre, director of Citizens for Tax Justice, a liberal advocacy group. Supporting this claim, a 2007 Treasury Department report estimated that repealing all accelerated depreciation provisions would increase revenue by $662 billion over 10 years.
Other tax experts strongly disagree with McIntyre. The problem, they say, isn't so much the particulars of his argument as its overall premise. These mostly conservative economists claim it is misguided to measure tax provisions against an idealized version of the income tax. Instead, they say, tax policies should be measured against what would happen if the United States had a consumption tax under which companies and individuals pay taxes on what they spend, rather than on what they invest and save.
Proponents of a consumption-based tax system say it would encourage savings and eliminate a host of economic inefficiencies that are driven by the income tax code. With a consumption tax as a benchmark, most existing tax credits, exclusions and deductions would still be considered roughly equivalent to spending programs — and therefore subject to criticism. But accelerated depreciation wouldn't be considered a tax expenditure, because the cost of buying new equipment and buildings would be considered an investment — not consumption — and would be subtracted from income at the time of purchase.
Proponents of this concept, which is called 100 percent expensing, come in many stripes. There are those, such as Donald Marron, the director of the Tax Policy Center and a former economic adviser to President George W. Bush, who believe that a move to expensing would only make sense if accompanied by other tax changes.
Marron says he disapproves of the "disproportionately special treatment" that specific industries receive from current depreciation rules. For this reason, he is willing to at least hear Democrats out when they point fingers at oil and gas companies, corporate jet owners and the horseracing industry.
Other conservatives, though, take a more absolutist stance. "All companies, including oil and gas companies, should be able to expense their full capital costs immediately," wrote Curtis Dubay and Nicolas Loris, two analysts at the conservative Heritage Foundation, in a recent online article. "Until that critical change in the tax code is made for all businesses, Congress should retain all provisions that move the tax code in the direction of expensing."
A Small Provision at the Core of a Big Tax Debate
A Fork in the Road
Dubay and Loris may not be far from getting their wish. Over the past decade, an additional benefit called bonus depreciation, which allows companies to immediately write off the cost of 50 percent of most types of equipment, has generally been in effect. Congress enacted bonus depreciation to counteract the weak economy by giving companies a bigger incentive to make investments.
And last year, Obama joined the bandwagon and endorsed legislation that allows 100 percent expensing of equipment through the end of 2011. Recently, the president suggested extending this policy for another year, a position seemingly at odds with his separate push in the debt-limit negotiations to lengthen depreciation schedules in targeted cases.
Obama's embrace of immediate expensing of the full cost of asset purchases, even as a temporary measure, comes as a shock to some observers.
"If you told me 20 years ago that a liberal Democratic president would propose expensing — I mean, Ronald Reagan didn't even dream of proposing expensing," said Martin Sullivan, an economist and contributing editor at Tax Analysts, which writes for tax professionals. "He would have liked to, but it was just so far off the table, forget about it. So the world has definitely changed."
And while some Democrats persist in wanting to limit the reach of accelerated depreciation for some industries, conservative economists may have come close to winning the argument over whether the practice has an economic benefit — at least for the companies that use it.
Most economists say that in both its temporary and permanent forms it has at least some impact on companies' decision-making, said Robert Chirinko, a professor of finance at the University of Illinois at Chicago who has written extensively on the issue.
Moreover, Chirinko said, in an age of globalization, policy makers are increasingly wary of the corporate income tax in general. Expanding accelerated depreciation rules would be one relatively easy way to lower costs for businesses and increase U.S. competitiveness, he said.
All the same, Sullivan, for one, notes that the direction of tax policy can change on a dime. Before the landmark 1986 tax overhaul, lawmakers from both parties were enamored of giving companies an investment tax credit as an economic incentive. But Congress scrapped that credit to help pay for the cost of greatly reducing the tax rate paid by individuals.
Something similar might happen with accelerated depreciation, Sullivan said, if lawmakers get serious about overhauling the tax code from top to bottom again in the next year.
"If there's going to be rate reduction, which seems to be the priority, and if accelerated depreciation is the No. 1 corporate tax expenditure, that's the only place we're going to find the revenue to make it happen," Sullivan said.
FOR FURTHER READING: Debt limit developments, p. 1494; Democrats target oil and gas tax benefits, CQ Weekly, p. 1104; 1986 tax overhaul (PL 99-514), 1986 Almanac, p. 491.