CQ WEEKLY – COVER STORY
July 9, 2011 – 10:12 a.m.
Back Down to Earth: The Green Movement Reinvents Itself
By Margaret Kriz Hobson, CQ Staff
For the nation's environmental movement, the first months after the 2008 election may be recorded as the high point in its history. After years of battling Republicans, it could almost taste the victory it had sought for so long, thanks to a friendly Congress, favorable public opinion and a president who was on its side.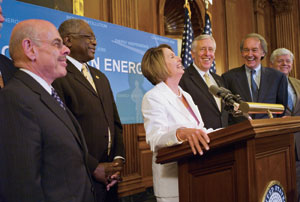 | | |
| --- | --- |
| LAST LAUGH: Environmental activists and Democratic leaders got the climate change bill through the House, but no further. (CQ FILE PHOTOS / SCOTT J. FERRELL) |   |
And by mid-2009, the House had approved climate change legislation. Although Senate action stalled as the year ended, environmentalists remained buoyant as they headed off to the United Nations' climate change conference in Copenhagen, joined for the first time by a sitting president of the United States.
In contrast, 2010 may be remembered as the movement's low point. As the economy stagnated, public support for environmental programs plummeted. The movement's centerpiece climate legislation crashed in the Senate. Copenhagen was a bust. And in the midterm elections, voters sent record numbers of conservatives to Washington, many of them climate change deniers.
Now it's 2011, a year of dissecting what went wrong, how far the movement has fallen and how it will recover. When all was said and done, the golden opportunity of 2008 produced no major legislative victories for the environmental movement. Its leaders are almost back where they started, battling Republicans who want to weaken the Environmental Protection Agency and cut funding for existing clean-air and clean-water programs.
Privately, environmentalists concede that it's an embarrassment. The environmental movement has been a powerful force in America for decades. It's filled with old Washington hands, veterans of organizations such as the Sierra Club, Defenders of Wildlife and the Natural Resources Defense Council, skilled at congressional struggles, with many victories under their belts on Capitol Hill and at the polls and in the courts, outclassed now by upstarts like tea party adherents.
Inevitably, talk of rebuilding fills the environmental blogosphere, along with questions about strategy and tactics and lessons learned in the three-year journey from post-election to post-mortem.
A common critique is emerging that goes like this: The environmental lobby, which embraces more than two dozen groups of varying interests and size, remains an insular world of relatively affluent, liberal white people. Its close association with Democratic liberals has kept it from branching out to form new alliances.
In its isolation, it has become technocratic, diminishing its skills at communicating with ordinary people and instead resorting to highly refined techno-speak about parts per million and carbon capture on the one hand and apocalyptic language about global warming on the other.
Local influence, which the environmental movement once exercised through chapters of organizations such as the Sierra Club, was allowed to wane. And although lots of reporters are covering it, it lacks voters to back up its agenda — and that has diminished its voting base.
"After 20 years in this business," said Rodger Schlickeisen, who is retiring in October as president of Defenders of Wildlife, "I really believe that the environmental protection movement's biggest failing is that we don't have anywhere near the strength that we need at the ballot box and anywhere near the strength that other movements have that are our size."
The movement's leadership appears to be listening.
Now, instead of focusing on large-scale legislative programs, activists from the main environmental organizations boast of redoubled efforts to expand their base and to join forces with other groups.
Back Down to Earth: The Green Movement Reinvents Itself
Stung by the results of the 2010 election, they say they're now preparing for 2012. They want to go back to basics. And 40 years after the nation's first grass-roots Earth Day campaigns blossomed into a national environmental movement, the greens say they hope to start from scratch.
It's an uphill climb, acknowledges Eric Pooley, the Environmental Defense Fund's senior vice president for strategy and communications and author of "The Climate War." "This is not something that we're going to get done in the next congressional cycle," he said. "This is obviously an ongoing conversation, and anybody who says they know exactly what to do next is maybe kidding themselves."
The critique, of course, comes from the experience of the climate change bill, known as "cap and trade," the most significant legislative initiative by the environmental movement in decades, the great hope for getting control of carbon emissions and for beginning the process of reversing global warming.
Originally a Republican idea, it would have established a complicated system of buying and selling emission "credits" in order to create incentives for making significant reductions in greenhouse gas pollution by the year 2050.
It passed the House with eight GOP votes on June 26, 2009. But it never got out of the Senate, despite the best efforts of its bipartisan sponsors: Massachusetts Democrat John Kerry, South Carolina Republican Lindsey Graham and Connecticut independent Joseph I. Lieberman.
Because Republicans battered the measure so badly — using the label "cap and tax" to discredit it — it may have become so toxic that it won't surface again for years.
Cited by Republicans as an example of Democrats' proclivity for "big government," cap and trade contributed to the drubbing of the Democratic Party in the 2010 midterm election.
Thus the environmental advocates not only failed to gain ground during that most promising of legislative sessions, they lost it.
From this arise the questions: Did the leadership fail to adequately explain the proposal to the American public? Was it something that could even be explained? Did the movement lose potential support by becoming too closely associated with Democrats? Why did it fail to build broader coalitions that might have been helpful to the cause? Why were there no friends to help out?
Where was the local base to mobilize pressure back home on members of Congress? Is there a local base left? Or does the environmental movement have to start from scratch?
That final question is the most troubling because it's structural, and many in the movement are answering it with a yes.
To be sure, the Washington gods were against them. A lousy economy is the worst time to launch any kind of initiative. No environmental bill of consequence has been enacted without Republican support, and with Washington so polarized, there was no chance of that.
But going forward was a calculated decision, with risks fully apparent. Indeed, some Democrats warned the Obama administration to put off climate change and health care legislation until the economy had recovered. Among the most vocal was Byron L. Dorgan of North Dakota, who took to the Senate floor in November 2009, after Democrats lost gubernatorial elections in Virginia and New Jersey, and called on the party to wait on both health care and climate change in favor of a single-minded focus on jobs.
Back Down to Earth: The Green Movement Reinvents Itself
"My agenda is to put jobs right at the top," he said, "to try to understand we are in the deepest recession" since the 1930s.
Also, many argue now, as they argued then, that cap and trade was just the wrong answer, doomed from the start, inexplicable to voters and therefore an easy target for Republicans, who scored big with their "cap and tax" moniker.
"They put a lot of chips on the table for climate change legislation in 2009 and 2010, and realistically they thought they might get it," said University of Virginia political scientist Larry Sabato. "After all, they had a president who promised it would be a top priority; you had overwhelming numbers in the House and Senate. I can see why they made the bet," he said. "But you sometimes lose reasonable bets."
As a result of pushing forward, environmentalists and their allies got into a message war they were unprepared to fight. Republicans succeeded in portraying environmental regulations — and all regulations — as a threat to jobs and the economy.
Proponents of cap and trade couldn't come up with a response, an analog that was meaningful to voters — no metaphor, no snappy slogan that would explain it all. Instead, it got wonky.
"The climate community got right down into the weeds and was arguing over footnotes and allowance allocations," said Pooley. "But the country didn't even know what cap and trade was. We thought we were making a compelling, fact-based case about the dimensions of the problem. But what [the public] heard was, 'Why can't you be as enlightened as we are?'"
At the other extreme, environmentalists painted an alarming picture of rising ocean levels and crop failures in a post-global-warming world. But those warnings, accumulated in Al Gore's movie, "An Inconvenient Truth," soon grew old as the public increasingly worried about when they might see their next paycheck.
"I think the public is really suffering from apocalypse fatigue on environmental matters," observed Steven F. Hayward, a public policy fellow at the conservative-leaning American Enterprise Institute. "The old 'Big Global Crisis' stuff doesn't really work anymore."
On a broader level, environmental lobbyists lost ground in their efforts to convince the public that climate change is a real problem — one that the vast majority of scientists believe is getting worse because of pollution from coal-burning utilities and petroleum-powered cars and trucks.
Indeed, polls show a growing gap between what the public believes and what scientists believe.
"We've got to start from scratch in explaining the science to the American public," argued Republican Sherwood Boehlert, a former New York representative.
Climate change skeptics fueled those doubts by releasing emails, hacked from a British scientist, that critics said were proof that environmentalists are exaggerating the threat of global warming. The top U.S. scientists have debunked those claims. But House conservatives, who oppose federal proposals to cut greenhouse gas emissions, continue to cite those emails.
Thus the public was, in many ways, left totally confused about one of the most important debates over the environment in generations. Indeed, a 2009 Pew Research Center survey showed that most Americans had never heard of the cap-and-trade approach to cutting carbon dioxide emissions.
Back Down to Earth: The Green Movement Reinvents Itself
That in turn dampened the ardor of voters who otherwise might have made their voices heard in support of the climate change legislation.
Rethinking Strategy
One school of thought says the environmental movement should have reached out more to Republicans. "They've really made themselves an adjunct of the Democratic Party in the same way that the NRA is for the Republican Party," said Hayward. "I think it's been a huge mistake, because there is zero upside for any Republican" to work with them.
But that was probably not in the cards — this time, anyway — given the partisan circumstances that greeted the Obama administrations's arrival in Washington. Indeed, as the Republican Party has become more conservative, the gulf between the environmental community and GOP lawmakers has widened.
Like Democrats, environmentalists tend to favor big, expensive government programs, said Jonathan H. Adler, an environmental law professor at Case Western Reserve University School of Law. "Any environmental policy that isn't expanding federal regulatory authority or calling for increased government spending tends to be dismissed by the inside-the-Beltway environmental groups," he said.
Given the current rightward thrust of the GOP, alliances on major issues with most Republicans seem unlikely in the near future, although the greens have worked with Republicans on a few measures, notably legislation to end federal subsidies to the ethanol industry. Some conservatives also support federal funding for clean-energy technologies, although the fiscal 2012 budget resolution backed by House Republicans would make significant cuts in the Energy Department's research programs.
A handful of moderate Republicans are looking for new ways to bridge the gap between the greens and the GOP. Former Rep. Bob Inglis of South Carolina says he's putting together a conservative coalition focused on private-sector solutions to climate change. Inglis, who lost his congressional primary race last year to tea party activist Trey Gowdy, hopes to bring together Republicans who share his belief that global warming is real and is caused primarily by human activity.
But political observers say that in this political atmosphere, the environmental community's best hope of making progress on any pollution issue is to reach out beyond Democrats and moderate Republicans.
Branching Out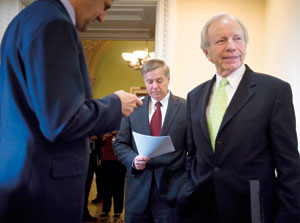 | | |
| --- | --- |
| LAST GASP: Kerry, Graham and Lieberman tried unsuccessfully to rescue a climate bill. ( CQ ROLL CALL / TOM WILLIAMS) |   |
Environmentalists are now trying to branch out by strengthening their ties to other progressive organizations. To put a more pro-jobs spin on their environmental message, for example, the Sierra Club and three other groups are expanding their five-year-old coalition with unions under the banner of the Bluegreen Alliance.
That group recently launched a campaign to call attention to green-energy jobs created under the Obama administration's economic stimulus law and other federal programs. It is targeting voters in California, Illinois, Indiana, Michigan, Minnesota, Ohio, Pennsylvania, Virginia and Wisconsin — all important states in the presidential election.
Back Down to Earth: The Green Movement Reinvents Itself
"We're going out, community by community, and demonstrating the effectiveness of the recovery program to actually create jobs," said Alliance Executive Director David Foster. "The idea that you create prosperity and renewed growth through deficit cutting is one big fallacy."
Others, such as the Environmental Working Group, are linking up with the American Medical Association, the American Nurses Association and the American Lung Association to promote the message that pollution-control laws help protect public health.
They're coordinating their messages with such minority organizations as the National Association of Latino Elected and Appointed Officials and the National Association for the Advancement of Colored People that are concerned about pollution problems in low-income neighborhoods. "As the environmental issues evolve, I see these groups as having increasing strong voices in this debate," predicted Erich Pica, president of Friends of the Earth.
To reignite enthusiasm within the environmental movement, groups are shifting more resources to grass-roots organizing and state action.
"The environmental community has to figure out how to get back into the street," said Pica, who has headed the national environmental organization since late 2009. "Our strength is rooted in the fact that people want clean air and clean water and safe food. That's what motivates communities. We just have to figure out how to channel that energy into political and policy reform."
The change is occurring at a time when many of the national environmental organizations are also undergoing a generational shift. At least five major environmental interests — Defenders of Wildlife, Friends of the Earth, Greenpeace, the Sierra Club and the World Resources Institute — have hired new, younger leaders or are about to see a leadership change.
Leaders in this new generation say they have a different perspective than their baby boomer predecessors, who looked to Washington for solutions to the nation's environmental problems. "People of my generation, we are trained to try to find inventive ways to make progress when you're not getting much help or inspiration from either the White House or Congress, which seems to be the state that we're in today," said Michael Brune, executive director of the Sierra Club since 2010.
To reconnect with the public, the environmental community needs to address local pollution problems, he said. "When we talk about parts per million or the Clean Water Act — the scientific and legal pieces of the work — that's when we lose people," Pica said.
The Sierra Club is also focusing its attention on its local chapters and state-level campaigns "and adjusting our budget according," said Brune of the Sierra Club. He said Sierra is putting more resources into its biggest grass-roots success, the "Beyond Coal" campaign. Club staffers in that program work with local citizens groups to block construction of new coal-fired power plants and push to close existing coal plants. Sierra Club officials say they have helped block construction of more than 100 plants. Most recently, the campaign worked with local residents and unions to close coal plants in San Antonio and in Washington state.
"It's real progress being made," Brune said of the anti-coal campaign. "It's different from the debate of the last year, but I think actually it's more encouraging."
Friends of the Earth activists are working with Midwestern farmers and other local landowners who worry that the proposed Keystone XL pipeline, designed to carry tar-sands oil from Canada to Texas, might cause serious pollution problems in their regions.
"We're finding farmers who are saying that if this pipeline leaks, it's going to contaminate my drinking water and the water I use to irrigate my fields," Pica said. "We're seeing communities in Texas that fear that the tar-sands refining is going to emit tremendous amounts of additional pollutants in their already polluted communities."
Finally, environmentalists are starting to step up their outreach to the congressional districts where, as Schlickeisen of the Defenders of Wildlife suggests, the movement has its least support.
Back Down to Earth: The Green Movement Reinvents Itself
They are increasingly going to members' home districts to win support for air- and water-pollution regulations. For example, when House Energy and Commerce Committee Chairman Fred Upton returns to his southwestern Michigan district, he is regularly bombarded with radio ads and billboards accusing him of "dismantling the Clean Air Act" and gutting the environmental laws that protect the health of Michigan families.
The ads are the work of the American Lung Association, the League of Conservation Voters, and other regional and federal activists who have stepped up their attacks on key lawmakers in their home districts. Upton is a favorite target because his rhetoric on environmental issues has become far more conservative since he took on the leadership of the committee early this year.
The political spots are taking their toll on Upton, who recently described the hometown ads as "divisive, shrill, disingenuous and inaccurate." Daniel J. Weiss, director of climate strategy at the Center for American Progress Action Fund, says he believes that voter support for Upton has declined, although he's likely to be re-elected in 2012.
Environmental organizations are also expanding their political advertising and grass-roots lobbying campaigns in the districts of politically vulnerable Republicans. "This year, there have been a lot more accountability efforts below the radar screen," Weiss said. "The local activists are meeting with senators and representatives at town meetings and generating letters to them to let their people know that they were disappointed in the various votes."
The environmental lobby is also taking its campaign to the doorstep of corporate America. In May, three national environmental groups launched a campaign aimed at opposing efforts by American Electric Power, a Columbus, Ohio-based utility, to delay EPA proposals to control mercury and other toxic chemical emissions from power plants.
"We put 40,000 emails into the company CEO's in-basket within 24 hours," said Environmental Defense Fund's Pooley. "We teamed up with the Sierra Club and NRDC to put billboards outside of AEP's headquarters in Columbus. We had TV spots on the airwaves. Leaflets door-to-door in the neighborhoods where their executives live."
Some of the groups' political advertising campaigns were attacked by congressional Democrats. Early this year, Senate Majority Leader Harry Reid of Nevada complained to environmental leaders when the League of Woman Voters ran ads in Missouri criticizing Democratic Sen. Claire McCaskill for voting to eliminate the EPA's authority to regulate corporate greenhouse gas emissions. Democrats did not complain, however, about the group's ads in Massachusetts criticizing Republican Sen. Scott P. Brown for the same vote.
The Worst of Times
Still, a fair amount of damage has been done. Climate change legislation is no longer just another program that Republicans oppose. It has become a "litmus test" for Republicans, said Sabato. "You have to denounce it."
More significant, the legislative failure may have contributed to the sweeping political shift that was about to hit Washington in 2010, as it was used as yet another example of the Democratic Party's resort to "big government," regulation and taxes at the expense of dealing with the economy.
In the midterm elections, voters were far more concerned about the recession and high unemployment than climate change and other liberal priorities.
They gave Republicans control of the House and elected more conservatives to the Senate. Even more devastating for environmentalists, half of the House's 87 incoming freshmen don't believe that humans are contributing to climate change.
The midterm elections resulted in a difficult transition for the environmental community. "The big environmental money was aimed at trying to persuade Congress to adopt sweeping climate change legislation," said Frank O'Donnell, president of Clean Air Watch. "Once that fell apart, it was almost as if you were in a sailboat and the winds totally shifted. All we could do is tack."
Back Down to Earth: The Green Movement Reinvents Itself
Aiming at 2012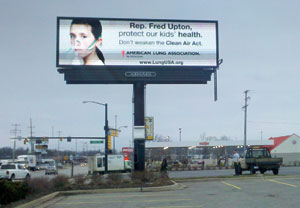 | | |
| --- | --- |
| BACK HOME: Activists are using old-fashioned targeting methods to get to members where they live. (AMERICAN LUNG ASSOCIATION) |   |
The environmental community is looking to the 2012 election to change the balance of power in Washington. Green groups, many of which have political arms, worry that last year's Supreme Court decision opening the door to corporate spending on political campaigns could give conservative business leaders the ability to overpower the environmental groups' public education efforts.
They are weighing which congressional races they might be able to affect, focusing primarily on vulnerable Republicans. The League of Conservation Voters has already endorsed New Mexico Democratic Rep. Martin Heinrich to fill the seat of retiring Democratic Sen. Jeff Bingaman. Brune said the Sierra Club will decide by the end of the summer where it will invest its energy and money.
Some environmentalists are urging the movement to focus even more effort on the election. "I'd like to see us have the whole movement become more political- and electoral-focused," said Schlickeisen.
Critics among the greens worry that the environment will suffer as Obama concentrates on his own re-election. "If President Obama doesn't hold the line, EPA will be taking orders from [Chief of Staff] Bill Daley and others in the White House who are playing up to business," said O'Donnell of Clean Air Watch.
But few Republican presidential candidates have strong environmental records, leaving the green community little choice but to support Obama. "Who holds the White House is arguably the most important determining factor in our success over the next couple of years. Just looking at who's in charge of the EPA determines our ability to try to clean up oil refineries and coal plants across the country," Brune said. "So, the political season, the new political race next year, is one of our top priorities."
Sabato said the greens have two choices if they want to influence national environmental policy: "They can either try to work with the Republicans, or they can wait until the Democrats win it all again," he said. "Will that happen at some point? Sure. But it could be a while."
Some see a need for a more fundamental rethinking. As the movement confronts the Republican antagonism of the 112th Congress, some activists are promoting different targets and less-confrontational tactics to address climate change. Ted Nordhaus and Michael Shellenberger, who shook up the environmental community with their 2004 essay "Death of Environmentalism," argue that the groups should stop advocating traditional pollution-control laws, for example.
Instead, they said in a February speech, the movement should look for solutions in "technological innovation on a vast scale" and "sustained state support for radical innovation through large investments in basic science, research and development, demonstration and commercialization of new energy technologies."
But Harvard environmental economics Professor Robert N. Stavins said Congress is in no mood to throw billions of dollars at new energy technologies. "It's absolutely inconceivable that the federal government, given the concerns about budgetary deficits, would invest enough money in technological change to do that job," Stavins said.
He argued that aggressive cuts to greenhouse gas emissions are possible only if the government provides incentives to companies that develop clean technologies or slaps a fee on energy sources that emit carbon dioxide. Those kinds of steps won't be taken, he said, until the economy recovers and the political climate shifts in Washington.
There's no telling when that time will come. But the war over environmental regulation has been going on since the Richard Nixon administration, with no permanent winners or losers and sometimes no real end.
Back Down to Earth: The Green Movement Reinvents Itself
The struggle over climate continues independently at the Environmental Protection Agency, following a 2007 Supreme Court ruling saying the agency could deal with greenhouse gas, along with all other pollutants to the atmosphere.
Pooley of the Environmental Defense Fund is philosophical. "We've all been through this before," he said. "The pendulum swings and then it swings back again. The fact is, climate change is not going away."
FOR FURTHER READING: Fueling speculation, CQ Weekly, p. 1196; finding fault, p. 1423; climate bill, 2010 CQ Weekly, p. 1568.