CQ WEEKLY – VANTAGE POINT
July 23, 2011 – 9:29 a.m.
Rent-a-Guard Bombs
By Rob Margetta, CQ Staff
For members of Congress who oversee homeland security, mid-March was when their patience ran out with the Federal Protective Service, the agency that is supposed to guard more than 9,000 government buildings throughout the country, including many in Washington.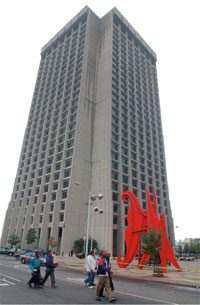 | | |
| --- | --- |
| UNAWARE: A guard at this Detroit federal building left a bag unchecked for three weeks; it was found to hold a pipe bomb. (GETTY IMAGES/ AFP FILE PHOTO/ JEFF KOWALSKY) |   |
The breaking point was the revelation that a contract security guard for the FPS, checking out a black tool bag found lying outside the high-rise Patrick V. McNamara Federal Building in downtown Detroit, had carried the bag into the building, where it was left unexamined for three weeks. After another guard finally X-rayed the bag and police performed an inspection, it was found to contain a metal cash box, PVC pipe and a timer. When a bomb squad disposed of the cash box, the resulting blast sent it flying 10 feet into the air. Federal agents later arrested a Michigan man with a history of paranoia about the FBI, which has offices in the building, and charged him with trying to damage government property.
The question since then has been what should Congress and the Homeland Security Department do about the Protective Service, which operates almost entirely by contracting with private personnel.
The service's most prominent watchdogs on Capitol Hill say they want to see improvement, but that's going to cost money, and a budget-obsessed Congress may balk at investing in an obscure agency with a shaky track record. Just recently, the FPS had to scrap a new computer system meant to help fix its management problems, after spending $41 million on it.
"I think they've been a bit of an afterthought," says California Republican Dan Lungren , chairman of the House Homeland Security subcommittee with jurisdiction over infrastructure protection.
Years of investigations into the FPS have found sleeping guards, multiple incidents in which undercover investigators were able to sneak bomb-making parts into secure facilities, and, on one occasion, a baby in a carrier being accidentally put through an X-ray machine meant for bags.
The Government Accountability Office has found two key problems with FPS operations: Its small federal staff — 1,200 — has exercised insufficient oversight over its 14,000 contractor security guards, and the agency has little power to enforce security mandates on the buildings it protects. Although the FPS assesses the security of each building, the tenants have the final say on procedures.
Rep. Bennie Thompson of Mississippi, the senior Democrat on the Homeland Security Committee, proposed one possible solution to the problems: conducting a limited test of federalizing the workforce, as Congress did with airport screeners after the 2001 terrorist attacks.
"The continued use of the current contract-guard system is not a long-term solution to assuring our homeland security," Thompson says. "In weighing the costs and benefits of a federal workforce vs. a contract-guard force, we cannot continue to be penny-wise and pound-foolish."
But a federal workforce guarding the building is exactly what Republicans, who control the House, don't want.
"It doesn't matter whether your guards are federal employees or non-federal employees if they're not trained properly and they're not supervised properly," Lungren said at a recent hearing. He pointed out that the FPS has said hiring federal guards or police officers would cost thousands more per position, driving up the agency's budget by as much as 32 percent.
In the Senate, a bill similar to Thompson's, sponsored by Joseph I. Lieberman , the Connecticut independent who chairs the Homeland Security and Governmental Affairs Committee, was approved in May by that panel.
Rent-a-Guard Bombs
Even supporters of Lieberman's bill, though, don't think federalization will go far, due to the cost of replacing the contractors with government employees. Even the bill's comparatively more modest plan, which includes enhanced retirement benefits and roughly 150 new federal contractor overseers, is considered a hard sell.
Lungren says he's not averse to the idea of some new spending, and he's drafting a bill to standardize the equipment and procedures that private security guards use at federal buildings. But if the protective service wants more money, he says, it has to prove itself a worthwhile investment.
"FPS is going to have to do more than they are currently," he says.