CQ WEEKLY – IN FOCUS
July 23, 2011 – 10:16 a.m.
Debt Limit Strife Tests Public Patience
By Richard E. Cohen, CQ Staff
From the perspective of Capitol Hill, the fight over the debt ceiling deadline is an all-consuming and increasingly grim drama.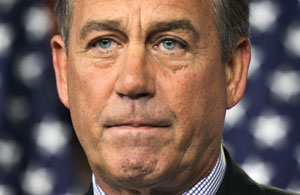 | | |
| --- | --- |
| SETBACK: Obama and Boehner used dueling news conferences July 22 to demonstrate their estrangement. (GETTY IMAGES / ALEX WONG (2)) |   |
From the perspective of ordinary voters, it's business as usual for Congress. Voters are hearing lots of bad news on a variety of fronts and watching bitter exchanges between the president and GOP leaders, but seeing no results.
That's a potentially toxic blend, depending on the public's attentiveness and the conclusion of the debt ceiling controversy. The negative news about the debt ceiling and the economy alongside inaction from Congress have proved to be a recipe for electoral upheavals in the past.
There are other sour ingredients in the mix, too. Intraparty bickering — Democrats complaining about other Democrats leaving them out of the loop and Republicans in the House denouncing Republicans in the Senate for cutting separate deals — has increased in recent days.
The rhetoric continues to be strong and laced with anger: Witness President Obama's fury Friday evening, after the latest breakdown in talks. And some of the most vivid language about the process is coming from members of Congress.
South Carolina Republican Sen. Lindsey Graham, for example, said on the Greta Van Susteren Fox News show Thursday night that "this whole process is about phony-baloney efforts to create cuts that nobody believes will happen."
"This is the biggest decision we'll make as a nation in years, and the Senate is not even going to have a debate," he added. "This is not the most deliberative body in the world. This is a political hack job."
Frank Newport, editor in chief of the Gallup Poll, said the public long ago became accustomed to rhetorical excess and tends to discount it.
"Americans are pretty cynical," he said. "They may be inured by this point to the idea of people telling them about horrible consequences."
On the other hand, he said, people actually place the debt and the deficit quite far down on the list of pressing issues. Thus a devastating, market-rattling event caused by something the public is not all that concerned about could create a lot of anger. (Interactive Graphics: Raising the Debt Limit, 1980-2011 | Who Holds the Debt)
People are starting to pay attention, he said in an interview, noting that the public's interest (58 percent) actually exceeded its interest in the recent Casey Anthony murder trial in Florida (50 percent).
Debt Limit Strife Tests Public Patience
But it has become hard to judge the point at which Congress crosses into a serious danger zone. Congress' approval ratings have been so low for so long that spotting new trends and their causes is all the more challenging. A mid-July poll by The Washington Post and ABC News showed that a record-high 63 percent want to look for somebody else to represent them in Congress, compared with 55 percent a month earlier.
In a Gallup poll published July 19, substantial majorities thought that both Republicans and Democrats were putting their own interests ahead of the nation's.
A CNN/ORC International poll released Friday showed an 8-point jump in the percentage of respondents (58 percent) who think the "policies proposed by Republican leaders" in the House and Senate would move the country in the wrong direction. But some of that attitude could be generally attributable to the economy.
Blame Games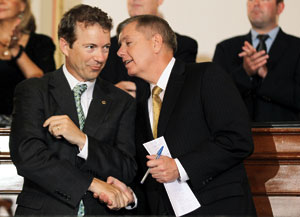 | | |
| --- | --- |
| SHOW OF UNITY: Graham, right, joins Sen. Rand Paul, R-Ky., to promote the GOP's 'cut, cap and balance' plan. (GETTY IMAGES FILE PHOTO / ALEX WONG) |   |
In his Friday evening news conference, Obama declared that he was "not interested in finger-pointing" and then proceeded to lambaste House Republicans for their intransigence on adding revenue. He suggested that they were "more worried about what some funder says or some talk-radio-show host says, or what some columnist says. Or what pledge we signed back when we were trying to run. Or worrying about having a primary fight.
"For us to be thinking in those terms," Obama said, "is inexcusable."
Throughout the weeks of drama in Washington, an element of farce around the edges of the controversy and the usual late-night comedy insults surely can't have been helpful to Congress' institutional cause. What are voters to make of a "Gang of Six" — or is it five, or maybe seven? — that moves on and off stage, also with nothing firm to show for its actions? What of the incantation "cut, cap and balance"? Would that be Veg-a-Matic, AAMCO or Oil of Olay?
In interviews, many House members say they've not seen discontent at home because of the debt ceiling debate and say they're hopeful that a successful conclusion will offer political benefits to both parties.
"People are frustrated that spending is out of control. They don't understand why [House Republican] efforts don't make sense," said Rep. Bill Huizenga, R-Mich.
Even among his "Hell, no" supporters, he said, people "are searching for a solution."
But, he added, he has seen "surprisingly little consternation" among other Republican freshmen about the potential political consequences of the debate.
From across the aisle, Rep. Jared Polis, D-Colo., predicted that an eventual deal "will play very well," especially with centrist and independent voters. "What is not well-received is dysfunction, but [the current debt ceiling problems] will be forgotten," he said.
Debt Limit Strife Tests Public Patience
In contrast to the spending tussle early this year, Rep. Jeff Flake, R-Ariz., said that Republicans have been well-received at home in the current debate with their cut, cap and balance proposal.
"This one is on the president. We have done our job," Flake said.
Adverse public-opinion polling is directed more at Congress as an institution than at local representatives, Huizenga said. That reflects a common understanding that while people may hate Congress, they like their own members.
The formulation may be outdated, according to a study by political scientist David R. Jones of the City University of New York.
Ominously for House Republicans and Senate Democrats, he found that "low congressional approval ratings have generally reduced the electoral margins of majority-party incumbents" across the board, in part because of increasing party polarization.
"As the majority party becomes more unified in opposition to the minority, its members' electoral fortunes are increasingly tied to the performance of Congress," Jones says.
Republican Tightrope
House Republican campaign leaders dismiss such concerns and contend that the most important poll numbers for the 2012 election are the low approval ratings for President Obama. "This race will pivot on the president," said Rep. Greg Walden, R-Ore., deputy chairman of the National Republican Congressional Committee. He cited a McClatchey-Marist poll last month showing that 58 percent of all voters — and 60 percent of independents — disapproved of Obama's handling of the economy.
All this is hardly what House Speaker John A. Boehner, R-Ohio, intended when he launched the drama with a plan of sweeping and seemingly serious ambitions. "Without significant spending cuts and reforms to reduce our debt, there will be no debt limit increase," he said in a May 9 speech to the New York Economic Club.
His plan to collaborate with Obama to "go big" on a debt ceiling package was not only a fiscal alternative designed to slash trillions of dollars from the federal debt; it also was a political plan to show that government could move beyond gridlock and address major fiscal issues.
But the Speaker and eventually the president — after they bonded on the Andrews Air Force Base golf course in June — may have raised political expectations too high. For one thing, they seemed to overlook the possibility that rank-and-file lawmakers in both parties might embrace the grass-roots disdain rather than the Capitol's intrigue.
The collapse of direct Obama-Boehner negotiations at the end of the week — with each accusing the other of walking away — demonstrated that each leader had stretched his troops as far as they were willing to go. So the bipartisan search for consensus turned back into yet another example of Washington's business as usual, full of posturing and missed deadlines.
Debt Limit Strife Tests Public Patience
Not Their Finest Hour
The climate is hardly auspicious for such a noisy argument. Recent measures of the public's economic outlook have been grim. The University of Michigan index of consumer confidence dipped from 71.5 to 63.8 in the past month. Bruce Josten, executive vice president of the U.S. Chamber of Commerce, wrote in a blog post that a potential default "has real, immediate, and potentially catastrophic consequences."
There are endless reasons why the public is so dispirited, not least of which are high unemployment and the sluggish pace of economic growth. But Congress has typically found ways to address such problems.
Less apparent to the broad public but relevant to tea party activists, many lawmakers have seemed to abandon their constitutional role (including the power "to borrow money on the credit of the United States") or contributed to a breakdown of the usual legislative functions.
The daunting effort to extend the government's full faith and credit also has featured endless gimmickry and rhetorical overkill. Even as the parliamentary endgame neared, members of both parties continued to promise fiscally far more than they delivered.
In the House, the majority Republicans spent the past week taking credit for their spending controls. For the most part, those were vague promises, not actual cuts. Approved by a near-party-line vote, their much-touted cut, cap and balance plan featured a pledge to approve a balanced-budget constitutional amendment, which requires a two-thirds vote in both the House and Senate and ratification by three-fourths of the states.
But Republican leaders deferred plans for a House vote on an actual constitutional amendment; they feared that it would lose. And the broader House package was dead on arrival in the Senate, which defeated it in a rare Friday vote.
Other lawmakers made exaggerated claims that seemed to ignore reality or fail to understand basic terms. At a House GOP leadership news conference, freshman Rep. Renee Ellmers, R-N.C., said that Obama had a "historic" opportunity to be remembered as the president "who put in place the balanced-budget amendment." The president, however, has no formal role in securing ratification of constitutional amendments.
Democrats, for their part, said that the GOP's steps would force big cuts in Social Security and Medicare. "Grandma is being pushed overboard," Rep. Edward J. Markey, D-Mass., told the House. Rep. Jim McGovern, D-Mass., said that Republicans would "cut Social Security and Medicare by $6,000 per senior citizen." Those widely circulated Democratic calculations were apparently a projection of how proposed spending cuts could be achieved.
The Senate, too, has had its moments in the divided and gridlocked Congress. Continuing that chamber's non-performance this year, separate bipartisan groups of party leaders plus the rank-and-file Gang of Six worked endlessly to prepare alternative plans.
But Majority Leader Harry Reid, D-Nev., conceded that the proposals were not ready for legislative action.
Boehner, in a Friday evening news conference following Obama's, declared that "the White House moved the goal posts" by demanding more revenue. "Dealing with the White House is like dealing with a bowl of Jell-o."
So the endgame has yet to emerge, and it looks again like Congress is ill-equipped to do much more than punt. The face-saving alternative that Senate Minority Leader Mitch McConnell, R-Ky., devised — and has been working with Reid to build broader support for — effectively would give Obama the prerogative to raise the debt ceiling. "I'm willing to take the responsibility," Obama declared. "That's my job." That approach, however, does little more than kick the can down the road, as many members grimly concede.
Debt Limit Strife Tests Public Patience
Whatever the outcome, broader questions will linger about whether anybody can rescue the battered Congress from the underlying weaknesses that have been exposed again in recent weeks.
Fred Barbash contributed to this story.
FOR FURTHER READING: House cut, cap and balance bill is HR 2560; debt ceiling, p. 1628; entitlement cuts, p. 1613; Congress' role, CQ Weekly, p. 1546; McConnell plan, p. 1554; cap proposals, p. 998; debt limit fight looms, p. 200.