CQ WEEKLY – IN FOCUS
July 23, 2011 – 10:19 a.m.
It Takes a Crisis: 'Deficit Politics' Focus on Medicare
By Joanne Kenen, CQ Staff
Never let a serious crisis "go to waste," Rahm Emanuel used to say. Put it to use to "do things you could not do before," he said.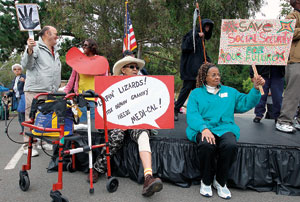 | | |
| --- | --- |
| BENEFIT MADNESS: Protesters in Oakland, Calif., rallied this month to protect federal health programs. (GETTY IMAGES / JUSTIN SULLIVAN) |   |
Cutting entitlements was not what the former White House chief of staff had in mind. But the principle — that it takes a perceived crisis to change the political conversation — still applies. And in the past few weeks, the conversation about entitlements began to change as a result of deficit politics and the threat of a U.S. default.
Under pressure from Republicans, and to the distress of some in his own party, a Democratic president conceded that it's not a question of whether to cut Medicare and Medicaid, but rather how fast, how deep and who will pay.
Republicans were skeptical about his intentions even before debt negotiations broke down Friday. "I think most of it is smoke," says Thomas Miller, a Medicare expert at the American Enterprise Institute.
Others saw a potentially significant shift. "There's a level at which you can talk about these things without endangering yourself politically, sounding responsible but not really being serious," says Robert D. Reischauer, president of the Urban Institute and a former director of the Congressional Budget Office. "I think [Obama] has crossed over that line into seriousness.
"He's willing to bite the bullet as long as someone else is biting it with him," he says, referring to Obama's demand that Republicans concede ground on taxes and revenue.
In normal times, it's almost impossible to get "real, scored savings" from popular safety-net programs because they are regarded as politically untouchable, says Jonathan Oberlander, a health policy professor at the University of North Carolina at Chapel Hill. But there are times when "deficit politics" subsume normal politics, and solutions deemed impossible suddenly seem realistic.
Obama had started to recast actions often regarded as politically unthinkable, signaling an openness to raising the Medicare eligibility age, requiring wealthier seniors to pay more for their care and possibly recalibrating federal payments for Medicaid.
That's something he did not do when his fiscal commission made its recommendations in December, says Charles N. Kahn III, president of the Federation of American Hospitals, "and now we're in such uncharted territory." It's true, he says, that "a lot of people put a lot of things on the table that you wouldn't normally have thought they'd do," only to be rejected by factions of either party.
The president's stance has antagonized many in his own party, as well as traditional allies, who oppose shifting additional costs to seniors and their families. Some fear he is also undermining the party's efforts to cast Democrats as the protectors of Medicare.
"I've never seen frustration higher. I don't lose my cool. I lost it yesterday in the caucus," Sen. Dianne Feinstein, D-Calif., said Friday, expressing her frustration at the potential policy implications for the poor and elderly in her state, as well as being cut out of the decision-making loop.
Changing the Debate
It Takes a Crisis: 'Deficit Politics' Focus on Medicare
The relentless rise of entitlement costs has been among the most contentious aspects of federal spending for many years. Economists warn that health care spending is gobbling up an ever-larger piece of the economic pie, and Medicare's trust fund is forecast to run out of money in less than 15 years. The two parties have had radically different approaches to cutting costs, and the rhetoric has often defied reason, with one side accusing the other of shoving Granny off a cliff.
The budget debate earlier this year was illustrative. Budget Chairman Paul D. Ryan of Wisconsin and other House Republicans put forth a plan to turn Medicare into a "premium support," or voucher, program. They also sought to turn Medicaid over to the states and slash its funding.
When Democrats furiously and predictably rejected it, Republicans linked their demands for entitlement cuts to the debt ceiling vote. Their stance on health care spending for the poor and the elderly became a bright line separating the two parties.
"I think it's fair to say that the Republicans have been very successful in changing the whole nature of the discussion of the level of cuts," says Stuart Altman, a health policy expert at Brandeis University, outside Boston.
Oberlander suggests that the collision of several forces — the Republican takeover of the House, a debt limit deadline and the specter of financial meltdown in countries such as Greece — had begun to transform what is regarded as politically possible.
Many Democrats, however, weren't buying it, believing they could capitalize on the issue in the 2012 elections. Staunchly defending Medicare and Medicaid is part of the Democratic brand, and it is a time-tested campaign theme. Its potency at the polls was reinforced in the Democratic upset in the special election in New York's 26th congressional district in May.
Democratic Sen. Bill Nelson of Florida, a moderate who is up for re-election next year in a state with a strong bloc of Medicare-eligible voters, noted the power of that "don't mess with Medicare" message. "I agree with NY 26," he said recently.
He and others say that voter push-back reinvigorated Democrats after their drubbing in last year's elections, when Republicans had accused them of cutting Medicare. "It was like Geritol," says Robert Blendon, a health policy analyst at the Harvard School of Public Health, referring to the mineral tonic.
"What was surprising — and this infuriated a lot of progressives — was Obama's willingness to put as much on the table so soon," Altman says. "He clearly wanted to play the peacemaker, the compromiser, the moderate. And of course they — the Republicans — just laughed at him."
Had Republicans been willing to sign off, the president would have had a big job persuading fellow Democrats to do the same.
House Democratic Whip Steny H. Hoyer's remarks to reporters last week captured the Democrats' dilemma: how to accept changes to entitlements without muddying their own political message.
"We have made it very clear that we have no intention of supporting cuts to beneficiaries' benefits," said Hoyer, a Maryland moderate from the more deficit-averse wing of the party. Yet in that very same briefing, he said, "I think the overwhelming majority of Democrats — overwhelming — are for a grand bargain."
It Takes a Crisis: 'Deficit Politics' Focus on Medicare
But entitlement cuts have been in every variant of a grand bargain. Whether it's the working group led by Vice President Joseph R. Biden Jr., the president's 2010 fiscal commission, the bipartisan "Gang of Six" senators, or the so-far fruitless conversations between Obama and GOP Speaker John A. Boehner of Ohio — changes to Medicare and Medicaid, in some shape or form, are always in the mix.
In a July 15 news conference, Obama spoke of "trillions" in savings in coming decades. While carefully avoiding being too specific — nothing on camera for a future campaign attack ad — he suggested an openness to shifting some costs to patients and families. He said he would also make sure that health care providers such as pharmaceutical companies paid their fair share, even those that already ponied up to help pay for the 2010 health care law.
In exchange for his willingness to go beyond the standard Democratic comfort zone, Obama insisted that Republicans come up with concessions on the revenue side.
What all this might have meant for seniors and the poor wouldn't have been clear until the conversation moved from headlines, tweets and sound bites to scorable, legislative detail, says Jack Hoadley, a health policy analyst at Georgetown University. "The real impact will depend on the details that don't get in the newspaper headlines," he says.
Is He Serious?
Many Republicans believe there was never any substance beyond those headlines. "President Obama has yet to provide a plan," House Republicans with jurisdiction over Medicare said in a written statement last week.
But Obama said he was ready "to take heat" from his own party to achieve deficit reduction. On Friday, he laid out elements of the deal he said he had offered Boehner in the most recent round of negotiations, including $650 billion in cuts to Medicare, Medicaid and Social Security, before talks broke down again.
The president had already begun testing a message that sought to contrast what he called his own balanced approach, apportioning pain between patients and providers, with what he described as "radical" Republican ideas that gut the protections that entitlements, by definition, are supposed to provide.

"I view Social Security and Medicare as the most important social safety nets that we have," he said last week. "I think it is important for them to remain as social insurance programs that give people some certainty and reliability in their golden years. But it turns out that making some modest modifications in those entitlements can save you trillions of dollars."
Whatever the outcome of this debate, many contend that it will be harder for the president to say entitlements are off limits in the future. They note the issue will not go away. "The financial pressures from Medicare are going to be ongoing, and sooner or later they will be back at the table," Oberlander says.
"If you dodge the debt ceiling bullet," warns AEI's Miller, "there's another one coming."
FOR FURTHER READING: Senate rejects budget plans, CQ Weekly, p. 1138; House budget chairman's proposal, p. 808; panel leaders, 2010 CQ Weekly, p. 2667.