CQ WEEKLY – COVER STORY
July 23, 2011 – 10:51 a.m.
America's Next Act
By Frank Oliveri, CQ Staff
For the Pentagon, the last few years have served up a number of cautionary tales for the future of U.S. military might. During that time, officials scrapped a series of major weapons programs that all had once been deemed essential to national security: a seagoing tank for the Marines, a high-tech destroyer for the Navy, a stealthy air-to-air fighter for the Air Force and a network of ground combat vehicles for the Army. All proved simply too expensive to complete.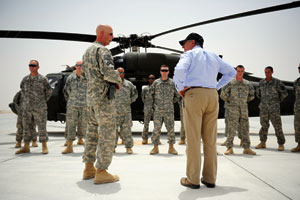 | | |
| --- | --- |
| ROUGH LANDING: Panetta faces tough budget choices even as he works to wind down the war in Afghanistan, the site of his first visit as Defense secretary. (U.S. AIR FORCE) |   |
But neither the military's need for these capabilities nor the threats they were aimed to counter have gone away.
Now, with former congressman and CIA director Leon E. Panetta taking the Pentagon's helm, the White House and Congress face the stark reality that the military still cannot afford its long-term plans. Indeed, some argue that it never could.
The nation's financial travails will almost certainly force Panetta and his successors to confront difficult strategic choices that were largely deferred by former Defense Secretary Robert M. Gates, who made his top priority galvanizing the glacial Pentagon apparatus to fight the two wars it was involved in when he took over. After a decade of rising security spending, the defense budget has little room to go any higher, and it could well shrink. With that in mind, Panetta will have to sort through the range of threats facing the nation, including a rising China, the potential of a nuclear-armed Iran and the future of al Qaeda, and ask a fundamental question: What kind of military is the country willing — and able — to afford?
The answer could determine whether the United States remains the globe's sole military superpower or whether it begins a slow retreat from being the world's first-responder. As Gates put it in May, "The tough choices ahead are really about the kind of role the American people — accustomed to unquestioned military dominance for the past two decades — want their country to play in the world."
Ever since the end of the Cold War, the Pentagon has shaped the military around one broad principle: that it be able to fight two major wars simultaneously. That strategy leads officials through a series of calculations about how large the U.S. military needs to be, as well as how many planes, ships, tanks and missiles it needs.
In a 2010 review of strategic objectives and potential military threats, Defense officials suggested that it might be time to move away from the two-war strategy. Not only has it become unaffordable, but officials also worry that it doesn't capture the full range of threats the military needs to respond to.
Nonetheless, Pentagon brass couldn't bring themselves to walk away from it. When the Quadrennial Defense Review was published, it still contained the requirement for a two-war capability.
"The 2010 QDR was a missed opportunity," says Thomas Mahnken, a top Pentagon policy planning official from 2006 to 2009 who was involved in the effort to write the 2006 QDR. "I think the Pentagon abdicated its responsibility to clearly define a force-planning construct."
This outcome is a powerful illustration for much that has gone wrong with the military in the past decade: It treats all needs equally and avoids prioritizing. But by putting off tough strategic choices, the Pentagon could never get enough funding to meet all its needs, despite its budget doubling in the past decade. Now, the military faces the daunting prospect of trying to accommodate President Obama's call for national security-focused agencies to cut $400 billion over the next 12 years. And the cuts could end up being even steeper depending on the nation's seriousness about tackling budget deficits.
There are predictably strong divisions in Congress over making steep defense cuts, as well as what the military's overall strategy should be. Some lawmakers argue that the Pentagon's budget crunch would virtually be solved by a strategy change.
"You have to make choices," says Adam Smith of Washington, the ranking Democrat on the House Armed Services Committee. "It is managing risk, not eliminating risk. The notion that we will have to fight two major wars is not likely; it is outdated."
America's Next Act
Many Republicans, such as House Armed Services Chairman Howard P. "Buck" McKeon of California, say they welcome a debate about the military's role, but emphasize that the two-war strategy is necessary, even though it lacks the kind of focus they would prefer on specific missions.
Before Gates left office, he ordered a comprehensive review to examine options for adjusting strategies and the overall structure of the military, as well as the risks associated with each. The results will be delivered to Panetta later this year.
"I've said repeatedly that I'd rather have a smaller, superbly capable military than a larger, hollow, less capable one," Gates said in May. "However, we need to be honest with the president, with the Congress, with the American people, indeed ourselves, about what those consequences are: that a smaller military, no matter how superb, will be able to go fewer places and be able to do fewer things."
An Uncertain Future
Trying to pin down what threats the military will face over the next two decades is a nearly impossible task. In the 1980s, for example, the United States was allied with Iraq in its war against Iran. By 1991, it was bombing Baghdad.
"As I like to tell our military folks when I talk to them out in the field, our record of predicting where we will use military force since Vietnam is perfect. We have never once gotten it right," Gates said in May.
The breadth of concerns makes combat particularly hard to plan for. More than two decades after the fall of the Soviet Union, no clear overarching threat has emerged.
Instead, says New Jersey Democrat Robert E. Andrews, a senior member of the House Armed Services Committee, Panetta has to create a coherent strategy that addresses three main types of threats: terrorist groups such as al Qaeda and Hezbollah, which employ unconventional tactics and means to achieve their ends; the specter of nuclear-armed North Korea and Iran; and the growing risk that China within the next decade or so develops into a military superpower and challenges U.S. interests in the Pacific and beyond.
"How do we build a defense structure as successful and excellent as possible for the time we are living in?" Andrews asks.
For his part, Gates suggested that the military cope with such unpredictability by creating as much flexibility and versatility as possible. That's because terrorist groups, such as Hezbollah in Lebanon, have more missiles and rockets than most countries, he said.
"You could be dealing with them as a threat to our Navy ships through their possession of anti-ship cruise missiles, which we know they have," Gates said.
One solution, according to military officials, is stationing forces overseas in the right places. The threat posed by Iranian missiles, for example, has required the United States to develop a plan to provide a missile umbrella for its allies in Europe and the Middle East. Over the next decade, the Navy will cycle ballistic missile defense ships through these regions that could take down incoming missiles. The United States also has plans to build missile silos in Europe to provide further protection.
America's Next Act
Similarly, the Navy employs anti-ballistic missile ships in the Pacific. The United States has for several years been building up its military forces and strengthening strategic relationships with Pacific Rim nations, in direct relationship to China's more aggressive military investments and posture in the region. It also has sought to foster better military-to-military relations with China in an effort to avoid miscalculations that could lead to a confrontation.
McKeon notes that all these efforts are expensive. "Holding defense below inflation is a huge problem," he says.
The task is further complicated by the fact that the last major effort to modernize the U.S. military dates to the Reagan administration. That era produced weapons that remain mainstays for the force today: the M1 tank, the Bradley Fighting Vehicle, Apache and Black Hawk helicopters and the F-15 fighter, to name a few.
"In contrast, the 1990s represented basically a procurement holiday, except for important developments in precision munitions and [unmanned aerial vehicles]," Gates said in May. "The post-9/11 defense spending surge resulted in relatively little new recapitalization of the force."
On top of this, a decade's worth of war in Iraq and Afghanistan has taken a toll on military personnel and equipment. And on the homefront, the average American has grown tired of the costs of war — more than $1 trillion and more than 50,000 dead and wounded troops.
Indeed, the congressionally mandated bipartisan QDR Independent Panel noted in a report last year, "There is a significant and growing gap between the force structure of the military — its size and its inventory of equipment — and the missions it will be called on to perform in the future."
The challenge for Panetta — a former director of the White House Office of Management and Budget who also served as House Budget chairman — is to develop an umbrella strategy that takes all of this into account and is affordable.
"Force-planning strategy is about making bets," Mahnken says. "We are trying to mitigate risk."
Needs Exceed Resources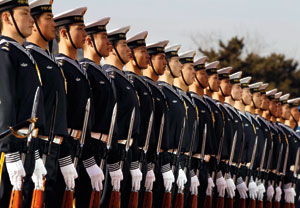 | | |
| --- | --- |
| RIVALS: Some on Capitol Hill say U.S. defense spending needs to be higher to counter China, which is widely believed to be spending more on its military than its budget figures suggest. (GETTY IMAGES / AFP FILE PHOTO / LARRY DOWNING) |   |
Many observers suggest one place that Panetta could start is by scrapping the basic two-war strategy.
Gordon Adams, who helped manage the reduction of military forces when he worked for Panetta in the Clinton administration's OMB, recalls that the two-war strategy was developed by Colin L. Powell when he served in the George Bush administration as chairman of the Joint Chiefs of Staff. He says Powell hoped to prevent a "free fall" in U.S. military spending as the Soviet Union's military collapsed. It was also viewed as an effective hedge against an unknowable future, meaning the strategy ensured that the U.S. military force would be large enough to cope with any likely emerging threats.
Last year, the QDR Independent Panel concluded that it was time for the military to stop using this strategy to determine the size of its force, because the United States faces a much wider array of security challenges than in the past. It warned that in practice the strategy has been used more to validate the current force structure than to serve as a truly useful guide for the future.
America's Next Act
Adams, who now directs the program on budgeting for foreign affairs and defense at the Henry L. Stimson Center, goes even further, calling the two-war construct a fiction that should end.
"I don't think the two major regional conflict strategy is . . . even remotely relevant to the real world," he says. "It should have been put over the side a decade ago."
Indeed, there are many, including Smith and other military experts, who question if the military was ever able to deliver on the two-war construct.
"We never had the forces for two major regional conflicts," says Bernard Finel, a professor of military strategy and operations at the U.S. National War College.
In recent years, for example, the United States struggled to wage wars simultaneously in Iraq and Afghanistan. Even after increasing the size of the overall force by 92,000, the military could manage only a holding action in Afghanistan as it launched an invasion of Iraq. Later, the Obama administration's troop surge into Afghanistan became conceivable only after the United States began significantly drawing down its forces in Iraq.
Further, the military's future weapon modernization needs, which are a direct outgrowth of the two-war strategy, far exceed its resources. There is danger in planning for a force that is unaffordable. Weapons systems are promised and not delivered in proper quantities, troops endure longer overseas rotations, training suffers, and precious resources are squandered at a time when the nation must get all it can from each dollar it spends. Ultimately, it creates a false sense of security.
"We need to have a good discussion about risk, a discussion of the capabilities we need," Mahnken says. "I don't see that discussion happening right now."
A Regional Power?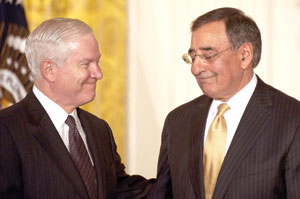 | | |
| --- | --- |
| HANDOFF: Before leaving office, Gates, left, laid out a series of challenges that Panetta will have to confront. (GETTY IMAGES/ AFP FILE PHOTO/ JIM WATSON ) |   |
But in practice, the two-war strategy has proved very difficult to abandon.
For one thing, it's been a busy decade — with exactly two wars. In addition, U.S. forces took on Somali pirates, responded to earthquakes and a nuclear emergency and conducted evacuations of Americans from hot spots, while battling terrorists across the globe and launching a new military operation in Libya.
South Carolina Republican Lindsey Graham, a senior member of the Senate Armed Services Committee, says it is notable that Iraq and Afghanistan were labor-intensive counterinsurgency operations, and yet the United States was still able to carry out all its other missions, maintain a large troop force in South Korea to deter North Korea, and deploy aircraft carrier battle groups across the globe.
"I think the likelihood of having to employ that strategy is greater today than ever before," he says. "We can't afford not to be ready for such a contingency."
America's Next Act
In a sense, the military is in a nearly impossible situation: It must plan and shape itself based on informed theories of existing and future threats.
As a result, the Pentagon plans for worst-case scenarios — an aggressive China invading Taiwan, Iran threatening Israel, Europe or the West Coast of the United States with a nuclear weapon, North Korea raining fire down on civilians in Seoul — which require forces of significant size and reach, often deployed overseas.
Gates said last month that scaling back the two-war strategy would reap significant savings, but only if the nation were willing to accept the risk associated with it. After all, he noted, the United States had to fight in Iraq and Afghanistan simultaneously. "So this is not — this is not far-fetched in terms of risk," Gates said.
Adams says he expects Panetta to continue the two-war strategy, primarily "because the same people who brought you the [QDR] are bringing you the second one, and the rhetoric seems to be we still should be doing the same missions."
Another major incentive for military planners to favor the current strategy is that they understand it and it's easily quantifiable. Pentagon planners break a conflict into four operational requirements, each of which has assets required to meet them: halting an invasion; building up combat power in a theater while reducing enemy forces; launching an offensive; and providing post-war stability.
The two-war strategy "is the one thing the Pentagon can most usefully calculate numerically in terms of requirements," Adams says. "If I have to deploy a force of size X, to a distance Y, in Z period of time with A capabilities, I've got to resupply, lift it and bring it back, and I have to do that in some time relationship to a second episode and all those requirements. I've got all the planning factors I need to tell you how many people I need, how much backup I need, how many boats I need, how many flights out of the civilian reserve air fleet. It is such a highly quantifiable exercise. The services just love that."
While a one-war strategy also is quantifiable, it would significantly reduce the military's margin of error — and it would trigger force reductions on a scale that might cause unease across the political spectrum.
Joseph J. Collins, a deputy assistant secretary of Defense from 2001 to 2004 under Defense Secretary Donald H. Rumsfeld, suggests that if the United States moves away from the two-war strategy, it would become merely a regional power.
"To say you will limit yourself to one contingency, what you are saying is you have given up being a global power," Collins says.
He argues that there are ways to maintain both the current strategy and force readiness.
But the two-war strategy comes at a cost that currently exceeds significantly the resources the Pentagon is likely to receive, particularly with government spending on the chopping block.
Cutting Options
To live within its means in the coming years, the Pentagon can be expected to look for cuts in a few major areas.
America's Next Act
The most significant savings, lawmakers and military experts say, would probably come from reductions to military personnel. Cuts are already expected to begin in 2015 and 2016 after the U.S. commitment in Afghanistan is greatly reduced in 2014, partially undoing a temporary surge in the size of the military.
Already some top defense policy lawmakers, such as Michigan Democrat Carl Levin, chairman of the Senate Armed Services Committee, question whether the planned reduction of 42,000 troops goes far enough.
People are "our No. 1 cost," he says. "Can we reduce that more than we have planned? I think so."
Adams suggests that the military could gradually reduce its approximately 750,000 ground troops — the Army and Marine Corps — by 175,000. He says that while that number may seem huge, ground forces increased over the past decade by about 92,000 as the nation waged two wars. Typically, it costs between $3 billion and $4 billion annually to support 10,000 troops. Adams' proposed ground troop reduction would save between $52.5 billion and $70 billion annually, or between 10 percent and 13 percent of the House-passed fiscal 2012 base Defense spending bill.
"You would still have in place the only military in the world capable of deploying ground forces globally with ships steaming in all the world's oceans," Adams says.
Weapon Costs
Several lawmakers and military experts also say they think significant savings could come from weapons acquisition.
John McCain of Arizona, the ranking Republican on the Senate Armed Services Committee, says that one way to save money in weapons purchases is ensuring that the Pentagon clearly defines up front what it would require of a new weapons system and then sticks with it. A major driver of cost growth in new weapons development comes as officials insist on adding in more and more new capabilities to programs.
These add-ons, as well as a pattern of counting on unproven technologies, have plagued several enormous defense acquisition programs over the past decade.
Acquisition costs for the F-35 Joint Strike Fighter, which now top $379 billion, have grown by more than 80 percent from the original estimate, McCain says. Costs in the F-22 stealth fighter program forced Congress to terminate it hundreds of planes short of the expected plan. The Marine Corps scrapped the Expeditionary Fighting Vehicle after investing $3 billion because the rising cost of the amphibious tank would have consumed more than 90 percent of the Marine procurement budget. The Navy, for its part, walked away from the DDG-1000 destroyer after the per-ship cost jumped 80 percent above the original estimate. And the Army's Future Combat Systems, a family of networked ground combat vehicles, was terminated after investments of about $14 billion.
Since 2001, the Pentagon has spent more than $46 billion on major programs that have been terminated, according to a report released this month by the Center for Strategic and Budgetary Assessments.
Collins says the military must take a "jackhammer" to its acquisition plans, including buying fewer than the 2,443 F-35s planned for the Air Force, Navy and Marine Corps. "In this resource climate, you cannot equip them all with stealth aircraft if it's the F-35 aircraft," he says. "You would need to mortgage a lot of other things to do that."
But Adams says that after a career watching defense spending, he's "cynical" about Congress and the Pentagon's ability to control acquisition costs.
America's Next Act
"The incentives are wrong in the system," he says. "The services bid low because they want the system. Contractors bid low because they want the contract. Congress wants the systems because it creates jobs in their districts and gets them elected. And so they pony up the difference as we go through time."
Another big consumer in the defense budget is health care and benefits.
Gates suggested that it may be time to revisit military benefits, from retiree health care to military pay, areas most politicians are loath to touch. Panetta, in written response to questions posed during his confirmation hearing, said, "It may be appropriate to conduct a comprehensive review of the military pay and benefits structure to determine where costs can be contained."
That could mean taking a look at what Gates called a rigid, one-size-fits-all approach to retirement, pay and pensions left over from the last century.
And then there's the military's swelling health care costs, which in the past decade have increased from about 6 percent to about 10 percent of the base Defense Department budget. The Obama administration is trying to recalibrate fees on retiree health care, but Congress, in its fiscal 2012 defense authorizations bills, is trying to put limits on how much the Pentagon can raise those fees in the coming years.
While health care and benefits may be part of the discussion, there is little historical data to indicate that much will change. During the significant reductions in military spending in the early 1990s, benefit rates continued to increase.
Overseas Commitments
The nightmare scenario for Pentagon planners is that Congress simply imposes significant reductions before they have had a chance to formulate a coherent strategy that addresses an uncertain global environment.
Scattershot cuts could, experts say, end up eroding America's combat capability. Historically, this is known as the hollowing of forces. The post-Vietnam War military boasted tank units without tanks, squadrons forced to cannibalize their aircraft to keep a token number flying, and ships dry-docked awaiting repairs. Some hollowing occurred in the early years of the Clinton administration, when defense spending declined by $30 billion from 1992 to 1994. It had to be increased by a total of $32 billion in 1999 and 2000.
There are, in fact, warning signs of a hollowing cropping up in today's military. The Air Force, for example, recently found that only slightly more than half of its fighters, transports, bombers and tankers are fully ready for action, a significant decline since 2001.
This problem arises in part because the Pentagon often ends up trying to achieve savings through what is in effect a budget exercise: underestimating operations and sustainment costs.
Operations, maintenance and personnel consume between 60 percent and 70 percent of the annual military budget. "It's not rocket science," Adams says. "But that is where your readiness problems begin to creep in." Deferring repairs translates quickly into diminished readiness.
Politicians could also start pushing changes that could amount to big strategic shifts for the United States, such as slashing overseas basing. Some lawmakers, for example, have called for the closing of bases in Europe and elsewhere. "Why are there bases in Germany?" Andrews asked. "What is the rationale there?"
America's Next Act
So far, the administration has ruled out closing bases in Europe, calling them an essential element of U.S. strategy and key to the NATO alliance. In the Pacific, the United States has been working to increase its military footprint.
The China threat is likely to remain the most powerful driver of any effort to hold the line on defense budgets. In a response to Senate Armed Services questions, Panetta said the Pentagon "must keep pace with the Asia-Pacific security environment that poses profound challenges to international security, such as the rise of new powers, the growing influence of non-state actors, and the potential spread of weapons of mass destruction."
Indeed, there are strong voices in Congress saying that the Navy will need to increase its size. Virginia Democrat Jim Webb, a senior member of the Senate Armed Services Committee, says the Navy must be bolstered, given that it has only about 290 of the 313 ships it says it needs to patrol the world's oceans and seas.
"The Chinese are growing and becoming very vigorous," Webb says. "That is a very serious strategic problem that is not getting any strategic attention. It's enormously frustrating."
To compensate for a reduction in the overall size of the military and for a currently under-resourced Navy, the United States will need to bolster its strategic alliances and encourage greater foreign financial support of U.S. overseas bases and greater investment of U.S. allies in their own military. That could also mean that the United States has to accept an erosion of its clear status as the world's sole superpower — in effect yielding influence to emerging powers such as China, India and others. And that's an outcome few lawmakers appear ready to accept.
At Panetta's confirmation hearing in June, McCain laid out the stakes. "Over the next several years, our country faces decisions related to our national security and defense that will echo for decades to come, decisions that will determine whether we remain the world's leading global military power able to meet our many commitments worldwide or whether we will begin abandoning that role." Cutting defense spending to save money, he said, "will create a situation that is truly unaffordable: the decline of U.S. military power."
Still, many experts say Obama's proposal to cut the national security budget by $400 billion over 12 years may be merely the beginning. At least three studies that looked at defense spending over the past year or so proposed reductions that ranged between $500 billion and more than $1 trillion over the next 10 years.
It will be Panetta's job to continue shaping the Defense Department for those slimmer times, and to do so facing uncertainty, both military and financial. The stakes are indeed enormous.
"I think we can achieve savings and be able to have a strong defense force at the same time," Panetta said last week on his way into the war zone in Afghanistan.
"But one thing I am concerned about is that if negotiators settle and just pick a number and throw it at the Defense Department without really looking at policy, without looking at what makes sense, the danger is, as Bob Gates pointed out time and time again — and I agree with him — is I don't want to hollow out the force."
FOR FURTHER READING: Fiscal 2012 Defense appropriations (HR 2219), CQ Weekly, p. 1496; fiscal 2012 defense authorization (S 1253, HR 1540), pp. 1320, 1136; fiscal 2011 Defense appropriations (PL 112-10), p. 862; politics of military health care, p. 747.