CQ WEEKLY – IN FOCUS
July 30, 2011 – 12:14 p.m.
The Problem With Switching Tracks
By Kathryn A. Wolfe, CQ Staff
House Transportation and Infrastructure Chairman John L. Mica loves fast trains — it's just Amtrak that he can't stand.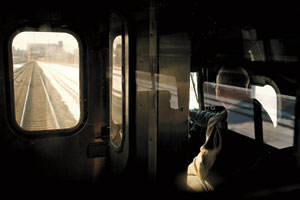 | | |
| --- | --- |
| DRIVING THAT TRAIN: An Amtrak engineer guides his train along the rails outside Newark, N.J. (GETTY IMAGES / SPENCER PLATT) |   |
The Florida Republican is fond of portraying the nation's money-losing passenger rail corporation as an inefficient, unresponsive and wasteful Soviet-style bureaucracy, incapable of bringing service rivaling Japan's bullet trains or France's TGV to the congested Northeast Corridor. His proposed solution is to let private businesses compete for the right to operate passenger trains between Boston and Washington, with the goal of driving down taxpayer subsidies and encouraging innovation.
That raises the question of whether the private sector has any interest in running America's intercity passenger rail system — at least without huge government investments in new track and other capital improvements. And Amtrak defenders worry that private operators might skim the cream of the busy Northeast corridor routes while letting intercity service elsewhere wither.
The idea of privatizing Amtrak is nothing new. Republican critics, fed up with Amtrak's failure to earn a profit year after year, have long wanted to get taxpayers out of the railroad business. During the Reagan administration, the White House commissioned a panel of experts to study privatizing various government enterprises, including Amtrak, and similar proposals have surfaced repeatedly since.
'New Direction'
This time, though, the federal fiscal crisis has created a new urgency for finding creative, cost-effective solutions to the nation's transportation problems. And as lawmakers and governors debate President Obama's vision for building a nationwide high-speed rail network, advocates of privatization think the moment for what Mica calls a "new direction" has arrived.
"By giving the private sector the opportunity to bring its resources and expertise to the table, we can lower costs, increase efficiency and improve high-speed and intercity passenger rail service across the country," Mica says.
Amtrak has its own plan to bring trains that can travel at 220 miles per hour to the Northeast Corridor over the next 30 years, at a cost of $117 billion. While that plan envisions private sector participation, Amtrak would retain the leading role.
Mica says 30 years is too long and says the government will never give Amtrak that kind of money. He insists his plan would bring high-speed rail to the region in a decade and "at a fraction of Amtrak's cost."
The plan laid out by Mica and Pennsylvania Republican Bill Shuster, who chairs the Transportation subcommittee with jurisdiction over railroads, would transfer Amtrak's Northeast Corridor assets — including tracks, rights of way, stations, signaling equipment, bridges, tunnels and rolling stock — to the Transportation Department. The department would solicit bids for operating the routes and maintaining equipment and trackage, and Amtrak could compete like anybody else. The Transportation secretary would select two or three of the best bids meeting the performance goals of providing passenger service between Washington and New York in less than two hours and with minimal federal subsidy.
The final award would be made by a new five-member "Northeast Corridor Executive Committee," composed of the Transportation secretary, a member representing the region's states, two members appointed by Congress and one expert in public-private partnerships.
While the plan hasn't been formally introduced as a bill or scheduled for committee action, it has already raised constitutional questions. The Congressional Research Service recently reported that confiscating Amtrak's assets would probably violate the Fifth Amendment's takings cause, which bars the government from taking private property for public purposes without fair compensation. CRS also reported that the proposed executive committee's makeup could violate the Constitution's "appointments" clause, because officials exercising executive power would not be Senate-confirmed presidential appointees.
The Problem With Switching Tracks
The biggest concern of critics is that the Mica plan would doom a truly national passenger rail system. They say that without the profitable Northeastern routes, Amtrak would have to shutter its money-losing long-distance lines, which provide some communities with their only public transportation.
"We created Amtrak because the private sector didn't want to operate unprofitable passenger rail service," says Rep. Nick J. Rahall II of West Virginia, the top Democrat on the House Transportation and Infrastructure Committee. "Private companies did not want to run passenger rail service then, and I am not convinced they want to do it now."
Amtrak's Creation
In the late 1960s, after decades of falling ridership and freight-rail competition from trucking companies, the railroad industry was struggling financially with both freight and passenger lines.
Congress stepped in to relieve the industry after several high-profile railroad mergers and bankruptcies, passing the Rail Passenger Service Act of 1970, which created Amtrak and gave it ownership of private passenger rail lines. President Richard Nixon signed it into law.
Amtrak was supposed to be self-sustaining quickly. Nixon's Transportation Secretary John A. Volpe predicted that Amtrak could be profitable within three years.
Others had their doubts. The Office of Management and Budget argued against creating Amtrak, believing that it could never be weaned off federal subsidies. Indeed, there were suspicions that the Nixon administration created Amtrak with the expectation that it soon would rot on the vine.
Volpe's prediction turned out to be wildly optimistic, although the CRS says it was predicated on two conditions that never came to fruition: that the government would provide sufficient capital investment for high-speed rail service and that Amtrak would shed its unprofitable routes.
Over the years, Congress has repeatedly blocked attempts to close down Amtrak's money-losing long-distance routes. Meanwhile, annual appropriations battles have usually left Amtrak with just enough money to limp along but not enough for keeping up its infrastructure.
Amtrak's experience contrasts with that of Conrail, a company the government created in the 1970s by cobbling together six bankrupt Northeastern freight railroads. Congress funded investments in tracks, locomotive and freight cars and provided regulatory relief, which allowed the money-bleeding operation to start making money in the early 1980s. Uncle Sam sold its ownership interest in 1987, producing a $1.9 billion profit for taxpayers.
Amtrak supporters say the evidence of private sector interest in operating Northeast Corridor services is thin. They point to a mandate in a 2008 law directing the Transportation Department to explore public-private partnerships for Amtrak. A request for proposals produced just eight responses, according to Rahall.
"Guess how many companies were just champing at the bit to get their hands on these projects?" Rahall says. "Not one. Not one single proposal was submitted by the private sector for developing high-speed rail on the Northeast Corridor."
The Problem With Switching Tracks
There has been some general interest from foreign operators, including the SNCF, the French national railway, which put forward a plan to operate high-speed rail along four corridors in the United States — but none along the Boston-to-Washington line.
And transferring U.S. transportation assets to foreign operators could produce a backlash, as evidenced by the outcry in Congress in 2006 against a Dubai-based company's aborted bid to operate American ports. Already, Holocaust survivors have raised objections to an SNCF bid for U.S. high-speed rail assets, citing the railroad's role in shipping thousands of Jews to Nazi death camps during World War II. Maryland enacted a law this year requiring the SNCF to disclose all records related to its 1940s activities if it wants to bid for commuter rail contracts.
Supporters of Mica's bill point to public statements by the United Kingdom's Virgin Trains, whose officials have expressed interest in operating trains along the Northeast Corridor and have met with congressional staff. Mica and Shuster tout Virgin Trains as a success story, which created 700 jobs and not only requires no taxpayer subsidies but is returning money to the U.K. government. The company links London to Birmingham, Manchester, Liverpool and Glasgow on routes formerly run by the nationalized British Rail.
Infrastructure Investment
Virgin Trains had a little help. The British government injected almost $11.5 billion into capital improvements along the routes operated by Virgin. Experts say similar capital investment in infrastructure here will be essential in attracting private investment.
"I don't think you're going to find in the world a business case where the capital investment for a five-star passenger railroad operation has been covered by the private sector exclusively," says Ken Mead, a former Transportation Department inspector general. "I do think, on the operating side that the Northeast Corridor could be quite competitive."
Andy Kunz, president of the U.S. High Speed Rail Association, has a similar view.
"That's the part where we disagree with Mica," Kunz says. "He thinks you can just peel off all the good stuff and the private sector will come in and pay for everything, which I don't think is going to happen. The government is still going to have to invest probably $20 billion to $40 billion in the Northeast Corridor."
Once infrastructure is brought to a state of good repair, Kunz says, high-speed trains in the corridor will earn enough profits to start returning money to federal coffers.
Kunz's group proposes separating Amtrak into two companies: Amtrak Operations, which would operate and manage trains, and Amtrak Infrastructure, which would own the right of way and tracks and be empowered to sell up to 40 percent of its shares to private investors and then invest the proceeds in upgrading tracks and stations.
Emil Frankel, an assistant Transportation secretary under George W. Bush, says better service at faster speeds in the Northeast Corridor is possible, although he says neither Amtrak nor the private sector is capable of bringing Japanese bullet train speeds to the region.
"We are not going to have 180 mph trains in the Northeast Corridor," he says. "It would require the acquisition of new right of way for the most part, and in most places it would be prohibitively expensive. Can you imagine acquiring new right of way in or around the city of Philadelphia? It's just not realistic."
Frankel advocates something similar to the Kunz group's model, where the government would own and maintain the infrastructure and private companies would run the trains.
The Problem With Switching Tracks
"What you need to have is competition for the provision of services on the right of way," Frankel says. "Companies, including Amtrak, should have the right to compete for the concession, say, every five years, 10 years."
Beyond the government being willing to put up money for infrastructure upgrades — an uncertain prospect in this fiscal environment — investors will look at the strings attached to performance goals, according to Keith Schoonmaker, a transportation analyst at Morningstar, a Chicago-based investment research firm.
"For example, mandating frequent departure schedules or travel times absent knowledgeable regard for technical feasibility or future passenger demand would increase the perception of risk, necessitating higher returns, likely via a lower purchase or lease price," Schoonmaker wrote in a note to investors.
He also wrote that many investors, especially private equity firms, won't be interested in an investment with such low liquidity — "a lack of potential buyers should the investor determine they wish to sell the asset."
Dislodging Amtrak from its position as the national passenger rail provider is anathema to organized labor, many Democrats and some Republicans who represent rural states because it would likely mean Amtrak could no longer maintain a national system of rail lines. They argue that the country's rail infrastructure is a public good that ought to be preserved with continued federal subsidies.
Ed Wytkind, president of the Transportation-Trades Department of the AFL-CIO, says his organization would oppose breaking up Amtrak even if Mica and Shuster could guarantee that railroad workers would be afforded the same protections under new management.
"This bill would just destroy a national passenger rail system in the country," Wytkind says. "Without having the 'above the rail' operating profits that Amtrak has in the Northeast Corridor, it can't afford to run the rest of the system. There just is no passenger rail system that doesn't operate this way."
The freight-rail industry — while so far taking no position on the draft — is watching warily.
Holly Arthur, a spokeswoman for the Association of American Railroads, says there are open questions about the safety requirements applicants would have to follow, the security they would provide and their level of contribution to the Railroad Retirement Fund.
Ten percent of the fund's contributions come from Amtrak employees in a pay-as-you-go system. The freight railroads are concerned that if Amtrak's contributions go down, their company contributions may have to go up.
Additionally, Arthur says, freight railroads are concerned about continued access to some Amtrak-owned lines in the Northeast Corridor and whether the new arrangement will include provisions to add freight capacity in the region.
"It's one of the busiest rail corridors in the country for both passengers and freight," Arthur says. "Our questions are still big-picture — how would this affect freight rail's ability to meet our customers' needs in the future?"
FOR FURTHER READING: GOP opposition to high-speed rail funds, CQ Weekly, p. 1134; Obama's high-speed rail plans, 2009 CQ Weekly, p. 2360; Amtrak reauthorization (PL 110-432), 2008 CQ Almanac, p. 3-16; regional railroad reorganization (PL 93-236), 1973 CQ Almanac, p. 465; Rail Passenger Service Act of 1970 (PL 91-518), 1970 CQ Almanac, p. 804.