CQ WEEKLY – IN FOCUS
July 30, 2011 – 12:19 p.m.
Rating Credit Where It's Due
By Ben Weyl, CQ Staff
As House Speaker John A. Boehner and Senate Majority Leader Harry Reid fine-tuned their dueling debt limit and deficit reduction proposals so that they might be enacted into law, both were also indirectly seeking a crucial endorsement from bond-rating companies, which in the past few months have inserted themselves into the center of the political arena for the first time.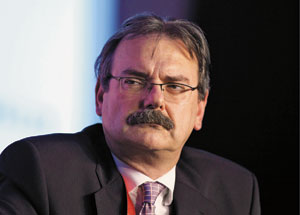 | | |
| --- | --- |
| DEBT SHOWDOWN: Beers says S&P is "not in the business of offering advice to the U.S. government." (AP / IMAGINECHINA / WANG ZHOU) |   |
Standard & Poor's and Moody's Investors Service, the two biggest rating companies, issued clear threats three weeks ago that the United States might lose its century-old AAA bond rating unless Congress resolved both the immediate crisis over the debt limit and also set the government on a path toward greater fiscal responsibility.
The warnings, which seemed to come out of nowhere, were seized upon by President Obama, lawmakers from both parties and the most outspoken tea party activists as leverage for their own favored proposals to end the debt impasse.
By jumping so directly into the debt limit fight, the ratings companies have made themselves highly visible players not long after being roundly condemned by lawmakers and investors alike for their role in the mortgage-market meltdown three years ago. This newfound prominence has raised questions about whether they should even be in the business of rating U.S. Treasury securities. And it will cast doubt about the future relevance of the rating companies in the marketplace if they do downgrade the United States and investors don't really react.
Although often referred to as ratings agencies, S&P and Moody's aren't regulators and have no direct connection to the government. They are private, profit-seeking companies that historically have been lightly regulated. Bond issuers — small and large corporations, state and municipal governments, and even some countries — pay the rating companies to pass judgment on how likely it is that they will default on their obligations.
Investors, in turn, rely upon these ratings to decide whether to lend to companies and governments, and, if so, what sort of credit risk premium should they demand in the form of higher interest rates.
"Ratings exist to solve problems," says Louis Crandall, chief economist at Wrightson ICAP, a New Jersey investment and economic research firm. Specifically, he says, ratings companies were intended to give broad guidance for investment decisions. "But now we have situations where changes in ratings have disproportionate effects," says Crandall. "They subject investors to the kinds of risks that the system was designed to avoid."
That concern is nowhere more clear than in the professed anxiety of public officials over whether the United States might suddenly lose its AAA rating because of the impasse over the debt limit and the danger of a default.
As Obama put it in a news conference the morning of July 29, "If we don't come to an agreement, we could lose our country's AAA credit rating. Not because we didn't have the capacity to pay our bills; we do. But because we didn't have a AAA political system to match our AAA credit rating."
Sudden Change
It's a bit of a puzzle how the rating companies became so central to the budget debate in Washington in such a short time.
Rating Credit Where It's Due
In the wake of the financial crisis and recession, S&P and others warned that the United States faced long-term fiscal problems that would have to be resolved in a decade or so, or Treasury securities would be downgraded. Still, as recently as last October, S&P said it saw no reason to be concerned about the government's creditworthiness over the next three to five years.
S&P's sanguine view of the United States disappeared just six months later, however. In April, the company issued its first warning about the Treasury's credit rating. And in mid-July, both S&P and Moody's said there was a good chance that the country faced a possible downgrade within months.
David T. Beers, S&P's global head of sovereign and international public finance ratings, explained the company's changed view in an interview last week. "We knew it was going to be difficult, given divided government, to reach a consensus" on budgetary issues, Beers said.
The impasse over the debt limit only made matters worse, he said. "If the U.S. is going to default, any rating in the vicinity of AAA is too high."
As S&P and Moody's have ratcheted up their concerns about the Treasury's AAA rating, lawmakers have complained that the rating companies were remiss in showing similar concern about the market in complex mortgage-backed securities that began to collapse more than three years ago, eventually sparking the financial crisis.
That episode caught the rating companies totally off guard. It started with S&P stunning investors in August 2007 by unexpectedly slashing the rating on a pair of mortgage-backed securities from AAA to junk bond status. Many more ratings changes followed, and eventually more than 80 percent of the mortgage-backed securities rated AAA by Moody's at the high point of the housing bubble were downgraded.
"How is it we are relying on same credit-rating agencies that failed us in the 2008 financial crisis on mortgage-backed securities?" asked Texas Republican Sen. John Cornyn in a tweet posted July 28.
In responding to the crisis, Congress decided to clamp down on the influence wielded by the companies.
In the past, government regulators relied on bond ratings to gauge whether companies were performing well. But one of the few bipartisan provisions in last year's Dodd-Frank financial overhaul law required federal agencies to excise any mention of the companies from their regulations and to devise other measures of creditworthiness for banks and other companies.
Ratings "severely underestimated the credit risk of many mortgage- and asset-backed securities," Mark Van Der Weide, a senior regulatory official at the Federal Reserve, told Congress last week. "Investors, for their part, relied too heavily and uncritically on these ratings in making investment decisions."
Beers has lately become a familiar presence in Washington, meeting with reporters, lawmakers and administration officials. His company also made a startlingly specific demand that the United States reduce its budget deficit by $4 trillion over 10 years to preserve the Treasury's AAA rating.
Even so, Beers says S&P really doesn't want anything specific from Congress. "That's not our role," Beers said. "We're not in the business of offering advice to the U.S. government."
That isn't how some lawmakers see it. "This notion about what degree of debt reduction is needed shouldn't influence anybody, because they have been so wrong in the past," says Barney Frank of Massachusetts, the top Democrat on the House Financial Services Committee. "I do not give much weight to their predictive powers."
Rating Credit Where It's Due
It may be that the rating companies have gone to such great lengths in the current drama precisely because they are still smarting from the ridicule they endured after missing not only the collapse of the mortgage market, but also the failure of Enron Corp. in 2001 and the near bankruptcy of Iceland's government in 2008.
"They are chafing at the criticism they've received over the years," says Maury Harris, chief U.S. economist for UBS Investment Research. "It's the general fighting the last war."
Boxed In
Amid the debt limit turmoil and talk of a downgrade, securities issued by the United States government continue to be viewed in the marketplace as the safest investments on the planet. Few countries can borrow as cheaply as the United States, and that seems unlikely to change regardless of anything the ratings companies do.
"Investors fully understand that we have trouble balancing our budget, but there isn't really any risk of not being paid," says Harris, who has been frustrated by the ratings companies' recent behavior. "The market is a disciplinarian, and the market was satisfied with what was going on."
Neither the United States nor many other industrial countries ask to have their bonds rated, and many market analysts say it isn't at all clear that government debt needs a rating from S&P or Moody's.
To downgrade Treasury bonds a notch to, say, a AA rating would mean the rating company believes there is a slightly higher chance of a default. But there are no signs that investors have such concerns. The yield on 10-year Treasury notes is less than a tenth of a percentage point higher now than it was just before the downgrade warnings and is right in line with the average for the past two months.
Still, Beers made a case for rating government debt. "The market is not an unerring arbiter of credit risk," he said. "At any one time, markets can overshoot in any number of directions. Ratings are a more stable and forward-looking measure of credit risk."
Assuming that lawmakers raise the debt ceiling and avoid a global economy-shaking default, S&P and Moody's appear likely to ignore the markets and downgrade U.S. bonds anyway. The companies may have boxed themselves into that stance by demanding that Congress achieve a level of deficit reduction that cannot be attained at this time.
A former Treasury official says the companies may have believed that a consensus existed to lock in $4 trillion worth of deficit reduction because the president, his bipartisan debt commission and House Budget Chairman Paul D. Ryan of Wisconsin had all previously embraced that figure.
The economic and fiscal consequences of a downgrade remain uncertain. Terry Belton, global head of fixed-income strategy at J.P. Morgan Chase & Co., estimates that Treasury yields might rise by as much as seven-tenths of a percentage point over time, which might cost the government $100 billion a year in higher interest payments.
Homebuyers, credit-card holders and corporate borrowers would see their borrowing costs rise in turn, since Treasury securities serve as a benchmark for setting many other interest rates in the marketplace.
Alternatively, investors might pay little attention to a downgrade. And even with a AA rating, Treasurys are likely to lose little of their luster. Belton predicts that few bondholders would dump Treasury securities in the event U.S. bond ratings are cut.
Rating Credit Where It's Due
Harris says he has told clients to expect a downgrade, because it's been "pretty much telegraphed," but that he doesn't expect much effect on the economy.
That might prove to be the worst possible outcome for the credit-rating companies, because it would suggest that their judgments about government debt are largely irrelevant. Indeed, not all rating companies believe government bonds should be rated.
"I question whether this is the job of a private sector entity — to be looking at the United States government or, frankly, any other government and reaching decisions on their levels of creditworthiness," Jules Kroll, chairman of Kroll Bond Rating Agency, said at a House Financial Services subcommittee hearing last week. "What we've seen throughout history is a constant activity of being a day late and a dollar short and running around in front of the parade." Kroll's company offers ratings for corporate securities.
Republican Randy Neugebauer of Texas, who chaired the hearing, acknowledged that might be the reality but said he would leave it to a higher power to decide.
"It's not for me to determine whether those ratings are relevant or not," Neugebauer said. "It's for the marketplace to determine. And if the marketplace doesn't think they're capable of making those evaluations, they're obviously not going to pay any attention to it."
John Cranford and Benton Ives contributed to this story.
FOR FURTHER READING: Credit downgrade threatened, CQ Weekly, p. 1554; Dodd-Frank financial overhaul (PL 111-203), 2010 Almanac, p. 3-3; rating industry criticized, 2007 CQ Weekly, p. 2733.