CQ WEEKLY – IN FOCUS
July 30, 2011 – 12:28 p.m.
Post-9/11 Security Centers Now Face Budget Threats
By Tim Starks, CQ Staff
After the terrorist attacks of Sept. 11, 2001, the newly formed Department of Homeland Security helped states and cities establish an archipelago of so-called intelligence fusion centers around the country to bring together local, state and federal information on terrorist threats and to alert law enforcement before those threats became deadly.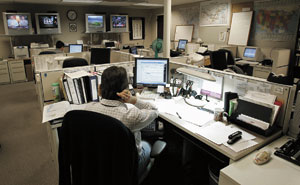 | | |
| --- | --- |
| ON GUARD: Agents work at an intelligence fusion center in Maryland. The center opened in 2003 and is run by state and local police, as well as the FBI. (AP FILE PHOTO / CHRIS GARDNER ) |   |
Nearly a decade later, these hubs of terrorism analysis — like many other parts of the federal government — are beginning to feel the budget pinch as House Republicans continue to target Homeland Security grants to already cash-strapped states. Last month, Connecticut laid off the director of its intelligence fusion center in a move to save money. And in May, the director of Texas' homeland security and emergency management warned that federal budget cuts would hobble work at the fusion center in Austin, the state capital.
But federal funding is not the centers' only challenge. The future of these facilities also depends on their performance — not only in helping to avert terrorist attacks, but also in protecting privacy and civil liberties, an additional standard that also will affect how much money the centers will receive. And all of this is happening at a time when local and state law enforcement agencies are facing greater threats from homegrown terrorism than ever before.
"As we move to a concern for the increasing recruitment of home-based, lone-wolf types, it will increase the demand for local law enforcement to have eyes and ears out generally and then specifically to pursue leads," said Patrick Meehan, the Pennsylvania Republican who chairs the House Homeland Security Subcommittee on Counterterrorism and Intelligence.
Some supporters of the intelligence fusion centers, however, acknowledge that the 72 hubs around the country might be too many. They concede that some consolidation that would shutter some lesser-used fusion centers could be a good thing.
"I frankly think there's too many of them," former Homeland Security Secretary Tom Ridge said in November. "We still don't have quite the protocol we need to make sure that they're effective."
A Variety of Missions
The fusion centers have received more than $420 million in federal grants since 2004, according to a Government Accountability Office report last year. But any attempt to assess their effectiveness has been complicated by the different missions the centers undertake.
For example, some fusion centers focus heavily on terrorism threats. Others analyze data on all hazards, and some distribute routine criminal information to law enforcement officials. Wyoming doesn't have any fusion centers, while California has five. The annual budgets of fusion centers vary from $300,000 to $8 million, according to an intelligence official.
"There aren't any metrics to evaluate the value of these centers," said Michael German, a former FBI agent who now serves as a legal adviser for the American Civil Liberties Union. "They're all doing somewhat different things. It's impossible to say who's doing things well and who isn't."
Moreover, reports of cooperation among local officials who work at the centers have ranged from seamless to dysfunctional.
Post-9/11 Security Centers Now Face Budget Threats
"Typically for me, a fusion center success story may be, I go home happy that Bill and Steve didn't punch each other in that meeting," the FBI's Matthew Drake, deputy director of the Northern Virginia Regional Intelligence Center, said at a February conference.
German notes that there aren't many concrete examples of intelligence fusion centers making much of a difference in the war against terrorism. And in many of these cases, he says, other arrangements would have worked just as well. "You would think the police department has the FBI's phone number," he said. "The structure between them — was that really part of what created that success or not?"
But Charlie Allen, who led Homeland Security's intelligence wing from 2005 to 2009, says the fusion centers have provided the department with valuable intelligence. He says information gleaned by fusion centers sometimes made its way into terrorist threat briefings for the president.
Furthermore, the fusion centers provide an excellent channel for federal officials to distribute threat information they collect, argues Allen, now a principal at the Chertoff Group, a security advisory firm headed by DHS's second secretary, Michael Chertoff. If, for example, intelligence agencies pick up on a plot to acquire liquid explosives or to blow up city buses, fusion centers are in the ideal position to analyze that information and tailor it to their regions, he says.
John Cohen, the Homeland Security Department's counterterrorism adviser, plays down the differences between fusion centers, pointing out that each facility reflects the concerns of its geographical region. And he notes that the quality of the fusion centers' work is on the rise. "Some are more mature," Cohen said. "Others are moving quickly toward a level of maturity to be operationally effective."
In 2008, the Justice Department of issued operational guidelines for the fusion centers that were widely credited with improving their performance. DHS also implemented requirements for privacy and civil liberties training that were mandated in a 2007 bill that pledged to enact the remaining unfulfilled Sept. 11 commission recommendations.
But the centers still had problems. In 2009, a Texas fusion center made headlines when it encouraged law enforcement officials to keep a close eye on Muslims and anti-war groups. Meanwhile, a Virginia center drew criticism for labeling colleges "radicalization nodes."
As a result of such problems, current Homeland Security Secretary Janet Napolitano in 2010 increased civil liberties protections by making funding for fusion centers conditional on the facilities' presenting privacy protection plans and winning the department's approval. She also required assessments of the baseline capabilities of each fusion center. In addition, the department is using specific grant guidance as another incentive to steer the centers toward privacy protection.
Enforcement and Budget Issues
But German says the fusion centers have a long way to go.
"When the Department of Homeland Security tied fusion center grant funding to the development of a privacy policy, we saw that as a positive development," German said. "Not that a written privacy policy will protect against any abuses in a clandestine environment, but it's at least a start." He adds, however, that big questions remain unanswered. "Now that you have a privacy policy, who enforces it?" he asked.
Such issues are playing out against the backdrop of a difficult budget environment and the rising threat of homegrown terrorism.
The budget cuts, Cohen says, are "adding a layer of complexity that police have to deal with when they need access to greater levels of analyzed information, I would argue, than ever before."
Post-9/11 Security Centers Now Face Budget Threats
The National Fusion Center Association, a lobbying group funded by corporate sponsors — some of whom provide technology to those fusion centers — has appealed to Congress to make sure the facilities retain funding.
W. Ross Ashley III, executive director of the group, says the association realizes that the economic climate all but guarantees funding reductions for state and local homeland security grants for fiscal 2012. But Ashley, a former administrator of grants at the Federal Emergency Management Agency, notes that some of the billions of grant dollars he administered over the years have gone to boosting the ability of local agencies to respond to and recover from disasters.
So he is lobbying Congress to take some of the more general-purpose grant programs, such as the Urban Area Security Initiative, and make sure that some of that funding goes toward preventing and protecting against threats — a move that would surely steer money toward fusion centers.
Given the amount spent on response and recovery, "it makes sense that we need to take our limited resources and focus them on prevention and protection activities," Ashley said. "We can't afford, from an economic standpoint or any other standpoint, to be attacked."
Ashley adds that with the threat of homegrown terrorism on the rise, fusion centers are uniquely positioned to connect the dots in threat information picked up by local police, thereby helping to prevent attacks.
But experienced voices such as Allen's note that not all areas of the country have the same intelligence needs, and with budget woes affecting every state, it will fall to each state to choose its priorities. "Over time, it may be decided in some states where there is a small population and threats are very low that fusion centers are not needed," Allen said.
Meehan says the fusion centers, like all other elements of the federal government, will have to do more with less. And while they will still be able to compete for a smaller amount of federal funds, he stresses that the support the centers receive from their states is likely to determine how effective they will be.
FOR FURTHER READING: House-passed fiscal 2012 Homeland Security appropriations bill (HR 2017), CQ Weekly, p. 1211; fiscal 2012 Homeland Security appropriations preview, p. 1128; law implementing remaining Sept. 11 commission recommendations (PL 110-53), 2007 Almanac, p. 13-3.