CQ WEEKLY – COVER STORY
July 30, 2011 – 12:39 p.m.
Bachmann Plays Better in Iowa
By Christina Bellantoni, CQ Staff
There's a breed of politician in Washington whose fame comes largely from being provocative rather than productive in the Capitol. The more attention they get on cable television, the more money they raise, and utterances that once could break careers now make them.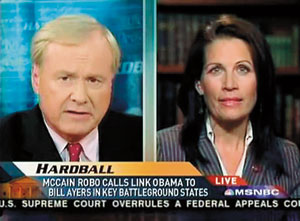 | | |
| --- | --- |
| THE TAKEOFF: Bachmann's fame soared in 2008 with fiery words on Matthews' 'Hardball' show. |   |
But those who choose this route eventually face a dilemma: How far can it take them? An insurgent may appeal to angry outsiders only to alienate insiders who can block advancement in Congress. A provocateur may raise a lot of money but inspire opponents to do the same. Left wing or right wing, candidates who sound extreme have little appeal in a centrist nation.
There are costs and benefits, and few politicians illustrate both as well as Minnesota Rep. Michele Bachmann. As a conservative who grabbed the public's attention through inflammatory rhetoric on cable television, sought but failed to get a leadership post in the House and now contends for the 2012 Republican presidential nomination, she is a test of this path to prominence.
The results so far are mixed. She has raised a lot of money and is doing well in the polls, as Iowa prepares for an early test of the contenders in an Aug. 13 straw poll. She exceeded expectations in an early debate among the candidates in New Hampshire and was praised for her poise, her intelligence and her avoidance of gaffes.
People know exactly where she stands. Her positions on issues of importance to conservatives are unambiguous and consistent. She can boast of early, vigorous and visible opposition to gay marriage, the health care overhaul and the Wall Street bailouts. As a campaigner, she connects with the crowds and gets standing ovations.
On the other hand, her record of inaccurate or inflammatory remarks has been costly. It keeps coming up. She was startled in June when asked by Chris Wallace on "Fox News Sunday," "Are you a flake?"
And when CBS' Bob Schieffer asked her about her long record of "pants on fire" ratings from Politifact for inaccurate statements, she came out with another inaccurate statement: that President Obama had released all the oil in the Strategic Petroleum Reserve. In fact, the amount was closer to 4 percent. Politifact labeled her comment false.
Her performance on the Hill is also an issue. Fellow Minnesotan and GOP presidential contender Tim Pawlenty criticized her July 24 for having a "nonexistent" legislative record. Bachmann declined to be interviewed for this story because of scheduling conflicts. But in defending herself, she issued a testy press release that tended to reinforce his claim: It was a list not of legislative accomplishments but of things she "fought against" — spending, bailouts, "Obamacare" — and a reminder that she was chairwoman of the House's Tea Party Caucus.
"I am self-made," she proclaimed.
Indeed, though first elected to the House in 2006, she only really entered the national consciousness on Oct. 17, 2008. Nearly everyone agrees on that precise date because it was the day of her unforgettable appearance on "Hardball with Chris Matthews."
As she sat down, the show was running a tape of Sarah Palin telling voters that Barack Obama liked to "pal around with terrorists" and reporting on a new John McCain robo-call that painted the Democratic nominee as someone who associated with unsavory characters such as Bill Ayers.
Delivering what sounded like standard GOP talking points questioning Obama's ties to Ayers and the Rev. Jeremiah Wright, Bachmann attempted to stay on message while talking with Matthews. She said that Americans "are just now starting to find out about the questionable connection" Obama had to Ayers.
Bachmann Plays Better in Iowa
Matthews pushed Bachmann to give him "a term" to describe Obama and asked if she felt that Obama was "anti-American," a phrase she had not yet uttered. After several rounds of goading, Bachmann said the words that would send a ripple of panic through National Republican Congressional Committee headquarters.
She was indeed "very concerned that he may have anti-American views," she said. Not only that, she added under Matthews' baiting, she was concerned about anti-American views in the Congress as well. "The news media should do a penetrating exposé and take a look. I wish they would. I wish the American media would take a great look at the views of the people in Congress and find out are they pro-America or anti-America. I think people would love to see an exposé like that."
The GOP needed every break it could get in the fall of 2008. Headlines and a viral video about a member of Congress calling for a "probe" of anti-Americanism in Congress were not what party leaders had in mind. She was running for re-election in Minnesota at the time, and after "Hardball," Bachmann's Democratic rival, Elwyn Tinklenberg, received a rush of contributions — $450,000 from 9,000 people in 24 hours. That swelled to 20,000 contributions from donors in all 50 states within 72 hours.
But Bachmann received a rush as well, even after being denounced by former Secretary of State Colin L. Powell, among others. She raised just shy of $1 million from Oct. 16 — the day before the "Hardball" appearance — through Nov. 24, after she'd won re-election by 12,031 votes.
Backpedaling
She admitted that she had made a mistake. "I may not always get my words right" she said in an apologetic ad before the election. "A trap was laid, but I stepped into it," she later added, saying she had been unfamiliar with Matthews' type of badgering.
But it was a mistake that she leveraged.
"She became a national figure because of Chris Matthews," said Iowa Republican Steve King, one of Bachmann's two close friends in the House. "She used all that notoriety to lift herself up to another level."
"All of a sudden, the money just started pouring in," recalls Rep. Tom Cole of Oklahoma, who was then the chairman of the National Republican Congressional Committee. He recalls one of her consultants telling him, "Tom, don't worry about the money. We can't spend the money fast enough."
The episode divides her career into distinct periods: before and after "Hardball." Before, few references to Bachmann appear in the national media. After, she became a "shooting star," says Cole, a "self-made national figure. Nobody was coming in here and pointing to her and saying, 'Here's somebody who is going to rise,'" he said. "She's a self-created figure, but she was created by accident."
It distinguishes her from, say, Mitt Romney, he adds. She never had a "grand political design," Cole says. Others "plan out moves years in advance. That's not the case with Michele."
Bachmann learns. After "Hardball," she opted to bypass media gatekeepers and take her message straight to her base. She engaged on social-networking sites such as Facebook and the SmartGirlPolitics blog, which she said in an interview last fall had helped bring her together with other conservative women and enjoyed regular appearances on Fox.
Bachmann Plays Better in Iowa
After "Hardball," the new political circumstances — the debates over health care and spending — played to her strengths.
She went further out on her own as an independent operator. As health care reform appeared to be headed toward passage in November 2009, Bachmann took to the airwaves, asking Fox News viewers to head to the Capitol to persuade Democrats to defeat the proposal.
"I'm asking people to come to Washington, D.C., by the carload," Bachmann said. "I'd love to have every one of your viewers join me so that we can go up and down through the halls. Find members of Congress, look at the whites of their eyes and say, 'Don't take away my health care.'"
The following week, she got her wish. Taking the podium that autumn afternoon, Bachmann embraced the crowd. "You came!" she shouted. "You came for an emergency House call."
She had been underestimated. Republican aides said at the time they hadn't expected much. The GOP leadership was initially dismissive of the event, as Bachmann and a few cohorts did most of the planning in just a few days.
"We didn't know what to expect. We didn't know what kind of energy would be there, but this thing took on a life of its own," Brendan Buck, then a spokesman for the Republican Study Committee, said in an interview after the rally. "It came together better than we ever imagined it would, in terms of size and energy."
The end result was a crowd of between 8,000 and 10,000 people on the West Front of the Capitol. Bachmann led the charge as tea partyers waved Gadsden flags and chanted, "Kill the bill!"
That rally was a triumph for the Minnesotan, as leaders wary of her influence negotiated their way into the event to share her podium.
Miles to Go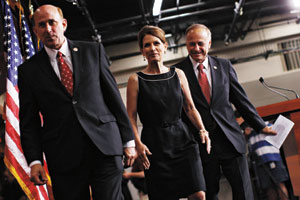 | | |
| --- | --- |
| FRIENDS: Gohmert, left, and King, two of Bachmann's Hill supporters, finish up a July news conference. (GETTY IMAGES / WIN MCNAMEE) |   |
But it did not translate into esteem on the Hill. More than a year later, in power after the midterm elections, the party leadership targeted the health care bill for destruction in the GOP-controlled House. Despite her prominence in opposition, as the party put the health care repeal measure on the House floor in January 2011, Bachmann was not chosen as a manager or spokeswoman in the debate.
The impresario who had brought thousands of tea partyers to the Capitol got about 90 seconds of floor time, just like everyone else.
Days later, Bachmann thumbed her nose right back at GOP leaders, opting to deliver a "tea party response" to Obama's State of the Union address. Members dissed her behind the scenes, but Bachmann won wide praise from the tea party movement and kept right at it.
Bachmann Plays Better in Iowa
The event did not come across well on screen. Bachmann's eyes were turned just a bit to the right, making it seem as if she was clueless about where the camera was positioned.
Even that moment is a metaphor: Bachmann was actually looking directly into the Tea Party Express camera for a live Web stream that activists were watching back home. But to CNN viewers seeing the feed on television, it looked off.
NBC's "Saturday Night Live" spoofed her awkward address, a segment that might have been humiliating but that only strengthened Bachmann's support among activists who think the media and entertainment industries have a liberal bias. It gave her name recognition beyond Washington and Minnesota, and it thrust her right back onto the national stage as the leader of the tea party.
"At the end of the day, she was out there getting her message across, even if people tried to make fun of her for doing it," said Victoria DeFrancesco Soto, who researches gender and racial identity in politics at Northwestern University.
By speaking her mind and sometimes forcefully opposing her own party leaders, Bachmann represents a new generation of female politicians, Soto says. These women aren't buttoned-down and don't wear pearls. They are "unpolished, sassy and tough," Soto says. (As it happened, Bachmann was wearing pearls at a National Press Club appearance last week.)
"She presses all the right buttons in terms of her emotion and her rhetoric. She knows how to get to everyday people," Soto says. "She may not be polished, but can you get people to pay attention to you and can you get their emotion stirred."
Soto believes that Palin's reduced political profile helped Bachmann. Realizing that Palin's interests were turning to reality television and other money-making projects instead of elective office, loyalists of the former Alaska governor could transfer their attention to Bachmann, who holds similar views.
Although Bachmann and Palin are often grouped together as similar personalities, there are obvious stylistic differences.
Bachmann is warm and friendly to the media, while Palin has played the role of the victim of reporters who she says are out to get her. Bachmann has a relaxed, almost teasing way of handling the press, telling her campaign team that she can take the heat. She sits for interviews with Minnesota reporters and does press availabilitiesafter many of her events, while Palin takes to Twitter to complain about the "lamestream media" and to dispute reports she doesn't agree with.
But the label "gaffe-prone" has become almost an appendage to Bachmann's name in news stories. Some of these stumbles are indeed gaffes — by the dictionary definition, an unintentional remark causing embarrassment to its originator — such as goofing on the day she announced her candidacy by saying John Wayne had been born in the Iowa town of Waterloo, when actually it is the birthplace of serial killer John Wayne Gacy.
Other incendiary comments seem to reflect her point of view and cause her no embarrassment at all. When criticized for telling Sean Hannity the nation is headed for a "revolution" because Obama has taken it "down the lanes of economic Marxism," Bachmann did not budge. During debate over the automaker bailouts in 2009, she quoted a conservative columnist and suggested on the House floor that the president was running a "gangster government." Does she regret that remark? Not for a moment, she has said.
Leadership Incompatibility
But her rhetoric and her method of operation have not helped her ascend in Congress.
Bachmann Plays Better in Iowa
She wanted a seat in the 111th Congress on the Ways and Means Committee, but she was given a place on the Intelligence panel instead.
When she challenged Jeb Hensarling of Texas for the chairmanship of the Republican Conference last fall, after the GOP won control of the House, she got the support of her friends King and Louie Gohmert of Texas, along with GOP Minnesota representatives, Chip Cravaack, John Kline and Erik Paulsen. But that gave Bachmann just six committed votes for the leadership position, including her own. Hensarling had at least 125 votes locked down.
Members of the leadership issued statements endorsing Hensarling, taking not-so-subtle jabs at Bachmann's statements and her insurgency. Paul D. Ryan of Wisconsin praised Hensarling for his "strong ability to communicate," his "command of the issues" and his "history of successfully debating" them. Majority Leader Eric Cantor of Virginia made reference to the "Republican team," noting that Hensarling was committed to it.
Bachmann dropped out, saying Hensarling had her "enthusiastic support."
Had she moved into leadership, though, she would have had less freedom to speak out when she disagreed with her party. She might have been deprived of the main source of her appeal: her anti-establishment militancy.
Her popularity has been fueled by conservative grass-roots anger reaching a slow boil and morphing into the tea party movement after Obama took office in 2009. Tea party activists are not looking to subcommittee chairmen or the establishment to lead their movement. They say they want someone who is willing to challenge the dealmakers rather than become one.
"If she were more willing to compromise principles, she'd probably be a chairman of a subcommittee, but she's not a chairman of a subcommittee because she stands on principle," Gohmert says.
"She was outspoken from the start," says her Republican Conference colleague Steve Chabot of Ohio. "She was always speaking up to convince the conference to stick to its guns and be conservative."
Record in Congress
On Bachmann's legislative record, her spokesman argues that because she has been a junior member of a minority party for most of her time in Congress, she has had few real opportunities to pass legislation. "I think it's fair to point out that if legislative accomplishments among members are only measured in terms of shepherding legislation through to becoming law, the minority in Congress have very few to point to," spokesman Doug Sachleben said in an email.
But neither has she been given much of a role by her own majority party in the House.
On one of her signature issues, the "Light Bulb Freedom of Choice Act," which would repeal restrictions on sale of incandescent light bulbs, she has been ignored. The House voted this month on a separate repeal measure, basically the same idea but written by Joe L. Barton of Texas. GOP aides say they were not even aware of Bachmann's bill, although that did not stop her staff from attempting to book her on radio shows on the day of the vote.
This past winter, Speaker John A. Boehner of Ohio outlined for his conference the details of a continuing budget resolution deal. Bachmann heard the basics and left the meeting just a few minutes after it had started, without asking any questions.
Bachmann Plays Better in Iowa
Soon members were getting emails from their aides, alerting them that Bachmann was already on the airwaves doing an interview and telling the nation that Boehner was trying to sell a bad deal.
Rank-and-file members say they have been burned by Bachmann's television appearances more than once. When she says something factually inaccurate on Fox News, their switchboards nevertheless light up with voters calling to express their outrage about something Congress has done.
In both private and on-the-record discussions during the past month, Bachmann's colleagues used the same words to describe her: "Nice." "Pleasant." "Authentic." "A true believer."
In her four and a half years in Congress, she has been through at least five chiefs of staff, at least five press secretaries, two district directors and five legislative assistants. She has also lost staff members on both the official and campaign sides of her operation.
Some senior staff members lasted only days before departing; others a year or so.
(A former staffer was reported to have leaked a story about her migraine headaches to the Daily Caller.)
Her supporters are loyal, though. They've taken her messages viral through social networking in a way that wouldn't have been possible at the beginning of the decade.
They've helped her become a formidable fundraiser. She raised $13.5 million in 2010 for her re-election bid, more than any other member, in what was the most expensive House race last year.
Fundraising Prowess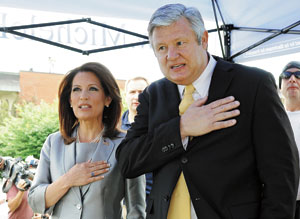 | | |
| --- | --- |
| PARTNERS: Bachmann says her business experience with husband Marcus has given her executive training. (GETTY IMAGES / STEVE POPE) |   |
Bachmann raised about $4 million after forming her presidential committee in June and is expected to keep pace with the other presidential contenders through the Iowa caucuses in February.
Her campaign finance reports are filled with payments to consultants and fundraising firms that have helped her cultivate her national following. She has purchased lists of GOP voters for personal outreach. Her campaign spent more than $20,000 on beer and baseball jerseys stamped with the number 12 — for 2012 — to woo supporters at the Conservative Political Action Conference (CPAC), where she threw a party and paid a photographer to take more than 600 photographs of her posing with supporters. Attendees gave her a seventh-place showing, with 4 percent of the vote in the CPAC straw poll on Feb. 12.
Gohmert says he doesn't believe that Bachmann was chasing the national limelight, but her fundraising haul probably helped convince her that the presidency is at least possible.
Bachmann Plays Better in Iowa
"You'd have to be pretty stupid not to notice that you'd just raised more money than anybody else for a congressional campaign that, by the way, is actually more money than some of the presidential contenders are ever able to raise. And you'd have to be pretty stupid not to notice that you have gained the stake to talk about your principles and positions. And she's not stupid," he says.
"It would only be natural to migrate that way. I've seen this developing ever since she got here, and at some point you go, 'Whoa, I'm on the national stage. Why shouldn't I expect to affect policy?'"
Bachmann's push to win the Iowa caucuses has exposed both the strengths and weaknesses of her firebrand candidacy.
So far, she has not escaped the "flake" label bestowed upon her by Wallace — for which he apologized. As the rhetoric heats up and becomes more targeted, as it did last week, she is being called upon to defend a meager record of legislative accomplishment.
But for a race in Iowa, where the base plays an outsized role, she is well-situated. Thanks to the publicity she has attracted, her face and her views are becoming better known.
Some of the issues in the news, such as government spending, seem tailored for a Bachmann campaign and are playing out in real time as she competes.
Having had no experience running a state or local government, she does not have Pawlenty's vulnerability on fiscal matters. Whenever she can, she highlights, as evidence of her financial savvy, that she and her husband, Marcus, run a small business.
Although she has served two and a half terms in Washington, she can portray herself as an outsider looking in, as she is doing in Iowa, criticizing both parties as if she didn't belong to one of them.
"We have to deal with the economic reality. And I have the will and I have the courage to see this through," she says in the ad.
And she's capable of holding a crowd in rapt attention, as she demonstrated at the conservative RightOnline conference in June in Minneapolis, where she took out a dollar bill and asked the audience to join her in folding it down to a shrunken version of itself.
"Every time Congress spends a dollar, 42 cents is borrowed money," she said, displaying the dollar as the crowed nodded and followed her orders.
"Think of that for a second," she says, her voice steady but low, almost a whisper. "Seriously. Could you live that way? Could you live that way for a month, for two months? . . . My business couldn't live that way. That's why we have to stop this insanity."
In that speech and others, she portrays herself as fighting a lonely battle — often "behind closed doors" — against bailouts, spending and "Obamacare," battling her "own party" when necessary.
Bachmann Plays Better in Iowa
"The question is, when are we going to buck up? . . . When are we going to finally listen to the people instead of the politicians?"
For all her incendiary rhetoric aimed at both parties, these days Bachmann is a little softer, more purposeful in her language. But she still speaks with passion. Her beliefs are "heartfelt," says Chabot.
She has become part of a historic movement represented by the tea party that could take her quite far in politicsor bring her down. Therein lies another cost to go with the benefit: Movements can get swept away, along with any politician too closely identified with them, including Michele Bachmann.
The author is associate politics editor at Roll Call. Paul Singer, David M. Drucker and Janie Lorber of Roll Call contributed to this story.
FOR FURTHER READING: Rearguing contract, 2011 CQ Weekly, p. 796; tea leaves, 2010 CQ Weekly, p. 480; tea party, 2010 CQ Weekly, p. 1785. Light Bulb Freedom of Choice bill is HR 849.