CQ WEEKLY
Sept. 3, 2011 – 11:35 a.m.
The Full Cost Of 9/11
By Tim Starks, CQ Staff
In an essay published shortly before the attacks of Sept. 11, 2001, Harvard scholar Ivan Arreguín-Toft evoked the famous Muhammad Ali "Rumble in the Jungle" fight to illustrate "how the weak win wars" by using a "rope-a-dope" strategy — where Ali leaned back on the ring ropes and let his stronger opponent punch away at him until exhausted and vulnerable to being knocked out.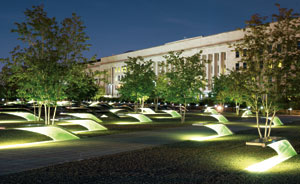 | | |
| --- | --- |
| REMEMBERING: The Pentagon Memorial to the 184 men, women and children killed in the building and on American Airlines Flight 77 on Sept. 11, 2001. (GETTY IMAGES / AFP / PAUL J. RICHARDS) |   |
As the United States commemorates the 10th anniversary of those attacks, the metaphor has gained new relevance as part of the debate over the American response to al Qaeda.
After two costly wars, the creation of an enormous national security complex and a decade of conflict over U.S. tactics in the battle against terrorism, Obama aides now believe that America has pushed al Qaeda to the brink of extinction. "We're within reach of strategically defeating al Qaeda," Defense Secretary Leon E. Panetta said in July.
But the country has also been weakened.
And despite the obvious U.S. successes against al Qaeda — it was once unimaginable that there wouldn't be another major attack on the homeland — there is a debate about whether Washington's response has given the terrorist group and other enemies of the United States a good deal of what they wanted, most notably U.S. economic exhaustion and a tarnished reputation.
"Essentially, al Qaeda's strategy has been rope-a-dope," said Daveed Gartenstein-Ross, director of the Center for the Study of Terrorist Radicalization at the right-leaning Foundation for Defense of Democracies think tank. "The primary thing it has been able to do to the U.S. is to use the U.S. responses against it to wear the U.S. down."
One quantifiable cost of the U.S. response is that the U.S. military has suffered 6,229 deaths in Iraq and Afghanistan — more than double the number killed on Sept. 11.
The other cost that can be counted is the one that's dominating Congress and the nation now — the hundreds of billions, perhaps trillions of dollars, spent in reaction to the attacks — and more broadly, the warping of the U.S. economy.
Beyond trying to wreak economic harm, there are other, less quantifiable ways to weaken an enemy. One of al Qaeda's aims has been to delegitimize the United States by using its own actions to make it look bad on the world stage. Thus, while the war in Iraq contradicted the long-term al Qaeda goal of forcing the United States out of the Middle East, al Qaeda tried, in the shorter term, to take advantage of the war to paint the United States as a country at war with Islam. Indeed, President George W. Bush's invasion of Iraq, opinion polls show, did severe harm to the United States' reputation around the globe, particularly in the Middle East. Likewise, his decision to indefinitely detain a number of terrorism suspects and subject some to interrogation tactics labeled by many as "torture" created the appearance in some eyes of a nation that talks big about freedom and human rights, but doesn't always behave in accordance with its values.
Inevitably, judgments about the significance of major events evolve over time. In the immediate aftermath of Sept. 11, most observers began framing the event in terms of the level of damage that a small group of dedicated terrorists wielding box cutters was able to wreak upon such an advanced nation, and the potential threat from a growing extremist movement. More recently, historians have been looking more at what the United States did afterward, in response to terrorism.
"There's been a shift in the center of gravity, so that historians now pay somewhat less attention to terrorism itself and more attention to war, the security state, and violations of rights and liberties," Joanne Meyerowitz, a Yale history professor, and editor of the book "History and September 11," wrote in a paper she presented at a July conference in Munich about the terrorist attacks.
Trillions of Dollars
The Full Cost Of 9/11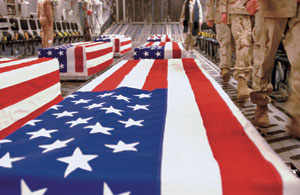 | | |
| --- | --- |
| ULTIMATE PRICE: Flag-draped caskets bearing the remains of U.S. servicemembers killed in Afghanistan and Iraq return home on a military cargo plane. (GETTY IMAGES / DEPARTMENT OF DEFENSE) |   |
In these perilous economic times, and in the middle of a battle over the deficit, the financial impact looms particularly large.
In June, a group of Brown University professors tallied the total price of wars in Iraq, Afghanistan and neighboring Pakistan — not officially a war, but a country where the United States has devoted considerable military resources. By their calculation, the amount could reach as high as $4.4 trillion. That includes expenses such as nearly $1 trillion in veterans' health care costs through 2050.
Interest on borrowing for war spending could accrue to another $1 trillion through 2020, the Brown study found. Had the sum spent on war been directed into the civilian economy instead, the study found, it would have created another 800,000 jobs over the decade.
"We've had to divert tremendous financial resources from more-productive to less-productive activity," says Mark Zandi, chief economist at Moody's Analytics. Spending on security, he says, "doesn't make our infrastructure better. It doesn't help businesses invest. It doesn't promote new technologies."
So expensive has the price tag of the "war on terror" grown that a former director of national intelligence recently wondered aloud whether it should be halted altogether. By the estimate of Dennis C. Blair, the first spymaster appointed by President Obama, al Qaeda and its affiliates have perhaps 4,000 members worldwide today, and the United States is spending $20 million per terrorist per year.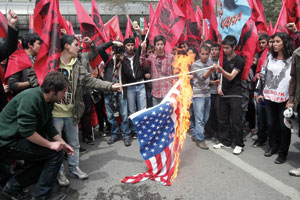 | | |
| --- | --- |
| ANGER: America's global reputation suffered greatly over the past decade, even in countries that had long been close allies, such as Turkey. (GETTY IMAGES / AFP / ADEM ALTAN) |   |
"You think — wow, $20 million. Is that proportionate?" Blair asked at the Aspen Security Forum in July. "So I think we need to relook at the strategy to get the money in the right places."
Of course, one or two successful terrorist attacks could wreak untold new havoc on the economy. And for those who have supported the U.S. response to al Qaeda, those costs are lamentable, but worth it.
"When you have a desperate enemy, you have to confront the enemy," says House Homeland Security Chairman Peter T. King, a New York Republican who notes that the number of soldiers who died in World War II exceeded the casualties from Pearl Harbor many times over. "It can end up costing you money and tragically costing lives, but to me there is no alternative."
Some argue that the damage done has been overstated, especially when weighed against the successes.
Osama bin Laden indisputably wanted to strike the United States again. He could not. Congress created the Department of Homeland Security and boosted its funding from $30.4 billion in fiscal 2004 to a peak of $44.1 billion in fiscal 2010. Congress also reorganized the intelligence community with a new Office of the Director of National Intelligence and boosted spy agency funding to $80.1 billion in fiscal 2010, more than doubling the amount spent annually prior to the attacks on the World Trade Center and Pentagon.
Those steps were intended to foil future terrorist plots and avoid the intelligence errors that failed to prevent the Sept. 11 attacks. Although the effectiveness of that bureaucratic reshuffling remains a subject of dispute, both decisions — with coordinated military, intelligence and financial pressure to corner al Qaeda — made it more difficult for bin Laden to achieve his goals before his death at the hands of U.S. special operations forces in May.
The Full Cost Of 9/11
But he had other aims as well. Shortly after Sept. 11, bin Laden began talking frequently about forcing the United States into a costly war on terrorism, something he called the "bleed-until-bankruptcy plan."
In one 2004 video, bin Laden drew a parallel to his conflict with another superpower. "We, alongside the mujahedeen, bled Russia for 10 years until it went bankrupt and was forced to withdraw in defeat," bin Laden said of the Soviet war in Afghanistan.
That boast doesn't withstand scrutiny from either historians or economists. But there is little doubt that the Soviet Union's quagmire in Afghanistan contributed to its economic woes, which in turn contributed to the superpower's fall.
No one argues that the response to Sept. 11 is the central cause of the current economic turmoil in the United States, which is more attributable to the collapse of the housing and financial services industries. But it is nearly impossible to separate out anything the government did after the attacks from the response.
Zandi goes even further. "I think 9/11 is one of the key reasons for the very bad decade we've had," he says. "That was ultimately why we had a recession in 2001. Without 9/11, there's a good chance we get through that period with a downturn."
Initially, Zandi says, the government's actions — an aggressive monetary policy and the Bush administration's tax cuts among them — helped the economy. But, he argues, the prolonged period of low interest rates aimed at warding off a recession helped fuel the housing bubble and mortgage boom that contributed to the nation's economic woes.
Separately, the Bush administration and Congress ramped up spending on intelligence, homeland security and the war in Afghanistan. And before long, the Bush administration used Sept. 11 as a central rationale for invading Iraq. Even though that rationale is now widely debunked, Iraq officially became part of the war on terrorism.
Furthermore, the Sept. 11 response included new security regulations on businesses. For some companies, those regulations figured to be more costly than any new terrorist strikes.
Randy Mullett, vice president of government affairs for the freight company Con-way, Inc., says he was sent to Washington shortly after the 2001 attacks because company officials believed Con-way "probably had a larger risk from an over-reactive government to our business model and movement of freight than we did from a specific terrorist attack."
Mullett says he believes that if not for expenditures Con-way has made in response to new federal security requirements — the company estimates that it spends $300,000 a year alone on security credentialing for drivers — it would have invested more money back into the business, improved employee pay or found ways to make the company more profitable.
Still, Sept. 11 wasn't all bad for businesses or the economy. Mullett notes that his company and other sophisticated businesses have used the requirement for additional security to tighten up their supply chain or reduce theft.
And the past decade has been very good to defense contractors, which were still reeling from the end of the Cold War. "It is no exaggeration to say that 9/11 rescued the modern defense industry from the worst depression in its history," says Loren Thompson, who runs the Lexington Institute and is a consultant to several defense contractors.
The Full Cost Of 9/11
The chairman of the Senate Homeland Security and Government Affairs Committee, Connecticut independent Joseph I. Lieberman, argues that even if some of the costs were high, the alternative was worse.
"Was every dollar well spent? No," he says. "Ultimately we have no choice."
Zandi says that a second major terrorist attack on U.S. soil — particularly right after Sept. 11 — would have done considerable harm to the economy, too.
"We haven't had an attack, and that has forestalled a much worse scenario," he says.
Shifting Values
Beyond trying to exact a cost in lives and money, terrorists like bin Laden and his al Qaeda cohorts also are trying to provoke reactions on which they can capitalize.
Thrown into a war posture by the Sept. 11 attacks, the United States reacted with measures to pursue, surveil, capture and interrogate terrorist suspects that critics argue have damaged civil liberties, human rights and democratic processes. In turn, this fed back into al Qaeda's own propaganda.
"Terrorism is a provocation," says Michael German, a former FBI agent who now serves as policy counsel for national security at the American Civil Liberties Union's Washington legislative office. Terrorists want "to create an overbroad and overzealous response. . . .The idea is to have the government undermine its own legitimacy with its reaction."
German, the author of the book "Thinking Like a Terrorist," believes the U.S. reaction did play directly into al Qaeda's hands.
Such conclusions remain among the most controversial — and hotly debated — topics in Washington.
Indeed, the ACLU has spent the better part of the last decade in court challenging actions of the Bush and Obama administrations.
The Bush administration assumed unilateral authority under the Constitution's commander-in-chief clause never claimed by previous presidents to lock up individuals on its own say-so without recourse to the courts, to eavesdrop on suspects without court involvement and to engage in what it called "enhanced" interrogation methods.
The Full Cost Of 9/11
Some of the measures were unprecedented. David Cole, who teaches constitutional law, national security and criminal justice at Georgetown University Law Center, noted that never before had the protections of the Geneva Conventions been denied in the course of an armed conflict.
"I think there's no question that our initial response was to overreact and to thrust basic principles of law aside in the name of security, whether it be military trials that could put someone to death on the basis of tortured evidence, or authorizing the CIA to disappear suspects into secret prisons and torture them, or abducting human beings [and sending them] to countries known to torture on our behalf," says Cole, who has represented organizations and individuals that ran afoul of U.S. counterterrorism policies.
On detention issues, the Supreme Court has on several occasions agreed that Bush administration policies were unconstitutional.
Some key lawmakers, however, still defend the overall U.S. response. "I think we've shown a really significant and healthy respect for civil liberties in the 10 years since 9/11," Lieberman says. "We've become more aggressive in defense of our own liberties when faced with this threat of Islamist terrorism. Were there ever any violations? Sure there were. Abu Ghraib was horrific and contrary to everything we stand for. But here at home we've been very mindful of civil liberties during the creation of the Department of Homeland Security and the reorganization of the intelligence community.
"We put into the legislation provisions to create offices specifically to advocate for civil liberties," he adds. "This is a classic wartime tension between security and civil liberties. Overall, we've been able to increase our security while respecting our civil liberties."
While many legal scholars agree that the initial reaction by the Bush administration overreached, some argue that any damage done was temporary, and since largely reversed. Robert M. Chesney, a professor at the University of Texas School of Law, says the democratic process worked. Bush became deeply unpopular due to some of his national security policies. Courts curtailed his authority. Within the federal government, top officials protested and changed policies. "I have a hard time accepting that we live in a radically different world," says Chesney, who in 2009 served as an adviser to Obama's Detainee Policy Task Force.
Critics of the Bush years say the damage is subtler. Some of the controversial Bush administration policies were continued by the Obama administration. Obama has also more openly than his predecessor claimed other powers — including the authority to target and kill terrorist suspects anywhere in the world.
Furthermore, says Michelle Richardson, legislative counsel for the ACLU's Washington legislative office, Congress ultimately institutionalized some of the practices it discovered, authorizing, for example, the Bush administration's warrantless surveillance authority in a 2008 law and creating what German called "the new normal."
In the past, the reaction to abuses would have been to pass legislation to scale them back, German said.
"There has become a new kind of national security industrial complex," Cole says. "There will always be pressure within government meetings where national security types outnumber civil liberties types and in the private sector where there will be powerful and wealthy corporations lobbying to expand surveillance and security technologies without much concern for privacy and civil liberties."
Chesney says that the nation ended up in a sensible compromise on many of these issues.
"This is different in kind from a traditional war between states," he says. "It doesn't mean it's not armed conflict. In an ideal world, the way you would develop the legal rules would be to reflect some kind of effort at tailoring the law to particular circumstances. We've now lived through this decade-long process of a host of different institutions — governmental and non-governmental, judges, presidents, Congresses, advocacy groups, journalists other governments, academics, a host of actors — employing what leverage they can to push and pull the detention policy in different directions. The end result over time produced something somewhat tailored and somewhat novel."
Plunging Popularity
The Full Cost Of 9/11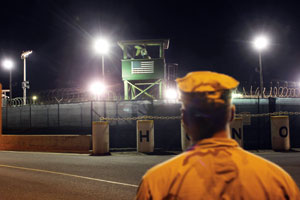 | | |
| --- | --- |
| FANNING FLAGS: The U.S. military-run prison at Guantánamo Bay became a rallying point for critics who call the nation's detainee policies unconstitutional. (GETTY IMAGES / JOHN MOORE) |   |
Whatever the disagreements at home, plenty of evidence exists that America's reaction to Sept. 11 damaged its reputation around the world.
Take two countries, the United Kingdom and Turkey. In 1999, according to State Department data, the United States was viewed favorably by 83 percent of those polled in the United Kingdom and 62 percent in Turkey. In 2002, according to data by the Pew Global Attitudes Project, those numbers dropped to 75 percent in the United Kingdom and more dramatically to 30 percent in Turkey. Five years later, favorable views hit a low of 51 percent in the United Kingdom and plummeted to 9 percent in Turkey.
There was a brief uptick when Obama was elected, but that was followed by another decline. In the most recent survey, the United States has a 61 percent favorable view in the United Kingdom but only 10 percent favorable in Turkey.
And the declines in those countries are largely mirrored elsewhere.
"Broadly, what we saw is that in much of the world, you saw America's image decline around the time of the beginning of the Iraq war," says Richard Wike, associate director of the Pew Global Attitudes Project. "We saw this in a lot of regions, particularly in the Middle East but in Europe as well."
"There's still a lot of opposition to war in Afghanistan. There's still a lot of opposition to American policies in the Israeli-Palestinian conflict," Wike adds. "There's a view that America tends to act unilaterally. And American anti-terrorism efforts are seen in a negative light."
Iraq still stands out as the greatest U.S. liability, and the Abu Ghraib prisoner-abuse scandal made it doubly damaging to America's reputation. What if, Chesney asks, the United States had never invaded?
"That single change, which is admittedly one hell of a change, would have made a huge impact in the U.S. standing in the world and the popularity of our measures," Chesney says. "There never would have been an Abu Ghraib. There still would be CIA black sites. And presumably word would leak out about other things. There would still be stories about rendition. Eventually, we'd surely hear about waterboarding. But [Iraq] would have been a dramatically different path not taken that would have made U.S. counterterrorism policy be viewed appreciably more favorably. Not popular, but very different."
In fact, in some quarters overseas, aspects of what the United States has done in fighting terror is viewed positively, says Anna Boyd, head of global jihad forecasting for Exclusive Analysis a U.K.-based risk consultancy. She says intelligence sharing between the United States and Britain has led to foiled terror plots, for instance.
"People thought it was very justified to go into Afghanistan after the al Qaeda camps," she says. "It's what happened after that caused the problems."
But the long duration of what Bush termed the "war on terror" has worn much of the world's patience thin.
"From the Arabs that I talk to, people cannot understand the obsession with al Qaeda," Boyd says. "They feel as though the United States views the world through that prism, but al Qaeda is a symptom, not the cause, of the problems."
The Full Cost Of 9/11
Some of the damage to the United States' reputation is driven as much by the perception of U.S. actions as by the actions themselves. In Pakistan, for example, a long-simmering dispute about civilian casualties from U.S. drone strikes there has been fueled by unsubstantiated reports in Pakistani newspapers that sometimes exaggerate the number of civilian deaths.
Furthermore, in communicating its message in the Muslim world, al Qaeda has shown a knack for spinning defeats into victories and for turning thin claims into historical facts.
"They have a very convincing narrative and storyline, and they're preaching to the believers, in essence," says Bruce Hoffman, a Georgetown University professor who has studied terrorism and insurgency for 30 years.
It's been a struggle to regain some of the United States' popularity around the world, Lieberman says. "Some of that hasn't been a product of some mistake we made. It's just that we've not been as effective at communicating what our purposes are with our foreign policy. It's remarkable, if you think about it," he says, noting the Pew figures showing relatively consistent low opinions of the United States in the Middle East following Obama's election. "This is after President Obama has really reached out to the Muslim world. We haven't figured out how to get that part of the world to view us as a very principled power, not one that wants to conquer. Maybe they'll see that we're leaving Iraq and leaving Afghanistan, something those countries have not encountered before. The bottom line: I'd rather be strong and secure and free than popular."
U.S. actions in Libya show signs that Washington, too, is learning, Boyd says. "It didn't rush into combat, only joining the fight once public opinion was cemented, and did so as part of a coalition."
Al Qaeda has also gotten far less than what it wanted over the past 10 years. Few think it is likely to achieve some of its biggest goals. Even Gartenstein-Ross, author of "Bin Laden's Legacy: Why We're Still Losing the War on Terror," doesn't think al Qaeda has won, because it won't be able to push the United States out of the Middle East and establish a caliphate.
"I have no doubt we did the right thing. And I'm reasonably confident that history will record that," King says. "Look at the period of the Cold War. Most people say the United States did the right thing. They can argue about the Vietnam War. They can argue about nuclear testing. They can argue about internal security and communist investigations. The bottom line is, most historians will say, for that 45-year period, the United States did what it had to do."
Going forward, King and Lieberman say, a greater threat than any overreaction of the past is under-reaction in the future. In that scenario, the country and Congress lose their resolve to fight terrorists and, in the process, suffer another major attack — where the nation starts pulling punches rather than throwing them.
All told, the toll in bodies, money, reputation and more nonetheless has shown just how costly the reaction to Sept. 11 has been. Al Qaeda wanted to hurt the United States, and in some ways — some of them a result of the United States' own actions — it irrefutably has.
"Their impact on us is probably less than they think it is," Hoffman says. "But they have impacted us in some profound ways."
FOR FURTHER READING: Reauthorizing warrantless surveillance provisions (S 1458), CQ Weekly, p. 1695; unresolved detention policy, p. 622; Patriot Act renewal (PL 112-14), p. 1142; fiscal 2010 homeland security spending law (PL 111-83), 2009 Almanac, p. 2-30; intelligence overhaul (PL 108-458), 2004 Almanac, p. 11-3 ; Homeland Security Department's creation (PL 107-296), 2002 Almanac, p. 7-3.