CQ WEEKLY – VANTAGE POINT
Sept. 3, 2011 – 11:12 a.m.
The Cost of Convoys
By Lauren Gardner, CQ Staff
The U.S. military pays dearly for the gasoline and diesel fuel it must haul into Afghanistan to keep the war machine running. Every dollar increase in the price of a barrel of oil costs the Pentagon an extra $130 million a year for fuel. Trucking fuel is also treacherous for those doing the hauling: On average, one soldier dies for every 24 fuel convoys in Afghanistan.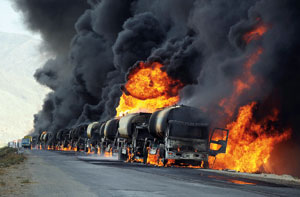 | | |
| --- | --- |
| FRAGILE CONNECTION: Insurgents in Afghanistan regularly attack convoys bringing fuel to NATO forces. (GETTY IMAGES / AFP / BANARA KHAN) |   |
For these and other reasons, the Defense Department, which is the largest single U.S. consumer of fossil fuels, is trying to figure out how to use less energy and diversify the sources of what it does use.
In fact, even as Congress considers cutting spending on energy-efficiency programs, the Army has begun a broad efficiency program called "Net Zero" to try to make its forces energy independent at home and on the battlefield. The Navy, meanwhile, has teamed up with the Energy and Agriculture departments and the energy industry to develop "drop-in" biofuels that mimic the hydrocarbons of oil and gasoline so that they can be used interchangeably with petroleum fuels.
Today's most widely used alternative fuels, ethanol and biodiesel, can be blended with gasoline and regular diesel fuel, but only at low ratios of 10 percent, or at the most 20 percent, without major changes to the engines. Ethanol and biodiesel also can't share pipelines with petroleum products, unless the pipes are specially modified.
The Navy program is modest — $510 million over three years — but having the Navy involved guarantees the level of demand that alternative-fuel producers need to attract investors and reduce the financial risk.
Using biofuels "will make us better war fighters, it will save lives in our military, and it will reduce a vulnerability that our military has today that we simply shouldn't have," says Navy Secretary Ray Mabus, who, since he took office in 2009, has argued for the greater use of renewable energy by the service.
The Army's energy-efficiency program began last year. The goal of the pilot program is that by 2030, the Army will have 25 installations that consume no more energy and water than they can produce — a net effect of zero — and that they will recycle solid waste or use it to produce power, rather than send it to landfills.
On Capitol Hill, some House members have taken an interest in the nexus of defense and energy security. New York Democrat Maurice D. Hinchey led the formation of the Defense Energy Security Caucus, which he co-chairs with three other defense appropriators and authorizers from both parties, including Arizona Democrat Gabrielle Giffords . In the Senate, Colorado Democrat Mark Udall is a key backer.
A defense energy security bill, which Giffords originally introduced in May 2010, aims to reduce the Pentagon's dependence on oil.
A handful of energy provisions drawn from such bills has been included in early versions of the fiscal 2012 defense authorization bills approved by the House and Senate Armed Services committees. They include the establishment of benchmarks for interim renewable electricity standards to ensure the Pentagon reaches its goal of obtaining 25 percent of the armed forces' electricity from renewable sources by 2025.
In a letter to Defense Secretary Leon E. Panetta last month, caucus members urged him to protect renewable-energy programs within the department from budget cuts.
The Pentagon is known for being a proving ground for nascent technologies, as well as a market base for such innovations. Government agencies and private companies with a stake in energy efficiency hope that lawmakers looking for short-term budget savings won't reduce funding for programs that could generate long-term benefits, financial and otherwise, in the energy security area.
The Cost of Convoys
"It's going to take a different mind-set, from a budget perspective, to reap the benefits that will accrue from these investments in renewable energy," said Boeing Energy's Paul P. Bollinger Jr., who was deputy assistant secretary of the Army for energy and partnerships in the George W. Bush administration.