CQ WEEKLY – VANTAGE POINT
Sept. 10, 2011 – 11:11 a.m.
Oversight Goes Postal
With less than three weeks before the U.S. Postal Service defaults on some of its obligations to retired employees, Congress and the administration are trying to cobble together a plan to keep the ailing — and to some, the hopelessly inefficient and outmoded — mail service in operation.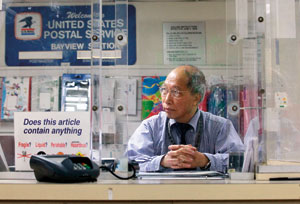 | | |
| --- | --- |
| LONESOME: A postal clerk in San Francisco waits for business, which has been in a steep decline. (GETTY IMAGES / JUSTIN SULLIVAN) |   |
Sen. Thomas R. Carper , a Delaware Democrat who chairs a subcommittee that oversees the Postal Service, wrote President Obama urging him to take "immediate and dramatic action" to save the mail system from collapse. With mail volume draining fast, the Postal Service is now projected to lose $10 billion this year.
Although Carper compared the situation to the government's efforts to aid the auto industry, he also warned that the Postal Service will have to shrink in order to survive. "The status quo," he said, "is not an option."
But the Postal Service is a unique challenge for a government trying to save it. With more than a half-million workers, it's the nation's second-largest civilian employer, after Wal-Mart Stores Inc. It's also been around for more than two centuries and is, in fact, written into the Constitution — yet it is not appropriated money by Congress.
More curiously, it is an independent federal agency with not one but two oversight boards, in addition to the congressional committees that keep an eye on its operations. That situation could complicate any efforts to change the agency's structure and reduce its cost.
The nine members of the Postal Service Board of Governors, all appointed by the president and confirmed by the Senate, are supposed to function like a board of directors for a corporation, reviewing the agency's operations, decisions and financial condition. The members are paid $30,000 a year plus a per diem when they meet.
The Postal Regulatory Commission is a separate, five-member group charged by Congress with reviewing postal rates and decisions about service, such as whether post offices should be closed and whether Saturday deliveries should be dropped. It used to be called the Postal Rate Commission, but Congress broadened its authority to include service, standards, financial transparency and accountability.
Like most such commissions, this one is made up of political appointees, and no more than three of the five may be from the same party. Members are appointed for six years and are paid $155,500 a year, common for federal commissions. The current chairwoman, Ruth Goldway, a onetime mayor of Santa Monica, Calif., has been on the commission since President Bill Clinton appointed her in 1998. She is paid $165,300.
Her biggest qualification to be on the commission in the first place, Goldway says, was that she had been a consumer advocate in California.
The two Republicans currently on the commission, Mark Acton and Tony Hammond, are both former staff members for the Republican National Committee.
Any potential overlapping supervision between the board and commission will become even more complicated if Congress goes along with legislation proposed by California Republican Darrell Issa , chairman of the House Oversight and Government Reform Committee.
Issa's idea is that if the Postal Service defaults on any obligations for more than 30 days, a five-member — unpaid — "Postal Service Financial Responsibility and Management Assistance Authority" will temporarily replace the Board of Governors, with the power to close offices, cut service, modify union contracts and get the Postal Service back on its feet. The panel is modeled on the D.C. Control Board of the mid-1990s.
Oversight Goes Postal
Issa also proposes a third board, a Commission on Postal Reorganization, paid at per diem rates, to recommend closing and consolidating facilities, like the military base closing commissions of years past. Issa's staff says it would last for two years.
Goldway says that although Issa has some good ideas for cutting costs, "I think that he adds layers of regulatory oversight that probably make things more confusing." Her commission, in fact, is already drawing up a list of postal facilities that could be closed. And it will recommend changes that might help the service, such as allowing it to again sell non-postal products.