CQ WEEKLY – IN FOCUS
Sept. 10, 2011 – 11:45 a.m.
Senate GOP's Procedural Blockade Becomes a Matter of Precedent
By Ben Weyl, CQ Staff
Senate Republicans can congratulate themselves for successfully using the confirmation process to block implementation of part of the Dodd-Frank regulatory overhaul law on the grounds that they simply don't like it. But they may pay for it the next time Democrats are in the minority facing a GOP president.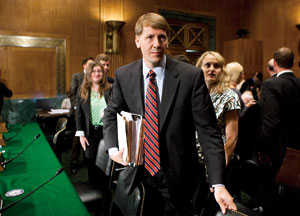 | | |
| --- | --- |
| UNCONFIRMED: At a hearing last week, senators told Cordray that it's nothing personal. (BLOOMBERG NEWS / JOSHUA ROBERTS) |   |
That's because in their choice of tactics against the law, Republicans appear to have perfected a powerful weapon in lawmakers' growing procedural arsenal used to delay and disrupt the majority, one that will surely be turned against them when the Democrats find it useful.
The GOP target is the Consumer Financial Protection Bureau, established under last year's financial regulatory overhaul as a response to the 2008 crisis that brought the financial system to its knees.
The agency was a centerpiece of Dodd-Frank, with Democrats hoping it would serve as a tough "cop on the beat" protecting consumers seeking mortgages, credit cards and other financial products. Most GOP lawmakers and their allies in the financial industry fiercely opposed it, fearing it would be an overzealous and unaccountable regulator.
Under the law, the bureau cannot be fully functional until it has a director. Taking advantage of that provision, Republicans have promised to filibuster any nominee until the law is changed to their liking.
It's commonplace to block a particular nominee's confirmation. Senators don't even need to provide a reason for doing so. But it's unusual for the Senate — let alone a minority in the chamber — to block confirmation of anyone and everyone for a particular job with the express purpose of thwarting a law's implementation until the majority yields to its will.
At a Senate Banking Committee hearing last week, Sen. Sherrod Brown, an Ohio Democrat, said the Senate historian could not remember a similar instance when a minority blocked presidential nominees because of opposition to the agency's very existence or out of a desire to change the law establishing the agency.
"Never happened before until right now. It's unprecedented," Brown said. "What kind of precedent does this set?"
A year after the bill was signed into law, the bureau is up but not fully running, and Republicans, buoyed by last year's electoral victory, have sought to constrain its powers.
In July, the GOP-backed House passed a bill that would replace the single director with a bipartisan five-member board to oversee the bureau and would give existing banking regulators greater authority to overturn the bureau's rules.
With a Democrat-led Senate, that bill is going nowhere fast, so Republicans have been trying to change the bureau through the nominating process. In May, 44 GOP senators announced they would oppose any nominee to serve as director of the agency absent some of those same changes. And they've followed through, without apology.
Congressional Democrats and the Obama administration reject the changes, saying they would dramatically weaken the agency, and they have blasted the procedural gambit.
Senate GOP's Procedural Blockade Becomes a Matter of Precedent
"Senate Republicans are not entitled to use the confirmation power as a bludgeon to get their way when they cannot do so through the normal legislative process," Rep. Barney Frank, a Massachusetts Democrat and co- author of the law, wrote in a recent Washington Post opinion piece.
But Republicans are showing that they can do just that.
No Finality
Last week's hearing featured Richard Cordray, a former Ohio attorney general and President Obama's choice to serve as the first director. The main topic of conversation, however, was not Cordray, but rather the bureau itself.
Republicans reiterated their concerns that too much power is concentrated in the director's position and that the bureau lacks any real oversight, which Democrats strongly disputed. They noted that the agency can have its regulations overturned by another group of banking regulators and that it has a statutory budget cap, both unique limits.
But Democrats also seemed rather perplexed that the broader question of the bureau was still up for debate more than a year after the Senate sent it to the president by a vote of 60-39. "You win some, you lose some," Brown said. "I understand, in the end, you didn't vote for the legislation, but it passed by both houses. It was signed by the president."
In other words, the Constitution envisions a moment of finality in the legislative process. But in this case, a determined and unified GOP minority has managed to delay the finality or, perhaps, avoid it entirely, because it deems the statute unacceptable.
Republicans argue, accurately, that they have the advice-and-consent power set out in the Constitution, which leaves them free to withhold confirmation for any reason they deem appropriate — or for no reason at all.
This year, Senate Republicans have chalked up a number of small victories through the confirmation process.
After vigorous opposition from Alabama Republican Richard C. Shelby, the ranking member of the Banking Committee, Peter A. Diamond withdrew in June as a nominee to serve on the Board of Governors of the Federal Reserve. In that instance, Shelby objected to Diamond's policy views.
Shelby was also instrumental in stopping the nomination of Joseph A. Smith Jr. to head the Federal Housing Finance Agency, which oversees Fannie Mae and Freddie Mac.
But in those instances, the GOP was objecting to a nominee, not attempting to obstruct a law, as Republicans acknowledge they're doing now. "This is a new entity that answers to no one, that can determine essentially on its own if any entity in America is a systemic risk," Minority Leader Mitch McConnell of Kentucky told reporters Sept. 7. "And that's the view of enough Republicans to take the view that we're not inclined to go forward on a nominee until we get some structural changes."
In the near term, Republicans do not appear likely to face any real consequences for their obstruction.
Senate GOP's Procedural Blockade Becomes a Matter of Precedent
But Washington is a town of long memory. Many Republicans, when justifying opposition to Democratic judicial appointees, still cite the rejection of President Ronald Reagan's Supreme Court nominee Robert H. Bork almost a quarter of a century ago.
And so by ratcheting up the political arms race to a new level, the GOP is likely to be on the receiving end of its current strategy later, if not sooner.
"I think this is setting a precedent that's just going to snowball," says Josh Chafetz, a Cornell University law professor who studies U.S. constitutional history and legislative procedure. "It's unlikely that either party is going to unilaterally disarm."
FOR FURTHER READING: House passage of GOP bill (HR 1315), CQ Weekly, p. 1632; GOP criticisms, p. 1122; Dodd-Frank enactment (PL 111-203), 2010 Almanac, p. 3-3.