CQ WEEKLY – VANTAGE POINT
Sept. 17, 2011 – 1:50 p.m.
A Short-Lived Shelter
By Shawn Zeller, CQ Staff
When the Federal Emergency Management Agency shipped dozens of portable classrooms to Alabama schools that had been damaged by an outbreak of tornadoes last spring, it offered to include a bonus: temporary storm shelters to protect the students while their regular schools are rebuilt.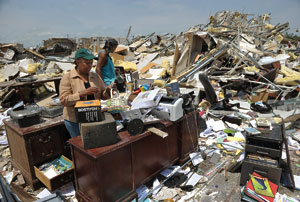 | | |
| --- | --- |
| MAULED: Officials in Tuscaloosa, Ala., salvage items from an elementary school wrecked by a tornado. (GETTY IMAGES/ AFP FILE PHOTO/ MANDEL NGAN) |   |
The shelters won't be in place for another month, but they're already caught in a political tug of war between the disaster agency, which wants them either returned later or paid for, and Alabama officials, who think the shelters should be left behind as a gift.
Rep. Spencer Bachus , a Republican who represents the storm-wracked counties around Tuscaloosa, wrote to President Obama earlier this month to complain. Last week he introduced legislation that would block FEMA from removing or destroying the shelters once they were in place. It was cosponsored by all but one of his Alabama colleagues, Republican Martha Roby .
Bachus, who chairs the Financial Services Committee and is a member of the conservative Republican Study Committee, says it's "downright crazy" for FEMA to pay to build the structures and then, potentially, to tear them down. "It makes no sense," he says, "to demolish perfectly good storm shelters just to satisfy a misguided bureaucratic requirement."
Tearing down the shelters is not the only option, though, FEMA says. The modular units, which are being built elsewhere, transported to the schools and then assembled, could also be disassembled and stored for future use if Alabama didn't want to buy them.
"We continue to evaluate all the options available to FEMA and the school district to ensure that each community is provided every federal resource that they are eligible for under the law, while remaining proper stewards of the taxpayer's dollar," says Rachel Racusen, FEMA's director of public affairs.
FEMA is paying 75 percent of the cost of the shelters, which are simple concrete and steel structures of 3,000 square feet that are designed to protect several hundred students during future storms.
Before April's tornadoes, FEMA, as a matter of policy, did not provide temporary storm shelters in its public assistance funding to storm-damaged schools. If schools wanted them, they had to pay for the shelters.
The Alabama storms, though, were particularly destructive, killing 250 people and leaving a broad trail of destruction that will cost about $1 billion for cleanup and rebuilding. FEMA is already paying 90 percent of damage costs not covered by insurance, and, under a new policy, decided to cover most of the cost of temporary school shelters.
Under the new policy, FEMA splits costs with schools that want shelters, then allows the schools to use the shelters for however long it takes to repair damaged school buildings. After that, the agency requires that the schools either pay FEMA 75 percent of the shelters' market value or find a buyer for the shelters and then reimburse FEMA.
If the schools can do neither, FEMA will appraise the buildings and the costs of either moving them or destroying them.
School administrators in Alabama's Franklin, Marion and DeKalb counties and in the city of Tuscaloosa say the cost to buy the shelters — as much as $500,000 per shelter — will probably be prohibitive for them, given the financial strains caused by the economy and the tornadoes. And they expect that FEMA will ultimately destroy the buildings.
A Short-Lived Shelter
"Why would you use taxpayer dollars to destroy a brand new safe room that was paid for with taxpayer dollars?" asks Charles Warren, superintendent in DeKalb County in the state's northeast corner.
The shelter in DeKalb County will sit on the campus of Plainview High School, which was heavily damaged by a tornado. The school's agricultural building was destroyed along with two outside classrooms, and the roof on the school's junior high school wing was heavily damaged. About half the school's 1,200 students are taking classes in trailers.
"We thought if they left the safe room, the school could use it during school hours and the community would have use of it when school is out," Warren says. "It would be a win-win for the school and the community."
(Since this story was published, Rep. Martha Roby has cosponsored Rep. Spencer Bachus' legislation on storm shelters.)