CQ WEEKLY – IN FOCUS
Sept. 17, 2011 – 2:24 p.m.
Education Bill Is an Overdue Assignment
By Lauren Smith and Melissa Attias, CQ Staff
In the absence of congressional renewal of the widely disparaged "No Child Left Behind" law, Education Secretary Arne Duncan is preparing to offer states regulatory relief from the most burdensome requirements of the federal education law.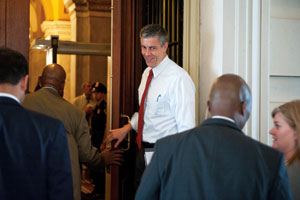 | | |
| --- | --- |
| BACKDOOR OPENING: Republicans say Duncan's moves to fill a gap could backfire on the administration. (CQ ROLL CALL / TOM WILLIAMS) |   |
But the relief will come with a twist that's causing consternation in Congress. He will offer waivers from the most onerous requirements of the law only on the condition that the states agree to make certain changes to their current education policies. Although details about those changes have yet to be announced, no one would be surprised if they bore a close resemblance to the administration's own agenda for school policy as embodied in its "Race to the Top" initiative.
Education experts expect the waiver package to ask states to develop new teacher-evaluation models, a new accountability system based on student progress, new programs to recruit and train teachers, and different strategies for improving the lowest-performing schools.
The situation illustrates how paralysis in the legislative branch can create opportunities in the executive branch, in this case to move its agenda forward without waiting for a congressional seal of approval.
"If there is a vacuum, somebody is going to want to fill it," says Norman J. Ornstein, a scholar at the conservative American Enterprise Institute for Public Policy Research. "For people doing major policy, if you can do what you want and not compromise with others, you'll do that."
This is "Plan B" for Duncan, as he likes to point out. He would rather have Congress pass a robust reauthorization of the decade-old law, already four years overdue. Those efforts are caught in partisan gridlock, however, and with teachers, principals and school districts pleading for respite from the law's costly requirements, Duncan recently received the go-ahead from President Obama to step in.
"From day one, we said we want a bipartisan bill," Duncan said in an interview. "The fact Congress is now so dysfunctional and not able to do anything — that's a big deal."
The move carries risks. From the moment the conditional waivers were proposed in June, they were greeted warily by lawmakers on both sides of the aisle, teachers' unions, education policy experts and the very school boards that were clamoring for regulatory relief.
Republicans charged that conditional waivers were a backdoor way of forcing states to adopt policy changes the administration likes, while Democrats fretted that doling out waivers would take pressure off Congress to rewrite the law this year. Policy wonks and teachers' unions also didn't understand how the administration could expect resource-strapped states and local school districts to implement new education initiatives, and school boards worried about the policy changes being too restrictive.
Although Democrats and teachers' groups have since warmed to the idea, the proposal still draws plenty of criticism.
Minnesota Republican John Kline, chairman of the House Education and the Workforce Committee, doubts Duncan's authority to issue conditional waivers. He also says offering waivers to states could damage his committee's efforts to reauthorize federal education policy. Speaker John A. Boehner of Ohio expressed a similar sentiment last week, after the House passed the first in a series of bills aimed at fixing the law, urging the administration to work with Congress "rather than acting unilaterally and undermining reform efforts."
But if Duncan's plan is as popular as he insists it will be — he says he's gotten a thumbs-up from 47 governors — there's a potential benefit for the White House: The administration could check off education as a "win" heading in to the 2012 presidential election.
Education Bill Is an Overdue Assignment
When President George W. Bush signed No Child Left Behind in January 2002 as the latest iteration of the 1965 Elementary and Secondary Education Act, no one thought it was perfect. Indeed, it was never supposed go for more than a couple of years without being updated through the reauthorization process.
But nearly a decade later, despite attempts in 2005 and 2007, Congress hasn't been able to rewrite the law. Meanwhile, states and local school districts have had a hard time keeping up with many of the law's mandates. Requiring a certain percentage of students to score "proficient" on state exams each year, for example, has had the unintended consequence of states lowering standards to enable more students to pass.
It is this requirement, called "adequate yearly progress," that has had teachers and principals clamoring for waivers. Specifically, they want regulatory relief from the 2014 accountability standard that requires all students, including those with disabilities and English-language learners, to be 100 percent proficient in reading and math. Schools that don't meet the standard can be labeled "failing" and subjected to costly restructuring penalties.
At one point during this Congress, Duncan and the education policy world thought Congress would be able to replace the accountability standard by reauthorizing the law. But the 2010 midterm elections ushered in a far more conservative block of House Republicans, many of whom question whether the Education Department should even exist. Nearly a dozen of those freshmen ended up on the Education and the Workforce Committee, slowing the panel's progress while they played catch-up on issues.
Even though bills that target aspects of No Child Left Behind have started moving through that committee — one that passed the House last week would expand charter schools — the Senate is stalled. Despite originally forecasting a committee markup by the summer, Democrat Tom Harkin of Iowa, chairman of the Senate Health, Education, Labor and Pensions Committee (HELP), has yet to introduce a draft.
With no immediate relief for states in sight, Duncan announced in June that he would start granting waivers to states if Congress failed to act by the start of the new school year.
Duncan's Authority Questioned
Kline has challenged the secretary's authority to issue waivers on a conditional basis, and a Congressional Research Service (CRS) analysis he requested found some merit in his argument.
While emphasizing that Duncan has broad waiver authority, the report said it is unclear how a court would rule on waivers granted in exchange for another action. If the secretary requires a state to make changes outside of current law as a condition of granting a waiver, CRS analysts wrote, the likelihood of a successful legal challenge might increase.
"Under such circumstances, a reviewing court could deem the conditional waiver to be arbitrary and capricious or in excess of the agency's statutory authority," the analysts said in the June 28 report.
Democrats, meanwhile, have fallen in line with Duncan's proposal now that the new school year has begun without any sign of comprehensive legislation that could pass both chambers. Although quick to emphasize that only a full reauthorization would provide a national solution, Harkin says he sees why the secretary is pushing ahead.
"I understand his concern with the obstacles that lie in front of us — the supercommittee, the budget and everything else that is sort of out there right now — that we may not get it to the president's desk," Harkin says, explaining his position on the plan. "I'm anxious to see what's in it, but I intend to continue my work here."
Education Bill Is an Overdue Assignment
Other groups have also followed suit, toning down the heated rhetoric of June, when Duncan floated the idea of issuing conditional waivers. At the National Education Association (NEA), the nation's largest teachers' union, Donna Harris-Aikens says she was "cautiously optimistic" but will reserve full judgment until the details are released.
"We believe that the door is open for them to be creative about what they're asking states to commit to do in exchange for some flexibility," says Harris-Aikens, who serves as NEA director of education policy and practice. "There is certainly an opportunity here to make sure that kids have what they need."
But school boards and administrators have continued to oppose the conditionality of the waivers, arguing that states and local education agencies should not have to jump through hoops to get a reprieve from requirements that everyone agrees need to be changed.
No matter where lawmakers and advocacy groups fall, however, Duncan expects a flurry of interest from states eager to see relief.
"I feel really, really good about it," Duncan says. "Every single one of the governors I spoke to said, 'Go for it.' You're going to see states really unleashing the creativity at the local level."
Duncan has been more willing than other Cabinet secretaries to try to impose policy change by using the tools available to him. With the competitive grant program Race to the Top, for example, he got 45 states to adopt new standards, even though only 11 states and the District of Columbia actually won funding from the initial $4.35 billion pot.
"It's a combination of assertiveness and creativity, and he is trying to do the same thing here," Ornstein says.
Republicans don't see the creative aspect.
"Just to say we're going to advance our policy agenda in this out-of-the-ordinary way is, I think, going to have a backlash to him and the department," says Margaret Spellings, who was Education secretary under Bush. "Congress jealously guards its prerogatives, and if they see him legislating from the department, I think they'll be unhappy with him."
That exact sentiment drove GOP Sen. Lamar Alexander of Tennessee to introduce legislation last Thursday that would prevent Duncan, or any secretary, from issuing conditional waivers.
"What I want to make sure is that waivers are granted based on what states ask to do, not what Washington mandates," said Alexander, who served as Education secretary under President George Bush in 1991-93. "What I don't want to see is the secretary's office writing a bunch of regulations saying this is the kind of teacher- and principal-evaluation program we will approve. If by doing waivers, the secretary is trying to do through waivers what he couldn't do through Congress, I object."
Sen. Michael B. Enzi of Wyoming, the ranking Republican on the HELP Committee, agreed, saying the waiver efforts represent "a fundamental and dramatic shift in power from the states to the federal government."
Impatience Among Educators
Education Bill Is an Overdue Assignment
But with the partisan environment freezing the legislative pipeline and with the deep philosophical chasm between leadership in the House and Senate, executive action may be the best chance for change any time soon.
"No one wants to be viewed as not making sure kids have what they need," says the NEA's Harris-Aikens. "I think it reflects that the administration is no longer willing to wait. It is still Congress' responsibility to reauthorize the law, but in lieu of that, they feel very comfortable that they should move forward to provide some relief for schools and students."
Frederick M. Hess, director of education policy studies at the American Enterprise Institute, suggests that the administration move cautiously.
"Right now, the president can point to education as one place where he has gotten pretty good bipartisan reviews," Hess says. "He can point to it as an example of where he has successfully broken with Democratic orthodoxy and shown what he can deliver."
But if the administration is not careful, Hess warns, conservatives could find a way to argue that the waivers are an effort by Obama "to do to American schools what he has tried to do to American health care."
FOR FURTHER READING: Charter schools bill (HR 2218 — H Rept 112-178) passed, p. 1939; legality of waivers, CQ Weekly, p. 1530; background, p. 338; NCLB passage (PL 107-110), 2001 Almanac, p. 8-3.