CQ WEEKLY – IN FOCUS
Sept. 17, 2011 – 2:44 p.m.
Social Security: Just the Facts, Please (But What Are They?)
By David Harrison, CQ Staff
In July, two veterans of the Social Security wars enlivened a sparsely attended forum on the venerable government retirement program by arguing vigorously over the very existence of the trust funds that are integral to its finances.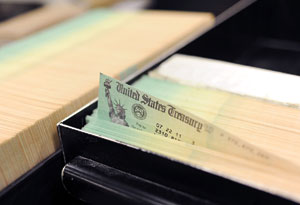 | | |
| --- | --- |
| WILL THE CHECKS CONTINUE? Concern over long-term finances defines the Social Security debate. (GETTY IMAGES FILE PHOTO / WILLIAM THOMAS CAIN) |   |
Robert Weiner said he was "distressed" to hear people contend that the trust fund holdings of Treasury securities are worthless. "That argument does not hold," said Weiner, a former aide to Claude D. Pepper, a Florida Democrat who served four decades in the Senate and House and was instrumental in the program's rescue in 1983. "That's seniors' money, and it's solid."
"I don't care what you tell me. It's broke," retorted Jim Martin, chairman of the 60 Plus Association, a conservative senior citizens group that bills itself as an alternative voice to AARP.
It's an odd paradox that a government program touching the pockets of virtually every employed American, paying out hundreds of billions of dollars in benefits annually, and providing income to more than 54 million retirees, disabled workers and their dependants can be so poorly understood that its very financial underpinnings are subject to such a fundamental dispute.
But that's how it is for Social Security. Besides the noise regularly generated over the viability of the Social Security trust funds, the program has come under attack again, from budget hawks who this summer targeted it for cuts and from Rick Perry, the Texas governor and Republican presidential aspirant who assailed it as a "Ponzi scheme" and a "monstrous lie."
Arguments about Social Security aren't new, but they seem to have gained in intensity as the Washington spotlight has focused more than usual on the rising costs of government and on demographic trends that pose long-term fiscal challenges to the program — and some day will have to be addressed.
But overhauling Social Security is like turning around an aircraft carrier: It takes time, in the case of this program, decades. That means that a new joint congressional committee charged with cutting the budget deficit by at least $1.2 trillion over the next 10 years will probably be unable to find significant savings from the program.
In the past, government officials who proposed major overhauls of Social Security sometimes paid a steep political price, giving the program its reputation as the "third rail of American politics."
However, this summer's budget debates, the program's long-term shakiness and the general concern about the nation's $14.7 trillion debt suggest, however, that resistance to tackling Social Security's finances head-on may be softening.
Financing Shortfall
What's undeniable is that Social Security, which has been reliably sending checks to beneficiaries since 1937, currently holds roughly $2.6 trillion in Treasury securities locked in a federal building in Parkersburg, W.Va. The balances in the program's two trust funds — in particular the much larger one, which covers retirees — have built up over almost 30 years, thanks to an excess of taxes paid in over expenses paid out.
Social Security: Just the Facts, Please (But What Are They?)
Much of that revenue came from baby boomers, who are just now starting to retire and claim their benefits. And as the boomers leave the workforce, they will draw down the retirement trust fund balance. Last year, for the first time since 1983, the program paid out more in benefits than it collected in taxes. And while interest earnings on the retirement trust fund more than make up for the revenue shortfall right now, the program's trustees estimate that the fund itself will start being tapped in 2022.
That will require the program to start cashing in the Treasury securities it holds. To buy them back, the government will have to increase other taxes, cut other spending or borrow more. The last is an alternative that budget hawks want to avoid at all costs.
Unless Congress acts, the cost of Social Security will steadily increase for another quarter-century, at which point enough baby boomers will have died to relieve some of the pressure on its finances.
Currently, benefits payments amount to about 4.8 percent of the total output of the U.S. economy, a figure that will grow to 6.2 percent of gross domestic product (GDP) in the mid-2030s before leveling off at around 6 percent, according to the program's actuaries. Meanwhile, the actuaries also project that Social Security payroll tax revenue, which now stands at 4.5 percent of GDP, will grow slightly and top out at 4.9 percent of output by the end of this decade before steadily decreasing.
That leaves an annual gap of more than 1 percent of GDP that the assets in the trust fund will have to fill. According to the program's actuaries, the trust fund will run dry in 2036. At that point, the program will be able to pay out roughly three-quarters of promised benefits.
Clearly something needs to be done. And the sooner Congress takes action to repair the program's long-term finances, the easier the fix will be, experts say.
But although Social Security is the largest and one of the fastest-growing government spending programs, it seems unlikely to be affected by the joint committee's work.
"I see almost no chance that this supercommittee deals with Social Security in a fundamental way," said Charles Blahous, a Social Security trustee and research fellow at the conservative Hoover Institution.
Overhauling the program may take a long time, but it could prove to be relatively easy. To bridge the gap between Social Security's expenditures and its revenues, Congress could either raise the revenue dedicated to the program, reduce benefits or adopt a combination of the two. Some of the revenue options involve collecting more from the payroll tax — currently levied at 12.4 percent of wages up to $106,800 a year — either by setting the cap higher or eliminating it altogether.
On the benefits side, the alternatives include raising the retirement age, recalculating how benefits are determined, slowing the growth of benefits over time or directing a portion of a worker's payroll taxes into a personal account that would be individually invested, possibly in stocks or marketable bonds, an option favored by many Republicans.
During the past year, several deficit cutting groups have included a mix of these ideas in their proposals.
One such recommendation came from President Obama's debt commission, led by Republican Alan K. Simpson, a former senator from Wyoming, and Erskine Bowles, who served as White House chief of staff to President Bill Clinton. The Simpson-Bowles commission proposed increasing the retirement age, raising the income cap, adopting a new method for calculating cost-of-living adjustments, covering more state and local government employees, and paying more to low-income and very old beneficiaries.
A similar set of recommendations came from a second group, led by Republican Pete V. Domenici, a former senator from New Mexico, and Alice Rivlin, a Democratic economist who was the first Congressional Budget Office (CBO) director and who also served as vice chairwoman of the Federal Reserve. That proposal, under the auspices of the Bipartisan Policy Center, included reducing benefits for some recipients, raising the cap on taxable wages, changing the cost-of-living index, adding state and local government workers and boosting benefits for low-income and very old recipients.
Social Security: Just the Facts, Please (But What Are They?)
Lawmakers have also introduced a steady stream of Social Security bills in the past few months. Michigan GOP Rep. Thaddeus McCotter, a long-shot presidential candidate, last week became the latest Republican lawmaker to introduce a measure that would allow workers to use a portion of their Social Security tax payments to create private investment accounts to finance their retirements. In return, the benefit amount paid by the trust fund would be reduced. Also last week, a group of liberal senators led by Bernard Sanders, I-Vt., proposed applying the payroll tax to annual income above $250,000.
None of those proposals are likely to go far, however, and a broad bipartisan agreement to overhaul Social Security remains elusive.
Go-Slow Approach
Although lawmakers from different parties tend to disagree on the mix of Social Security overhaul options that should be considered, they agree on one point: Nothing should be done that might affect benefits for current recipients or for people who are close to retirement age.
Even Wisconsin Republican Paul D. Ryan, the chairman of the House Budget Committee, would exempt people 55 and older from the ambitious Social Security changes he proposed earlier this year.
His fellow Republicans, most of whom have been reluctant to embrace Perry's full-throated attack on the program, agree that changes to it are necessary and inevitable but shouldn't harm people close to retirement.
"The math doesn't lie, and the numbers don't add up," House Majority Leader Eric Cantor of Virginia said this month. "I agree that we need to be focused on the fact that people are expecting the government to live up to its promises."
Perry himself seemed to pull back from his earlier criticism of Social Security during a GOP primary debate last week. "The people who are on Social Security today need to understand something: Slam-dunk guaranteed, that program is going to be there in place," he said. "Those individuals that are moving toward being on Social Security, that program's going to be there for them when they arrive there."
As a result of this go-slow approach, none of the proposals to address the program's long-term solvency expect major swings in its finances within the next 10 years. That fact alone complicates the deficit committee's task, if it should want to include Social Security in the proposals it is supposed to make by Nov. 23.
One of the most prominent proposals to close Social Security's revenue-cost gap in the future would yield relatively little in savings over the next decade. That idea, which involves shifting to a less generous method of calculating cost-of-living increases, received the blessing of Obama and congressional GOP leaders during debt limit negotiations this summer, before it was dropped because of considerable opposition from Social Security advocates.
The proposal involves tying benefit increases to a new measure of inflation called the chained consumer price index (CPI). Many economists say the chained CPI is more representative of actual changes in the cost of living because it takes into account the substitutions that consumers make in their purchasing choices when the prices of goods change relative to one another.
Although presented as a technical adjustment, the chained CPI approach sparked a passionate response from Social Security advocates and congressional liberals, who said it would result in a benefit cut that accrues over time and hits older retirees — who are more at risk of poverty — disproportionately harder than younger ones.
Despite backing a shift to the chained CPI over the summer, Obama hasn't brought up the idea in recent weeks. And although it remains an option before the joint deficit reduction committee, the change would generate only $112 billion in savings (and an additional $72 billion in new revenue) over 10 years, according to CBO. That's a small sum next to the savings the committee has been charged with producing.
Social Security: Just the Facts, Please (But What Are They?)
An internal memo from the House Ways and Means Democratic staff included the chained CPI in a list of alternatives for the joint committee to consider but wasn't enthusiastic about its prospects for enactment, calling it "extremely controversial." And, the memo said, the committee "has serious concerns with the proposal."
To Social Security advocates, that's as it should be. Advocates have repeatedly insisted that Social Security should not be considered in the context of deficit reduction because the program is entirely self-financed and doesn't currently contribute to the deficit.
Moreover, the program's financial problems are so far in the future that beneficiaries should feel confident in Social Security, said Eric Kingson, a Syracuse University professor who serves as co-director of Social Security Works, an advocacy group. "People have lost housing equity, wages, jobs. Americans are scared," he said. "Social Security is the one system that's working well for them."
Still, even if changes to the program would have little measurable effect on near-term deficits, that's not a reason to keep putting them off, says Douglas Holtz-Eakin, who heads the American Action Forum and was CBO director in the early part of the past decade. "You will send a signal to the markets," he said. "You're sending exactly the right signal."
And to Blahous, a delay is another opportunity wasted to fix a program that is slouching toward insolvency. "The earlier we deal with it, the better," he said. "It's late in the game already."
FOR FURTHER READING: Entitlements, CQ Weekly, p. 676; Ryan's proposal, 2010 CQ Weekly, p. 2662; previous Social Security overhaul, 1983 Almanac, p. 219; McCotter's bill is HR 2889; Sanders' bill is S 1558.