CQ WEEKLY – VANTAGE POINT
Oct. 1, 2011 – 12:08 p.m.
The Rule of Thirds: Fringe Candidates Settle for Spotlight
By Shawn Zeller, CQ Staff
Getting a head start on the election year, the Prohibition Party held its presidential nominating convention in June at the Holiday Inn Express in Cullman, Ala., a farm town 50 miles north of Birmingham. The forty or so delegates there chose Lowell "Jack" Fellure, an 80-year-old Baptist minister and retired engineer from West Virginia, as their standard-bearer.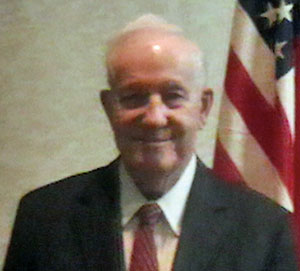 | | |
| --- | --- |
| UNNOTICED: Fellure is running for president as a Republican and a Prohibitionist. (JAMEY FRY/ CQ ) |   |
This was not big news even in Cullman. The Prohibition Party, founded in 1869, has fallen on hard times since national prohibition was repealed in 1933. Even Fellure is a bit shopworn, having run for president as a Republican in every election since 1988. He's running as a Republican again — he says his platform is the King James version of the Bible — but agreed to run as a Prohibitionist as well because some party members asked him to.
Such is life on the edges of presidential politics, though given today's stresses and strains, the coming election could be less conventional than most. A Gallup Poll last spring found that more than half of Americans were so frustrated with Republican and Democratic politicians that they wanted a third party. That's down slightly from last year, but still near record levels.
The disgruntled probably have in mind something more like Ross Perot's Reform Party of the 1990s than the Prohibitionists. But the existence of these quixotic parties, for whom success is measured in a few thousand votes, is a reminder of both the nation's tolerance for political quirkiness and its ultimate reliance on the political mainstream.
Next week, the Socialist Party USA plans to meet at Holiday Inn at Los Angeles International Airport to decide which of its candidates to put up against President Obama.
"We need a head start," says Greg Pason, the Socialists' national secretary. "Alternative parties need as much time as possible to get our message out before the media focus on the two major-party candidates."
Vying for the socialists' nod are Stewart Alexander, a California civil rights activist who is also seeking the Peace and Freedom Party's nomination, and Jerry Levy, a sociology professor at Marlboro College in Vermont. Alexander dropped out of the race for the Green Party nomination this summer, saying he wanted to focus on his other candidacies.
Pason says the Socialists have no illusions about their candidate's chances, but they hope today's discontent draws attention to their critique of Obama's health care law — they would prefer a government-run system — and the wars in Iraq and Afghanistan.
The Prohibitionists and the Socialists aren't the first parties to nominate candidates for next year. That honor belongs to the Objectivist Party, which selected Thomas Robert Stevens as its presidential candidate more than a year ago in St. Louis.
A lawyer on Long Island and follower of writer Ayn Rand, who called her philosophy objectivism, Stevens founded the party in 2008 but remains an active Libertarian. "I have many irons in many fires," he says. "But in my opinion, all of my activities promote liberty."
Stevens says he founded the party to promote a purer devotion to Rand than offered by Libertarians, who have many social conservatives in their ranks.
Such fissures are common. The Prohibitionist convention was split between Fellure and longtime party leader James Hedges of Pennsylvania. Fellure appealed to the religious conservatives in the party. "Our country was started based on Christian principles, but we've gotten so far from them, we aren't even close," Fellure says. In addition to ending the sale of alcohol, he wants to ban homosexuality, quit the United Nations and permit Bible readings in public schools.
The Rule of Thirds: Fringe Candidates Settle for Spotlight
Hedges doesn't share Fellure's views on social issues — other than drinking — and won't be supporting him. "I consider myself to be an America-first conservative and a fiscal conservative and a social liberal," Hedges says. "I don't care anything at all about gay marriage."
The schism is one of several recent indignities suffered by the Prohibitionists. Ken Burns' new public television series on Prohibition depicts it as a failed experiment in social engineering that turned ordinary citizens into criminals.
Even Cullman proved something of an embarrassment to the Prohibitionists, who picked it because it was dry only to have the town vote last fall to allow liquor sales.
"That was a disappointment," says party official Bill Bledsoe. Still, the party plans to forge ahead. "We are realistic. We know we don't have a chance to win. But we believe that the citizens of the U.S. should have a choice," he says.