CQ WEEKLY – IN FOCUS
Oct. 1, 2011 – 1:39 p.m.
Antitrust Pressure Builds Against a Web Goliath
By Keith Perine, CQ Staff
Every decade or two, a seminal antitrust case shakes up the world of technology.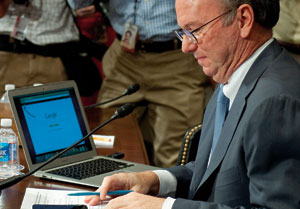 | | |
| --- | --- |
| NOT MICROSOFT: Google chief Schmidt stresses the differences between the two tech companies. (SAUL LOEB / AFP / GETTY IMAGES) |   |
The last was Microsoft's epic battle with the Justice Department over charges that the company used its operating-system dominance to choke off competitive threats.
Now Google Inc., which incorporated itself just a few weeks before the start of the Microsoft trial in 1998, finds itself in the government's cross hairs.
It's way too soon to know whether the government will file a Google case, let alone one to match the impact of the Microsoft saga.
The ghost of the Microsoft case nevertheless hovered in the Senate Judiciary hearing room Sept. 21, when the panel's Antitrust Subcommittee heard from Google and its critics. Indeed, Microsoft was being used, for legal and PR purposes, as the measuring stick for judging Google's conduct.
Thus the mission for Eric Schmidt, Google's executive chairman, was to make the case that Google is not another Microsoft.
Without naming Microsoft, Schmidt referred to a "large technology firm that was setting the world on fire" a couple of decades ago. "But that company lost sight of what mattered, and Washington stepped in," Schmidt said. "I was an executive at Sun and later at Novell at the time, and in the years since, many of us in Silicon Valley have absorbed the lessons of that era."
But many of Google's competitors in Internet search, online travel-booking and product-review sites — including, ironically, Microsoft, which operates the Bing search engine — disagree.
They say that in the search market, Google is wielding monopoly power against them. Google's critics say it has leveraged its position as the dominant online search engine to feature its own content in search results, lift content from other sites without permission or attribution, and charge steep prices to advertisers.
Google's opponents have tapped a key veteran of the Microsoft wars. Gary Reback, the Silicon Valley lawyer who marshaled Microsoft's competitors in the 1990s to persuade the Justice Department to launch its antitrust case against the software giant, is reprising that role for the anti-Google forces.
"The whole reason we did Microsoft was we were afraid Microsoft would get control of the Internet, access to the Internet, and all of the sudden there it was — it wasn't Microsoft, it was someone else," Reback said. He won't say whom he's representing in his fight against Google, except that they specialize in searches related to travel and product comparison.
The hearing occurred against the backdrop of Federal Trade Commission and European Commission inquiries into Google's business practices.
Antitrust Pressure Builds Against a Web Goliath
The Microsoft battle, and earlier government antitrust cases against IBM and the old Bell System telephone monopoly, ultimately wound up in court. That hasn't happened to Google yet.
A Microsoft Sequel?
But there are certain parallels between Microsoft's former woes and the regulatory minefield that Google finds itself in. Now, as then, smaller companies are complaining bitterly to regulators and lawmakers that a technological Goliath with deep pockets and an outsize market share is unfairly, even illegally, using its clout to disadvantage its rivals.
And although the details are different, Google's protestations to the contrary resemble the talking points that Microsoft used.
For example, Microsoft used to say that including its Internet Explorer Web browser with every copy of Windows was just good customer service, not an attempt to keep other browsers out of the market.
Google is using the customer-service angle as well, saying it is constantly refining its search engine with an eye toward giving users the most relevant results possible with every search, not toward burying references to companies with which it is competing.
The search giant is quick to point out that its customers don't need Google's algorithm to search the Web, and can stop using it at any time — which sounds familiar to tech-industry observers who remember Microsoft's contentions that it faced serious competitive threats to its Windows market share in the 1990s because of the existence of other operating systems, such as Java and Linux.
"We live in a great fear every day that consumers will switch extraordinarily quickly to other services," Schmidt said.
Anti-Microsoft Recruits
Google has also deployed surrogates to make the case that it is definitely not another Microsoft.
And not just any surrogates, either. Some of the key personnel from the old anti-Microsoft camp are now working for Google. The company is employing Jeffrey Blattner, a former Senate Judiciary aide who was a key Justice Department Antitrust Division official during the Microsoft trial, and Stephen D. Houck, a former New York state antitrust chief who was the lead trial counsel for the 20 states that joined Justice in its case against Microsoft.
Google's other witness at the Senate Judiciary subcommittee last month was antitrust attorney Susan Creighton, who represented Netscape, the maker of the browser Navigator, which got crushed by Microsoft's Internet Explorer. Netscape worked hard to get Microsoft sued by the government as a monopoly.
"Competition is robust," Creighton said, arguing that Google is no monopoly. "And the competitive landscape is constantly evolving."
Antitrust Pressure Builds Against a Web Goliath
By the time the Justice Department's antitrust case against Microsoft went to trial, the agency had amassed evidence, in depositions, corporate memos and email traffic, that the software giant had, in its dealings with computer makers and software developers, acted illegally to shut out Navigator. Microsoft feared that it could end up as an alternative platform to the Windows operating system.
So far, no such evidence about Google has been made public. But Reback has hinted that it exists, saying he's seen "some really nasty stuff" about Google's business practices that has been submitted to the Federal Trade Commission. Reback declined to elaborate but hinted that he thinks a formal antitrust case against Google isn't far off.
The threshold question in any antitrust inquiry involving a particular company is whether it has either a monopoly or at least "monopoly power" in the relevant market.
"That's the most fundamental, important question," said Robert H. Lande, an antitrust professor at the University of Baltimore School of Law. "And if the answer to that one is no, then really all the other ones fall."
It wasn't tough for the Justice Department to prove that Microsoft exercised monopoly power in computer operating systems, given the ubiquity of its Windows product.
But it's a harder question when it comes to Google. For all of its clout, the search giant is operating in a market in which consumers use its primary product for free and can easily switch to other means of navigating the Web.
The company's opponents say Google's market share is so big that other search engine companies can't easily overtake it.
"They are a dominant company because they got there first," Thomas O. Barnett, a former Justice Department antitrust official who now represents some of Google's competitors, said at the hearing.
Lande says it's "exceedingly likely" that a court would find that Google has monopoly power in search. But Herbert Hovenkamp, a University of Iowa College of Law antitrust professor, argues that it's hard to apply the old antitrust rules to the Internet.
"Most of the Internet is characterized by openness and easy switching," Hovenkamp said. "And that kind of runs against our general notion of how market power is exercised."
Regardless, Google has to contend with increased government scrutiny, both in the United States and abroad, and a drumbeat of criticism from its rivals that it has replaced Microsoft as the tech world's evil giant.
The outcome in past antitrust battles has varied: The Justice Department dropped its case against IBM but forced the breakup of the Bell System.
In the Microsoft case, a federal judge ordered a breakup but was reversed on appeal. Microsoft and the Justice Department subsequently settled the case by agreeing to some relatively modest conditions.
Antitrust Pressure Builds Against a Web Goliath
It's a little too early to tell whether the FTC's probe of Google is going to morph into the sort of Shakespearean drama that was the Microsoft case and, if it does, whether, any Google executive can match the performance put on then by Microsoft founder Bill Gates.
Schmidt, meanwhile, would like to lose the Microsoft analogy permanently.
"I do ask you to remember that not all companies are cut from the same cloth and that one company's past" need not "be another's future," Schmidt said at the subcommittee hearing.
FOR FURTHER READING: Microsoft breakup order, 2000 CQ Almanac, p. 19-5; AT&T settlement, 1982 CQ Almanac, p. 331.