CQ WEEKLY – IN FOCUS
Oct. 9, 2011 – 4:52 p.m.
Trade Pacts: Gift or Gift Horse?
By Ben Weyl, CQ Staff
President Obama this week will host an official state visit — always a resplendent occasion in Washington — for South Korean President Lee Myung-Bak, and he will be able to offer an impressive welcome gift: a major trade agreement between the two allies, on the verge of enactment.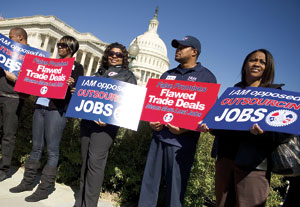 | | |
| --- | --- |
| NO GO: Members of the International Association of Machinists and Aerospace Workers protest Oct. 4. (JIM WATSON / AFP / GETTY IMAGES) |   |
After months of partisan bitterness, Obama and GOP leaders shelved their antagonism at least temporarily and agreed to move forward on long-stalled trade deals with South Korea, Colombia and Panama. The House is expected to pass the pacts this week with bipartisan support, and the Senate will follow suit soon after.
But the president may come to see the deals as not much of a gift to his re-election campaign. The agreements are fiercely opposed by organized labor, a core Democratic constituency that will need to be energized to work for Obama's election. Meanwhile, the public at large has grown increasingly skeptical of the benefits of expanded trade, which will probably diminish its value on the campaign trail.
And although Obama will tout the deals as key to his jobs agenda, there's disagreement about whether the deals will boost job growth, which is what his re-election chances ultimately hinge on. All of this suggests that the sheen on this legislative victory might not last very long.
The South Korea deal is considered the most significant since the North American Free Trade Agreement (NAFTA), which took effect in 1994. It would open South Korean markets — and serve as a steppingstone to the rest of Asia — to a broad range of U.S. manufacturers, agricultural producers, banks, and insurance and other service companies.
The Colombia and Panama deals are smaller, but backers say they are vital to bolstering ties to strategic markets in Latin America.
'We Want Korea'
Passage of the trade deals, as well as a related worker-aid bill, is the culmination of months of delicate negotiations between the White House and congressional leaders, and Obama will surely celebrate enactment.
The deals are a priority for the business community, with which Obama has been trying to mend fences after pushing an agenda that business groups largely despised.
"We want Korea," White House Chief of Staff William M. Daley, who was brought on precisely because of his business connections, said in February at a breakfast with reporters.
Getting the trade deals past the finish line also offers Obama an opportunity to demonstrate that he can work with the opposition to get something done for the American people.
Trade Pacts: Gift or Gift Horse?
The trade agreements were first negotiated by the George W. Bush administration but stalled when Democrats, who largely opposed the deals, took control of Congress in 2007.
Four years later, when Republicans swept back into the House majority, the deals got new life. Obama renegotiated several aspects of the pacts to make them more palatable to some domestic industries and unions.
With continued political polarization in the Capitol, the trade deals might end up being the most consequential economic measures to be signed into law in the 112th Congress, second only to the debt limit package that was passed in August.
And unlike the bruising budget fight of the summer, passage of the trade deals and a Trade Adjustment Assistance (TAA) bill has been going relatively smoothly, with each political actor playing his or her part in a well-staged drama that has unfolded as planned.
In return for submitting the deals, the Obama administration and congressional Democrats insisted on passage of expanded TAA benefits for workers displaced by foreign trade. At first, GOP lawmakers resisted; conservatives say the program is too expensive and ineffective.
To ease those concerns, the administration worked with House Ways and Means Chairman Dave Camp, a Michigan Republican, and Senate Finance Chairman Max Baucus, a Montana Democrat, to craft a compromise in which many TAA benefits were renewed while others were scaled back.
In August, Senate leaders announced that they had devised a path forward that would provide for a series of complex votes to enable lawmakers to weigh in on aspects of the legislation but ultimately would ensure passage of the trade deals and TAA bill.
On Sept. 22, the Senate voted 70-27 for the compromise. Not two weeks later, Obama formally submitted the trade deals, and within minutes GOP leaders announced that the House would hold votes this week on the pacts and the Senate-passed TAA bill.
A Skeptical Public
The day after the president submitted the trade agreements, the AFL-CIO held a rally outside the Capitol, with hundreds of workers gathered in opposition to the deals.
Union leaders and their allies in Congress stepped to the microphone to denounce the pacts, with United Steelworkers President Leo Gerard resorting to an obscenity that drew cheers from the crowd. The agreements, speakers said, would ship jobs overseas and reward Colombia despite the killings of dozens of labor activists there over the years.
The awkward fact was that unionists would not be in this situation if Obama — elected on their backs and wallets — had not pushed the deals.
"The president is sending mixed messages," said Democratic Rep. Michael H. Michaud of Maine. "Does he want to create jobs here at home or create jobs overseas?"
Trade Pacts: Gift or Gift Horse?
Iowa Democratic Rep. Bruce Braley said, "When it comes to job-killing trade deals, the American worker preferred candidate Obama to President Obama."
When Obama was campaigning for the nomination in Ohio, in February 2008, he signaled a willingness to renegotiate NAFTA, although he later backed away from that stance. Before the general election, he expressed opposition to the three deals he recently submitted.
After the rally, Gerard dismissed concerns that Obama supporters might not be as engaged in 2012 because of disappointment over his trade policy. He said fear of a GOP candidate would be enough to motivate many, adding that some conflict between the president and his supporters is normal.
"We disagree with our friends," Gerard said. "I fight with my wife; I still live with her."
But Braley said Obama was "missing an enormous opportunity to send a populist, progressive message on how we are going to fight for the soul of our workforce." He also pointed out that progressives are not the only ones who might be disappointed, given that public skepticism about the benefits of trade has risen significantly in recent years.
Just 18 percent of Americans believe that free trade with other countries has created jobs in the United States, according to a September 2010 NBC News/Wall Street Journal poll. The poll cites 53 percent of respondents saying that trade agreements have hurt the nation overall, a jump from 46 percent in 2007 and 30 percent in 1999.
Trade has always crossed party lines; pro-market Republicans tend to oppose expanded trade if they hail from areas rich in manufacturing. But the issue appears to have transcended ideological boundaries to a surprising extent: Sixty-one percent of GOP-leaning tea party supporters say free trade has hurt the United States, according to the poll, mirroring the stance of 65 percent of union members.
Obama is not blind to public sentiment. His administration has tiptoed around legislation targeting China's currency practices. The administration has resisted prior efforts to force its hand on the issue, but the White House has notably declined to take a formal stance on a bill making its way through Congress.
Braley said it would be "devastating" to Obama's political standing were he to veto a currency bill.
If Obama is to win re-election, he will have to convince Americans that he is committed to boosting jobs. "These agreements will support tens of thousands of jobs across the country for workers making products stamped with three proud words: 'Made in America,'" Obama said upon submitting the deals.
The administration estimates that the agreements will increase U.S. growth by more than $12 billion and will create new jobs by boosting exports. The South Korea deal will lead to at least 70,000 new jobs, according to the administration.
But opponents of the deals cite a report last year by the labor-friendly Economic Policy Institute, which predicted that the South Korea pact would instead displace roughly 159,000 U.S. jobs within seven years.
The administration disputes that study, but it appears to be battling a wave of public opinion. If the unemployment rate is still painfully high next November, these deals might serve less as a talking point for Obama than as an albatross.
Trade Pacts: Gift or Gift Horse?
FOR FURTHER READING: Trade bills (HR 3078, HR 3079, HR 3080), p. 2104; China currency, CQ Weekly, p. 2036; Senate passes TAA bill (HR 2832), p. 1991.