CQ WEEKLY – IN FOCUS
Oct. 9, 2011 – 5:04 p.m.
Veil of Secrecy Makes It Hard to Identify Intelligence Cuts
By Tim Starks, CQ Staff
Congress' deficit reduction committee has been doing its politically sensitive work behind tightly closed doors — but those secret meetings are not the most opaque part of the drive to slash federal government spending.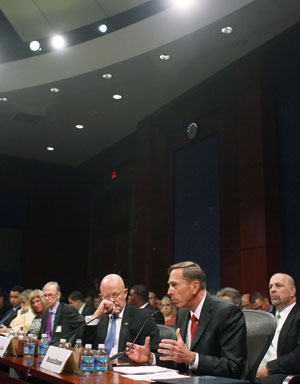 | | |
| --- | --- |
| CAUTION: Clapper, left, and Petraeus testify at a Sept. 13 hearing of both chambers' intelligence panels. (MARK WILSON / GETTY IMAGES ) |   |
Concealed from the public to an even greater degree are deliberations over what to nip from the $80.1 billion intelligence budget, where specific funding is classified and therefore secret by law, not just by legislative whim.
The spy budget in the United States has more than doubled over the past decade, as a reaction to the intelligence weaknesses that led to the Sept. 11 terrorist attacks and as a complement to the wars in Iraq and Afghanistan. Now, with the Obama administration and Congress scrutinizing every part of the federal government for cuts, congressional committees and administration officials that oversee spy agencies are poring over the intelligence community's spending.
"We are going to have a big challenge here in managing the cuts to intelligence funding," Director of National Intelligence James R. Clapper Jr. told a joint meeting of the House and Senate Select Intelligence committees last month. "So how we do that and still attend to all the responsibilities that have been thrust on the intelligence community is going to be a huge challenge."
The fact that any fights over the intelligence budget will be shielded from public view works both for and against spy agencies. Compared with their peers on the Armed Services panels, the members of the Intelligence committees can't lobby in an overtly public way to fend off specific cuts. But at the same time, secrecy and the dearth of deep intelligence knowledge outside of a select few members of Congress enhances the power of behind-the-scenes officials and lobbyists.
Nonetheless, details of some budget preferences of influential lawmakers and spy-agency leaders have spilled into public view. Everything from expensive spy-satellite programs to intelligence contractors to spending on counterterrorism are on the chopping block, if some of those lawmakers and leaders get their way.
'Unsustainable' Growth
Separate from the discussion over what should be cut and what should be saved is the broader question of whether the intelligence community manages its finances wisely. Over the years, costs for a number of big intelligence agency programs have spiraled out of control, such as a spy-satellite initiative known as Future Imagery Architecture, which cost the federal government an estimated $15 billion before it was canceled in 2005 without achieving much. In recent years, Congress has enacted new requirements aimed at cleaning up the accounting procedures of spy agencies and is contemplating more.
House Intelligence Chairman Mike Rogers said many of the big budget increases were a necessary answer to cutbacks during the 1990s — but there's a sense that in the face of deficit woes, the intelligence community has to do its part, too.
"Any organization that grows that fast can get fat in a hurry," the Michigan Republican said last month at a conference of the Intelligence and National Security Alliance, a nonpartisan association for security and intelligence professionals. "I do believe that the rate of growth is unsustainable."
Outside of a broad consensus against deep cuts in personnel or science and technology, though, there's very little agreement about what can be sacrificed in spy-agency budgets.
Budget watchdog groups have a tough time examining the classified budget, but the mere pace of increases since 2001 indicates something, says Laura Peterson, the senior national security policy analyst at Taxpayers for Common Sense.
Veil of Secrecy Makes It Hard to Identify Intelligence Cuts
"With that kind of explosive growth, I think it's safe to assume there's a lot that isn't necessary to the core functions of the intelligence community and that there's a lot of waste there," she says.
It's difficult to get a grasp on just how much pressure the $80 billion intelligence budget (most of which, though not all, is funded through the Pentagon) will feel from the deficit committee. The debt limit deal enacted this summer calls for about $450 billion in reductions over 10 years from the national security budget (dominated by the $500 billion-plus annual defense tab) — with the possibility of another $450 billion from that area if no deal is reached and automatic budget cuts take place through sequestration.
Mark Lowenthal, a past senior intelligence official and House Intelligence Committee staff director who now serves as president of the Intelligence & Security Academy, says that the total budget numbers tell only part of the story. By his estimation, at its lowest point before the Sept. 11 attacks, the National Intelligence Program — an account that includes most of the spy agencies except those of the military branches — amounted to between 1.9 percent and 2.1 percent of the federal budget. Now, he says, it accounts for closer to 2.4 percent to 2.5 percent, a relatively small change.
Different Targets
Whatever the case, different pockets of the administration and Congress have picked different targets for cuts.
Among agency heads, Clapper has identified redundant information technology systems across the spy community as an area for major savings. Bruce Carlson, director of the National Reconnaissance Office, has said any cuts to his agency should come from operations and maintenance accounts.
Senate Intelligence Chairwoman Dianne Feinstein, a California Democrat, has decried a reliance on contractors as too expensive, and she says the intelligence community hasn't cut back on them as much as promised. CIA Director David H. Petraeus has suggested that contractors are an area where his agency has found savings.
At the Senate Intelligence confirmation hearing last month for President Obama's nominee for a new intelligence community inspector general, Irvin Charles McCullough III, panel Vice Chairman Saxby Chambliss, a Georgia Republican, asked McCullough to keep his eye on "expensive programs that give us little in return," an apparent reference to spending sinkholes like Future Imagery Architecture.
In the committee report for the Senate's version of the fiscal 2012 intelligence authorization bill, senators put their concerns on the record about the growth in the counterterrorism budget and a potential rise in costs for spy satellites.
Although lawmakers seem to agree with Clapper and others that personnel cuts are a bad idea, the classified annex to both the House and Senate versions of the fiscal 2012 intelligence authorization bill would slow the rate of growth in personnel spending, according to Feinstein and Hill aides. Feinstein said that defense appropriators, who provide most of the intelligence community's spending, have largely adopted the authorizing panels' recommended funding for personnel.
In the House, Rogers said the panel went through the intelligence budget line by line, looking for excess expenditures that don't pertain to intelligence collection and other core functions. Rogers and some other Republican lawmakers have also said they will scrutinize the CIA's Center for Climate Change and National Security, wary of how much the CIA can contribute to the highly politicized topic.
A good deal more of what could be targeted for cuts, however, might never become a topic of public discussion. The National Security Agency, for instance, declined to comment on its budget plans other than to offer this statement from an agency spokeswoman: "We look forward to working the issue within the executive branch and with the Hill." The NSA is one of the three biggest intelligence agencies, alongside the CIA and the National Reconnaissance Office.
Veil of Secrecy Makes It Hard to Identify Intelligence Cuts
Some of the cuts being proposed make sense but still have to be weighed carefully, says Michael V. Hayden, who led the NSA and later the CIA under George W. Bush. When Hayden was CIA director, an aide once outlined for him what the agency was doing on information technology: "You're paying a hell of a lot for it and paying too much for what you're getting," Hayden recalls the aide saying. But too much streamlining of information technology could make the intelligence community vulnerable to infiltration, Hayden says.
In another example, Hayden — who currently serves as a principal at the Chertoff Group, a security consulting firm — says that from an intelligence perspective, he sees the value in maintaining big satellite programs and manned surveillance aircraft as well as drones because all types meet different needs. But from a budget perspective, he says, he could see why someone would want to reduce spending in the first two categories, given the increased use of unmanned surveillance.
Beyond any specific cuts, lawmakers and administration officials want to make sure that spy agencies do a better job of financial bookkeeping.
The fiscal 2010 intelligence authorization law required the intelligence director to report to Congress within 45 days on any major programs experiencing a rise in costs of 15 percent or more from the original estimate, similar to requirements for the Defense Department. Both the House and Senate versions of the fiscal 2012 bill contain provisions requiring still more reports to Congress on expenses for big programs.
Lawmakers have also tried to press intelligence agencies to produce financial statements that can be audited. Only one of the 16 agencies, the National Reconnaissance Office, can do so now. Clapper told lawmakers last month that the plan is to get all agencies in compliance by 2015.
Predicting which intelligence cuts will be made is complicated by secrecy and politics.
On one level, those who would seek to protect the intelligence budget are at a disadvantage compared with defenders of the military budget.
While members of the Armed Services panels — as well as defense contractors and Pentagon officials — have been campaigning publicly to preserve specific programs and categories of spending, lawmakers on the Intelligence panels are limited in what they can say, aside from broad warnings not to cut intelligence spending too deeply for fear of repeating the mistakes of the 1990s, Lowenthal said.
And they might not be as inclined anyway, he said. The size of the defense budget, the number of jobs created by major acquisitions and the presence of military constituencies throughout the country means that every congressional district is affected by defense cuts more acutely than the smaller number affected by intelligence cuts.
"Who lobbies for the analysts?" Lowenthal asks, knowing that only a handful of lawmakers count intelligence personnel as voters, primarily in Maryland and Virginia.
On the other hand, there is significant overlap between some of the biggest defense contractors — Lockheed Martin Corp., Northrop Grumman Corp., Boeing Co. — and some of the top intelligence contractors for the biggest-ticket items in the spy budget. And Lowenthal says those contractors can more easily flex their muscles when they can do so in secret, in part because there are so few experts in Congress who can counter their arguments.
Indeed, Peterson says, the secretive nature of intelligence spending puts an increasing burden on Congress to find cuts, because outside watchdogs can't adequately scrutinize the budget.
And more broadly, national security spending is harder to cut right now because of GOP support and because it's still politically popular.
Veil of Secrecy Makes It Hard to Identify Intelligence Cuts
"Who would argue in favor of waste, fraud and abuse?" asks John Pike, director of GlobalSecurity.org, an organization that follows national security issues. "That's not the problem. That's just at the margin. The problem is that we have a national security establishment whose size is a factor of how much money it can get out of the Congress."
Although the intelligence budget surely won't go untouched in the deficit debate, it is unlikely, for political and pragmatic reasons, to see any major cuts soon. Even with al Qaeda leader Osama bin Laden out of the picture, lawmakers appear acutely aware of the lessons from the 1990s, when downsized intelligence budgets are thought to have contributed to the failure to prevent the attacks on the World Trade Center and the Pentagon. And some of the budget-saving maneuvers under discussion, such as consolidating the information technology systems of the various spy agencies, could take years to implement.
Hayden also says the Obama administration seems inclined to protect intelligence funding because of its approach to military operations and strikes against terrorists.
"When you look at this administration, there certainly is a tendency to rely on intelligence and JSOC [Joint Special Operations Command] and not do the big force-on-force, men-and-metal kind of thing," Hayden says.
But the political winds could shift if there are no successful terrorist attacks in the coming years, the wars in Iraq and Afghanistan wind down and people keep suffering in a poor economy. Then, voters could once more clamor for the same kind of "peace dividend" that saw funding shift from national security to domestic priorities in the 1970s and 1990s.
As Hayden was fond of saying when he led the CIA during the Bush administration, which came under fire from critics for some of its aggressive anti-terrorism policies: "We're accused of doing too much when Americans feel safe and not doing enough when they no longer feel safe."
He adds, "You can apply that to the budget, too."
FOR FURTHER READING: House fiscal 2012 intelligence authorization bill (HR 1892), 2011 CQ Weekly, p. 1872; Senate bill (S 1458), p. 1760; debt limit deal (PL 112-25), p. 1756.