CQ WEEKLY – COVER STORY
Oct. 9, 2011 – 5:27 p.m.
A World Of Doubt: It's America's Turn to Be Lectured on Governing
By Joseph J. Schatz, CQ Staff
BEIJING — It's no secret that confidence is slipping in the U.S. political system. But it isn't just Americans who are disillusioned by the fiscal paralysis on Capitol Hill. The vaunted American model isn't looking terribly good in foreign capitals either these days.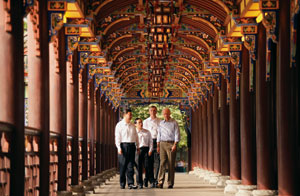 | | |
| --- | --- |
| POWER SHARING: Biden reassured Chinese Vice President Xi Jinping during an August visit that Washington would not default on the debts it owes to Beijing. (PETER PARKS / AFP / GETTY IMAGES) |   |
Nowhere is that more evident than in China, where political leaders have long resented U.S. criticism of its authoritarian brand of government. In the ever-testier U.S.-Chinese relationship, Washington has typically done the lecturing — scolding Beijing for its barriers to trade or its record on human rights.
But when Vice President Joseph R. Biden Jr. visited China in August, he was in the unusual position of reassuring Chinese leaders about the U.S. political system after the summer's fractious fight over raising the debt ceiling. Biden also tried to win over Chinese students who, he acknowledged, were "skeptical about America's future prospects."
Chinese Premier Wen Jiabao issued a polite but pointed demand to Biden in his public remarks. "It's particularly important that you send a very clear message to the Chinese public that the United States will keep its word — and its obligations with regard to its government debt," Wen said, through a translator. "It will preserve the safety, liquidity and value of U.S. Treasuries." China holds $1.2 trillion in Treasury securities — a full 26 percent of the United States' foreign-held debt.
It was a reminder that the bitter congressional debate over the budget and the economy isn't happening in a vacuum. Rather, it's occurring amid an international economic order that has changed considerably over the past generation. Much as they might want to, American policy makers cannot disregard what China's government thinks — no more than China, the U.S. government's biggest foreign creditor, can ignore decisions made in Washington.
Congress has never been great about looking outward to understand the international impact of its actions. But the days when American lawmakers could debate fiscal matters with only a domestic audience in mind are gone. There are too many other large economies today, and the United States is simply too dependent on them when it comes both to trade and to a source of money to borrow.
So, just as American lawmakers are nervously watching European capitals and hoping that the financial contagion threatening Greece and other Mediterranean nations doesn't spread across the Atlantic to their home states and congressional districts, government officials abroad are warily eyeing the persistent gridlock over deficit reduction, tax policy and job growth on Capitol Hill.
With the highly globalized economy on the brink of another economic crisis — particularly given the financial and political turmoil in Europe — it is in China's interest that the U.S. political system function smoothly. Beijing has its own fiscal problems, including a possible real estate bubble that mirrors the one that sunk the U.S. economy a few years ago. Moreover, hundreds of millions of Chinese remain in poverty, raising the prospect of increasing social unrest there. That's why China, at once both a competitor and a partner to the United States, isn't willing yet to take the leading role in the global economy.
The problems in Washington may well have broader implications over the long term, since it feeds a narrative in some quarters that the U.S. model of democracy isn't working. That's particularly the case in Asia, where China's brand of state-sponsored capitalism — an opaque blend of authoritarianism and market economics — has helped produce significant growth, even since the financial crisis that hit in 2008.
Ken Lieberthal, director of the John L. Thornton China Center at the Brookings Institution, noted in an August blog post that the turmoil in Congress has called into question the United States' longstanding ability to bounce back from domestic errors and "reduced the allure of the American political model as a system that gets things done despite divided government."
"Everyone needs the United States to do well, as an engine of growth in the global economy, and for diplomatic and security issues," Lieberthal said in an interview. "In a period where global power balances are uncertain," he said, "everyone is more sensitive than they are in more settled times."
A World Of Doubt: It's America's Turn to Be Lectured on Governing
Indeed, the congressional debate over reducing the deficit and creating jobs is occurring amid a shift in global economic and political power, as Americans close their wallets, Asia increasingly drives economic growth and Europe struggles with its own financial trouble.
Jeffrey Frankel, an economics professor at the Kennedy School of Government at Harvard University, says U.S. lawmakers faced a similar challenge in the 1980s amid rising competition from Japan. "What's changed," he said, "is the magnitude."
"The way they talk about China sometimes suggests to me they don't seem to understand how vulnerable we are, that we can't make unilateral demands on the rest of the world the way we used to," said Frankel, who served on the Council of Economic Advisors during the Ronald Reagan and Bill Clinton administrations, and is a director at the National Bureau of Economic Research.
Interdependence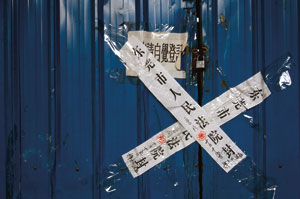 | | |
| --- | --- |
| FALLOUT: Chinese companies, like this toy factory in Guangdong, were shuttered by the global recession. (WU HONG / NEWSCOM) |   |
The extent of China's concerns, and the degree to which Chinese officials are closely watching lawmakers wrangle over economic policy, became clear in several days of interviews in September with Chinese government and business officials in Beijing, Hong Kong and the seaport city of Ningbo.
"We agree we have benefited a lot from our economic ties. We also have the reason to follow very closely what happens" in the United States, one Chinese official told a group of visiting American journalists, recounting Biden's visit. "We hope the U.S. side generally could take very responsible fiscal and economic plans to make sure those debts" are safe.
China's economy, of course, has been booming, with growth dwarfing that in the developed world. Fears that its economy would slow down rattled financial markets in September, but the projected slowdown is minimal. China's growth rate is expected to slow this year to about 9 percent, down from 10.3 percent in 2010 — the sixth-strongest in the world, behind such other Asian powerhouses as Singapore, Taiwan and India. The rate is likely to slow further in coming years, an inevitable course given how developed much of the country's economy has become. In fact, the central government in Beijing has been tightening credit and the availability of money to help lessen the danger of a damaging real estate bubble.
Chinese business leaders and officials dazzle foreign visitors with huge numbers: 500 million Chinese Internet users, for instance. Every statistic is huge in China, given its population of 1.3 billion. Beijing is a capital city filled with signs of rapidly increasing affluence, with skyscraper after skyscraper and Wal-Marts and Starbucks lining the streets. High-end shopping malls cater to local consumers, not foreign visitors.
Weeks ago, talk was rampant in Europe that Chinese banks might step in and help finance a bailout of the European Union. And while business leaders and local officials in Hong Kong say that seems unlikely until Europe restructures its debts, the Chinese are acutely aware of their increasing financial dependence on the rest of the world.
Liu Qing, a top academic with the China Institute of International Studies, the think tank arm of China's Foreign Ministry, knows what can happen when things go bad in the United States. Sitting in the historic building where China and Great Britain negotiated the return of Hong Kong, Liu noted that during the recent recession, plummeting demand from U.S. consumers shuttered many export factories along the thriving eastern coast of China, where young migrants arrive from the country's vast interior to find work.
As a result, two of his four brothers lost their jobs, Liu said. And while China is better positioned to survive another U.S. recession, officials from Beijing to Hong Kong remain wary. "If the American economy is going down, then the Chinese economy is influenced rapidly," Liu said.
A World Of Doubt: It's America's Turn to Be Lectured on Governing
China may want to move its economy beyond exports by getting its burgeoning middle class to spend some of its savings on products made in China or overseas, but interviews with Chinese officials illustrate that the shift is very much a work in progress.
That's why Liu and others throughout the Chinese government have been closely watching the fiscal paralysis 7,000 miles away, on Capitol Hill. And that's why the debt ceiling showdown raised eyebrows in China, where officials have criticized the U.S. government's role in fostering the 2008 financial crisis.
China's state-run news agency, Xinhua, was blunt in a July article: "The ugliest part of the saga is that the well-being of many other countries is also in the impact zone when the donkey and the elephant fight. The potential collateral damage is way too heavy."
And, of course, they're watching for any actions by New York Democratic Sen. Charles E. Schumer, a widely known critic of China's industrial and currency policies. Schumer's name is routinely uttered by apprehensive Chinese officials.
'Innocent Bystanders'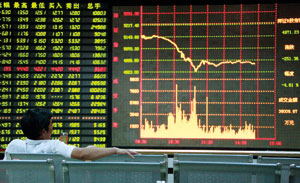 | | |
| --- | --- |
| CLOSE TIES: Chinese share prices slumped in August in the aftermath of the downgrade of U.S. debt. (AFP / GETTY IMAGES) |   |
The gridlock and brinkmanship on Capitol Hill, and the ramifications for policy decisions, come up in "every single meeting" that Massachusetts Sen. John Kerry has with international officials. "They're stunned to see that we're not able to do the things we used to do so easily," said Kerry, the Democratic chairman of the Foreign Relations Committee and a member of the joint deficit reduction committee tasked with finding $1.2 trillion in budget cuts by Thanksgiving.
"For the first time, I'm being bombarded by questions about whether Congress even gets the stakes of total dysfunction at this huge moment for all of our interconnected economies," he said.
Concern about the impact of economic decisions made overseas goes both ways. To a far greater extent than in recent decades, the fates of companies and jobs in the United States hinge on what happens in European capitals and the Chinese Politburo.
Tom Burns, the Hong Kong-based director of Intel Corp.'s emerging markets division, said demand for goods and services is moving overseas. It's not enough for American companies or policy makers to focus on American consumers. "There is a structural change under way, and we don't see it," he said in an interview. "We're in the middle of it, and so we don't see it."
The same point was underscored by C. Fred Bergsten, director of the Peterson Institute for International Affairs, in an Aug. 12 speech. "On the one hand, our dependence on the world economy has risen enormously and will continue to do so. On the other hand, our ability to determine global economic conditions has declined sharply," Bergsten said. "The dilemma is sharply exacerbated by the inadequacies of our own policies in response to these profound historical trends."
In Washington, lawmakers are feeling increasingly susceptible to those overseas political and economic dynamics over which they have little or no control.
That was evident in the Senate's consideration last week of legislation, pushed by Schumer, designed to punish China for keeping the value of the yuan artificially low to benefit Chinese exporters — a policy that makes U.S.-made goods less competitive.
A World Of Doubt: It's America's Turn to Be Lectured on Governing
On the other side of the world, Europe's financial troubles are "likely to slow the U.S. economy to the edge of recession by early 2012" by imposing a drag on U.S. exports, according to an Oct. 3 Goldman Sachs research report.
Lawmakers illustrated their unease Oct. 4 when Federal Reserve Chairman Ben S. Bernanke testified to the Joint Economic Committee. "I think one of the frustrations is that we don't have any control over Europe's decisions relative to their current problems and crises, but yet it can affect us here," said Rep. John Campbell, a Republican who represents a portion of California's Orange County.
Bernanke replied that when it comes to Europe, U.S. policy makers are "innocent bystanders" — not exactly soothing words to incumbents facing re-election campaigns next year. In Europe, "the problems are not really economic," Bernanke said. "They are essentially political, because what they're trying to do is find solutions that will be acceptable to 17 different countries, which, as you can imagine, is very difficult."
Consequences Overseas
Notwithstanding that continent's problems, lawmakers from some European nations have supported tough austerity measures at great political risk — and view the intractable budget debate in Congress as evidence of how elements of the U.S. government are unsuited to the 21st century.
"From an outside perspective, it is striking to what extent the political system that has been held up as an international example for so long, and is still supposed to inspire peoples on the brink of democracy today, is broken," wrote Doreen Allerkamp, a political science lecturer at the University of Mannheim in Germany.
Kerry, who traveled to London earlier this year for talks on Europe's debt problem, says the perception of a paralyzed Congress is "costing us leverage trying to push Europe to step up to the plate on their financial crisis when they see Washington struggling to do the same."
Outside worries about the U.S. political model are more significant in Asia, where China has moved to expand its influence in recent years. Congressional fractiousness allows officials and business leaders from countries such as China to tout their own, less democratic, political systems — often behind closed doors, but sometimes overtly.
It's "giving less democratic governments around the world a talking point," Kerry said. "It's a lot harder for us to press other countries to move toward democracy and open governance when it looks like we've got so much work to do on our democracy right here at home."
Kishore Mahbubani, Singapore's former ambassador to the United States and dean of the Lee Kuan Yew School of Public Policy, made that point in an August opinion piece in The New York Times. "As an Asian, I used to be regularly lectured by Westerners on the inability of Asians to slay their sacred cows. Today, the Western intelligentsia seems equally afraid to attack their own sacred cows," he wrote. "Have democracies become dysfunctional?"
Critics in China contend that Western democracy results in politicians handing out goodies — be it spending, tax cuts or low interest rates — without a mechanism for easily revoking them when times get tough.
It's a refrain frequently heard in Hong Kong, the Chinese "special administrative zone" that was handed back in 1997. Although Beijing allows Hong Kong to remain a unique bastion of capitalism in China, its local government is far from democratic. The area is undergoing a shift to a "one man, one vote" system, yet its exact contours are unclear. As a result, the business community is using the West's current troubles as an argument for why Hong Kong, and China as a whole, should develop as something less than a Western-style democracy, says Jasper Tsang Yok-Sing, chairman of Hong Kong's Legislative Council, who has visited the United States and other countries to study their systems.
A World Of Doubt: It's America's Turn to Be Lectured on Governing
"President Obama's difficulties with the Congress in the past few years always has been cited as an example of how party politics can slow down or even paralyze the government," Tsang said.
The Obama administration's decision last month to upgrade Taiwan's fighter jets, but not replace them, was part of a familiar bit of maneuvering with Beijing, which responded angrily in public — and stressed that the United States should be focusing on its economy, not a "Cold War mentality."
More worrying for American policy makers is a feeling that China is moving to exploit U.S. financial weaknesses — a concern heightened by China's new assertiveness in the South China Sea, which the U.S. military has been watching warily.
House Armed Services Chairman Howard P. "Buck" McKeon has used the issue to try to help ward off looming cuts in defense spending. In a Sept. 12 speech, the California Republican maintained that a recent Pentagon report on China "outlined a country that is emboldened with newfound military might and drunk with economic power."
The Brookings Institution's Lieberthal says that although Chinese nationalists want to use the West's financial troubles to assert China's interests, the country's leaders aren't buying in, at present. Still, he said, Washington's political troubles pose economic and security implications, and mean other Asian countries may act to accommodate Beijing, and to hedge their bets with China.
Maria Damanaki, a Greek member of the European Commission, said in a Sept. 12 speech at Columbia University that "the economic crisis is also putting in danger the foundations of our democratic societies."
"Apart from being the largest economies of the world, the EU and the U.S. are also the leading democracies. Since the markets and international capital are moving very fast toward global integration, we need a global democratic response — now. This will also be in the interest of the emerging economies and other countries with fragile societies."
Divide by 1.3 Billion
Congress, of course, has weathered many institutional storms. The Senate, in particular, has routinely shaken off criticism of its 18th century rules, its glacial pace and alleged abuse of the filibuster. Efforts to improve the Senate usually backfire.
Moreover, the complaints of some in the business community may be overstated. Muhtar Kent, Coca-Cola's chief executive, for instance, made headlines last month when he told the Financial Times that "in many respects" doing business in China is easier than in the United States, due to China's more competitive tax rules and U.S. political gridlock. Business leaders complain that while Congress bickers, China — with its authoritarian system — acts, and is locking up advantages in the solar industry and elsewhere.
The reality, though, is that China's legal system remains underdeveloped, and foreign companies face many obstacles. Just ask Google Inc., which pulled out of China last year after a cyberattack on its systems and government efforts to help a homegrown competitor, Baidu.
And even as the Chinese government expands its activities across Asia, Africa and Latin America, it is not interested in taking on the role of being a global economic leader just yet.
A World Of Doubt: It's America's Turn to Be Lectured on Governing
When asked about the country's astounding rate of economic growth, Chinese officials are quick to remind foreigners to "divide all of our achievements by 1.3 billion." China's wealth is undergirded by overall economic output equal to $4,400 per person per year. So, what may soon be the world's largest economy will continue to be a "poor" country.
It's a statement of fact, but also a way to justify Beijing's continued protection of domestic industries and the communist government's efforts to contain social unrest. China's leadership will face a new set of challenges if its growth, which remains closely tied to the U.S. economy, slows.
Richard G. Lugar of Indiana, the top Republican on the Senate Foreign Relations Committee, says "there are good reasons why China is interested in our prosperity and stability." As Lugar succinctly puts it: "It's in their own national interest."
Still, national interests can change over the long term. And American business leaders overseas say lawmakers need to understand how their actions are viewed.
So as Kerry and his fellow members of the deficit reduction panel do their work in the coming weeks, it won't just be the U.S. economy, and the 2012 elections, on the line. Foreign governments will be watching closely to see whether the U.S. model is working.
"I hate to see us lose leverage," Kerry said. "That's why it's so important that we get it right this fall."
FOR FURTHER READING: China currency bill (S 1619), p. 2105; joint deficit reduction committee, CQ Weekly p. 1812; debt debate fallout, p. 1740; China market access, p. 1119; Senate breakdown, 2010 CQ Weekly, p. 952; China currency dynamics, p. 950; U.S.-China relationship, 2009 CQ Weekly, p. 1366.