CQ WEEKLY – VANTAGE POINT
Oct. 15, 2011 – 10:44 a.m.
Dangerous Drones
By Rob Margetta, CQ Staff
When the Army issued a $4.9 million contract to acquire AeroVironment's tiny "Switchblade" unmanned aircraft this summer, it was heralded in headlines as a new "suicide drone" and "killer drone" for its ability to operate as a remote-controlled flying bomb.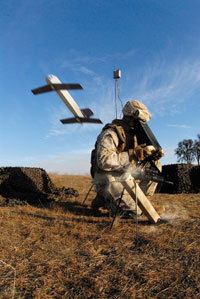 | | |
| --- | --- |
| KILLER APP: The Switchblade's folding wings make it small enough to fit in a backpack. Launched from a tube, it can be carried by infantry units. (AEROVIRONMENT INC.) |   |
Described by its manufacturer as an "agile munition system," the Switchblade gets its name from its compact folding wings. It can be stored in a launcher that resembles a mailing tube and fits in a backpack. Its quiet motor, the company says, makes it an "ideal weapon for today's fight and for U.S. military forces of the future."
John Villasenor, a senior fellow at the Brookings Institution's Center for Technology Innovation, agrees with the assessment, calling the Switchblade a "genius design" that responds to a military need. The problem, he says, is that small, relatively inexpensive drones such as the Switchblade are bound to spawn imitators — and those could fall into terrorists' hands.
"Drones are obviously such a high-profile topic," he says, "that it would belie logic to think that the bad guys, terrorists, aren't just as aware of the headlines as the rest of us."
In a recent policy paper, Villasenor laid out some of the reasons why small suicide drones would give terrorists, guerrilla fighters and insurgents a dangerous new tool. Predators and other large unmanned aircraft cost billions to develop, deploy and maintain. Smaller drones are cheaper and could easily be smuggled close to a target within a city before launching. Once in the air, they would be much harder to detect and destroy.
"If you think about the infrastructure that we have to protect places, it largely involves fencing and walls and gates and restricted access," Villasenor says. "If you can take a little plane and fly over that, you bypass billions of dollars' worth of security. Even if you did detect it, how would you stop it?"
The strategy has already gone beyond the theoretical, according to federal investigators. Last month, the Justice Department charged Rezwan Ferdaus, a 26-year-old U.S. citizen from Massachusetts, with plotting to pack C-4 explosives into remote-controlled airplanes and fly them into the Pentagon and the Capitol.
"That's a sobering precedent," Villasenor says. "This is on their radar screen."
Ferdaus was allegedly planning to use sophisticated, speedy model aircraft guided by GPS. With models that can carry several pounds of payload commercially available, drones with similar technology are probably within easy reach of anyone with the funding and desire to build them, Villasenor said.
The Pentagon is well aware of the threat. Since 2003, the Air Force has sponsored an annual exercise called Black Dart, held at China Lake Naval Air Weapons Station in California, that investigates the small-drone threat and experiments with countermeasures. To date, those have included systems to scramble the aircrafts' wireless control systems, nets carried by other drones to catch them, and ballistic and laser systems to try to shoot them down.
Mark J. Lewis, chairman of the University of Maryland's aerospace engineering department, has observed Black Dart and says countermeasures show promise. Small drones, though, pose a problem common in the counterterrorism world, he says. "What happens if your countermeasures cost so much, but the threat is only a remote one?"
The alleged model-plane bomb, for instance, could have carried only 10 to 12 pounds of explosives. Lewis says, "It's hard to believe this guy could have interrupted a dinner party."
Dangerous Drones
Nevertheless, Villasenor says, the government should track small unmanned planes the way it does other potentially dangerous items. U.S. military contractors and federal agencies have tightly restricted access for drones. But countries such as China, which is expanding its drone manufacturing, might not have the same level of control, he says. And countries that have a history of proliferation problems with nuclear materials are starting to acquire drones. Last year, the United States agreed to provide Pakistan with a dozen unmanned, 11-foot surveillance aircraft. Given the connections between militant groups and the Pakistani military and intelligence networks, those drones could end up being used by the wrong people, Villasenor says.
"There's not only a danger," he says, "there's an absolute inevitability that these are proliferating."