CQ WEEKLY – IN FOCUS
Oct. 15, 2011 – 11:44 a.m.
Drawing the Line at Redistricting
By Richard E. Cohen, CQ Staff
California, the nation's most populous state, got redistricting down pat in 2002. After several decades of gerrymanders, ballot initiatives, stalemates and court takeovers, Democratic and Republican incumbents figured out how to carve up the 53-seat pie. During the next five elections, only one incumbent lost re-election — the only time a House seat changed party control. Incumbent security held firm even in 2010, when House Republicans scored a 63-seat gain nationwide.
Then the state that has sparked so many national trends decided to try another of its grand experiments. In statewide initiatives in 2008 and 2010, voters took the job of drawing election boundaries out of the hands of the Democrat-controlled Legislature in Sacramento and gave it to a 14-member bipartisan citizens' commission. A handful of states have tried similar approaches but none as dramatically or with as much potential political impact as the Golden State.
Something New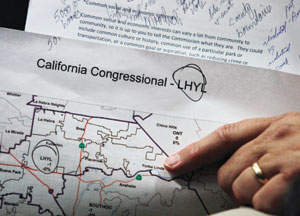 | | |
| --- | --- |
| FREE HAND: The commission was directed to draw district boundaries without reference to current lines. (JOHN W. ADKISSON / ZUMA PRESS / NEWSCOM) |   |
The commission approved its new maps in July, and although some in each party are unhappy, they remain conspicuously silent about their next steps. Subject to court review and another possible referendum, the results are in many ways surprising — especially for attentive observers in Congress.
• The process did not get gamed by the political parties, which often seemed clueless about its actions. The commission members were vetted by independent auditors to make sure that they were not political activists, and the majority were chosen by lot. Independents held the balance of power. The new districts by and large reflect the goals set down in the legislation: Districts are contiguous and compact, and they keep communities together — especially in contrast to the status quo.
• Incumbents didn't get protected — nor do they face getting slaughtered next fall. The plan has jeopardized the re-election prospects of several incumbents in each party, especially in the demographically bubbling Los Angeles area, where three incumbent matchups have taken shape and at least three competitive open seats appear likely. Prominent Republicans such as Rules Committee Chairman David Dreier and former Appropriations Committee Chairman Jerry Lewis face tough choices. Former Foreign Affairs Committee Chairman Howard L. Berman is running against another Democrat.
• Depending on factors such as incumbent retirements, candidate recruitment and intraparty clashes, recent California election results indicate that there could be as many as a dozen competitive congressional seats between the two parties in 2012. That number might drop later in the decade, as another group of incumbents becomes entrenched.
• Once the process was under way, Republicans, who had been strongly supportive of the ballot initiatives, did not fare as badly as some had predicted. Democrats currently hold a 34-19 edge in the delegation of what has become one of the nation's most solidly blue states. The net partisan change in the 113th Congress may be less significant than predicted. Next November's outcome looks like a political wash, or at most a gain of a couple of seats for either side.
• Minority groups, particularly Hispanics, are disappointed. In the past decade, California became a majority-minority state, with the percentage of Latino residents rising from 32.4 percent in 2000 to 37.6 percent in 2010. But as Hispanics have seen their state population and influence grow, the new redistricting rules appear to have worked against their interests. The state had seven Latino-held districts under the 2002 lines (with three other Latino-majority districts won by whites). The new maps would create nine districts with Latino majorities, under the commission's data and standards. That's two short of the number sought by the Los Angeles-based Mexican-American Legal Defense and Educational Fund (MALDEF), which is considering a lawsuit.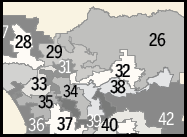 The ballot initiative that established the commission, however, listed goals that did not include increasing minority representation, favoring incumbents or creating competitive districts. Lawsuits may tweak the maps without overturning the scheme or the process.
• California's clout in Congress may take a hit because the state depends not just on the number of its members but also on their seniority. The delegation has many of Congress's most influential members, including Republican Whip Kevin McCarthy and Democratic leader Nancy Pelosi, plus four current GOP chairmen and five ranking Democratic committee members. Two members have already announced their retirement, and several more may join them.
Drawing the Line at Redistricting
What does California's experiment mean for the rest of the country? Maybe not much. National and state experts agree that the state's approach fits with its unique history of weak political parties, progressive Constitution and open process of ballot initiatives. Many states lack the constitutional authority — as well as the political culture — to make changes akin to those in the Golden State, with its lengthy hostility to party machines.
And politics, as played out in the nation's capital, is often a zero-sum game.
"Perhaps the most important lesson from the 2011 round of redistricting is that a fair process, no matter how nonpartisan and participatory, cannot avoid the reality that any redistricting scheme produces both political winners and losers," political scientists Vladimir Kogan of the University of California, San Diego, and Eric McGhee of the Public Policy Institute of California wrote last month in an evaluation of the final plan.
Democracy in Action
California proudly boasts a tradition of citizen democracy. Even with its often-fierce partisan conflicts during the past half-century — in which Democrats have dominated the large cities, Republicans have ruled in rural areas and the suburbs have been the chief battleground — the state has fallen back on principles from the Progressive Era.
Still, with the huge stakes in policy conflicts ranging from education and transportation to sharing water resources and handling growth, California politics have often been hard-fought. And that has been especially the case with the blood sport of redistricting, whose importance has intensified as the state's congressional delegation has grown from 30 seats in 1960 to its current 53.
In the four redistricting cycles since the Supreme Court's landmark one-person, one-vote 1962 ruling in Baker v. Carr, California has followed "very different paths with very different outcomes," according to political scientist Thad Kousser, also with the University of California, San Diego.
After a 1970 deadlock between Republican Gov. Ronald Reagan and the Democrat-controlled Legislature, courts drew the maps.
But in 1981, Democrats used their control in Sacramento to bulldoze through a partisan gerrymander that shifted the delegation from 22 Democrats and 21 Republicans to a more robust 28-17.
The 1981 map gained renown as the creation of the late Rep. Phillip Burton, an influential leader of liberal Democrats who was skilled in and often consumed by redistricting. He described some of his gerrymandered districts as "my contribution to modern art" and reassured potentially vulnerable Democrats, "You're in your mother's arms."
In the biography "A Rage for Justice," political writer John Jacobs describes Burton's negotiations with colleagues on their new districts: "Nobody saw what other districts looked like or the complete map of the state. . . . Burton was trying to maximize Democratic seats. To do that meant he had to spread Democratic voters into as many districts as possible."
Republicans tried to pursue court challenges and to win voter approval of initiatives to remove redistricting from legislators, but they were mostly unsuccessful.
Drawing the Line at Redistricting
In 1991, Republican Gov. Pete Wilson vetoed the Legislature's Democrat-drawn maps, and a federal court appointed a panel of retired judges to adjust the boundaries. Republicans picked up three seats in their nationwide sweep of 1994, and after a special-election GOP victory in late 1995, the delegation had an even 26-26 split between the parties. After that, the state's Democratic leanings, strengthened by immigrants resentful of the GOP's get-tough stance on their central issue, put Democrats back in control.
In 2001, senior members of the House delegation, working closely with their political advisers, drew up maps that protected incumbents of both parties. The Legislature rubber-stamped the plan.
An unusual alliance of disgruntled Republicans and what Kousser described as "a diverse coalition of reformers who were outraged by the 2001 plan" led to the successful pair of initiatives in 2008 and 2010, backed by Republican Gov. Arnold Schwarzenegger, that created the panel for redrawing all state legislative lines.
The 14-member commission included five Democrats, five Republicans and four from neither party. More than 5,000 people completed applications, which included essay questions and letters of recommendation. The state's nonpartisan auditor's office then conducted interviews and narrowed the applicant pool to 60 candidates. The first eight commissioners were chosen by lot, and they then picked the other six members. The commission held dozens of field hearings across the state during the spring and summer.
To gain approval, a map had to secure at least three votes from each of the three groups: Democrats, Republicans and independents. On a 12-2 vote, with two Republicans dissenting, the commission approved its final map Aug. 15.
New Homes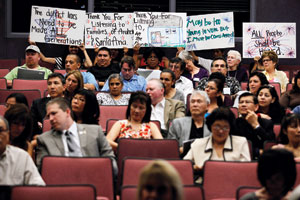 | | |
| --- | --- |
| VOX POPULI: Californians attend a public hearing of the redistricting commission in June. (JOHN W. ADKISSON / ZUMA PRESS / NEWSCOM) |   |
The commission's final choices were unusually constrained because California is no longer growing faster than the rest of the nation. For the first time since 1850, the state has gained no seats after a nationwide reapportionment.
Among current incumbents, Dreier and Lewis face some of the most difficult options. They hold adjacent districts that stretch from the suburbs east of Los Angeles to San Bernardino County, with Dreier's home in San Dimas plunked into a district that favors Democrats. Either man could choose to run in a swing district that includes Lewis' home of Redlands or in a strongly Republican-leaning district on the Nevada border. Each has kept his cards close to his vest, citing the possibility of court-drawn changes in the map. Even before the plan was released, there was speculation that both might retire after serving more than 30 years in the House.
The Redlands-based district illustrates the uncertainty facing prospective candidates. According to election results assembled by the National Republican Congressional Committee (NRCC), Barack Obama won the district in 2008 with 56.7 percent of the vote, but President George W. Bush won it in 2004 with 51.4 percent.
"Redistricting created many more competitive seats in California, and parties' fortunes in competitive seats rise and fall with the national political tide," says David Wasserman, the House editor of the Cook Political Report. "As Obama has fallen, Democrats' chances of picking up the three or four seats they would easily gain in a 2008-type environment have fallen as well."
Statewide, Bush got the most votes in 23 of the 53 new districts in 2004; Obama took 43 of them in 2008.
Among the House Republicans who face re-election contests in Obama-won districts are Brian P. Bilbray, Jeff Denham and Dan Lungren. Democratic incumbents who could be running in new districts that were won by Bush in 2004 include Lois Capps, John Garamendi and Jerry McNerney. Democrats Dennis Cardoza and Jim Costa appear to have been thrown together in a Bush-won district, although Cardoza has reportedly told colleagues that he might retire rather than run against his longtime ally.
Drawing the Line at Redistricting
Three pairs of incumbents are already facing contests against lawmakers from the same party in a new district that is relatively safe: Republicans Gary G. Miller and Ed Royce in Orange County; Democrats Berman and Brad Sherman in Los Angeles County; and Democrats Janice Hahn and Laura Richardson, also in Los Angeles County. In each case, one of the incumbents could run in a district with much of his or her current constituency, but the contest might be uphill because of population changes.
This self-sorting has created what Wasserman called a "fight or flight" pattern in which some incumbents "flee to safety" for re-election in a more politically comfortable district rather than trying to hold a more competitive seat for their party. That has been the case with Richardson, for example, who may abandon a more competitive Long Beach-based district for a solidly Democratic urban district with 64 percent Latino population.
Even with the expected shifts, the newly elected California lawmakers may not represent major political or stylistic change. So far, most of the leading non-incumbent candidates have extensive backgrounds in elected office. Many have waited years for their moment to move to the top of the local political ladder, and term limits in the Legislature provide a sharp spur to move up or out.
Objections, Objections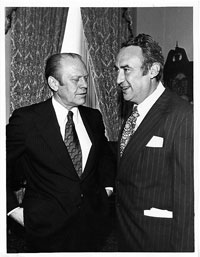 | | |
| --- | --- |
| MR. REDISTRICTING: Burton with President Ford (CQ ROLL CALL FILE PHOTO) |   |
Some Republicans complained during the commission process that its choices for staff and procedures showed a bias toward Democrats. The final results did not make them happy.
"The commissioners were well-meaning stooges who were manipulated by Democratic staffers," said a senior aide to a House Republican from California who spoke on condition of anonymity. "They created congressional seats for their friends in the state Legislature. People in both parties have cut deals. Some Republicans should be ashamed of themselves."
Yet some well-positioned GOP strategists contend that the outcome will be a political plus for their side. "This map is not the worst-case scenario that Republicans initially feared when the commission was formed," says Brock McCleary, deputy political director of the NRCC. "What we ended up with is a minimal chance for losses and a greater opportunity to expand the delegation with so many toss-up seats."
From his conservative end of the political spectrum, former Rep. George Radanovich filed a lawsuit Sept. 29 that challenged the map as a violation of the Voting Rights Act because it failed to maximize the African-American, Latino and Asian voters in several Los Angeles-based districts.
Indeed, Hispanics are among the most vociferous critics of the new boundaries.
"The commission fell short of our expectations," says Thomas A. Saenz, president and general counsel of MALDEF. His group originally proposed creating 14 districts with at least 50 percent Latinos, but he says he could settle for a compromise.
"Redistricting is inherently political," he says. "This was an attempt to remove the politics. That may not be possible. We should have stayed with the status quo [of redistricting control by elected officials] but with changes."
At a Sept. 30 conference at the University of California, Berkeley, to review the commission's work, Charles T. Munger Jr., a Stanford University research physicist and county GOP official who helped organize and finance the voter initiatives, spoke proudly of its work. "California will play" in elections, he said. "That's a big deal. . . . You can change Congress."
Drawing the Line at Redistricting
Not all California political experts share his enthusiasm. "It created competition but not necessarily long-term competitiveness" for those seats, Democratic consultant Paul Mitchell of Sacramento told the conference. If the voter initiatives that created the commission "were anti-incumbency measures, they did the job."
Several participants favorably compared the results with the bipartisan incumbent- protection plan in 2001.
But Republican political consultant Matt Rexroad of Woodland, Calif., offered a more nuanced assessment, including criticism of the commission's lack of transparency and its limited public communications. Improving on the precedent set a decade ago was not much of a feat, he said; that was "the all-time low standard for evaluation."
FOR FURTHER READING: Redistricting outlook, CQ Weekly, p. 518; ethnic shifts, p. 844; Latino districts, 2010 CQ Weekly, p. 2798; Burton map, 1982 CQ Almanac, p. 12-B.