CQ WEEKLY – IN FOCUS
Oct. 22, 2011 – 12:18 p.m.
Libya: A New Beginning
By Jonathan Broder, CQ Staff
The death of Libyan strongman Muammar el-Qaddafi marks the end of one of the most brutal and bizarre dictatorships in modern memory. His deadly cult of personality, his eccentric wardrobe, his phalanx of jack-booted female bodyguards — all have been swept away on the revolutionary tide that has upended Libya.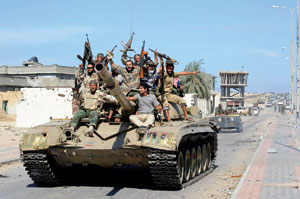 | | |
| --- | --- |
| DEATH KNELL: Libyan National Transitional Council fighters celebrate the fall of Qaddafi's last outpost. (PHILIPPE DESMAZES / AFP / GETTY IMAGES) |   |
Now a new chapter is opening in Libya's struggle, and both the Obama administration and a budget-obsessed Congress will have to decide where the oil-rich country fits into U.S. strategic interests — and how involved they want the United States to be in shaping the North African country's future.
"Don't think that this is the end of the story," warned Leslie H. Gelb, president emeritus at the Council on Foreign Relations, in a conference call with reporters. "This is the hardest part of the story." Gelb said the biggest challenge facing the countries that helped oust Qaddafi's regime is determining how much to help Libyans bring in what he calls a "decent successor."
A country that over the past four decades taunted, terrorized and ultimately cooperated with the United States in Qaddafi's final years, Libya has clearly lost some of its leverage in the wake of his death Oct. 20. But there is still a lot at stake. Economically, the country remains an important producer of oil, with more than double the reserves of the United States. And politically, the way Tripoli's government turns out will be an important test both for the democratic aspirations of the Arab world's young revolutionaries and for America's reputation as a midwife for political freedom.
In a remarks last week after video of Qaddafi's bloodied corpse was broadcast worldwide, President Obama offered U.S. assistance to help Libya make the transition to democratic rule. But such transitions are seldom smooth, especially in countries such as Libya that never had any democratic institutions. Moreover, at a time when a war-weary and economically strapped American public has little appetite for new nation-building projects overseas, Congress is unlikely to back up Obama's pledges with foreign aid.
"I'd have to see the details," said a noncommittal Chris Coons, chairman of the Senate Foreign Relations Africa Subcommittee last week when asked if he would support an aid request for Libya.
Know Thy Friends
Ever since he toppled Libya's King Idris in a bloodless coup in 1969, Qaddafi vexed Washington with his erratic style of governance. Styling himself a Bedouin wise man, he lived in a tent and propounded a political philosophy that combined Arab nationalism with self-invented notions of perpetual revolution. But he also supported numerous terrorist and guerrilla organizations throughout Europe, Africa and the Middle East, drawing a retaliatory attack on his compound by U.S. war planes in 1986 after a bombing in Berlin killed two U.S. soldiers. President Ronald Reagan called him "the mad dog of the Middle East."
Qaddafi soared to the height of international villainy after he was linked to the 1988 bombing of a Pan Am jet over Lockerbie, Scotland, which killed 270 people. In 2003, Libya accepted responsibility for the bombing and agreed to pay $2.7 billion to the victims' families. But he never admitted guilt.
Qaddafi's relations with the United States began to improve after the Sept. 11 terrorist attacks. He shared intelligence with Washington on al Qaeda and, after being caught red-handed trying to smuggle in nuclear-related gear, cooperated in dismantling his nuclear weapons program. Washington and Tripoli re-established full diplomatic relations in 2005.
At home, Qaddafi and a close circle of confidants continued to rule the country with an iron fist, quashing challenges from all quarters. When the rebellion against his rule erupted in February, the United States joined NATO in establishing a no-fly zone over Libya to prevent Qaddafi's forces from overrunning the insurgents' stronghold in the eastern city of Benghazi. By the time rebels drove him from power in August, the country's only functioning institution was the state oil company.
This state of affairs poses enormous challenges to the Obama administration as it offers to help the National Transitional Council (NTC), made up of former rebels, stabilize its rule. Gelb, who served as a senior State Department official during the Carter administration, noted that history has few examples of revolutionaries overthrowing an authoritarian government and moving immediately to democratic rule. "The transition usually favors the new authoritarians, the new dictators, those who are best organized and disciplined to take power," he said.
Libya: A New Beginning
Gelb added that because of Qaddafi's success in destroying any institutions that might have challenged him, the Obama administration knows very little about the diverse group of people who make up the NTC and the other power centers in the country, which include about 40 different tribes. Now that Qaddafi is dead, many of these figures are likely to turn against each other as they vie for power.
"The best we can do now, together with the British and the French, is find out who are these people that we've been helping and help the people who look like the good guys get organized," Gelb said. "Get them ready to deal with the political — and perhaps military — tussle that will follow."
Weapons on the Loose
Gelb warned that the administration and Congress also should start thinking about a U.S. military presence inside Libya, in partnership with other NATO forces. Such troops might be needed to train Libyan security forces and to help collect the tens of thousands of weapons — including shoulder-mounted anti-aircraft missiles — that rebels pilfered from Qaddafi's armories. He said such weapons in the wrong hands could complicate any effort to stabilize Libya and could end up arming militants in Afghanistan or elsewhere.
Given that Congress never authorized the Libya action in the first place, few lawmakers are eager for deeper involvement, aside from a handful who are open to such suggestions. Arizona's John McCain, the ranking Republican on the Senate Armed Services Committee, criticized Obama for not adopting a more forceful policy toward Libya and is now urging the administration to increase its assistance to the country after Qaddafi's death. He calls for sending medical care for those wounded in the fighting, as well as helping locate and secure Qaddafi's weapons.
"The United States, along with our European allies and Arab partners, must now deepen our support for the Libyan people, as they work to make the next phase of their democratic revolution as successful as the fight to free their country," McCain said in a written statement.
Democrat Jack Reed of Rhode Island, another senior member of the Senate Armed Services Committee, says Libya will need technical assistance. But he stresses this must be a burden to be shared with NATO allies. He notes that Libya has a strong oil economy, with established markets in Europe that likely will help the country get back on its feet.
"We can build on that," he says. "But this is a NATO operation. There are a lot of closer alternatives" to help out than the United States.
Reed's insistence on a role for NATO allies in Libya's political and economic revival is consistent with Obama's multilateral approach to the world's challenges. In his speech, the president cited the successful overthrow and killing of Qaddafi as an example of "what collective action can achieve in the 21st century."
But some Democrats say Obama should view Libya's reconstruction as an employment bonanza for the United States. Marc Ginsberg, who served as ambassador to Morocco under President Bill Clinton, says the U.S. role in helping topple Qaddafi has created reservoirs of pro-American sentiment in Libya. As a result, lucrative reconstruction contracts could be available for the asking, he says.
"This is jobs for America," Ginsberg says. "We know how to build hospitals. We know how to help them organize political parties, build infrastructure, conduct vocational training. We're not talking about foreign aid. Libya has the money to pay us to help them."
Given Congress' distaste for foreign aid and the public's economic woes, such arguments may be a good way to sweeten the challenges that Qaddafi's death now poses.
Frank Oliveri contributed to this story.
Libya: A New Beginning
FOR FURTHER READING: War funding limits, CQ Weekly, p. 1496; Libya policy, p. 1441; war powers debate, p. 1368.