CQ WEEKLY – IN FOCUS
Oct. 22, 2011 – 12:25 p.m.
Oil and Water: Cuban Drilling Irks U.S.
By Margaret Kriz Hobson, CQ Staff
At a time when Cuba is opening its coastal waters to oil drilling, tensions as old as the 1959 revolution are complicating the United States' efforts to safeguard its shores from potential oil spills.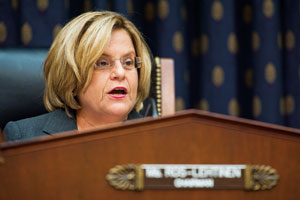 | | |
| --- | --- |
| ANTI-CASTRO: House Foreign Affairs Chairwoman Ros-Lehtinen says the Obama administration should block Cuban drilling. (SCOTT J. FERRELL / CQ ROLL CALL FILE PHOTO) |   |
This winter, the Spanish energy company Repsol is due to begin exploratory drilling at a Cuban deep-water site located 50 miles from the Florida Keys. Six more companies are also lining up to invest in the region, which the U.S. Geological Survey estimates to hold 4.6 billion barrels of oil — enough to make the energy-dependent island nation a net oil exporter.
For U.S. officials with fresh memories of last year's catastrophic spill in the Gulf of Mexico, foreign drilling operations that could threaten Florida's white-sand beaches and lucrative tourism industry are a frightening prospect. But efforts to ensure the safety of the drilling operations and coordinate spill response plans are hindered by the 51-year-old embargo on trade with the Cuban regime, which also denies U.S. businesses a share of the emerging Cuban oil market.
Florida's unique brand of anti-Fidel Castro politics puts the Obama administration in a delicate position a year before an election in which the state's 29electoral votes may prove decisive, as Cuba's moves to begin drilling force Washington to rethink its relationship with the island nation. While the administration weighs options for ensuring that drilling is done safely, anti-Castro Florida lawmakers say the White House instead should be using every legal and political tool available to block Cuba from proceeding.
"I am opposed to the Obama administration facilitating energy investments with and for the Cuban regime," says House Foreign Affairs Chairwoman Ileana Ros-Lehtinen, a Florida Republican. She argues the U.S. government should not be "providing training, helping with inspections, issuing travel licenses so that individuals can travel to Cuba to have meetings and provide training to Repsol and the Cuban regime."
Other lawmakers argue that if Cuba is going to move forward with drilling anyway, the United States has an interest in being able to respond quickly to a spill and should not allow the trade embargo to get in the way.
"In the case of companies coming in to respond to an oil spill, then the embargo is part of the problem," Senate Energy and Natural Resources Chairman Jeff Bingaman, a New Mexico Democrat, said at a hearing last week.
At the same hearing, Sen. Joe Manchin III, a West Virginia Democrat, summed up the dilemma facing U.S. policy makers. "The Cuban government has a history of actively working against the interests of the United States," Manchin said. "How do we balance a desire not to provide an economic lifeline to the communist regime, but still ensure that we are prepared for any oil spills that may happen?"
Environmental Concerns
For the past decade, Cuba has made no secret of its plans to develop the oil and gas resources off its northern shore. Officials there hope to reduce oil imports, which now amount to 114,000 barrels a day that are mostly used for power generation and transportation, and ultimately become a net exporter.
But the April 2010 blowout at BP's Deepwater Horizon rig off Louisiana, which spilled an estimated 4.9 million barrels of oil into the Gulf of Mexico, triggered new concerns about the risks of drilling off Cuban shores.
Oil and Water: Cuban Drilling Irks U.S.
"That was the first serious exposure to what this lack of dialogue and cooperation between U.S. and Cuban officials means," said Dan Whittle, Cuba program director at the Environmental Defense Fund. "We could see that there really is a problem. Had the [Deepwater Horizon] oil entered Cuban waters, then the whole thing would've been a mess because the boats working in the U.S. gulf would've had to stop at the border because they don't have approval to go into Cuban waters."
If a Cuban oil rig suffered a similar blow-out, ocean conditions would work against the United States, according to a Congressional Research Service study. "Currents in the Florida Straits could carry that oil to U.S. waters and coastal areas in Florida," causing serious harm to the region's ecosystem, fishing and tourism industries, and economy, the report said.
Since February, the administration has been reaching out to Repsol, which is voluntarily sharing its drilling and oil spill response plans for the Cuban site. The company has agreed to let American inspectors examine its rig before it is installed in Cuban waters and promised to abide by U.S. environmental and worker safety standards.
Once the equipment crosses into Cuba's exclusive economic zone, however, U.S. regulators will have no way of verifying Repsol's promises, Michael Bromwich, director of the Interior Department's Bureau of Safety and Environmental Enforcement, told the Senate Energy and Natural Resources Committee last week.
And although Repsol, which is also involved in oil exploration in U.S. waters, has agreed to follow U.S. law, the other companies seeking to drill off Cuba's coastline have not, Bromwich said. These oil companies are primarily foreign — coming from countries including China, India, Malaysia, Venezuela, Vietnam and Angola — but, unlike Repsol, have no U.S. operations.
Working through the United Nations' International Maritime Organization, the Obama administration is planning multilateral talks in December on preventing and responding to oil spills with officials from the Bahamas, Cuba, Jamaica, Mexico and other countries in the region.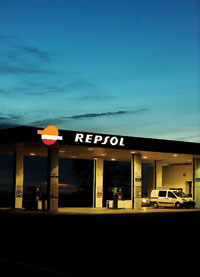 | | |
| --- | --- |
| FILLING UP: A gas station operated by Spain's Repsol, which plans to drill in Cuban waters. (DENIS DOYLE / BLOOMBERG NEWS) |   |
A January report by the National Commission on the BP Deepwater Horizon Oil Spill and Offshore Drilling urged the U.S. to negotiate with Cuba — as well as Mexico, which is also seeking to develop its deep-water drilling capacity in the gulf — to develop safety and spill response strategies in the region.
In September, the commission's co-chairman, William K. Reilly, who led the Environmental Protection Agency in the early 1990s under President George Bush, met with Cuban regulators and said they are "deeply aware, very conscious and quite apprehensive about what could go wrong" at the Repsol site.
In an interview with NPR, Reilly said the Cubans "know they've never regulated oil and gas in the offshore environment before. They know it's an order of magnitude more sophisticated and more risky. They're going to go very deep. All of those are going to require training, expertise and a culture they've not had."
Lee Hunt, president of the International Association of Drilling Contractors, accompanied Reilly on the Cuban trip and insists that the U.S. government should share its oil spill response expertise and equipment with other countries in the gulf region. Otherwise, he said, companies working in Cuba must piece together their oil safety equipment and teams.
"What the embargo has done has forced them to go a circuitous route through Europe and Asia to acquire technicians, technology and service for what they use there," he said. "It doesn't promote the safest and the best and latest technology. It inhibits it."
Only one U.S. company has gotten a license from the Treasury and Commerce departments to respond to future oil spills in Cuban waters. Hunt said the U.S. should go further.
Oil and Water: Cuban Drilling Irks U.S.
"They could say OK — oil dispersants, oil collection booms and oil spill capping devices are exempt from the embargo," Hunt suggested. "Regulators could say that the equipment does not become exempt until the president declares that there is an environmental disaster."
While some U.S. oil companies quietly say they would like to participate in the Cuban drilling operations, the major industry trade groups have been reluctant to wade into the politically charged issues surrounding the embargo.
Florida Politics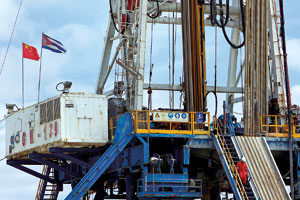 | | |
| --- | --- |
| CUBAN DRILLING: A rig operating northeast of Havana is jointly operated by Cuban and Chinese state-owned oil companies. China National Petroleum Co. plans to drill off Cuba's north coast. (NOAH FRIEDMAN-RUDOVSKY / BLOOMBERG NEWS) |   |
U.S. relations with Cuba continue to be shaped by the 1959 revolution, which drove many Cubans into exile in South Florida after Castro seized private properties and businesses and imposed a communist government. In the ensuing decades, Florida's Cuban community gained political muscle. As Florida has emerged as a pivotal swing state in presidential races, Democrats and Republicans alike have become increasingly sensitive to the concerns of Cuban-Americans.
That makes the trade and environmental concerns about Cuba's offshore oil development difficult for both parties to tackle.
Ros-Lehtinen insists that the United States could have stopped Repsol from signing a contract with Cuba. "The Obama administration should have been focused on convincing Repsol not to engage with the Cuban regime, which would have resulted in no oil rig and, in turn, no possible related oil disaster," she says.
In September, Ros-Lehtinen and 33 other House members from both parties sent an open letter to Repsol's top executive, complaining that the company's oil activities "will provide direct financial benefit to the Castro dictatorship" and warning that the drilling could subject the company to "criminal and civil liability in U.S. courts."
In the Senate, Florida Democrat Bill Nelson has previously pushed Congress to restrict U.S. visas for executives of companies involved in Cuban drilling. He proposed legislation in February to prevent companies with Cuban operations that don't comply with U.S. safety and environmental standards from receiving U.S. oil and gas leases in the Gulf of Mexico.
The bill also reflects Nelson's past opposition to U.S. industry proposals to drill off the Florida coast, ordering the Interior Department to develop spill prevention and cleanup plans for Florida's beaches if spills occur at Cuban drilling sites. Nelson said he opposes proposals to loosen controls on companies seeking to provide equipment and personnel to respond to oil spills.
"Granted the U.S. doesn't have diplomatic relations with Cuba," he said in a statement. "But the administration does have a specific license for companies in situations like this."
The Obama administration's critics warn that even if Cuba signed onto an international oil drilling standard agreement, the U.S. has no guarantee that the island nation's government could be trusted to comply.
Despite his group's efforts to ease restrictions that could inhibit the ability of U.S. contractors to respond to a spill in Cuban waters, the International Association of Drilling Contractors' Hunt acknowledged that the United States is unlikely to make dramatic changes to its Cuban policy because Congress and the administration are "paralyzed."
Oil and Water: Cuban Drilling Irks U.S.
"You have this very strong anti-Castro, anti-Cuba political history in our legislation," he said. "That doesn't change easily."
"My real feeling," Hunt said, "is that the well will be drilled. It will be drilled safely. I presume nothing bad will ever happen. And I kind of think this is what's going on in the administration. There's a certain amount of denial and a certain amount of hope that by holding their breath, nothing will happen."
FOR FURTHER READING: Gulf environmental issues, CQ Weekly, p. 2151; overhaul of offshore drilling regulatory agencies, p. 2088; impasse on drilling legislation, p. 852; BP spill impact on energy policy, 2010 CQ Weekly, p. 1388.