CQ WEEKLY – COVER STORY
Oct. 22, 2011 – 12:50 p.m.
Slogging Through Dodd-Frank
By Ben Weyl, CQ Staff
Fifteen months ago President Obama signed the Dodd-Frank financial regulatory overhaul into law, calling it a "crackdown on abusive practices." The term "crackdown" has a time-honored place in the legislative lexicon: In the context of stepped-up regulatory efforts, it evokes perhaps the cracking of a whip, a swift and certain punishment that will teach wrongdoers a lesson.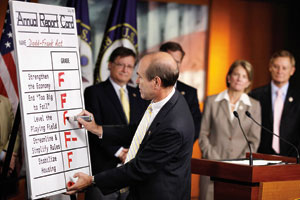 | | |
| --- | --- |
| PARTISAN SHACKLES: New Jersey Rep. Scott Garrett demonstrates the GOP's united opposition to Dodd-Frank this past July, a stance that might constrain lawmakers' ability to assist regulators in their rule-making endeavors. (CHIP SOMODEVILLA / GETTY IMAGES) |   |
The reality is just the opposite. It's slow and uncertain. Although the language suggesting otherwise may build support and satisfy public anger — of which plenty is directed at Wall Street — events of the past few weeks have underscored that the signing of Dodd-Frank was just the start of a contest between regulators and the regulated that could last for decades.
If any kind of crack is involved, it's the sound of a starter pistol for a marathon. That's not unusual for regulatory laws, but this one may prove particularly arduous. The regulators have, once again, gotten off to a slow start.
Obama anticipated as much as he was firing the gun. "We may need to make adjustments along the way as our financial system adapts to these new changes and changes around the globe," he said.
But he was more prescient than he might have imagined. Indeed, the law is a very real test of whether Congress can get ever get a grip around Wall Street, particularly after years of being hands-off. So far, results have been mixed, with regulators struggling to implement the sprawling legislation because of the utter complexity of the financial business and the agility of market participants with regard to avoiding scrutiny and controls — the same agility that contributed to the recent financial crisis in the first place. In the end, Dodd-Frank may turn out to illustrate clearly that it's much easier to write a bumper sticker than an actual regulation.
The most vivid example of this difficulty is a provision in Dodd-Frank intended to prevent banks from gouging merchants with fees for debit card transactions. The law had the potential to cost banks billions of dollars in lost revenue but appears to have missed its target. Banks simply shifted the financial burden onto consumers, with new fees on debit cards themselves.
A more telling indicator of the complexities of finance and the challenge facing regulators is the way they have tried to enforce the law's prohibition against banks trading securities for their own accounts. A regulation to implement the Volcker rule — named for former Federal Reserve Chairman Paul A. Volcker, who proposed it to Obama — was released two weeks ago. The regulation itself spanned hundreds of pages and was accompanied by questions about hundreds of unresolved issues. Refinement of this regulation promises to be a long, drawn-out affair.
And one of the centerpiece concerns for lawmakers was hundreds of billions of dollars' worth of trades in over-the-counter derivatives, a market that has gone largely unregulated and that many experts say provided much of the fuel for the recent financial crisis. In Dodd-Frank, Congress proposed a plan for market-based regulation of derivatives. But the fundamental structure for how those trades will be conducted in the future remains unsettled.
As a result, the agencies that have to design the plan have delayed doing so, in part for fear of inflicting more damage through unintended consequences.
Generally, regulators find it difficult to interpret the desires of lawmakers in a fast-moving and steadily evolving universe. "The history of finance is largely a cat-and-mouse game where regulators or Congress set rules, and the financial actors tend to eventually find their way around them," says Robert Litan, a senior fellow at the Brookings Institution.
Congressional Republicans look at the regulatory delays and the misstep on debit card fees and say they have been vindicated in their opposition to the sprawling law and their warnings that, when enforced, it will do real damage to the economy. Democrats counter that complex rules are required for a complex industry. If anything, they say, the regulators are proving their mettle by being careful to avoid pitfalls as they consider their mandate.
This strict partisan divide hampered the writing of the law from the outset and will make it less likely for lawmakers to come together to make changes, should they be desirable or necessary.
Slogging Through Dodd-Frank
Whether regulators ultimately have what it takes to rein in banks in the ways Dodd-Frank envisioned remains an open question. But after a burst of activity a year ago on Capitol Hill, lawmakers have largely been reduced to spectators in this contest, like almost everybody else.
Fee Limit Backfire
It is intrinsically difficult to legislate against price pressures and other market forces. And the effort can easily backfire, as illustrated by the debit card fee provision, which was among the most visible elements of the law and also one of the most problematic.
Before Congress got involved, banks took roughly 1 percent from merchants on purchases made with debit cards. For years, retailers complained that banks — and Visa and MasterCard, which actually handle the transactions — were unfairly taking an outsized chunk of their profit. Still, there was never any serious legislative effort to clamp down on the fees.
But as the Senate debated the financial overhaul bill, Illinois Democrat Richard J. Durbin, the majority whip, blindsided Wall Street. Durbin had long championed the retailers' position that the fees were excessive. When he offered an amendment on the Senate floor to restrict the fees, it was easily adopted on a 64-33 vote.
Durbin's amendment instructed the Federal Reserve to issue rules allowing "reasonable and proportional" fees for debit card transactions. It provided an exemption for financial institutions with less than $10 billion in assets, in an attempt to spare smaller banks and credit unions from losing money under the restrictions.
The Fed studied the issue and last December proposed allowing a fee of no more than 12 cents per swipe, about a fourth of what banks were used to taking on average. What followed was a ferocious lobbying campaign, as the financial industry sought to persuade Congress to repeal, or at least delay, the Durbin provision and to persuade the Fed to set a higher cap.
Banks said the proposed rule did not take into account the cost of combating fraud or of maintaining the infrastructure to process transactions. They also warned that consumers would pay for Congress' action, either through new fees or the elimination of free checking services. Retailers countered that, with the fee cap in place, competition among stores would push down prices on the goods they sold, and consumers would benefit.
Banks found allies for their argument in two senators: Montana Democrat Jon Tester and Tennessee Republican Bob Corker. The two spearheaded a legislative effort to delay the implementation of the cap, and the overwhelming support for the Durbin debit card fee limit from a year earlier began to dissipate. But in a vote this past June, Tester and Corker could marshal only 54 senators in favor of a delay, and they needed 60. So the law stood.
Later that month, the Fed issued its final regulation, which set the fee cap at 21 cents per swipe, a limited victory for the banks.
But days before the Oct. 1 implementation date for the new limit, Bank of America announced that it would begin charging a $5 monthly fee to customers who make purchases with debit cards. Other large banks, including J.P. Morgan Chase and Wells Fargo, are considering similar actions.
Durbin says he is outraged, and he wrote to Bank of America chief executive Brian Moynihan, challenging him "to provide specific and credible data that justifies imposing this monthly card fee."
Slogging Through Dodd-Frank
But many marketplace observers aren't surprised. Few thought that banks would willingly accept the loss of a major portion of the $16 billion a year they collect in debit card fees without seeking some recourse.
"These fees are a predictable consequence of government price-fixing," says Corker. "When governments engage in price-fixing, the consumer always loses."
Rebuilding the Wall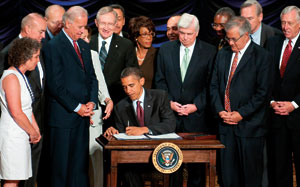 | | |
| --- | --- |
| WAITING FOR THE AGENCIES: Democrats celebrated enactment in July 2010, but regulations are delayed. ( ROD LAMKEY JR. / AFP / GETTY IMAGES) |   |
In a similar vein, Congress has tried in the past to ban certain kinds of financial activities only to find that banks were able to find ways around the rules or persuade the regulators or the courts to limit their effect.
Dodd-Frank's statutory prohibition on banks trading for their own accounts to make a profit — the Volcker rule — may turn out to be just such a case. In enacting this ban on what is called proprietary trading, lawmakers may have gone down the same rabbit hole they escaped a decade ago with the repeal of the Glass-Steagall Act of 1933.
Glass-Steagall was enacted in the first days of Franklin D. Roosevelt's presidency, in response to a severe banking collapse. It sought to divide the worlds of commercial lending and securities investment, with an eye toward protecting commercial-bank depositors from wild swings in stock and bond prices. The Volcker rule has much the same intent. It prohibits insured depository institutions from seeking to profit by trading in securities and other financial instruments with the banks' own money. And it tightly circumscribes bank investments in hedge funds and private-equity funds.
The lesson regulators learned from Glass-Steagall is that it didn't really work. By the time it was repealed, the barrier between commercial and investment banking was easily skirted, thanks to a steady stream of regulatory and judicial decisions, abetted by the ingenuity of financial institutions to navigate any loophole.
Moreover, by the time of Glass-Steagall's repeal, a consensus had developed that it probably shouldn't have been put on the books in the first place.
Whether or not the Volcker rule, too, is eventually consigned to the dustbin of history, its implementation is off to a rocky start.
Congressional proponents of the trading ban, including Democratic Sens. Carl Levin of Michigan and Jeff Merkley of Oregon, said it was necessary to curb banks' riskiest gambles in order to prevent future financial bailouts.
Even so, the law instructs regulators to carve out significant exceptions so the restrictions don't impede necessary financial activity. For example, it allows banks to engage in trading designed to hedge the risk of interest rate swings. And banks are allowed to serve as middlemen in certain types of transactions, both buying and selling financial instruments to keep markets liquid. Both hedging and market-making activities are likely to be potentially profitable, although risky.
When a group of financial regulators rolled out their first attempt at implementing the Volcker rule earlier this month, it was met with considerable skepticism.
Slogging Through Dodd-Frank
Securities Industry and Financial Markets Association chief executive Tim Ryan issued a statement expressing concern that the rule's exemption for market-making was too narrowly crafted and would limit liquidity and harm the broader economy.
"Restrictions on the ability of firms to make markets will reduce market liquidity, discourage investment, limit credit availability and increase the cost of capital for companies," Ryan said.
Others complained that the proposed rule is simply too convoluted. Issued by the Fed, the Office of the Comptroller of the Currency, the Federal Deposit Insurance Corporation and the Securities and Exchange Commission, the rule spanned 298 pages and requested comments on 394 different issues. A fifth agency, the Commodities Futures Trading Commission, is required to sign on to it but has yet to do so, adding a further wrinkle.
"The exceedingly high number of unanswered questions betrays the frustration regulators are having as they come to grips with the complexity of the concepts behind the Volcker rule when applied to reality," says Frank Keating, president of the American Bankers Association.
That complaint was echoed to some extent by the left-leaning Americans for Financial Reform, although that group expressed concern that vagueness and uncertainty would lead to a watering-down of the regulation.
Rep. Barney Frank, the Massachusetts Democrat who co-wrote the law, says criticism based on the proposed rule's intricacy is unfair because banks engage in extremely complicated practices.
"The complexity reflects the reality," says Frank, adding that financial institutions encouraged such an outcome when they fought for exemptions. "The alternative to complexity is incompleteness and rigidity," he says.
Levin echoes Frank's view. "If it is too simplistic, then the complaint will be, 'They're trying to have a one-size-fits-all circumstance,'" he says. "It's always a balancing act."
Many analysts say the Volcker rule will be similarly difficult to enforce. Litan, who calls himself "not a fan" of the rule, says it will be difficult for regulators to distinguish between a trade made on behalf of a client and one made solely to make a profit for the bank.
And Dodd-Frank opponent Peter J. Wallison, a fellow at the American Enterprise Institute, says an unintended consequence of the Volcker rule might be to drive banks to engage in even riskier behavior.
"When you take away something like proprietary trading, you're saying to them, 'Make your profits some other way,'" Wallison says.
Derivatives Delays
Slogging Through Dodd-Frank
Perhaps the largest question mark hanging over the implementation of Dodd-Frank is regulation of the $600 trillion market in over-the-counter derivatives.
Companies and financial institutions have long purchased financial-derivatives contracts to hedge against risks associated with ordinary business operations, ranging from fluctuations in interest rates or currency-exchange rates to the price of jet fuel. They have also become profitable bets for speculators who are willing to take the opposite side of the trade from the company just looking for a way to hedge.
As derivatives trading has become increasingly opaque and difficult even for those in the market to understand, lawmakers have become concerned that the weight of the risk is a danger to the marketplace generally. After all, trading in a specific kind of derivative — intended to protect against losses from defaults on mortgage-backed securities — is what sunk the insurance giant AIG and led to a major part of the financial bailout of the past few years.
In Dodd-Frank, Congress empowered the CFTC and SEC to regulate derivatives, largely by requiring them to be routed through clearinghouses and traded on exchanges. Those who trade derivatives not cleared in that fashion would have to put aside money to cover their losses in case the transactions went sour.
But regulators have repeatedly delayed completing several crucial rules that will govern the new system, amid uncertainty over how best to proceed.
Dozens of rules were set to go into effect in July, but CFTC Chairman Gary Gensler announced that a delay would be necessary until the end of the year. Mostly that's because the CFTC and SEC are having trouble deciding just whom the rule will apply to and under what circumstances — questions that might be easy to answer in the abstract but not in practice.
Then, just last week, the agency voted to extend that "temporary relief" on the rules through July 2012, although Gensler said he hopes the CFTC and SEC can resolve these definitional issues sooner.
"We are focused on considering these rules thoughtfully, not against a clock," Gensler has said.
The resolution of these issues will be of enormous financial consequence because many companies that trade derivatives may be subject to the higher cost imposed by the new regulations.
One specific question is who is an "end user" of derivatives and, under the law, might avoid some of those higher costs.
"It's easy to know what the normal big derivative dealer is that look like banks," says John E. Parsons, an expert in financial risk management and corporate finance and a senior lecturer at the Massachusetts Institute of Technology's Sloan School of Management. "What may be hard is to draw these lines on end users."
Generally, end users are non-financial companies that use derivatives to hedge risks, such as airlines that need to anticipate changes in fuel costs. But some big multinational companies, such as General Electric Co., that hedge against fluctuations in interest rates or currency exchange rates also operate financial businesses.
Parsons, a strong supporter of regulating derivatives, says he understands that implementation cannot be done immediately, calling himself a "glass-half-full kind of guy."
Slogging Through Dodd-Frank
"I think it's important to finish the reform. I think it's important to get the market working in a safe and efficient fashion, so the sooner the better," he says. "On the other hand, it's a complicated reform."
Lawmakers from both parties are becoming anxious that the rules might go further than Congress intended.
In June, the chairmen of the Senate and House Agriculture committees wrote to regulators, objecting that end-user exemptions were being ignored.
"We are concerned that recent rule proposals may undermine these exemptions, substantially increasing the cost of hedging for end-users, and needlessly tying up capital that would otherwise be used to create jobs and grow the economy," wrote Michigan Democratic Sen. Debbie Stabenow and Oklahoma Republican Rep. Frank D. Lucas.
And the U.S. Chamber of Commerce is leading a legislative charge in concert with House Republicans to further exclude end users from new regulations. On party-line votes, the House Agriculture Committee and House Financial Services Committee have approved bills to delay the regulation of derivatives for up to 18 months.
Some Democrats are concerned, too. Almost the entire New York congressional delegation, led by Sen. Charles E. Schumer, wrote to regulators in May, urging them to reconsider a proposed rule regarding certain derivatives trades between foreign subsidiaries of U.S. financial institutions and non-U.S. companies. The lawmakers warned that the proposal would put American companies at a competitive disadvantage.
Advocates of regulating derivatives insist that if financial transactions are risky, they should be contained, regardless of what kind of company is involved. But the continuing battle within the agencies and on Capitol Hill over the application of new derivatives rules suggests that this issue won't be resolved for years to come.
Congress Sidelined
Whether or not regulators take congressional warnings into account when crafting their final rules, lawmakers have already ceded some of their authority. And the financial industry, which strenuously lobbied Congress last year, is now knocking hard on regulators' doors, seeking to shape the final outcomes to their advantage.
That shift of power underscores the difficulty facing Congress when it tries to constrain financial activities. But advocates of Dodd-Frank and other overhaul efforts underscore that such obstacles shouldn't discourage lawmakers, particularly after events on the scale of the 2008 financial collapse.
"The fact that they're going to try to get around a regulation that is appropriate to prevent a harm to society, or an extreme cost to society, doesn't mean you don't regulate them," says Dennis Kelleher, chief executive of Better Markets, a public-interest group.
Lawmakers recognize that they have to give regulators leeway. "We can't pass a law to deal with every practice, because they're going to change practices," says Rep. Brad Miller, a North Carolina Democrat who sits on the House Financial Services Committee. "If we tried, we probably would prohibit a lot of practices that are perfectly OK and that some consumers might want."
Congress might be able to play a more relevant role in shaping the implementation of Dodd-Frank, as well as future financial regulatory policy, if the political environment were less polarized.
Slogging Through Dodd-Frank
Democrats and Republicans were divided on the bill almost from the beginning. Ultimately, only three Republicans in the House and three in the Senate joined almost all Democrats in voting for the measure.
With so little bipartisan support for the law, Republican lawmakers have every incentive to blast the overhaul when it comes up short. Democrats, meanwhile, are likely to be reluctant to acknowledge any flaws.
Lawmakers are currently clashing over funding levels for the agencies, with Democrats accusing Republicans of deliberately underfunding regulators in an effort to further undermine the law's implementation.
For now, should regulators find themselves stymied on an issue and desire additional action by Congress, it is doubtful that lawmakers would agree on a path forward, even to the detriment of consumers or businesses.
Before being elected to Congress, Miller served several terms in the North Carolina Legislature, where, unlike Congress, it was commonplace for lawmakers to revisit major laws, he says.
"There was always something that didn't work out the way we expected it to, and there was almost a universal understanding that we should take up the bill again every couple years to make fixes or tweaks," Miller says. "Congress doesn't tweak very well. It passes one major bill and then comes back to that topic again in another generation."
FOR FURTHER READING: Debit card rule delay, CQ Weekly, p. 1270; derivatives rules delay (HR 1573), p. 1144; Dodd-Frank enactment (PL 111-203), 2010 Almanac, p. 3-3; Volcker rule, 2010 CQ Weekly, p. 738; derivatives regulation, 2009 CQ Weekly, p. 2217.