CQ WEEKLY – IN FOCUS
Oct. 29, 2011 – 11:32 a.m.
European Crisis: A Fate Worse Than Deficit
By Joseph J. Schatz, CQ Staff
Banks refusing to lend to each other, or anyone else. Consumer demand plummeting. Exports drying up. Jobs lost. Financial contagion.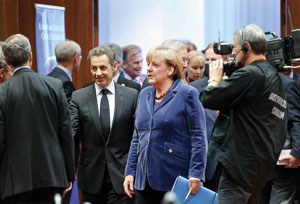 | | |
| --- | --- |
| BREAKTHROUGH: Merkel and French President Nicolas Sarkozy attend European Council Summit Oct. 26. (JOCK FISTICK / BLOOMBERG NEWS) |   |
For members of Congress who were around three years ago, it's frighteningly familiar. Yet this time, the risks aren't coming from failing banks on Wall Street. They're emanating from Europe, where governments — just barely — agreed Oct. 27 to a bailout plan designed to avert a financial meltdown stemming from debt crises in Greece, Spain and Italy.
That's small comfort to U.S. lawmakers, who are answering to their constituents for a flagging recovery and high unemployment rates. That much was clear Oct. 25, as Charles Collyns, assistant Treasury secretary for international finance, sought to assure members of a House Financial Services subcommittee that the Obama administration is doing everything it can to ensure that European leaders keep their problems from infecting the fragile U.S. economy — and the rest of the world.
Collyns' answers left Rep. Stephen F. Lynch, a Democrat who represents South Boston, wanting more. "We can't build our expectations or our course of action based on very rosy scenarios," said Lynch, a union ally. "Someone's got to sound the alarm."
It's a frustrating irony: As lawmakers debate the deficit in secret and posture on jobs in public, the greatest immediate threat to the U.S. economy is the one furthest from their control. The economic consequences of a European failure could be severe, given the deep connections between U.S. and European financial institutions and the huge trans- Atlantic trade and investment ties, which still dwarf even the controversial U.S.-China economic relationship.
The crisis, which has already roiled the stock markets and threatens to spark another recession in the United States, occurs on the cusp of an election year in which joblessness will play a pivotal role. Thanks to several rounds of tariff-lowering and generally close cultural relations, economic ties between the United States and Europe support a combined 15 million jobs, according to a recent report by Daniel S. Hamilton and Joseph P. Quinlan at Johns Hopkins University's Center for Transatlantic Relations.
At a time when Congress can't agree on internal fiscal events, it's ill-equipped to respond to external troubles, even those that could wreak economic havoc.
Members of Congress are left pressing the Federal Reserve for details, raising concerns at hearings and warning that U.S. taxpayers shouldn't be footing the bill — something the Obama administration insists it is not doing.
The European situation, which had received little attention from congressional leadership or from the joint committee on deficit reduction, is just now beginning to register. Rep. Kevin Brady, R-Texas, notes that House Majority Whip Kevin McCarthy, R-Calif., has brought speakers, including World Bank Group President Robert A. Zoellick, to whip meetings to brief lawmakers on Europe and other global issues. And several House and Senate subcommittees have in recent weeks called administration officials and business experts to explore the issue, with the Senate Foreign Relations panel's Europe subcommittee set to hold a hearing Nov. 2.
Financial 'Contagion'
Even as Congress scares the business community with its gridlock on fiscal issues, industry groups still point to the troubles in Europe as their No. 1 concern.
European Crisis: A Fate Worse Than Deficit
The European situation "could easily turn into a banking-type crisis," Dan Meckstroth, chief economist at the Manufacturers Alliance/MAPI, said at a meeting of manufacturing economists Oct. 19. "If that does occur, we would go into recession."
And Treasury's Collyns called the threat of a European meltdown "the most serious risk today to global recovery and the prospects for U.S. exports and American jobs."
After weeks of negotiations, European leaders on Oct. 27 agreed on a plan to recapitalize euro-zone banks and create a continent-wide bailout fund to assist floundering governments, after a long struggle to get private investors to take larger losses on Greek bonds — and to ensure that governments such as Italy's can move toward fiscal austerity.
During the Oct. 25 hearing, Republicans repeatedly sought assurances from Collyns that American taxpayers would not be "on the hook" for any European bailouts.
Since 2009, President Obama has repeatedly wrangled with European leaders over the right prescription for what ails the world economy. In recent weeks, Obama and Treasury officials — as well as their counterparts in China and other non-European powers — have pushed Germany, France and other countries to get a plan in place and have suggested using the International Monetary Fund to leverage existing international funds.
The U.S. government player most on the front line is the Federal Reserve Bank. The Fed has extended an emergency swap line to the European Central Bank since May 2010, allowing the ECB to swap unlimited amounts of euros for dollars, which it then lends to European banks. The arrangement is designed to maintain liquid exchange-rate markets abroad, and it helps European banks get currency to pay off U.S.-based, dollar-denominated assets such as mortgage bonds.
Federal Reserve Chairman Ben S. Bernanke told Brady and other lawmakers at an Oct. 4 hearing of the Joint Economic Committee that in the case of another crisis, the Fed — constrained by last year's Dodd-Frank financial overhaul in its ability to be the lender of last resort — could still set up "a broad-based lending program to try to address a run on our financial system, which we do not anticipate."
In a closed-door meeting Oct. 20, the Senate Democratic Policy Committee peppered Bernanke with more questions about the euro crisis and whether the European Finance Stability Fund established in May is big enough, said Sen. Mark Warner of Virginia.
Among other things, Warner and fellow lawmakers want to know whether U.S. regulators, operating under the Dodd-Frank law, are paying attention to all the ways in which U.S. financial institutions are exposed in the euro crisis. Even with the growth in Asia, the United States and Europe account for two-thirds of global banking assets and three-quarters of the world's financial services, the Johns Hopkins report notes.
Big U.S. banks' direct exposure in the European saga appears to be limited. But the indirect exposure, argue both Warner and Rep. Lynch, is far less clear. Complex financial derivatives, money-market funds, pensions — "We know the problem is bad; we just don't know how bad it is," Lynch said.
Gary G. Miller, chairman of the Financial Services panel's International Monetary Policy Subcommittee, said he's worried that banks will stop lending to each other, as they did in 2008. The California Republican said he wants Germany, Europe's economic engine, to take more aggressive action.
And beyond strictly financial issues, Miller sees a big, more quantifiable problem. "The U.S. economy is highly dependent on trade with the European Union and will suffer if the U.S.'s largest trading partner cannot fix its economy," he notes.
Trade between the United States and EU nations accounts for almost one-third of world trade flows, according to the European Union. U.S.-EU trade totaled nearly $1 trillion in 2010 — and a large majority of the world's foreign direct investment happens between European and American companies.
European Crisis: A Fate Worse Than Deficit
Take Texas: Companies in the Lone Star State exported $24.2 billion worth of goods and services to Europe in 2009. And direct European investment supported 212,000 Texas jobs in 2008. Brady, who represents suburban Houston, notes that a European meltdown would probably drive down energy prices, affecting many of the energy companies that export from the Texas oil hub.
Congress may be in no position to deal with another major financial crisis, what with fiscal policy in paralysis, the Fed already taking huge steps to keep interest rates down and tea party angst making big new interventions unlikely. And even though the results of more euro financial troubles could rival the crisis of 2008, Sen. Warner said, "We don't have the same tools as in 2008."
The stakes are high for both economies and for the future of U.S. relations with European nations. German Chancellor Angela Merkel warned her country's parliament that "if the euro fails, Europe fails."
American lawmakers hope the same won't be true for the U.S. economy.
FOR FURTHER READING: Trade, currency issues, CQ Weekly, p. 2098; EU tariffs, p. 1356.