CQ WEEKLY – COVER STORY
Oct. 29, 2011 – 12:11 p.m.
The NLRB: Past Its Prime
By David Harrison, CQ Staff
Many South Carolinians saw Boeing's decision two years ago to open a factory next to Charleston as the first step in the city's return to industrial glory. The coastal city had been crushed when a naval shipyard closed in 1996, and residents began to imagine Charleston as an aeronautical hub.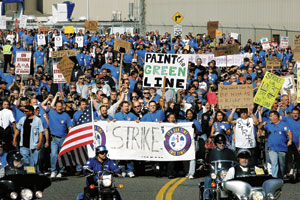 | | |
| --- | --- |
| BOEING'S FLIGHT: The 2008 Boeing conflict with the machinists union in Everett, Wash.. (RONERT GIROUX / GETTY IMAGES) |   |
But the National Labor Relations Board dampened their enthusiasm in April, when it filed a complaint against Boeing, charging that the company moved its production line to South Carolina, a right-to-work state, to retaliate against the International Association of Machinists in Seattle. The machinists had a long and contentious relationship with Boeing, having gone on strike in 2005 and in 2008. The complaint, and particularly the proposed remedy of forcing Boeing to maintain the line in Seattle, enraged business interests in Charleston and in Washington.
Republicans seized on the issue. What better illustration of the job-killing, union-pandering, regulation-crazed administration of President Obama? They've subpoenaed documents, held hearings and drafted legislation to block the board from going further with the case.
That probably won't be necessary. Barring a last-minute development, the board will be effectively unable as of Jan. 1 to make major decisions on that or any other significant matter for the first time since its creation, in 1935. The immediate cause: The recess appointment of board member Craig Becker expires Dec. 31, leaving the NLRB without a legal quorum.
Republicans in the Senate have promised to torpedo any Democratic nominee to fill the three vacancies, and Democrats are not about to confirm any GOP appointees.
It's been weighed down for years by partisan meddling from Congress. Now, further burdened by particularly vicious party strife, it appears to be going under, at least for a while.
But the board charged with advancing the cause of collective bargaining has been slowly sliding toward irrelevance for some time, in the view of most experts, because of broad shifts in the American economy, from heavy industry and manufacturing to 21st-century white-collar professions. Private-sector unionism has declined from almost 36 percent in 1953 to less than 7 percent now. Public-sector unionism has expanded steadily, but the board has no jurisdiction over it.
While everything else changed around it, the law did not.
Unions believe that the board is one of the reasons for their decline, arguing that the NLRB long ago lost its capacity to halt employer intimidation of workers who want to organize or join unions.
Yet NLRB actions still matter to corporations and unions, keeping it on stage politically. Indeed, each new administration has brought in new board members with the mission of undoing the decisions of their predecessors, causing constant churn in the law that's confusing to all.
A Legal Mummy
As early as 1987, AFL-CIO President Richard Trumka, then the head of the United Mine Workers, wrote that American labor law had degenerated into a "dangerous farce." And an influential 2002 article by Cynthia Estlund, a New York University law professor, described the law as "ossified," a relic largely untouched by Congress since 1947.
The NLRB: Past Its Prime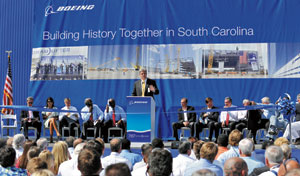 | | |
| --- | --- |
| Boeing set up a production line in the heart of right-to-work country in North Charleston, S.C., leading eventually to an NLRB charge of retaliatory action. (STEPHEN MORTON / BLOOMBERG NEWS) |   |
"I know of no other major American legal regime — no other body of federal law that governs a whole domain of social life — that has been so insulated from significant change for so long," Estlund wrote.
The NLRB's troubles have been a long time coming.
Under the National Labor Relations Act of 1935, the NLRB serves as a quasi-judicial body that interprets the act, adjudicates disputes between employers and employees and runs union-representation elections.
The act, also known as the Wagner Act, came about after a wave of violent, Depression-era strikes that prompted Congress to look for ways to restore labor peace. Designed to promote collective bargaining and set forth the rules of engagement between employees and employers, the act was immediately controversial. In 1937, the Supreme Court had to step in and rule that the law fit into congressional powers under the Commerce Clause of the Constitution.
In 1947, the Taft-Hartley Act swung some of the power back to employers. Whereas the Wagner Act had demanded that employers remain neutral in union-organizing drives, Taft-Hartley gave them the right to try to persuade their workers not to join a union. It also allowed states to enact "right to work" statutes barring compulsory union membership.
For the most part, that's the law that prevails today. Unions have spent decades trying to overhaul the law, arguing that the Taft-Hartley Act allows employers to strong-arm employees into rejecting unions. To them, the law makes it possible to delay elections and keep labor organizers away from workers.
Faced with these lingering problems, the 1994 Dunlop Commission suggested recasting the law to make it more flexible, in order to help employers and employees work out their differences themselves. It also recommended restricting the number of workers identified as managers or independent contractors to make more people eligible for the protections outlined in the law. Academics have offered additional solutions, such as giving state and local governments more power to write their own labor laws.
But most of those changes require congressional action — and lawmakers have generally been bitterly divided on questions of labor law.
Business groups and management attorneys, which have benefited from the Taft-Hartley Act, have traditionally opposed rewriting the law. "In my view, it still works," says Charles Cohen, a former Republican board member who now works as an attorney representing employers. "And the fact that Congress hasn't changed it is at least some evidence that it works."
Frozen in Time
In the absence of congressional amendment, early board decisions that have been appealed to the Supreme Court have become locked in. Over the years, that has left the NLRB with less and less room to issue rulings that would bring the law up to date with the modern workplace.
For instance, the Supreme Court has repeatedly overruled NLRB decisions allowing certain service-sector employees to organize, including some nurses and university professors. According to the court, those workers should be classified as "supervisors" under the Taft-Hartley Act. Estlund says those rulings have made it difficult for the NLRB to extend labor protections to white-collar workers, who make up more and more of the workforce.
The NLRB: Past Its Prime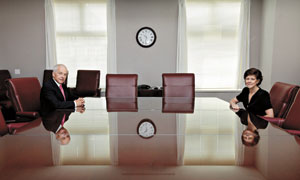 | | |
| --- | --- |
| EMPTY CHAIRS: Two board members Peter Schaumber and Wilma B. Liebman presided in 2008. (SCOTT APPLEWHITE / AP PHOTO) |   |
"You have the board with this basically ancient language [in the law] that swings back and forth and back and forth within an increasingly narrow latitude," Estlund says. Decisions "get kicked back to Congress, but Congress is stuck."
Unable or unwilling to become unstuck, advocates on both sides and their Republican and Democratic allies on the Hill have resorted to small-bore guerrilla skirmishes and, most of all, to fighting about individual rules and appointments, both of which have further politicized the agency.
The political jockeying around the board has added to its difficulties in setting a clear policy for employers and employees to follow. In 1996, for instance, a resurgent Republican Congress used appropriations riders to block a controversial rule that would have made it easier for relatively small groups of workers at a single location to organize into a bargaining unit. In September 2007, a Bush-era board released 61 rulings, many of which overturned long-held precedents and restricted the categories of workers protected under the law, an event that unions called the "September massacre." The board has swung in the opposite direction under Obama, unwinding some of those Bush rules.
The NLRB's dizzying reversals have prompted labor organizers to skirt the board altogether. Rather than petitioning the board for a union election, organizers instead try to push employers to voluntarily recognize a union, which does not require board action.
Officials at both the AFL-CIO and the Service Employees International Union, which has campaigned recently to organize hotel workers and janitors, say they rely far more on such voluntary-recognition campaigns than on elections.
In 2009, the proposed Employee Free Choice Act, known as the "card check" bill, would have allowed workers to join unions by simply signing petitions rather than holding elections, a change that would have removed the board even further from the process. Republicans killed the bill, arguing that it violated workers' rights to a secret-ballot election.
Role Reversal
Republican leaders in the House have had enough of the board's cycles. In a strange twist, they have now taken up the unions' former rallying cry of overhauling the Wagner Act.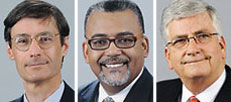 | | |
| --- | --- |
| Left to right: current NLRB members Craig Becker, Mark G. Pearce and Brian Hayes. (NLRB) |   |
"I don't think it's a good system. I've been wrestling with how we might actually reform the National Labor Relations Act, rewrite it," says House Education and the Workforce Chairman John Kline, a Minnesota Republican. "That's a huge thing sitting out there."
Unions now find themselves in the unusual position of defending an agency and a law they once fought.
"My guess is, we'll probably fight to a standstill here," says Bill Samuel, legislative director for the AFL-CIO. "It'll give them some campaign issues, and it'll give us some talking points."
The NLRB: Past Its Prime
Since the early 1980s, senators have used the confirmation process as a way to sway the labor board and influence labor policy without having to disturb the underlying law.
Under the law, the board has five members. By tradition, three members belong to the president's party and two to the minority party. Terms are staggered to ease the transition of new board members. For decades the process was largely automatic, with vacancies rarely lasting more than a few months, the time it took the Senate to confirm a new member.
When the filibuster became more popular, presidents tried packaging nominations to ease nominees through the Senate. That trick has stopped working. Presidents have also relied on recess appointments, but those are no longer possible, now that the Senate holds pro forma sessions during its scheduled recesses.
For almost eight of the past 10 years, the board has functioned with fewer than five members. In 2002, in 2005 and from 2008 through 2010, the board was down to two members. At one point, for a month in 2002, Chairwoman Wilma B. Liebman was its only member.
Then, in a 2010 ruling, the Supreme Court said the board could not make any decisions without a quorum — at least three members. The court's decision invalidated 600 rulings that a two-member board had issued over a period of more than two years.
Obama then appointed Mark G. Pearce and Craig Becker through recess appointments, allowing the board to continue functioning. But Peter C. Schaumber's term ended last year, and Liebman's ended in August. Becker, a Democrat, will see his term expire at the end of the year. The Senate's pro forma sessions have been forced by GOP leaders, who want to prevent recess appointments across the board.
"I don't know at that time anyone imagined we'd be where we are exactly today," says Michael J. Eastman, executive director of labor law policy at the U.S. Chamber of Commerce, which filed a brief in the Supreme Court case. "We've had a pretty contentious time at the NLRB over the last 18 months. That is a good part of why we are where we are."
Two nominations are pending before the Senate: one for Terrence F. Flynn, a Republican, and one to reappoint Becker. Republicans say Becker, a former union lawyer, is too radical for the board. They also said they will hold up the nomination of the Public Printer until Flynn's nomination is brought before the Senate. It's unlikely that Democratic leaders will agree to those terms. If confirmed alone, Flynn would give the board a Republican majority under a Democratic president.
Liebman says the political skirmishes reflect a deeper split in the way Americans perceive their government.
"There is a significant element, either in the business community or in the judicial community or in the partisan world, that really never accepted the legitimacy of this law in the first place, that never accepted the legitimacy of any of the New Deal laws and the role of government that the New Deal laws expanded," she says, a critique given additional credence by the attacks on Social Security that have flared in the Republican presidential debates.
Cohen thinks the board has brought much of the criticism on itself by going beyond its narrow authority to make rules.
"Over the last five or six administrations, there has been a movement from one administration to the next to push the envelope," he says. "And we're at the place where the proposed regulations are exploding the envelope, not just pushing it."
As the clock ticks, board members have been hurrying to wrap up their work. Over the past few months, they have proposed and adopted several controversial rules in quick succession. More are due.
The NLRB: Past Its Prime
One proposed rule would make it easier to hold union elections once workers have petitioned for a vote. Unions have long complained that the law allows employers to stall a vote while they file lawsuits and try to persuade workers to vote against the union. Some labor experts, including William B. Gould IV, the Democratic board chairman in the mid-1990s, say the rule would help limit prolonged delays that have plagued union elections for decades.
"I think the board was right to go ahead and try to expedite elections," Gould says. "I should have done a better job of that, but I felt so hemmed in."
Business groups say employers need that time to hire attorneys to advise them and to exercise the free-speech rights guaranteed by the Taft-Hartley Act.
In Congress, Republicans accuse the board of pushing a pro-union agenda to the detriment of business owners. "The National Labor Relations Board is wreaking havoc on the nation's workforce, and it must be stopped," Kline said at a recent hearing.
The proposed rule drew about 66,000 comments. The agency is expected to decide before taking itself out of business Jan. 1.
Those changes to rules, coming on top of the Boeing complaint, have only intensified the ire of Hill conservatives and business groups.
Republicans have filed roughly 20 bills restricting the NLRB's reach. One of them, which would forbid the board from weighing in on a company's relocation decisions, has passed the House, although it's unlikely to get very far in the Democrat-controlled Senate.
Republican presidential candidates have drawn attention to the agency during campaign trips to South Carolina, an early primary state. Just last week, the House Education and the Workforce Committee approved a measure that would pre-emptively block the agency's pending rule on union elections.
Vestigial Functions
If the board shuts down, part of the agency will still be able to function. Roughly 90 percent of the cases brought before the NLRB are resolved administratively, without recourse to the board. Those will still be able to proceed. Even so, the board heard more than 400 cases during the past year; the vast majority of those were non-controversial — 82 percent were decided unanimously — but without a functioning board, all such cases would stall.
This is uncharted territory for labor lawyers, who are reduced to guessing about what might happen.
Gould, a former chairman, expects more labor-law violations. "It surely is not going to help organized labor," he says. Risk-averse employers "will continue to abide by the law, but there will be less of an incentive to abide by the law."
The NLRB: Past Its Prime
Meanwhile, unions are worried. "That's a pretty shocking notion, if you think about it — the idea that a congressional process could shut federal agencies down," says Peter Colavito, director of government relations at the Service Employees International Union. "We really hope that people who stand up for workers' rights really make the case for making sure the NLRB does not lose its quorum."
Samuel, of the AFL-CIO, says another period of labor strife is possible, similar to the one that brought about the National Labor Relations Act in the first place.
Among business groups, there's also some recognition that paralyzing the board is a bad precedent to set.
"On the one hand, well, they can't issue any decisions that are detrimental or that would overturn additional precedent," says Elizabeth Milito, senior executive counsel of the National Federation of Independent Businesses. "To have it totally shut down, I just think it's kind of a travesty. Looking at the bigger picture, here it was intended to be a neutral arbiter and they're not able to take any action, one way or another. It's a shame."
Eastman of the U.S. Chamber says he expects that new nominees will eventually be confirmed but that "it might take a year, a year and a half."
For Boeing, the board's paralysis will not change much, says company spokesman Tim Neale. Production at the North Charleston plant is ramping up, and the company has no plans to slow down. For all the controversy, the case is still in its preliminary stages before an administrative law judge in Seattle. Once the judge rules, the loser presumably will want to appeal. But with no NLRB to appeal to, the Boeing complaint — along with any labor dispute yet to arise — could be in limbo for quite a while.
By 2013, Boeing plans to assemble three 787 Dreamliners in North Charleston every month.
"From a practical standpoint, it really doesn't have an effect," Neale says. "The plant is open."
With a presidential election coming up, it's hard to imagine any NLRB nominations clearing the Senate in 2012. And even after the election, the level of partisan animosity in Congress could block any appointment until a president once again enjoys a filibuster-proof majority.
That could be a while.
FOR FURTHER READING: GOP push, CQ Weekly, p. 2011; NLRB's power, p. 1636; NLRB board in flux, p. 1051; GOP smells blood, p. 1050.