CQ WEEKLY – IN FOCUS
Nov. 5, 2011 – 11:49 a.m.
Amid the Arab Spring, a Balancing Act in Bahrain
By John M. Donnelly, CQ Staff
Lamees Dhaif's voice surges with passion as she recalls the Bahrain government's violent response to peaceful pro-democracy protests last winter. Security forces in armored vehicles fired on unarmed demonstrators in the tiny Persian Gulf island kingdom, and she, along with independent monitors, have reported widespread torture and repression since then.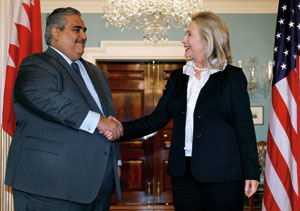 | | |
| --- | --- |
| SILENCE: Clinton meets last month with Bahrain's foreign minister, Shaikh Khalid bin Ahmed al-Khalifa. She didn't mention the protests publicly. (CHIP SOMODEVILLA / GETTY IMAGES) |   |
A Bahraini journalist, Dhaif, at the age of 33, has faced judicial pressure and has lost jobs for her work, which includes a healthy dose of social criticism. But she is most worried about her sister, one of 47 medical workers that human rights groups say were sentenced by a special military tribunal to prison terms as long as 15 years simply for providing care to street protesters wounded by Bahraini security forces.
"We are, as a people, feeling isolated. Our only hope is the human rights community, the free press and the human conscience," she says.
Visiting Washington last month, Dhaif met with congressional aides and human rights activists to try to persuade Congress to adopt a resolution blocking a proposed sale to Bahrain of $53 million in Humvees and missiles made in America by two influential contractors, AM General LLC and Raytheon Co. She and other activists fear some of those weapons could be used against protesters.
Inside and outside of Bahrain, the sale is widely perceived as rewarding a regime accused of mistreating its own citizens. This particular arms transaction has added resonance amid the Arab Spring, where protesters have ousted old-line regimes in Tunisia, Egypt and, most recently, Libya. Washington's criticism of the Bahrain government has been notably muted. As home to the largest U.S. naval base in the region, Bahrain is an invaluable ally in a strategically crucial region. The upshot is that Dhaif faces very high hurdles in calling for Washington to block the sale, let alone take any additional steps to pressure Bahrain.
Some lawmakers have made clear that they are opposed to taking any strong steps against Bahrain, including blocking the sale, because the alliance is simply too important.
"The United States has almost no alternative to the naval base in Bahrain," says Sen. Mark Steven Kirk, an Illinois Republican, who points out that Bahrain, unlike other nations in the region, doesn't restrict what U.S. forces on its soil can do.
The State Department has temporarily frozen the arms deal amid the controversy over human rights in Bahrain. U.S. officials are awaiting the results of a Bahraini fact-finding probe due to a report this month.
The restive youth in the Arab world are waiting to see how Washington responds. Blocking the arms sale "will send a message that America, which is the most powerful country in the world, is not validating what's happening in Bahrain," says Dhaif. "The opposite will occur if they go ahead with this."
Idealism vs. Realism
The debate over the sale fits into the long-running drama about a perceived gap between U.S. ideals and rhetoric, on the one hand, and, on the other, the impure necessities of geopolitics — particularly when it comes to U.S. relationships in the Middle East. When Libya, Syria, Egypt, Yemen and other Arab dictatorships committed human rights abuses, the Obama administration and lawmakers came down on those regimes with scalding rhetoric and, in one case, military force. With Bahrain, it's a different story.
"This is not okay, because it makes America seem like a hypocrite," Dhaif says. "When it comes to allies, they shut their eyes and ears."
Amid the Arab Spring, a Balancing Act in Bahrain
After an international outcry about the sentencing of the medical personnel, Bahraini King Hamad Al Khalifa ordered a review of the cases. Dhaif's sister, Nadal, was among those who were temporarily released. But the Washington-based group Freedom House and the Bahrain Center for Human Rights say the repression continues, even if it has abated since the February protests. In just over seven months, the groups report, at least 47 people have been killed (including at least three while in custody), many more injured, and a minimum of 1,600 arrested and 2,500 fired from their jobs.
Dhaif and the activists say the government also conducts online surveillance and cuts off dissidents' bank funds. And when wealthy businessmen provide food to fired protesters who can't feed their families, the monarchy organizes boycotts against the philanthropists' businesses, they add.
The official U.S. reaction was limited mostly to light criticism. Obama, for example, in a September speech to the U.N. General Assembly, said the United States will "always stand up" for "universal rights." But his rhetoric downshifted noticeably when it came to Bahrain. He called for peaceful change there and said: "Steps have been taken toward reform and accountability, but more are required. America is a close friend of Bahrain." When Secretary of State Hillary Rodham Clinton posed for a photo opportunity with Bahrain's foreign minister last month, she didn't mention the protests.
Congress has been similarly understated. Arizona Republican Sen. John McCain, one of Congress' most outspoken critics of Arab despotism, gave a speech in Jordan last month on the Arab Spring. He said the people of the Mideast and North Africa "will gain control of their own destinies, and when they do, they will long remember who stood with them in their hour of greatest need." McCain criticized several countries that responded violently to unrest but omitted Bahrain.
There are good reasons for this double standard, according to those who defend it. Bahrain is a close ally of Saudi Arabia next door, which sees the Sunni monarchy in Bahrain as a bulwark against Shiite Iran to the east. King Hamad's Sunni regime governs an overwhelmingly Shiite population. Activists say the protests have not been sectarian in nature, but that the regime has tried to stir up such tensions to pit protesters against one another and has played up its resistance to Shiite Iran as a way to curry favor with the United States.
But Bahrain's most valuable role for Washington is as the base of U.S. naval operations in the Mideast. Bahrain is located only a few hundred miles from the Straits of Hormuz, a chokepoint through which much of the world's oil flows. The headquarters for the U.S. Fifth Fleet, the base was a key staging point for the U.S. air campaign against Iraq's Saddam Hussein in the 1990s and provided support to the Iraq War over the past decade. And it remains a station for watching Iran and the unrest in Yemen.
Some lawmakers and activists, however, say that hosting a naval base should not inoculate Bahrain against any punishment for human rights violations. For one thing, Bahrain, in the center of a dangerous region, benefits from being under a U.S. security umbrella, and is therefore unlikely to kick out the U.S. Navy in retaliation for withholding a single arms deal or taking other limited steps.
But pressure on Bahrain could add to U.S. leverage over the regime's performance on human rights. Holding up the arms sale "creates a spotlight on what they are doing" in Bahrain, says New Jersey Democratic Sen. Robert Menendez. After all, the United States arguably has much more sway in Manama than it had in Muammar el-Qaddafi's Tripoli or has in Bashar al-Assad's Damascus.
Efforts to Block
The pending weapons sale to Bahrain was announced in September. In October, Menendez and a handful of lawmakers objected in letters to Clinton. In the Senate, Oregon Democrat Ron Wyden introduced a resolution that would block the sale. And in the House, Massachusetts Democrat Jim McGovern filed a similar resolution. No such measure has ever become law, but the introduction of the resolutions changed the tenor of the debate.
"I don't think our national security interest is served by propping up a regime that abuses its people," McGovern says.
Sen. Marco Rubio, a Florida Republican, urged Clinton in writing last month to take a more focused step and block any weapons that could be used against dissidents, presumably meaning the Humvees.
A week after the first of these protests came in, the State Department said it would hold the arms deal in abeyance until a special Bahraini commission concluded a probe into alleged abuses. The head of the commission, M. Cherif Bassiouni, has sent mixed signals on how serious his probe will be. After first saying he did not think mistreatment was widespread in Bahrain, he contradicted himself in a newspaper interview Oct. 31 and said he has found 300 cases of torture, which he called "systematic." His report is due Nov. 23.
Amid the Arab Spring, a Balancing Act in Bahrain
"He is no pushover at all," Kirk says of Bassiouni, an international war crimes expert and professor emeritus at DePaul University College of Law.
Activists fear the commission, which was appointed by the regime, will create enough of an impression that something is being done to relieve pressure on the regime to make changes. But they intend to stay on both the Bahrainis and Americans to ensure they follow through.
"We're not going to be appeased by a slap on the wrist of the Bahraini government," says Courtney C. Radsch, the manager of Freedom House's Freedom of Expression Campaign.
Whatever happens is being carefully watched, not just in Bahrain, but also across the Middle East, Dhaif says.
The Bahraini people, about half of whom are younger than 20, will win their struggle, she says, "and we will remember how America votes."
Jonathan Broder and Emily Cadei contributed to this story.
FOR FURTHER READING: Wyden's resolution is S J Res 28, McGovern's is H J Res 80. Libya outlook, CQ Weekly, p. 2210 ; U.S.-Saudi relations, p. 1539; U.S. aid to the region, p. 850; Arab Spring, p. 452.