CQ WEEKLY – IN FOCUS
Nov. 5, 2011 – 11:45 a.m.
Lessons From Listeria — But What Are They?
By Ellyn Ferguson, CQ Staff
In the 20 years that Jensen Farms of Colorado has been packing its Rocky Ford cantaloupes for nationwide sale, not a single state or federal inspector ever set foot on the farm or in its packing facility — until September, when a listeria outbreak that killed at least 29 people and sickened 139 more was traced to its melons.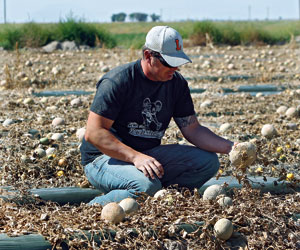 | | |
| --- | --- |
| DEADLY HARVEST: Eric Jensen, owner of the Colorado farm that shipped listeria-tainted cantaloupes, examines melons in his fields. (ED ANDRIESKI / AP) |   |
Coming less than a year after Congress enacted the most ambitious overhaul of food safety law in 70 years, the episode offers Congress another lesson in the dangers of agricultural contamination. But lawmakers who fought over the issue in the 111th Congress disagree on what that lesson should be.
Advocates cite an estimated 48 million cases of foodborne illnesses in the U.S. annually, 3,000 of them fatal, and say the takeaway message is that government must do even more to protect Americans. For starters, these advocates oppose a House-passed fiscal 2012 spending plan that would cut $91 million, or about 11 percent, from Food and Drug Administration (FDA) funding for food safety. Instead, they say, Congress should provide the full funding of $1.4 billion over several years that the new food safety law authorizes.
Skeptics draw the opposite conclusion, arguing that the listeria outbreak underscores the futility of a costly expansion of the government's food safety net.
Critics of the new law say there will never be enough money to adequately monitor the far-flung network that moves fruits, vegetables and meats across state lines, from fields to packing facilities to warehouses to stores. The complexity is compounded because many foods are imported from countries with weak oversight. And many large commercial buyers set even tougher standards than any regulatory agency.
Doug Powell, a Kansas State University professor of food safety, says that in the end the FDA must rely on the industry to police itself: "We're stuck with a faith-based system."
Landmark Legislation
For at least 20 years, lawmakers talked about reinventing the food safety system, but legislation rarely got as far as committee markups. That all began to change in late 2008, when salmonella-tainted bulk peanut butter killed nine people and sickened hundreds more.
The result was the Food Safety Modernization Act, which gave the FDA new authority to issue mandatory recalls of suspected contaminated food, required more inspections of high-risk food facilities and put a greater focus on preventing outbreaks of serious food-borne illnesses. The legislation, signed into law in January, was one of the few bipartisan achievements of the 111th Congress, passing the House and the Senate by wide margins.
The FDA estimates that fully implementing the law — which will largely affect produce and fruit producers, packing facilities and processing plants — will take several years. It will not affect meat, poultry and egg products, which are regulated by the Agriculture Department.
For fruit packers such as Jensen Farms, the law requires the FDA to set standards for growing, harvesting, storage and transportation designed to minimize conditions for contamination. The agency also will pay close attention to the fruits and vegetables it identifies as high-risk for pathogens. Melons are likely to be included because of past incidents.
Lessons From Listeria — But What Are They?
Although melons have been linked to salmonella in past incidents, the Colorado case is the first in which listeria has been traced to the fruit. Listeria monocytogenes has more often been associated with deli meats, raw milk, poultry and vegetables. But the FDA suspects that poorly draining floors in the Jensen Farms packing facility, packing equipment that was difficult to sanitize, a decision to stop using a chlorine-water mix to wash cantaloupes and a failure to cool down warm fruit before putting it into cold storage provided a breeding ground for the bacteria.
A third-party auditor gave Jensen Farms a passing grade for safety in August, but the report has not been released and exactly what was reviewed is unclear. The Colorado farm had hired the auditor to meet a requirement from its commercial clients that it pass a food safety review.
The new Republican House majority this year — intent on cutting spending and rolling back government regulations — wasted no time in targeting the food safety law. Instead of ramping up funding as the new law authorized, House appropriators in February sought to cut FDA spending in fiscal 2011 by about 9 percent. The April law that avoided a government shutdown reversed those cuts and gave the FDA a $100 million boost, with half the increase devoted to food safety. For fiscal 2012, the Senate-passed spending bill would increase the current FDA funding of $2.45 billion by $50 million, while the House bill would reduce appropriations by $285 million.
House Agriculture Appropriations Subcommittee Chairman Jack Kingston, a Georgia Republican, considers the food safety law an expansion of federal power that is both unnecessary and unlikely to reduce risks significantly. He says he won't pass judgment on the Jensen Farms case until more information is available, but he remains convinced that "99.9 percent of our food supply is safe."
The question, he says, is "to get to that last percentage — what is it that you can address, and how can you best do it?" Kingston says it would be more cost-effective for the FDA to focus on the three pathogens most linked to illness — salmonella, campylobacter and a strain of E. coli — rather than increase inspections across the board.
The House Energy and Commerce Committee is expected to hold a hearing soon to explore the cantaloupe contamination. Chairman Fred Upton, a Michigan Republican, and the panel's ranking Democrat, Henry A. Waxman of California, last month asked the owners of the Colorado farm and its packing facility to brief the committee staff.
Enforceable Standards
While Kingston thinks the food safety law is too ambitious and expensive, his predecessor as the Agriculture spending "cardinal," Connecticut Democrat Rosa DeLauro, thinks it doesn't go far enough. DeLauro continues to support the idea of empowering a single agency to oversee food safety, in place of the 15 agencies that currently share jurisdiction. A single cop on the beat could do a more effective job, she says.
But DeLauro, who has spent years pushing for such an agency, says the FDA strengthened under the new law can make a difference by increasing inspections of high-risk facilities, gaining access to company records during recalls, improving its ability to trace products and wielding its new power to issue mandatory recalls if necessary.
Christopher Waldrop, food safety director for the Consumer Federation of America, says that, in the past, the FDA has relied largely on non-binding and unenforceable guidance to food companies on the safe handling and processing of food. Now, he says, regulations on growing, harvesting, processing, transporting and storing produce have the force of law.
"There's never been that government mandate that they have to incorporate these types of safety measures," Waldrop says. "I think that changes the equation a little bit."
Michael Taylor, deputy FDA commissioner, says the new law will enable the FDA to fine-tune elements of the food safety system. For example, the law directs the FDA to create a uniform training standard for and accreditation of auditors who review imported foods. Audit results would be available to the FDA for review.
Taylor said in a recent conference call that the Jensen Farms case highlights the need for clear and enforceable standards, which the FDA will be empowered to provide as it implements the law.
Lessons From Listeria — But What Are They?
Those rules, he said, will address "the duty of companies to prevent these sorts of problems, the results of which will strengthen our ability to hold companies accountable for doing what they should be doing now."
Under the law, the FDA will increase inspections of facilities that handle high-risk foods, says Scott Faber, federal affairs vice president for the Grocery Manufacturers Association. The trade group, which counts among its members the nation's largest food and beverage makers, was part of a coalition of normally adversarial groups who united in support of the food safety legislation.
Food companies say the promise of a more vigilant FDA will boost consumer confidence in products both here and abroad.
"Jensen Farms should serve as a reminder that Congress got it right when it gave FDA the power to set safety standards for risky fruits and vegetables," Faber says.
FOR FURTHER READING: Senate passes Agriculture spending bill (HR 2112), p. 2336; House passage, CQ Weekly, p. 1323; budget cuts, p. 1123; Food Safety Modernization Act (PL 111-353), 2010 Almanac, p. 12-3.