CQ WEEKLY – VANTAGE POINT
Nov. 12, 2011 – 11:46 a.m.
Religious-Freedom Panel in Limbo Pending Prison Purchase
By Shawn Zeller, CQ Staff
A standoff in the Senate over whether the government should buy a former state prison in Illinois, providing jobs for some of Majority Whip Richard J. Durbin's constituents, apparently is holding up reauthorization of the U.S. Commission on International Religious Freedom.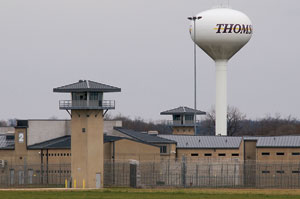 | | |
| --- | --- |
| LOW MILEAGE: Durbin wants the government to buy this unused maximum-security prison in Illinois. (DAVID GREEDY / GETTY IMAGES) |   |
There is no direct connection between the two topics. The commission was created by Congress 13 years ago to make policy recommendations on how to deal with foreign regimes that deny their citizens the right to worship. If Congress doesn't act by the end of this week, the commission will have to shut down. It has nine commissioners, a staff of 17 and a $4 million annual budget.
The Thomson Correctional Center, a maximum-security prison near the Mississippi River town of Thomson, was built by the Illinois government for about $140 million a decade ago but hardly used because of staffing issues. Durbin, according to advocates for the religious groups that are the commission's most ardent supporters, wants Congress to come up with the money to buy the prison and make it a federal facility, and he has put a hold on the reauthorization bill until that happens. His leverage could be that Rep. Frank R. Wolf , the Virginia Republican who sponsored the legislation creating the commission in 1998, chairs the Appropriations subcommittee that funds federal prisons.
Wolf is upset that the reauthorization bill hasn't passed. "I think it's a disgrace that this is being held up," he says.
Durbin declined to comment, but he said earlier this year that a federal prison in Thomson could be a boon to his state. "An empty facility creates a drain on our state's already struggling finances," he said. "Opening Thomson as a maximum-security facility will help Illinois balance its budget, create 1,100 jobs — more than 700 from the local community — and inject at least $1 billion into the region's economy."
Congressional Republicans oppose buying the prison because President Obama in 2009 proposed using it to hold detainees from the U.S. base in Guantánamo Bay, Cuba. The administration says it is no longer pursuing that plan. In an April letter to Durbin, Attorney General Eric H. Holder Jr. said the administration would respect Congress' wishes and would "not transfer detainees from Guantánamo to Thomson."
Those eager for Congress to reauthorize the religious-freedom commission say it should never have been brought into the Guantánamo fight. Failure to reauthorize the commission "would send a message to the rest of the world that religious freedom is no longer a national priority," says Lindsay Vessey, director of advocacy at Open Doors USA, a group that works to protect Christians from persecution overseas.
The U.S. Conference of Catholic Bishops and the conservative group Focus on the Family also have called for Congress to act.
The commission, though, has its own critics. Joseph K. Grieboski, founder of the Institute on Religion and Public Policy, an independent nonprofit dedicated to ensuring religious freedom, says the panel has been ineffectual and that its grandstanding has set back more fruitful diplomatic campaigns at the State Department. He cites the commission's criticism of anti-Western sentiments in textbooks used in Saudi Arabian schools.
The commission also has leveled harsh critiques at the regimes in Pakistan and China. Earlier this month, for example, a study conducted on the commission's behalf by the Washington-based International Center for Religion and Diplomacy said that Pakistani schools fostered hatred against Hindus.
In 2008, just as China was preparing to host the Summer Olympics, one of the religious-freedom commissioners, Nina Shea, said China was "clearly pursuing policies against religious freedom that violate international human rights standards" by restricting the religious practice of Muslims, Protestants and Tibetan monks.
Democrats, meanwhile, are wary of how the commission has handled its own staffing, especially after a Muslim employee filed a discrimination complaint with the Equal Employment Opportunity Commission two years ago. In response, Durbin and others insisted that Wolf's reauthorization bill ensure that commission employees could seek legal recourse if they were discriminated against.