CQ WEEKLY – VANTAGE POINT
Nov. 12, 2011 – 11:57 a.m.
Gingrich at Freddie Mac: Advice and Consultant
By CQ Staff
Former House Speaker Newt Gingrich went to some lengths during a debate last week to say that he has not been a lobbyist, and particularly not a lobbyist for government-sponsored mortgage company Freddie Mac. He gave Freddie Mac advice five years ago, Gingrich told moderator John Harwood in response to a question — "My advice as an historian."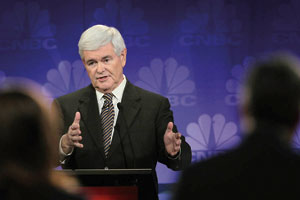 | | |
| --- | --- |
| NO LOBBYING: Gingrich was a consultant to Freddie Mac in 1999, months after quitting as Speaker. (SCOTT OLSON / GETTY IMAGES) |   |
The exchange between the two during the Republican presidential candidates' debate in Michigan concerned a $300,000 fee that Freddie Mac paid Gingrich's company, the Gingrich Group, in 2006, according to documents obtained by the Associated Press for a story in 2008.
Gingrich said of his advice to Freddie Mac executives: "When they walked in and said to me, 'We are now making loans to people who have no credit history and have no record of paying back anything, but that's what the government wants us to do,' as I said to them at the time, this is a bubble. This is insane. This is impossible."
In Gingrich's telling, the relationship seemed like a passing consultation, with the former Speaker giving the company the benefit of his wisdom, but not his influence. However, Gingrich's dealings with Freddie Mac, which like Fannie Mae was taken under government control in the mortgage meltdown of 2008, are more extensive and stretch back another seven years.
In the summer of 1999, just six months after the Georgia Republican stepped down as Speaker when his party suffered a serious defeat at the polls, his consulting firm was hired by Freddie Mac to give advice.
In a statement in July 1999, Freddie Mac spokeswoman Sharon McHale said Gingrich had been brought on for his "strategic consulting services on a variety of issues, primarily legislative and regulatory issues." He would not lobby, she said. "It's strictly a consulting role."
That prompted conservative columnist Robert Novak to wryly observe on CNN: "Freddie Mac, which is a government-backed outfit, has hired as a consultant Newt Gingrich. Now it means he doesn't have to register as a lobbyist, but, you know, if it looks like a duck and walks like a duck, it is a duck. And I think Newt Gingrich is now going to be a high-paid lobbyist — I mean, consultant."
At last week's debate, Gingrich said every contract he has signed since leaving Congress has "specifically said I would do no lobbying."